Choosing an Effective Domain Name for Your Real Estate Website
Last Updated: June 7, 2022
When it comes to laying out your internet marketing plans, choosing the best domain name for your real estate website is one of the first steps.
As with all the stages of putting up a website, naming your domain can be a fun and creative process, but if you're not careful, you might end up using naming strategies that will drive online visitors away.
These mistakes are easy to make, but avoiding them is just as simple.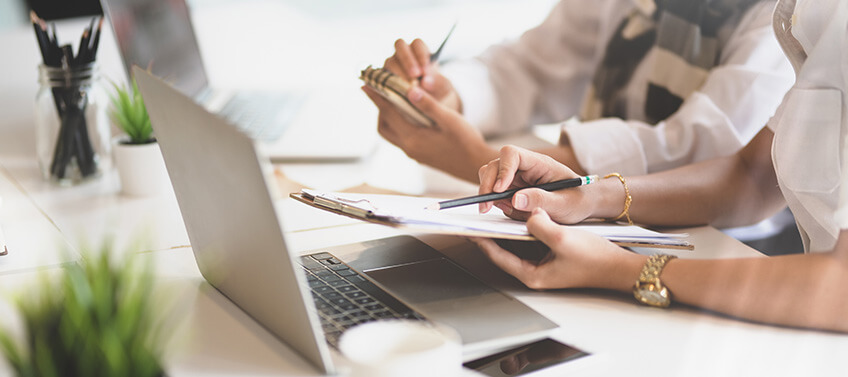 Definitions
If you are completely web-savvy, skip this part. Otherwise, we'll lay out some terms using Fictional Properties as an example.
Domain name – a domain name is linked to an IP address. If you enter Fictional Properties into a browser, it looks for the IP address associated with that name.
After some magic, the browser takes you to the webpage.
Domains are important. There are different levels of domains that we will discuss later but you generally only have to worry about the top level domain, "Fictional Properties."
IP address – IP stands for Internet Protocol. It is a string of numbers that differentiate between computers and allows computers to talk to the network. An IP address looks something like this: 123.456.7.89. The IP tells the internet where you are.
VPNs are all the rage because they hide your real IP from other systems by assigning you one from another region or even country.
URL – a complete web address that directs people to a specific page. It contains a protocol, a domain, and a path.
For instance, the protocol is https://; the subdomain is www; and the domain name is fictionalproperties.com.
The path is which page you want to land on, such as home page (your first page).
All put together, the website address looks something like this: https://www.fictionalproperties.com/home-page.
If you put in just the subdomain and the domain name (www.fictionalproperties.com), you should end up on the home page.
Extension – the extension is used to identify the type of website it is attached to. A .gov means it is an American government webpage.
A .edu is a school or educational website. The most common one is .com and the less common .net is cheaper to buy. You can also have your own extension, for example, .broker.
You could choose to have https://www.fictionalproperties.broker. The extension is a top level domain extension.
There are other level domain extensions, but unless you are selling properties overseas (.au for Australia, .uk for Great Britain, etc.) or have a compelling reason, you don't have to worry about any other domains or look for another top level domain.
Web host – a web host is the platform where your website lives. The web host provides the technologies and services that allow your website to be viewed on the internet. Websites are hosted or stored on computers called servers.
Read up on these pointers to help you choose great domains that will suit your real estate company and will generate traffic to your real estate agent website.
Best Advice for Generating Catchy Real Estate Domain Names
As you are looking for ideas for your domain name, keep the following in mind.
Length — Keep it Short
Shorter is better. Try not to exceed two or three words. Google your domain ideas to see if there are other companies of the same name in your region.
Name recall is key since you want people to remember your realtor domain name easily. It's also more practical since a shorter name is easier to place on your business card. The goal of an effective realtor domain name is to make a professional impression.
Thus, it's important that your domain name is consistent with your brand identity and relevant to your market specialty. With a short, but well-chosen realtor domain name, you achieve a strong brand that complements the powerful content on your website and will enhance your lead generation.
Simplicity
Avoid complicated or uncommon words. For example, Renaissance Realty might be a cool name, but most people will have trouble spelling your otherwise great domain name.
Avoid quirky or non-standard spelling of common words (e.g. "haus" instead of "house"). Also, avoid double letters like SS or LL. If everyone misspells your name, don't use it as your domain name.
Naming protocols
Unless you are a celebrity or high-profile real estate agent, using your own name alone won't help your website's search engine results. Avoid generic names like John Smith in your realtor domains.
People still tend to search for available properties using specific keywords related to the location they're interested in.
A name like Homes in Your City is a perfect domain name because guess what prospective clients will google first! Even if you are not who they are looking for, generic names mays help generate new leads and clients.
For your website, using "real estate" on your realtor domain may help, but it's not necessary. "Real estate agent" is probably superfluous. Instead, you can apply your specialization to a particular location and then add words people would use when searching online for properties for sale.
Names You Cannot Use
If you want the word 'realtor' in your perfect domain name, expect a letter from the National Association of REALTORS® (NAR). This is a trademarked term and the NAR will not allow it to be used by anyone except their members.
Choose a descriptive name
Choose a descriptive name that identifies your target market. Ideally, your realtor domain name should contain keywords that potential clients would search for. This is a common but very effective SEO practice.
To come up with a unique but searchable name, choose the most relevant keyword plus your brand or target market.
Most realtors find that common effective examples are words like "homes," "source," "properties," and "real estate" that you can combine with your brand name or initials and the name of the local area you're specializing in.
Keywords
Now that the yellow pages are a thing of the past, people simply google search relevant key phrases, like "real estate agent," "listing agent," "location name," "real estate for sale," and "homes for sale."
You can find keyword generators online that will help you boost your ranking on search engines like Google. Keywords are relevant words like "homes," "property," or "location name."
As an example, you may not want to choose Big Apple Properties because that is not a search term most people would google. You can google keywords to generate real estate domain name ideas.
Brand Name
Since marketing is all about branding, try to work your brand into the real estate domain name.
Check your domain name for unintended meanings
You may have already decided on your real estate company name. Write down the name in small letters and without spaces. Examine your domain name closely to see if it forms unintended words. For example, domain names like mitchellhousemavens.com inadvertently contain the phrase "hell house." Remember that real estate companies need family-friendly domain names.
Ask a trusted friend to look at your planned website name. If they snicker or look puzzled, consider going back to the drawing board.
Website name
Make certain that your real estate brand name and your realtor website name match as closely as possible. Look for expired URLs to see if any of those would work as domains.
Good Enough
While domain names are important, having a good enough domain name is far better than having none at all. Don't spend all your time coming up with an elusive but great real estate domain name — catchiness helps, but simplicity is better.
Getting Ready to Buy Your Domain
Now that you have waded through all the dos, don'ts, and why nots, develop several concepts for your real estate domain names. Your next step is to make sure that the internet will like your options.
Test them on a domain authority checker to see how a domain name might be perceived by search engines like Google. If the checker gives your first choice a low rating, don't use it!
Buying a Real Estate Business Domain Name
Once you set up your real estate business from a legal standpoint, you'll want to buy your real estate domain.
Once you have made certain that yours is a good domain name, start the purchase.
Go to a domain registrar (Google runs one such site)

Input your desired real estate domain name and see if it is available

Purchase it or choose another one that's available

Fill out the online information
Congratulations! You are now the proud owner of a domain name. But now there are several other steps to protect your name.
Lock down your primary domain name and its alternatives
To protect your online branding, it is advisable to purchase and take control of all the popular extensions of your domain name such as ".com", ".org", and ".net." This will protect you from people who buy countless domain names only to resell them.
For instance, you may own the real estate domain names of fictionalproperties.net and fictionalproperties.com but use fictionalproperties.broker. You can set it up so that the .net and .com URLs are sent to your .broker page.
This will also ensure that other company websites will not rank higher on search results simply because they have bought variations of your realtor domain name.
If other companies manage to buy your domain name but with different extensions, your market might get confused about which realtor website is officially yours and you might end up losing potential business.
Buy commonly misspelled domains
When people misspell the website they're looking for, search engines like Google usually suggest the correct one. But since there's no guarantee they'll be redirected to your real estate website, you should also buy the domain names that are very close to yours.
For example, if your domain name is "NewYorkHaven.com", you might want to buy the domain name "NewYorkHeaven.com" as well so that your website can still receive traffic from the misspelled URL.
Using Fictional Properties as an example, you may want to buy the real estate domain names of ficionalproperty, fictionproperties, etc., and all their .com and .net iterations.
Once you have done all those steps, it is time to set up your website.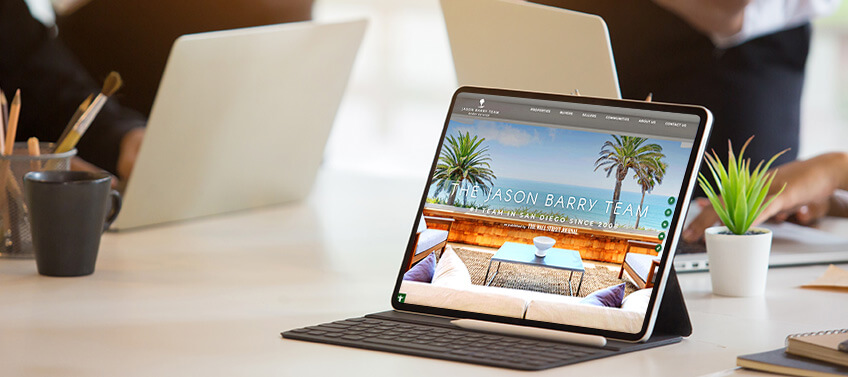 Getting your new website up and running
Find a web host for your website

Design and load your website onto the web host

Maintain and update your website regularly
Many web hosts or DYI websites promise that it is easy. It's not always so and a bad website will drive away clients. Slow loading, poorly designed, clunky, or badly thought-out sites are a handicap.
As you can see from our discussion above, it may be a lot simpler to hire professionals to do these steps for you while you focus on your real estate business.
Running your own website can be very time-consuming. Wouldn't you rather be landing new clients?
Words Matter!
One very important aspect to having a website is to focus on SEO. This stands for "search engine optimization."
SEO is the process of helping searchers find the website they are looking for and is vital to driving traffic to your site.
Part of SEO is eliminating the dreaded "404 Page Not Found" error message. Part of it is using the keywords or search terms that potential clients like to google while looking for your real estate site.
A good search engine optimized site means that your pages will appear higher in search results.
Another aspect of writing for SEO is ensuring that you incorporate all relevant keywords in your blogs and posts. If you do not, no matter how well-written your blog is, it will not be picked up by Google's algorithm and thus won't rank highly.
Now it's time to move on to marketing.
Social Media Marketing
While you are setting up your website, sign up for Twitter, Facebook, Instagram, and other social media sites using the same business name as your real estate domain name.
You drive traffic to your site and it helps with lead generation. Hint: always sound professional in your posts!
Once everything is set up, you'll need to attract people to your social media pages. Most experts suggest posting once a day on all sites.
You also need to maintain your website so that its contents are fresh and current, which invites visitors to your realtor site.
Calling Busy Real Estate Agents!
Now that you have an idea about how to select your real estate domain name, give it a try. If you run into a roadblock, let Agent Image to be of service.
We are in the business of helping clients choose and own effective real estate domain names. Our team has techniques that will allow you to stand out from other real estate agents.
Agent Image is A Real Estate Pro's Best Friend!
If you feel that you're spending too much time running your website and populating your social media channels, you're probably right. Your business is to sell property, after all.
Why not find a professional who understands the marketing end of your business, and let them do what they do best while you focus on your passion?
Search no further as Agent Image offers outstanding website design and internet marketing services for real estate professionals.
We will get you up and running with the best domain name, search engine optimization, content development, and social media marketing.
We'll also fine-tune your website so that it appears properly on mobile devices, giving visitors an optimal browsing experience no matter what gadget they use.
We understand what you need and offer stunning websites so that your business stands out among your competitors.
Contact us to see what we can do for you!
Did you enjoy reading this article?
Sign up for more updates with our Agent Intelligence Newsletter!
We are committed to protecting your privacy.
Real Estate Websites for Agents
Learn which package works best for you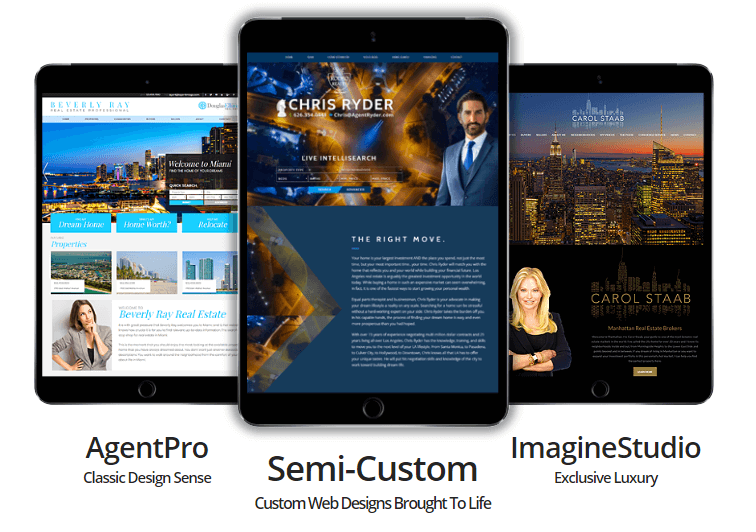 Learn More