What makes a website
worthy of the list?
The best real estate websites have these standout features:
Balanced Design

Great design is all about combining form and function. A well-designed real estate website makes a lasting impression and inspires site visitors to take action.

User Experience

Clear navigation and mobile responsiveness is crucial to any successful real estate website.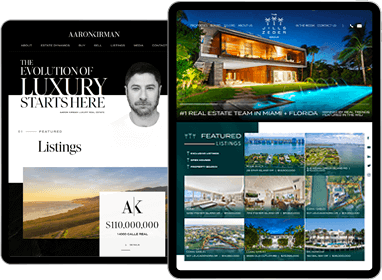 Quality Content

Content gives meaning to a website. A standout site combines visual storytelling with original, well-crafted content.

Optimized for Performance

The best real estate brokerage websites are built to achieve business goals with ease — whether it's generating leads or taking the agent's or brokerage's brand to the next level.
Thinking about building a new website? Read this first.
The most successful REALTORS in the world partner with an experienced web agency for custom website design that will build interest for potential clients. There are plenty of ways to quickly build a site, just like there are plenty of ways to buy or sell a home. However, if you are at the top of your profession or aspire to be, you shouldn't be looking for easy, quick, cheap – your choice should focus on creating a unique, best-in-class website. We have showcased some of the best real estate websites online. You can achieve the same level of style and function by hiring professional website builders.
There are over 400 million active websites on the internet today, vying for the attention of a global audience that is now 3.5 billion people strong – that's half the world's population. Since most people begin their real estate search online, an attractive, well-built website is absolutely vital to your success. It's more important than ever that you approach a website build with attention and purpose because, over time, it will drive more engagement with your brand than any other marketing you do.
A well-designed website can elevate your brand, especially when combined with original content that's optimized to hit top-of-page search engine results. It is also essential that the developer specializes in building custom websites for real estate agents. Think about it in these terms – you wouldn't recommend a client work with a REALTOR to buy a home in Manhattan if that agent specializes in Seattle.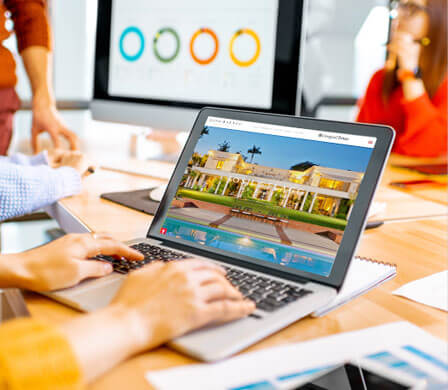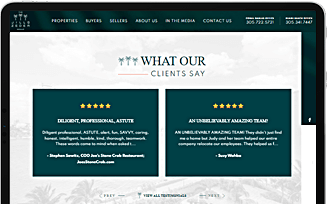 One More Thing! Let's talk online reviews.
Here is the reality we all have to contend with – 87% of online consumers read reviews for local businesses in 2020, a 67% increase over the last ten years. Resident reviews can make it far easier for you to generate leads. Platforms like Yelp, Google, and Zillow are driving conversations about you. Don't give up that control to a third party. Your website design and content should dominate how consumers perceive your expertise and your brand.
Insider Tips on How to Build an Outstanding Website
We have built over 25,000 real estate agent websites, so suffice to say, we have learned a thing or two about the entire process. Here are some tips from our most seasoned team members.
Work with website experts

Come prepared

Create brand guidelines

Be present

Focus on content
It pains us to see how many millions of dollars real estate agents have wasted over the years on website builders who had no idea what they were doing. Make sure to vet your choice carefully.

Look at competitor sites in your market to get an idea of what consumers see in your area, create an outline of the type of content you want on your site, and have a good idea of the look you are going after.

Ideally, your website design should be visually consistent with all other marketing, including your listing presentation, marketing collateral, signage, etc. If you haven't done it already, consider investing in creating brand guidelines that include a specific set of colors and fonts everyone has to use when designing marketing assets for your business.

If you are delegating the build of your website to a team member, make sure you are present for the kick-off meeting and check in periodically to ensure the website is moving in the direction you envision.

Unfortunately, search engines don't simply reward pretty websites. They read your content and decide whether to show your website to a consumer searching for a specific topic or question. An expert web developer can help you create content that meets search engines' holy grail – original, authoritative and trustworthy. Combining search engine optimization and design will result in the best real estate websites.

Frequently Asked
Questions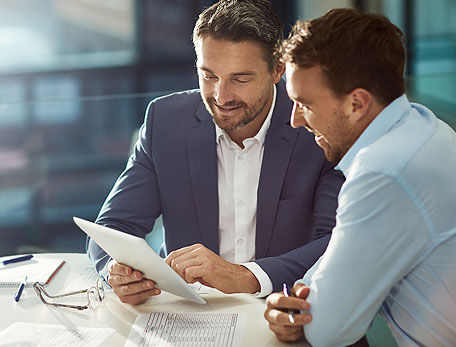 There are as many opinions about the best real estate website as there are websites. Our top ten are:
The Oppenheim Group

The Altman Brothers

The Jills Zeder Group

Shannon Gillette

The Chad Carroll Group

Quiana Watson

Josh Flagg

Tracy Tutor Team

Aaron Kirman

Sally Forster Jones
To be of the best use to prospective buyers and to attract clientele, a realtor website should have balanced content that combines form and function, a user experience based on clear navigation and mobile responsiveness, quality content with visual storytelling, and a real estate site that is optimized for performance. Great property images are a must, as is a custom keyword search!
Remember: the best website should ease user frustrations and provide good value.
A website is absolutely crucial to a real estate agent – this is often the first place to meet a potential client. Without a website, real estate agents cannot reach customers when customers want to browse their listings. The days of the massive real estate book are over and websites are the primary source of information nowadays. A great website is the online equivalent of location, location, location!
Setting up a real estate agent website can be time-consuming and takes far more than a few hours. We detail the steps to set up a website in another blog, "Choosing an Effective Domain Name for your Real Estate Website." Having a guide to the world of internet marketing is as important as having a great real estate agent.
An IDX website is linked to local multiple listing services (MLS) and populates the website with local listings. It makes it easier for potential home buyers to browse property listings in the area. It also keeps your website updated regularly.
For more information on IDX websites, visit our IDX Solutions page.
Several factors make a great real estate website.
To have an effective real estate website, the site must offer a balance between form and function. A website's design should inspire anyone who may visit to take action.
The user experience must leave a positive impression. If navigation is difficult or the site is unresponsive, potential clients will go elsewhere.
The content must be worth reading with visual storytelling matched with original, well-crafted content. Topics should include the basics such as the selling experience, local school choices, loan information, and all things real estate.
Most people are baffled by the mortgage process. Include information about the pre-approval process and why it is important to be pre-approved. Information about mortgage professionals is always appreciated, too.
Another topic is upcoming auctions on foreclosed properties or distressed properties or those with tax liens. A list of upcoming auction dates is a nice touch.
People are always interested in new construction and you can create a lot of interest with a good blog post or two.
People want to know the number of bedrooms, bathrooms, valuation history, property addresses, square footage, occupancy type, and any rent history in the search criteria. Think about what you want to know when you look at listings.
Make sure that the search function allows users to save properties and receive updates via push notifications. You may want to let people search properties in the same area.
It is important that real estate sites provide the best, clearest, and most enticing information. Good sites are useful to buyers looking for their dream home and sellers who wish to sell their property quickly.
Ready to collaborate?
Connect with us today to schedule a free design consultation. Whether you cater to luxury homebuyers or first-time homeowners, we've got a design package for you.
Real Estate Websites for Agents
Learn which package works best for you