10 Best Real Estate Websites for August 2020
Having a beautifully designed website has never been more relevant. With most of the world staying at home, your online visibility and accessibility is the main avenue for building strong, productive client relationships.
Agent Image specializes in building eye-catching, intuitive websites that elevate the potential, relevance, and influence of modern real estate agents in their respective local markets. Read on to learn about some of our most recent masterpieces.
Here's a look at the 10 best websites we launched in August 2020:
Pertria Real Estate
San Francisco, CA
Helen Pastorino and Pertria Real Estate specialize in the residential and investment real estate markets in California's Bay Area and Santa Cruz County. They cover a lot of ground in real life, and they do so as well in their sleek and stylish real estate website.
Pertria.com dedicates separate sections to homebuyers and sellers, real estate investors, and property managers. Each section is loaded with rich and relevant content for its target market. With this intelligent website design, Pertria Real Estate effectively communicates its versatility and range as a company.
What makes this website stand out: Pertria Real Estate sets the gold standard in their market, a message clearly conveyed in their website's deliberate choice of color scheme.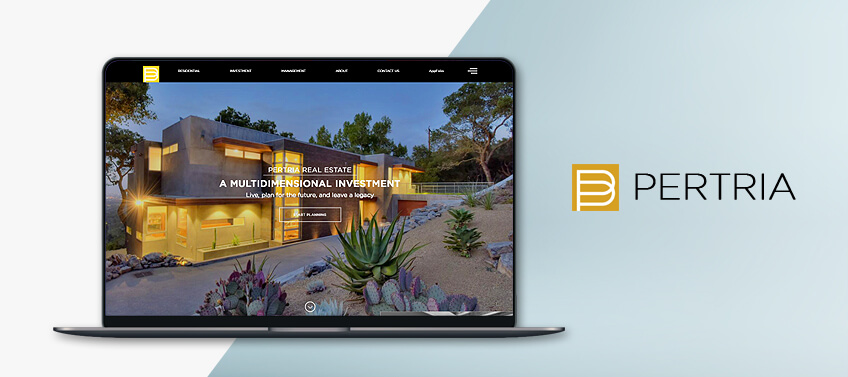 Claudia Hipolito
Los Angeles, CA
Claudia Hipolito uses the sparkling backdrop of the Los Angeles skyline to emphasize that everything about her real estate business is "Authentically Los Angeles." This minimalist home screen is all you see until you scroll down with your mouse or tap on the explore bar on the top left corner.
Pulling off a barebones design like this can be a gutsy choice, but Claudia pulls it off with the expertise of the Agent Image design team. As a result, she now has a gorgeous website that is informative without being overwhelming—a fitting look for the sophisticated LA luxury real estate market.
What makes this website stand out: This stunning website embodies the "less is more" philosophy with confidence and elegance.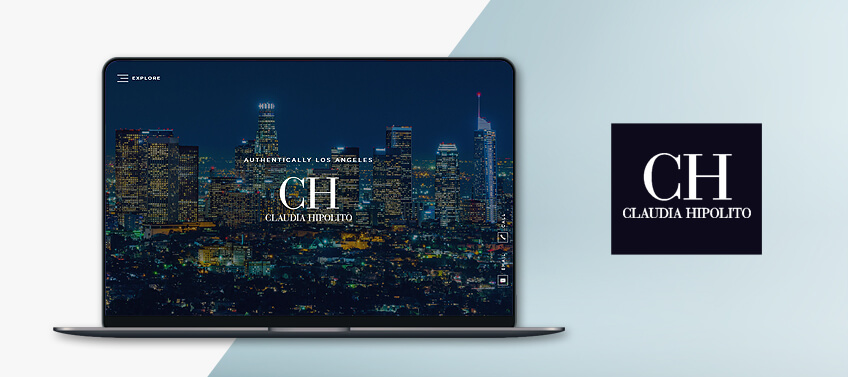 Harcourts Beverly Hills
Beverly Hills, CA
Glen and Brooke Coutinho, along with their partners at Harcourts Beverly Hills, bring the luxurious SoCal lifestyle one tap away with their feature-rich website. HarcourtsBeverlyHills.com effectively keeps one of real estate's longest-running brands relevant well into the digital age.
Decked in the company's signature blue colors, HarcourtsBeverlyHills.com presents a wide range of information and tools in a clean and flowing layout. There's a lot to find here—from property search tools to access to auctions, agent profiles, and featured listings—but the website's contents and design elements never look cluttered or crowded.
What makes this website stand out: HarcourtsBeverlyHills.com is a masterclass in turning a rich hub of information and content into a visually captivating package.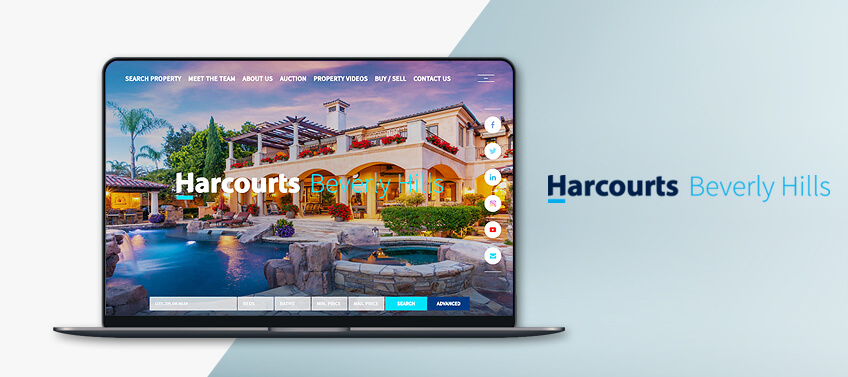 The Group
Houston and San Antonio, TX
For Texas luxury realtor Tyson Cline and The Group, every customer deserves the VIP treatment. That's why as soon as ClineLuxury.com loads, visitors are immediately invited to join his VIP mailing list, offering instant access to The Group's latest featured listings, including exclusive, pre-market properties for sale.
The Group maintains its client-centric approach to real estate service throughout their website with clearly defined sections that are easy to navigate. They even let their laid-back personality shine, with a dedicated profile page for Comet, "Barketing Manager" for The Group and Cline family pet.
What makes this website stand out: This website is all about connecting with their clients—from the instant invitation to the company's VIP list, to the endearing professional profile for the family pet.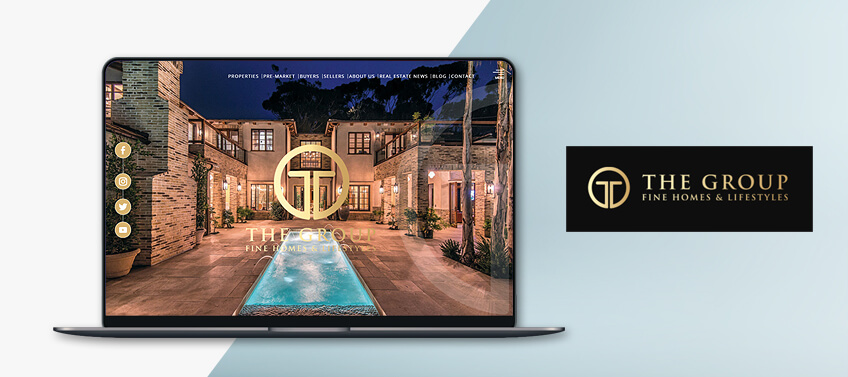 Brihanna James
Hoover, AL
Brihanna James wears many hats as a trusted real estate professional in Alabama's most desirable home markets. More than just a broker for a home sale or purchase, she also lends her expertise in interior design to create picture-perfect staging and virtual property tours.
All of these expert services are easy to find in BrihannaJames.com, thanks to its clean grid layouts and clearly delineated page sections. Brihanna's website exudes elegance in its simplicity, while still being loaded with relevant information for the clients that she intends to reach.
What makes this website stand out: Brihanna's choice of light brown hues complement the tidy, blocky layouts throughout the website, making the rich amount of information easy to digest.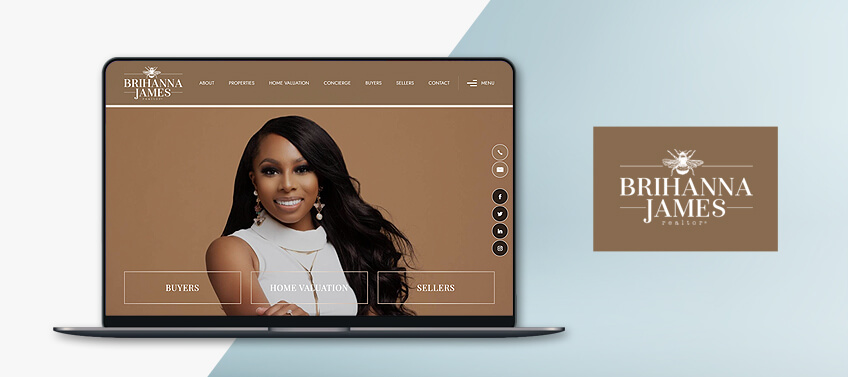 Celebrity Advisors
Miami Beach, FL
In the high-stakes international luxury market, it takes undeniable integrity and credibility to gain the trust of the world's wealthiest real estate investors. Darren Weiner and his Celebrity Advisors team establish these crucial qualities with a stunning professional website befitting a luxury brokerage of their caliber.
CelebrityRealEstateAdvisors.com is designed to be the go-to resource for the finest prime real estate properties in 85 luxury markets worldwide. The website neatly organizes the company's Unmatched Services, Dynamic Clientele, featured Prime Properties, FAQs, and more in a sharp, visual package that looks great on either a computer or mobile phone screen.
What makes this website stand out: The outstanding mobile responsive design of CelebrityRealEstateAdvisors.com makes it the ideal platform for a luxury brokerage that aims to capture the global market's attention.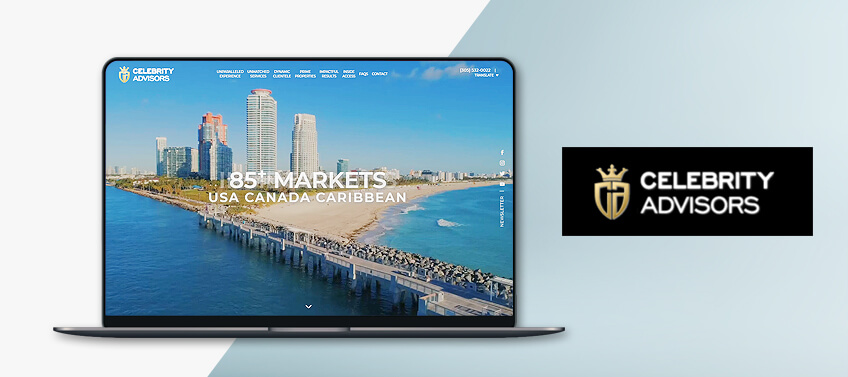 Sue Adler
Short Hills, NJ
Sue Adler and her team of New Jersey real estate specialists are all about providing efficient professional services. This is clearly demonstrated on their real estate website which is as functional as it is easy on the eyes.
SueAdler.com fires up an interactive map as soon as the home page loads. Coupled with the quick search fields right beside it, this feature lets you instantly jump into their home search. Links to market stats, buying and selling guides, and Sue's new virtual home selling workshop are also prominently displayed.
What makes this website stand out: With functional tools and resources placed front and center, SueAdler.com demonstrates that this team of real estate experts is dedicated to leading you to the results that you want.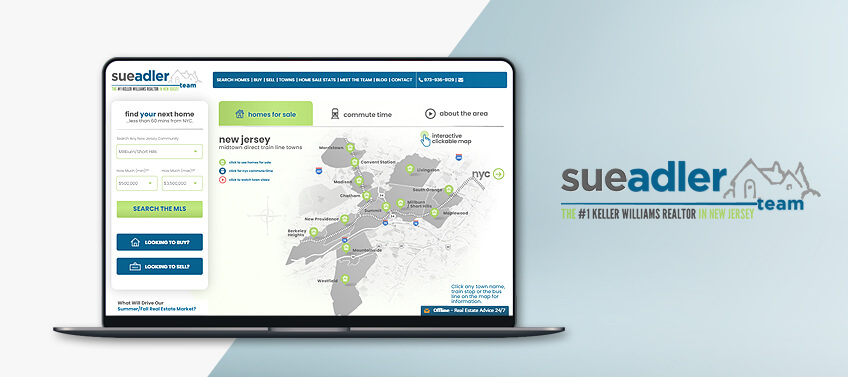 Luxury Properties of Bend
Bend, OR
With the company's logo emblazoned over breathtaking views of Bend's gorgeous landscapes, this website makes it easy for viewers to remember who to get in touch with when they want to experience the outstanding quality of life in Central Oregon.
Luxury Properties of Bend strengthens their brand-building even further with a modern website that showcases featured communities and listings, client testimonials, and buying and selling guides in a streamlined, intuitive, and mobile-friendly design.
What makes this website stand out: One of the unique links on this website leads to The Faces of Bend, which features profiles of individuals residing in the city. It adds a great personal touch to an otherwise very professional website.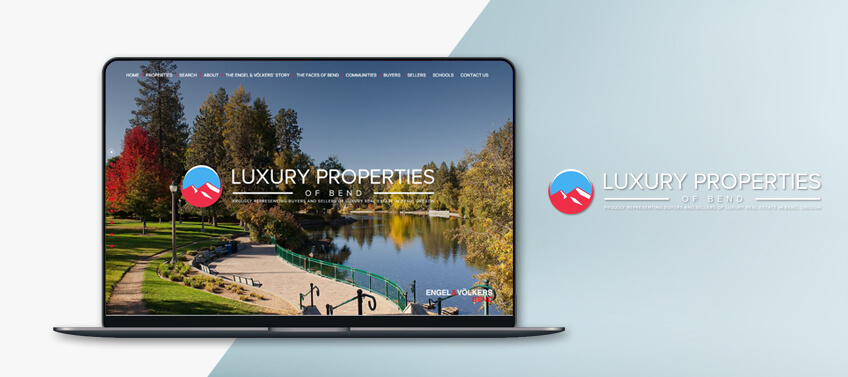 Chartese Torrence
Washington, DC
CharteseTorrence.com opens with a black, marble façade with the agent's name placed front and center in gradated gold text. This screen then slides open to reveal the home page which confidently claims that Chartese has what it takes to "move dreams to reality."
A savvy listing agent, Chartese Torrence uses a strong first impression to capture her viewers' interest. As a pop-up invites the reader to sign up for her latest market updates and opportunities, she then establishes a connection. This seamless flow leads right into the website's rich selection of resources and content.
What makes this website stand out: Opening with a strong brand imprint, CharteseTorrence.com features a streamlined flow that brings static content to life.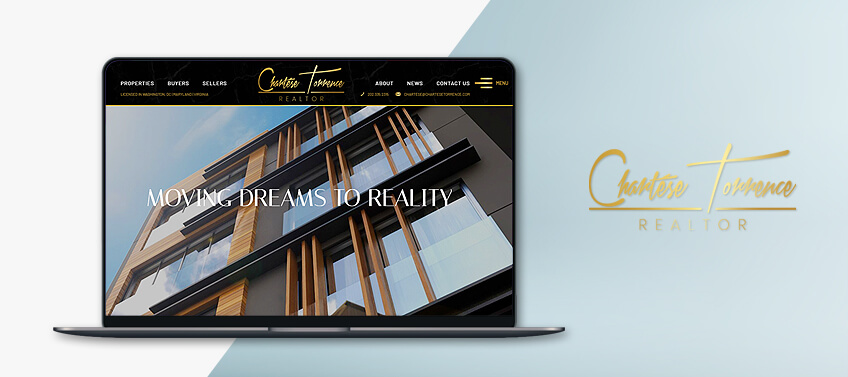 Ambar Durazo
Los Angeles, CA
Representing Greater Los Angeles, Ambar Durazo chose the new Agent Image X's Royale theme to capture the sophisticated allure of this luxurious and highly coveted market. As a result, her real estate agent website impresses with vibrant, edge-to-edge images, visually appealing lines and tile elements, and a minimalist aesthetic that looks stunning on either a computer or a mobile phone.
The relaxed vibe of AmbarDurazo.com makes searching for the perfect LA home a genuine treat, from viewing the main screen's image slideshow, to digging deeper into the agent's featured properties and communities.
What makes this website stand out: Slim and narrow typefaces set against a mostly black and white color scheme prove that you don't have to be loud and extravagant to be impactful.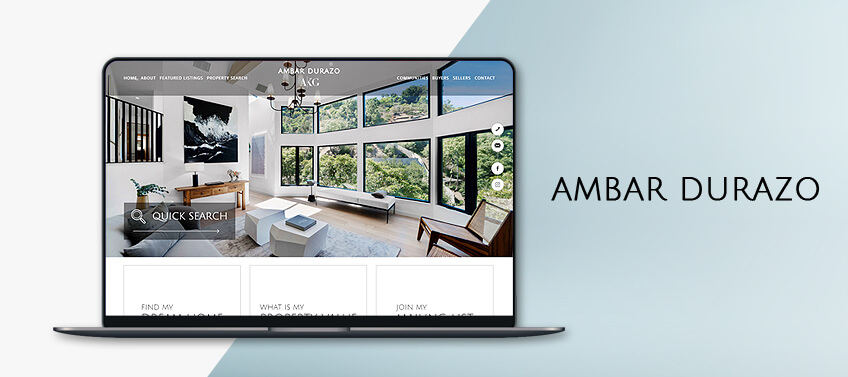 August's top 10 websites, in a nutshell
An excellent professional website is one that effortlessly communicates who you are and what your brand represents. More importantly, it does so while faithfully capturing your personality, voice, and mission.
Let's recap how August 2020's top 10 websites elevate their owners' real estate businesses:
Pertria.com – Clearly defined sections and a deliberate color scheme choice combine for targeted and easily recognizable brand-building.

ClaudiaHipolito.com – The modern, minimalist design of this website is a perfect match for the sophisticated LA luxury real estate market.

HarcourtsBeverlyHills.com – While this website is loaded with features and resources for real estate customers, everything is neatly presented for a smooth user experience.

ClineLuxury.com – This website captures the white-glove, client-centric approach of The Group, and adds a touch of spontaneity with a light-hearted professional profile of the team/family pet.

BrihannaJames.com – Neat layouts and light tones make a dense hub of information elegant and easy on the eyes.

CelebrityRealEstateAdvisors.com – An attractive, mobile-responsive website design is perfect when you want to reach an audience that cuts across international borders.

SueAdler.com – Functional tools like a detailed interactive map significantly elevate the user experience and affirm the agent's commitment to results-oriented service.

LuxuryPropertiesofBend.com – With a link to The FacesofBend.com, this real estate firm added a very personal dimension to their deliberately business-oriented website.

CharteseTorrence.com – Leading with a strong first impression and establishing relationships with potential leads right off the bat, this website features a logical flow that benefits both the visitor and the agent.

AmbarDurazo.com – This website fleshes out the new Agent Image X Royale theme with a sophisticated minimalist design that looks great on any device.
When it comes to building your brand and influence in the increasingly competitive digital business landscape, Agent Image is the ideal partner. From conceptualizing and strategizing website designs that capture your genuine voice and personality to putting all these ideas together, our design and internet marketing experts are more than equipped for the task.
Contact Agent Image today for a free consultation. Call 800.979.5799 to learn more.
Did you enjoy reading this article?
Sign up for more updates with our Agent Intelligence Newsletter!
We are committed to protecting your privacy.
Real Estate Websites for Agents
Learn which package works best for you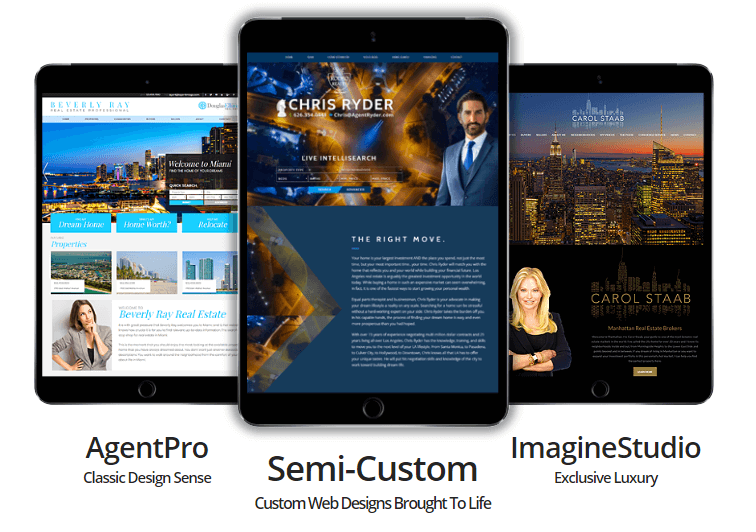 Learn More