10 Best Real Estate Websites for December 2022
We're closing out 2022 with another strong selection of trendsetting real estate websites. From pop-song background music, to tasteful optical illusions, to in-depth lifestyle guides, these sites have no shortage of ways to wow prospects!
Sharona Alperin
Beverly Hills, CA
If the name "Sharona" immediately reminds you of The Knacks' #1 hit "My Sharona," there's a good reason for that: Sharona Alperin was the inspiration for it! Sharona's come a long way since this song topped the charts in 1979, becoming a top-producing Beverly Hills agent with over $1 billion in sales under her belt. And her sleek and intuitive website communicates that fact. The high-definition photos, uncluttered layout, and succinct copy give this site the feel of a high-end brochure. Meanwhile, features like the buyer's guide, seller's guide, and "Sharona's Picks" provide immense value to prospects.
What's unique about this website? Sharona openly embraces her pop-culture roots, which is why "My Sharona" serves as the soundtrack to her website.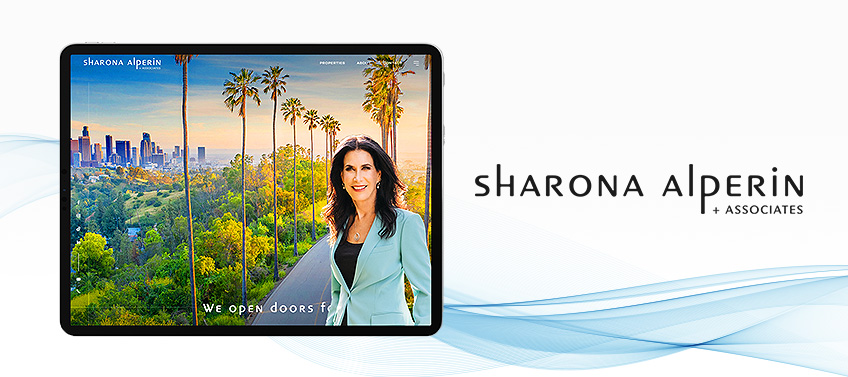 Tanner & Anuhea Sherman
Omaha, NE
Visiting Sherman Strategy's website is like being invited into a world where exclusivity comes standard. From the awe-inspiring listings, to the deluxe black-and-gold theme, to property insider tips, it's clear that this team deals with the most distinguished clients. The script-style logo also figures prominently in the design, a nod to Tanner and Anuhea's hands-on VIP service.
What's unique about this website? True to the team's promise of white-glove service, its website has a Concierge section that explains its bespoke approach to customer service.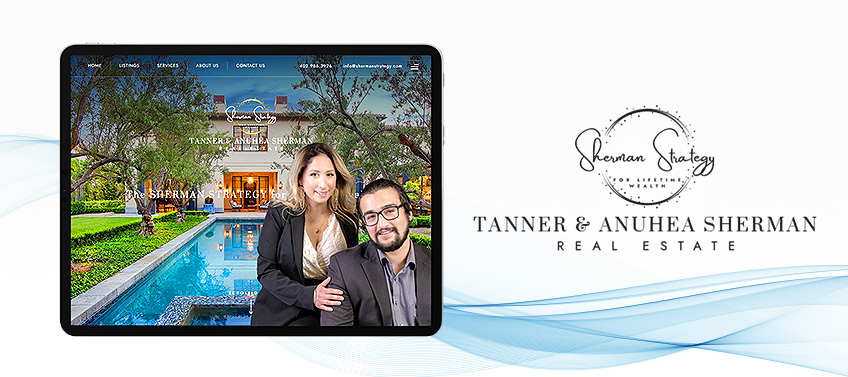 Tanika O'Brien
Santa Rosa Beach, FL
Breezy and beautiful — that's how you can best describe Tanika O'Brien's website. As an agent who specializes in seafront real estate, this agent wanted a website that encapsulated Florida's coveted lifestyle. By using blue tones reminiscent of the pristine waters and the clear skies, we give this website a distinct ocean vibe. Generous white space frames the featured listings and communities, a nod to the unhurried pace of living in this area.
What's unique about this website? We used clever visual illusions through parallax scrolling to create a rippling water effect for the website.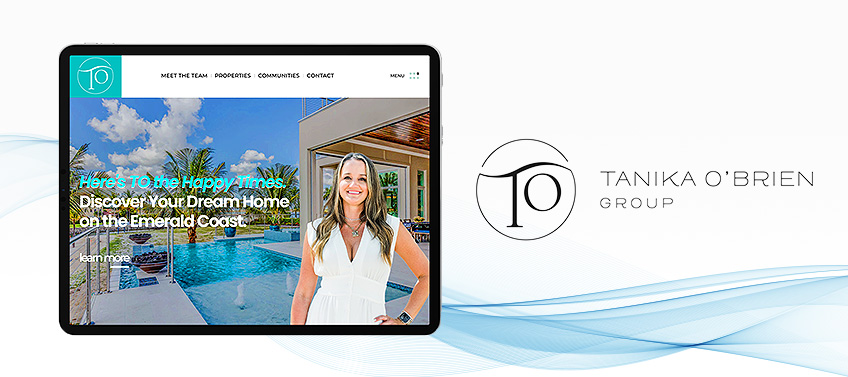 Laidback Luxury Real Estate
Cabo San Lucas, B.C.S.
To design an excellent website, you have to identify what makes a real estate team special. With Laidback Luxury Real Estate, it was clear that its access to awe-inspiring waterfront property in Los Cabos made it stand out. Aside from prominently featuring seaside estates on the banner section, also used scenic vistas as a background image for various sections. Similarly, the blue and brown tones used throughout the site borrows directly from the area's pristine shores. Of course, we backed up excellent design with functionality, too, placing a search bar on the banner section, where it sits above the fold for easy access.
What's unique about this website? A website should reinforce a brand, which is why Laidback Luxury Real Estate's logo is superimposed on the featured communities whenever you hover your mouse over it.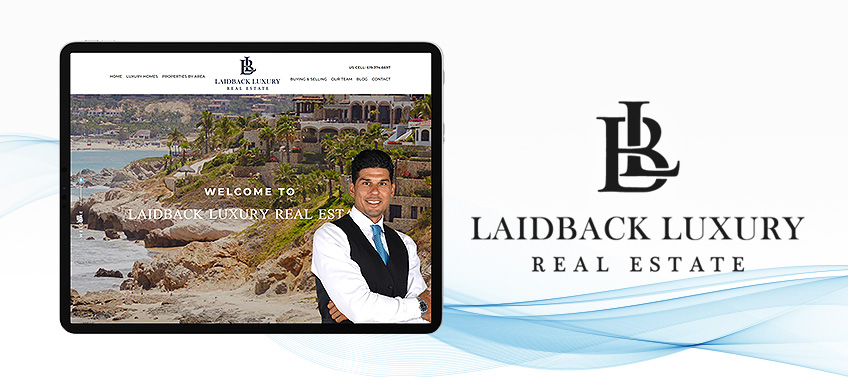 Anne Hogan Perry
Honolulu, HI
Beautiful, sleek, and interactive — that's exactly what AnneHoganPerry.com delivers. Inspired by Hawaii's scenic sights, we turn content blocks into postcard-like previews of the life you can enjoy if you call The Aloha State home. And when you're ready to make the move, useful features like spotlighted listings, buyer/seller portals, and a property value calculator make relocating as easy as a seaside breeze.
What's unique about this website? We also included lifestyle guides (like day hike recommendations) that give you an insider's view of the local sights and sounds.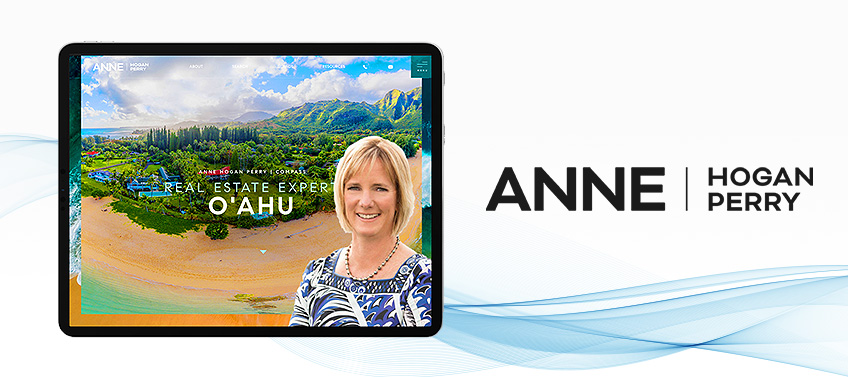 Elevate Real Estate Group
London, Canada
For Elevate Real Estate Group, it's all about providing seamless and stress-free service to clients. It's no surprise that its website has a streamlined layout and a striking red color palette that makes finding what you need easy. Buyers can search for their dream home using the interactive map, which includes preview text for each community. Likewise, sellers get a clear idea of the team's marketing strategy directly from the homepage. Sleek and modern, this website truly lives up to its name.
What's unique about this website? Instead of the usual static chatbox, this website uses a video background to make this feature more eye-catching and engaging.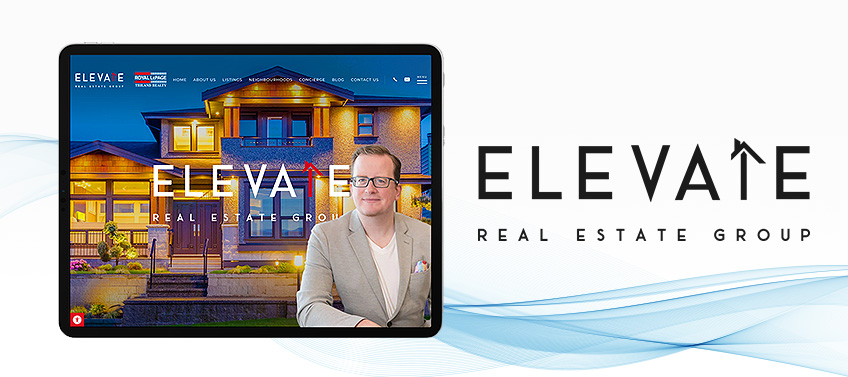 Julie Han
San Diego, CA
Luxury agent Julie Han wanted a website that was modern, elegant, and clean, so we delivered a design where no pixel is out of place. The black-and-white palette exudes timeless sophistication, which befits the deluxe listings featured on this site. Julie's logo, a stylized "H," has also been subtly incorporated into the website akin to a monogram. SDCoastalLuxuryHomes.com embodies the idea of effortless luxury to a tee.
What's unique about this website? Hovering your mouse over call-to-action buttons reveals a subtle red tint which adds visual interest to the website.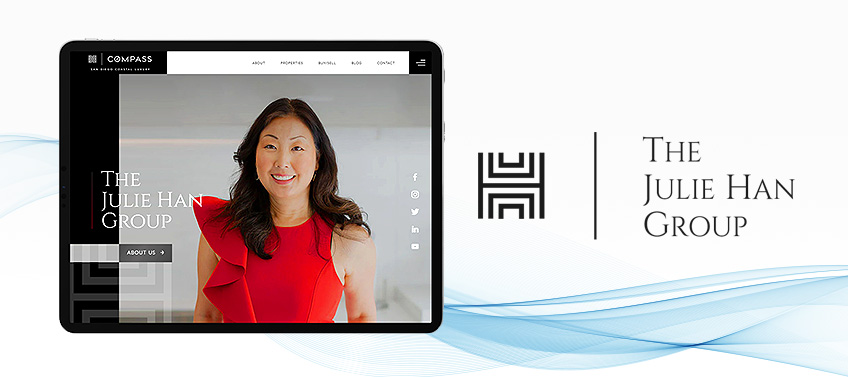 The Edmund Bogen Team
Boca Raton, FL
Edmund Bogen had a tall order: a straightforward website that's not cookie-cutter, which our team handily delivered. The home page takes only seven scrolls to explore, but each section is packed with information that's laid out in a visually impressive manner. Gradients were used generously throughout the website, mimicking Florida's beaches and their varying shades of blue.
What's unique about this website? Edmund's simple but stylish logo is overlaid on featured listings and communities when you hover over them.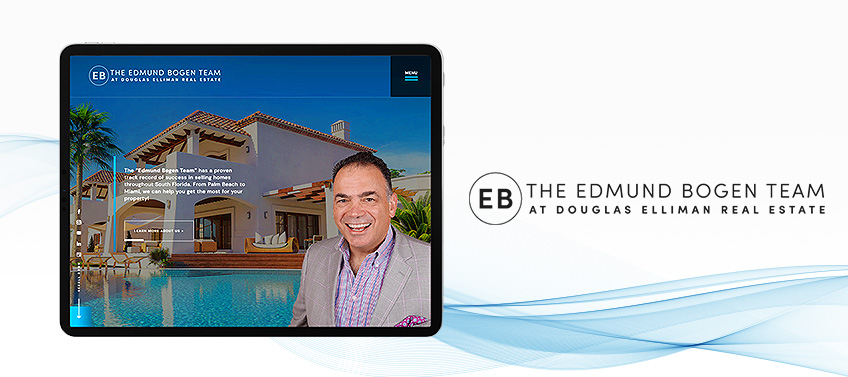 Julia Torsiello
Rockaway, NJ
55PlusMorrisCounty.com may cater to over-55 clientele, but its design is unmistakably modern and clean. At the same time, classic elements like a marble-like background give this site a warm yet elegant feel. Featured listings and towns are rendered as mini-postcards, highlighting the scenic views and stunning homes that make Morris County the perfect place to spend your golden years.
What's unique about this website? The quick search and advanced property search features are placed side by side, giving visitors more ways to find their dream homes.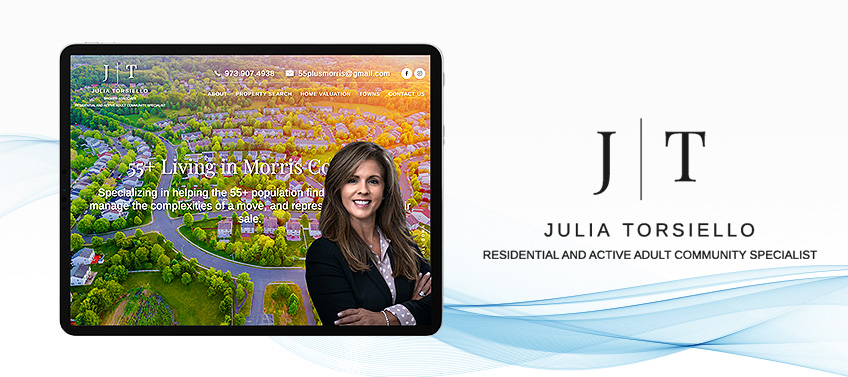 Tracy Nelson
San Francisco Bay Area, CA
Video marketing has always been the ace up Tracy Nelson's sleeve, so we turned her website's banner into a showcase for the amiable agent and the exclusive properties she sells. An enticing introduction is only the beginning, though, as we also integrated seller, buyer, and home estimate buttons into the banner area, making it easy for visitors to get the service they need. This site's design is simple yet elegant, which touches of gold to emphasize the prestige of living in the Bay Area.
What's unique about this website? True to form, we created a dedicated inner page that houses select videos from American Dream TV, where Tracy serves as a host.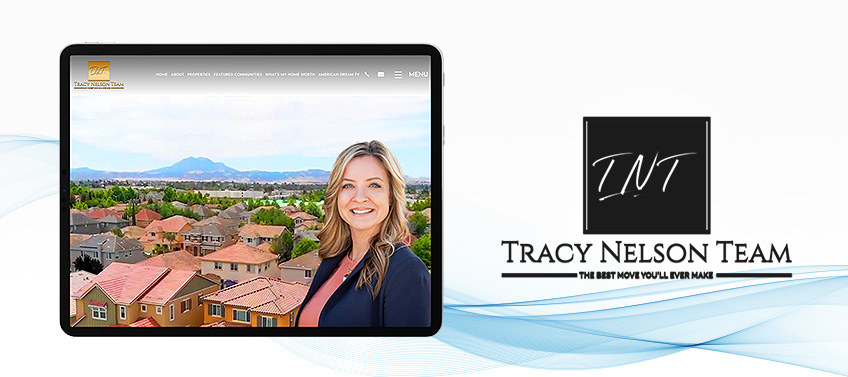 Recap of standout features
There's more than one way to make a website stand out, as this month's selection clearly demonstrates:
Sharona Alperin – Using "My Sharona" as the background music immediately makes this website memorable.

Tanner & Anuhea Sherman – A "Concierge" section highlights the team's VIP-level service to clients.

Tanika O'Brien – The unique use of parallax creates a "ripple" effect when scrolling.

Laidback Luxury Real Estate – Subtle but impactful integration of the logo boosts the team's branding.

Anne Hogan Perry – Lifestyle guides provide visitors with an in-depth view of the seaside living that awaits in Hawaii.

Elevate Real Estate Group – By using a video background for the chat box, we made this oft-overlooked feature genuinely unmissable.

Julie Han – The call-to-action buttons turn red when the mouse passes over them, adding a pop of color to the website.

The Edmund Bogen Team – Overlaying Edmund's logo on listings and communities further highlights his branding.

Julia Torsiello – Placing the quick search and full property search options next to each other makes looking for listings even easier.

Tracy Nelson – A dedicated landing page highlights Tracy's work for American Dream TV.
A new year deserves a fresh start. So let Agent Image revamp your brand and your business with an all-new website. Whether you need a simple site or a fully customized one, we've got a package that's perfect for you.
Book your FREE consultation with a Web Marketing Specialist today! Just call 1.877.280.3315 to book an appointment.
Did you enjoy reading this article?
Sign up for more updates with our Agent Intelligence Newsletter!
We are committed to protecting your privacy.
Real Estate Websites for Agents
Learn which package works best for you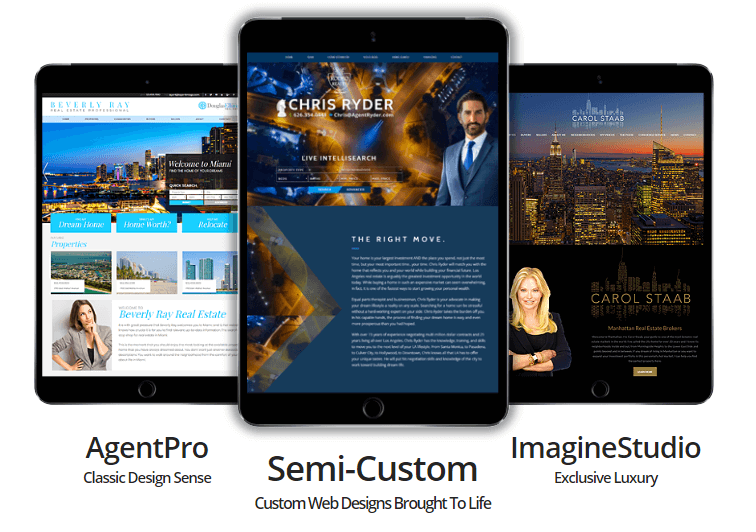 Learn More