10 Best Real Estate Websites For July 2022
Time sure flies for the busy real estate agent. Case in point: we're already halfway through the year!
As we turn another leaf, it's worth asking: is your website where it needs to be? Does it have the modern features that help you generate leads? Does it still captivate visitors and leave them with a good impression?
If your answer is anything less than a resounding "yes," it's time to give your site an upgrade. As this month's selection of the best real estate websites shows, redesigning your website can also ramp up your business.
Perry-Miller Streiff Group
Dallas, TX
Real estate transactions are founded on trust. Knowing this, we made sure to give the Perry-Miller Streiff Group's website a professional yet stylish look that instantly communicates credibility. Its clutter-free layout and intuitive navigation are indicative of the expert service this team provides. At the same time, the interior shots of luxury homes and postcard-like photos of featured communities emphasize the group's specialization in high-end real estate. And if you want to know more about the knowledgeable professionals who'll be serving you, just click on the team's informative About section.
What's unique about this website? There's no better measure of a realty team's success than its track record. Luckily, Perry-Miller Streiff Group has an enviable one. We created a dedicated section that highlights the group's impressive $10 billion lifetime sales volume.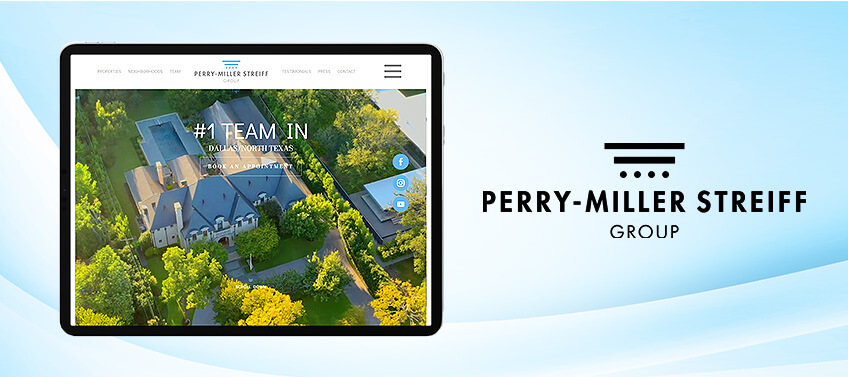 Dream Living Lake Tahoe
Lake Tahoe, CA
The phrase "Lake Tahoe" immediately evokes images of crystalline waters, snow-capped mountain peaks, and endless leisure options. And from the moment you load Dream Living Lake Tahoe's website, a cinematic video transports you to this magnificent place. The website sports a white-and-gold palette — a fitting choice since Jennifer Borwick specializes in luxury homes in this sought-after lakeside community. Our team also employed a photo-centric approach to capture the grandeur not just of Lake Tahoe but also the multi-million dollar listings found there.
What's unique about this website? Seamless service is Jennifer Borwick's forte, something that we captured via the Buyer, Seller, and Home Valuation portals. These sections offer free resources that provide immense value to site visitors.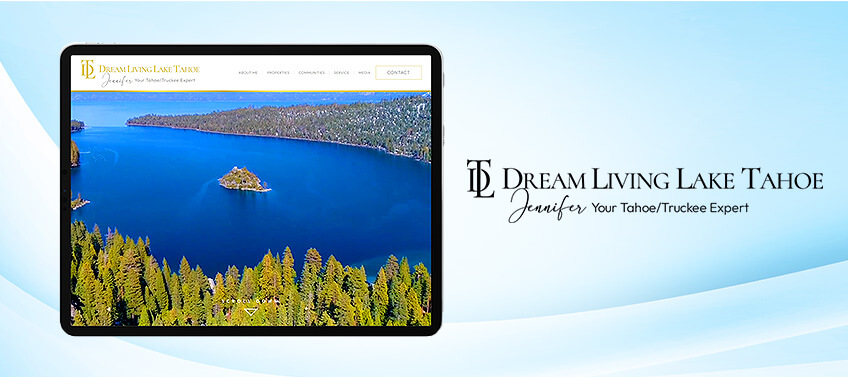 The Sarkis Team
Boston, MA
The Sarkis Team's website embodies its founders George and Manny: sleek, professional, and innovative. Geometric shapes and lines give the site a markedly contemporary feel, while the blue-white palette evokes class and distinction. To help would-be clients better appreciate the team's listings, featured properties are rendered in full-sized images; click on one and you'll be provided a wealth of information.
What's unique about this website? The Sarkis brothers belong to a new breed of digitally connected real estate professionals. And nowhere is this more apparent than in the video section, which features property walkthroughs, industry events, and community activities.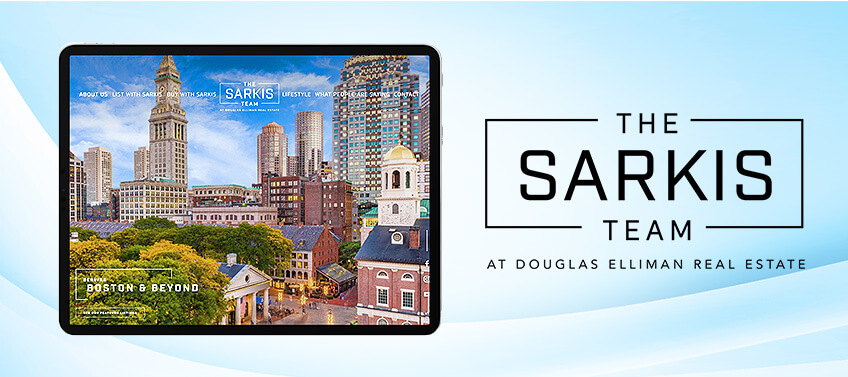 LIV Design
Chicagoland, IL
For a team that proclaims itself as the top staging and remodeling team in Chicagoland, LIV Design deserved nothing less than an impeccably designed website. Our team delivered on this promise by creating a site that boasts a glossy look and a sleek sensibility. A gallery of full-sized photos showcases LIV Design's design prowess, while the featured design section allows visitors to see how the team works its magic on various parts of a home. A black-and-white palette, meanwhile, creates a minimalist aesthetic that serves as the ideal canvas for the company's designs.
What's unique about this website? LIV Design is more than happy to share its expertise. As such, it has a video section where viewers can get design tips and inspiration for their own homes.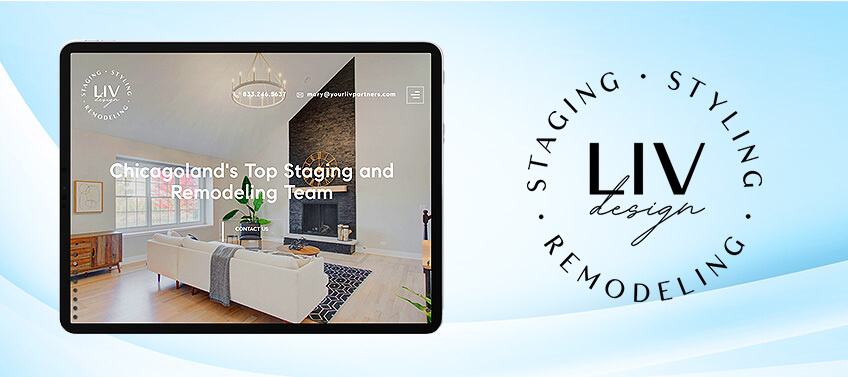 Orlando Homes Expert
Orlando, FL
Douglas Rudnick has a simple goal: to be a client's lifelong advocate in real estate. With this in mind, we designed a website with simplicity and clarity at its core. From the banner section, visitors can immediately access portals for buyers and sellers. The featured properties, meanwhile, are arranged in an Instagram-like grid, allowing people to see up to nine listings at once. Lastly, the sleek black-and-white scheme eschews extraneous design details so that users can focus on the website's content and tools.
What's unique about this website? Douglas takes great pride in providing excellent service to clients. As such, his website features a five-step diagram explaining how he can quickly and profitably list a property.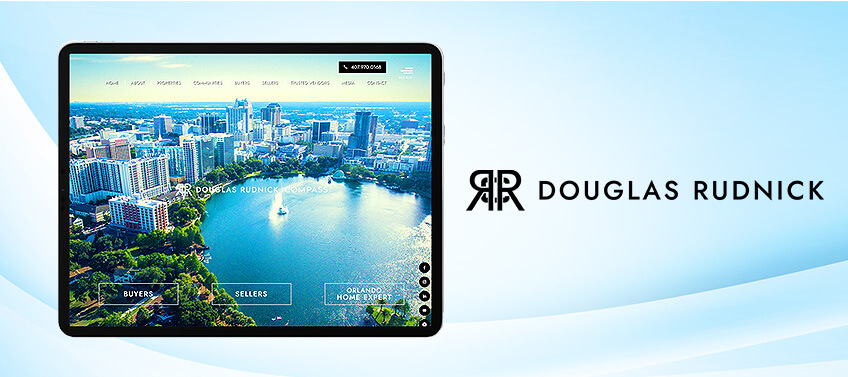 Hashtag Realty Group
Jacksonville, FL
Rachelle Miller, who heads Hashtag Realty Group, understands that a home is more than just a property, it's the place where life's most precious moments happen. As such, her website's banner video showcases scenes of domestic bliss — and offers site visitors a peek into their future if they work with this renowned agent. Interactive elements were also employed to underscore the hands-on service Rachelle provides. Hover your mouse over the team portrait and you can learn more about each agent. Similarly, the interactive map allows visitors to freely explore Jacksonville's many desirable neighborhoods.
What's unique about this website? There are many realtors in Florida, but this website's Career Highlights section demonstrates why clients should trust Rachelle. From her years of experience to her near-perfect customer satisfaction rating, this portion proves why she is one of the best in the business.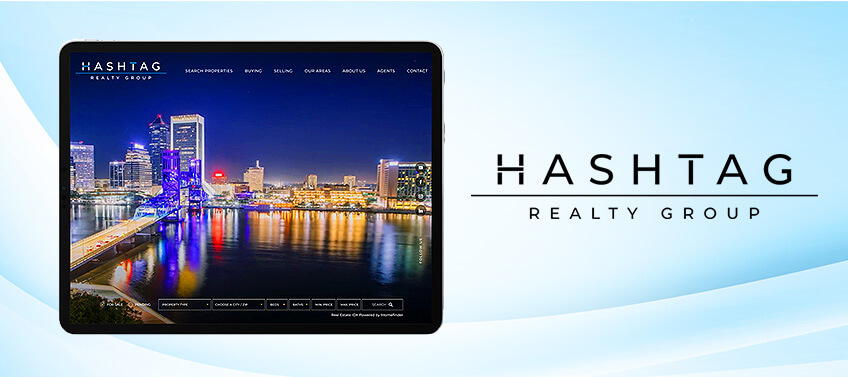 The Omni Group Real Estate
Scottsdale, AZ
Visitors to OmniGroupRE.com will immediately note its striking design. From the full-screen banner image, to the starkly contrasting black-and-white colors, to the breathtaking luxury estates, it's clear that this group offers services that are distinctly superior. Exquisite design touches can be found throughout the site as well, such as The Omni Group's signature circular emblem and the contemporary geometric shapes emblazoned on featured listings. This website clearly communicates that you'll be working with experts for whom service beyond expectations comes standard.
What's unique about this website? If you want your home to sell, there's no better team to work with than The Omni Group. Proof of its prowess can be seen in the Home Transformation section, which features before-and-after videos of staged properties.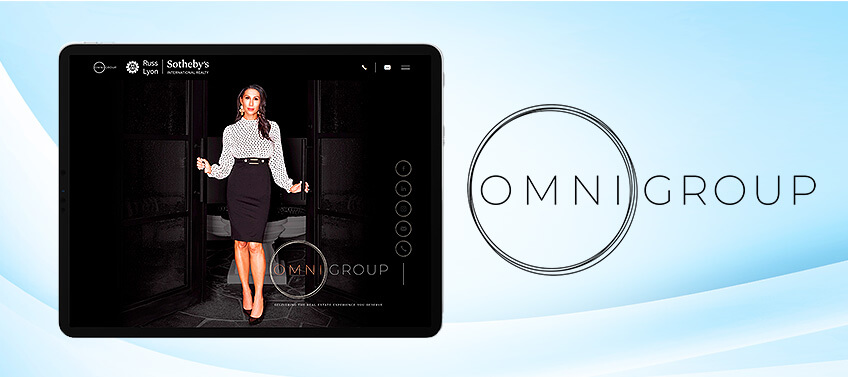 Ryan Shaw Group
Los Angeles, CA
Not unlike property listings, curb appeal is crucial to real estate websites, too. Luckily, RyanShawGroup.com knows how to make a good impression from the get-go. From the instant it loads, visitors are treated to a sweeping aerial video of the Los Angeles coastline, highlighting Ryan Shaw's expertise in seaside real estate. As befits a luxury realtor, his website has a sophisticated but understated elegance to it. The simple layout allows for easy and intuitive navigation, with the floating navigation bar providing easy access to all sections of the website no matter where you scroll.
What's unique about this website? Different buyers have different needs and thus have different expectations for their ideal neighborhood. Thankfully, this website has an interactive map that lets people select which part of LA to browse listings in. Whether you want to live near the ocean or prefer an abode at the heart of the city, finding the perfect property is a cinch with this feature.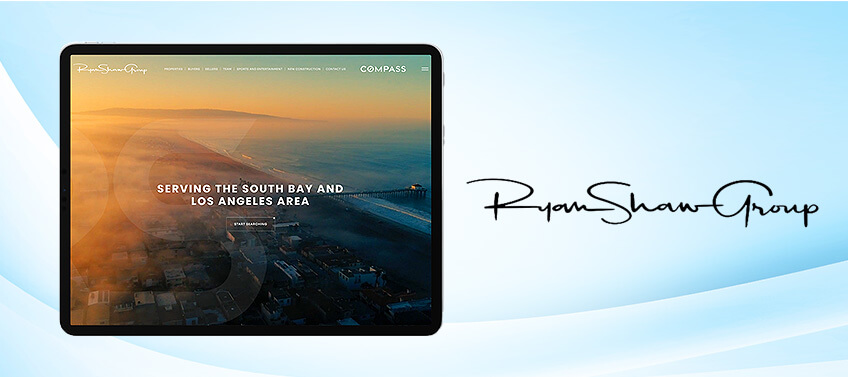 Tess Turrin
Palm City, FL
TessTurrinRealtor.com is a masterclass in harmonizing an agent's brand with that of her real estate company. This website bears the signature red hue of RE/MAX, but also features touches that are unmistakably Tess'. Primary among these is her logo, which is placed on a floating navigation bar so it's always visible. Her site also effectively uses videos and photos to entice visitors to discover the real estate opportunities in sunny Palm City.
What's unique about this website? Video backgrounds are expertly used to make Tess Turin's website even more engaging. For instance, her agent bio section is overlaid on a video showcasing Palm City's coastal attractions.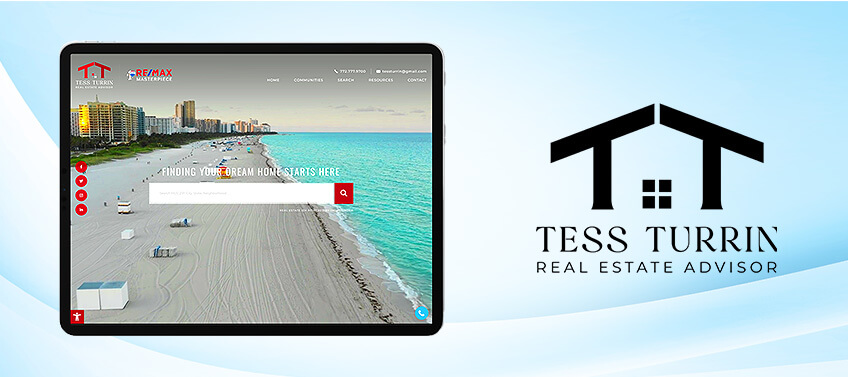 Elements Atlanta
Atlanta, GA
Elements Atlanta's slogan is "The Science of Real Estate," which perfectly encapsulates its straightforward and fuss-free approach. Knowing this, our team designed a website that has a logical flow and straight-to-the-point navigation without sacrificing style. Features like the property search and interactive map are just below the fold, making it easy for people to start their home search. At the same time, design touches like the parallax effect and background images add flair and visual interest.
What's unique about this website? True to its name, Elements Atlanta cleverly presents neighborhoods as a periodic table. Click on one and you'll find more information as well as available listings there.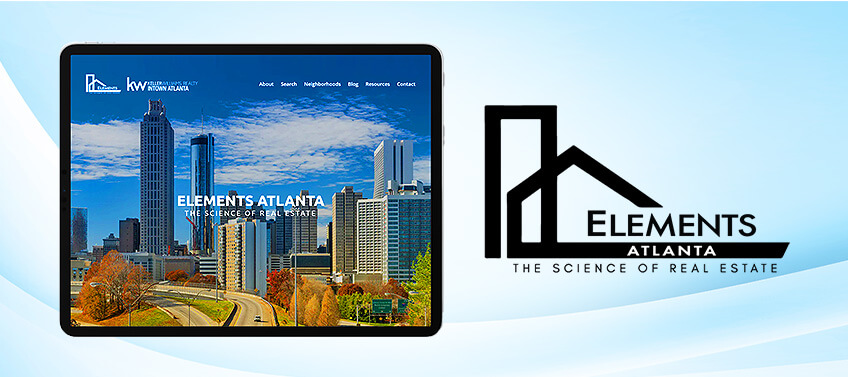 Recap of standout features
We hope the websites above inspire you with their design and features. Once again, these are the top-notch features that make these sites worthy of a spot in this month's list:
Perry-Miller Streiff Group – A dedicated section highlights this team's impeccable track record of results.

Dream Living Lake Tahoe – Portals for buyers, sellers, and home valuation give site visitors free valuable resources.

The Sarkis Team – A video section features rich content that exemplifies this team's digital savviness and industry expertise.

LIV Design – Videos demonstrate this group's prowess in all aspects of interior design and home staging.

Orlando Homes Expert – A straightforward explanation of Douglas Rudnick's listing process gives clients a clear path forward.

Hashtag Realty Group – The Career Highlights section proves why Rachelle Miller is one of Florida's most respected agents.

Omni Group Real Estate – Before-and-after videos give prospective clients a first-hand look at the group's staging capabilities.

Ryan Shaw Group – An interactive map makes it easy for people to find the perfect home – whether that's close to the LA coast or further inland.

Tess Turin – Video backgrounds give Tess' website a uniquely dynamic feel.

Elements Atlanta – This website features a "periodic table of neighborhoods" – a clever nod to its scientific approach to real estate.
Give your website the makeover it deserves
Digital marketing is always reinventing itself. So why not give your website a revamp, too?
After launching over 25,000 websites over the last 20+ years, we are well-equipped to take your website from good to best-in-class. Just take a look at the work we've done for prominent clients such as The Altman Brothers and The Oppenheim Group!
And the best part? You can get a FREE design consultation — no strings attached. Just call 1.877.317.4111 or send a message here to get started!
Did you enjoy reading this article?
Sign up for more updates with our Agent Intelligence Newsletter!
We are committed to protecting your privacy.
Real Estate Websites for Agents
Learn which package works best for you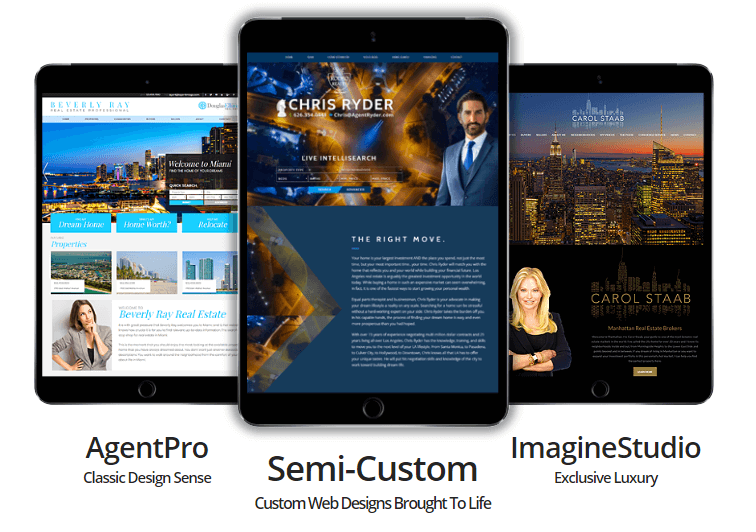 Learn More