10 Best Real Estate Websites for March 2023
As they say, change is the only constant in life. And as the season changes and we enter the most hectic month in the real estate industry, it's worth asking: have I evolved my online presence to attract today's digital-savvy buyers and sellers? It's an important question — one that these outstanding websites answer with aplomb.
Loveland Carr
Los Angeles, CA
The best real estate websites don't just have stunning visuals, they have outstanding copy, too. Case in point: LovelandCarr.com, whose content is written to highlight the team's expertise and the picturesque neighborhoods the team specializes in. With equal amounts of wit and style, the copy persuades visitors to scroll through for more information. Not to be outdone, the website design is just as impressive, with a contemporary look inspired by glossy magazines. Generous white space, high-definition photos, and an elegant blue color scheme lend this website even more elegance.
What's unique about this website? Loveland Carr backs up its reputation through an infographic that shows how much faster the team sells homes compared to the industry average.
Robert Slack
Ocala, FL
Function meets finesse in Robert Slack's website. This design philosophy is best seen in the banner section, which pulls double duty by hosting a gallery of exquisite home interiors and the property search function. You'll notice an elegant minimalism throughout RobertSlack.com, with generous white space allowing the eye to really focus on the listings. At the same time, light gold and blue tones add color as well as prestige to the site.
What's unique about this website? Another reason to love this website? There's a section that highlights Robert's innovative programs, which range from loyalty rewards, to straight-cash offers, to rent-to-own options.
Kearney Strong
Kearney, MO
One look at Lauren Miller-Nelson's new website and you're bound to feel right at home in Kearney, MO. After all, this perfect slice of suburbia is the top agent's hometown. For us, the task was simple: to translate the city's charm into an engaging website. With a heartfelt video banner, picturesque featured homes, and nostalgic purple color accents, we think we've achieved this goal. We also made sure to include an interactive map that serves as a down-to-earth tool for buyers in search of a dream home.
What's unique about this website? As a longtime resident of Kearney, Lauren makes sure to give back to the city — a fact that's clearly highlighted in the "Community Involvement" section.
Brett Harris
Miami, FL
Miami's waterfront is a show-stopping sight, which means Agent Image had to create an equally show-stopping site for Brett Harris. From the get-go, you're struck by the full-screen image of the seaside, complete with its cerulean waters, clear skies, and white-sand beaches. We discretely added Brett's branding, navigation links, and social handles on the periphery to train the eye on the impressive scenery. We took a similar less-is-more approach to the rest of the website, utilizing plenty of white space and large content blocks to create a focused browsing experience. What we didn't skimp on was luxurious touches, from the sleek gray gradients, to the gilded visual elements, to the aspirational background images.
What's unique about this website? Some high-net-worth buyers may want to try Miami's lifestyle first before investing in real estate. That's why Brett's website has a dedicated portal for luxury rentals.
Jesse Salas
San Diego County, CA
With a URL like SalasSells.com, you know that Jesse Salas is all business — he, after all, belongs to the top 5% of all REALTORS® in the country. But as his website proves, though, he conducts his business with style. That's evident from the crisp magazine-like photos to the contemporary geometric shapes that grace his website. And of course, you can't ignore the soothing blue color palette, which takes inspiration from Southern California's stunning coastline.
What's unique about this website? Real estate is reputation-driven, which is why we dedicated ample screen space for Jesse's five-star reviews — which number over 200!
Angela Flory
Dayton, OH
Angela Flory has sold over $500 million in real estate over her 20-year career and it definitely shows on her website. You'll spot luxurious details everywhere you look, from the editorial property photos, to the gold-flecked marble background, to the classy black-and-white theme. Of course, the website is every bit as functional as it is visually stunning, thanks to features like a comprehensive property search function, and portals for buyers, sellers, and relocation services.
What's unique about this website? Angela sets the gold standard for real estate service. Inspired by this, we created a clever animation effect wherein hovering your mouse over the featured properties overlays the image with a gold gradient.
Century 21 Island Homes
Ewa Beach & Kailua, HI
Century21IslandHomes.com is like the little black book of Hawaii luxury real estate. Dark tones and lightly textured elements give the site a prestigious look, which is further heightened by the black-and-white photography used for the featured communities. As you'd expect, the site also pays homage to the stunning beauty of Hawaii through the cinematic banner video, scenic background images, and postcard-perfect snapshots of island life. The straightforward layout — exemplified by large, image-led portals for buyers, sellers, home valuation, and maps — only adds to the elegance of this website.
What's unique about this website? Century 21 Island Homes isn't just a destination for deluxe homes, it also hosts videos that offer house tours and updated insights into Hawaii's property market.
Rudy Dudon
Sarasota, FL
Rudy Dudon's website captivates you from the first scroll to the last, thanks to an immersive design that transports you to Florida's seaside locales. This effect is only heightened by our use of edge-to-edge banner images and large photos for featured listings. And to emphasize The Sunshine State's picturesque sights, we arranged the featured communities like a grid of postcards. All this is tied together by a blue-and-white color palette reminiscent of the state's sparkling waters and clear skies.
What's unique about this website? Numbers tell a story — and Rudy's sterling sales record proves why he is one of the area's leading luxury real estate agents.
The Er Group
Oakland, CA
Seamless service is the hallmark of The Er Group. So when they charged us with designing their website, they asked for a layout that was smooth and free-flowing. To that end, we employed subtle transitions and animations to delineate one section from another. This client also preferred a clean, uncluttered look, which is why we favored a streamlined layout with plenty of white space. The result? A website that's spare but sophisticated — an accurate embodiment of The Er Group's brand.
What's unique about this website? To make searching for a home easier, we included an interactive map. People simply need to click on their desired neighborhood to explore the listings there.
Tom Tezak
Maui, HI
TomTezak.com captures the sophisticated simplicity of island life in Maui. Displaying a strong sense of symmetry, elements like spotlighted listings, featured communities, and agent profiles are presented as cards. To add visual interest and vibrance to the design, we made sure to animate these cards so they auto-scrolled like a gallery. The site is also filled with useful tools, including an affordability calculator, home sales activity report, and home valuation feature.
What's unique about this website? Photos are great, but they can't do justice to a luxury listing quite like a video tour can. As such, we included detailed property walkthroughs on Tom Tezak's website so people can better appreciate his portfolio.
Recap of standout features
Which of these clever website features would you like to have on your own website?
Loveland Carr – Numbers do the talking for this website, thanks to an infographic that highlights its blazing-fast sales timeline.

Robert Slack – Our team made sure to highlight Robert's innovative approach to real estate by giving his programs ample space on the website.

Kearney Strong – Kearney native Lauren Miller-Nelson spotlights her involvement in worthwhile causes through the "Community Involvement" section.

Brett Harris – A portal just for luxury rentals gives VIPs access to the most exclusive condos and homes in Miami.

Jesse Salas – You don't become one of the top REALTORS in the country by accident – as Jesse's 200+ five-star reviews clearly show.

Angela Flory – Hovering your mouse over a featured property conjures up a stylish gold overlay on the image.

Century 21 Island Homes – In-depth videos give site visitors a clear sense of what it's like to buy a home and live in Hawaii.

Rudy Dudon – By spotlighting Rudy's impressive sales record, we establish his stature as one of Florida's premier real estate agents.

The Er Group – An interactive map offers a sleek home search experience to site visitors.

Tom Tezak – Video walkthroughs offer an immersive way to view Tom's exclusive properties.
Spruce Up Your Brand
It's never too late to give your website the revamp it needs. As you can see from the examples above, our expertise lies in breathing new life into existing websites, so allow us to unlock your site's full potential.
For a FREE consultation, call 1.800.979.5799 or send a message here.
Did you enjoy reading this article?
Sign up for more updates with our Agent Intelligence Newsletter!
We are committed to protecting your privacy.
Real Estate Websites for Agents
Learn which package works best for you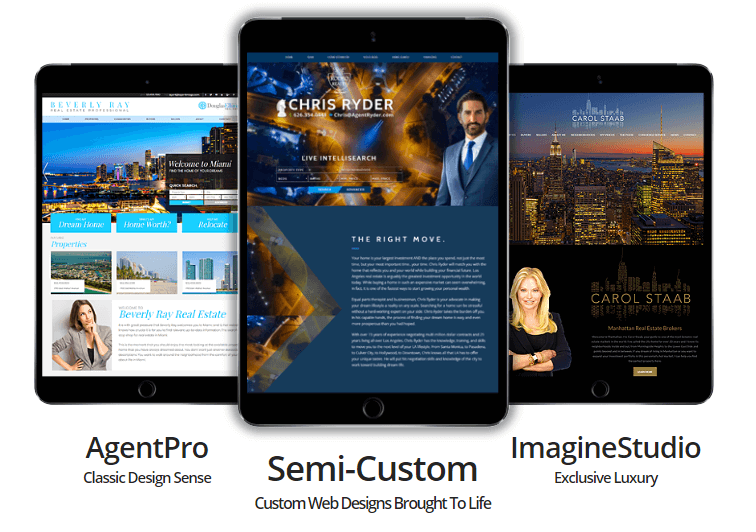 Learn More