10 Best Real Estate Websites for November 2021
It's time again to shine a spotlight on the best websites we've worked on this month. We're especially proud of the range our team has exhibited, utilizing unique interfaces and clever touches to create truly impressive results.
Without further ado, here are the newest inductees into our monthly roundup of top-notch work:
Jonathan Postma
Boca Raton, Florida
Few realtors understand luxury properties quite like Jonathan Postma, who is the top producing agent at the Boca Resort & Club. For his website, we chose a blue-and-white color palette that reflects his expertise in beachfront homes. From the get-go, visitors are welcomed by stunning photos of luxury estates — a peek into the exclusive properties only Jonathan has access to. The rest of the website is cleanly laid out, with featured communities rendered as postcard-like images; hovering on them also reveals further details about each locale. Furthermore, we've integrated his Instagram feed into his site so users will never miss out on his latest posts.
What makes this website stand out: Numbers speak for themselves and Jonathan's sales records are nothing short of impressive. We decided to create a dedicated section that highlights achievements like his team's ranking and the value of his closed deals this year. This feature makes it clear to prospects that he is the go-to agent for deluxe properties in Boca Raton.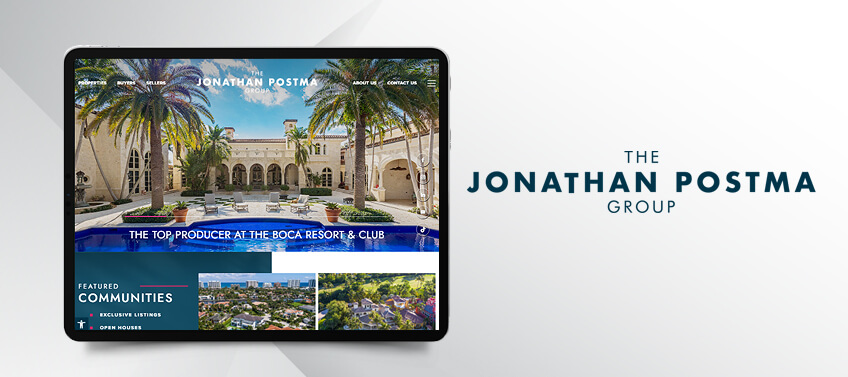 The Shevin Team
Calabasas, California
The Shevin Team is the #1 real estate team in California with over $3.2 billion in career sales. The brokerage's success is founded on its keen understanding of luxury properties and the sophisticated people who buy them. The website design is understated but elegant, with a carousel of crisp property photos greeting users and showcasing the caliber of The Shevin Team's portfolio. Featured listings are prominently shown below the fold, leading to a display of home interior photos and virtual tours of the properties. Subtle zoom-in animation for featured neighborhoods lends a dynamic feel to the site.
What makes this website stand out: The Shevin Team's website is all about seamless user experience. Scheduling showings is easily done within their listing details pages. Having niche expertise in the exclusive communities of Calabasas and Hidden Hills is a big selling point for those looking to relocate to the area.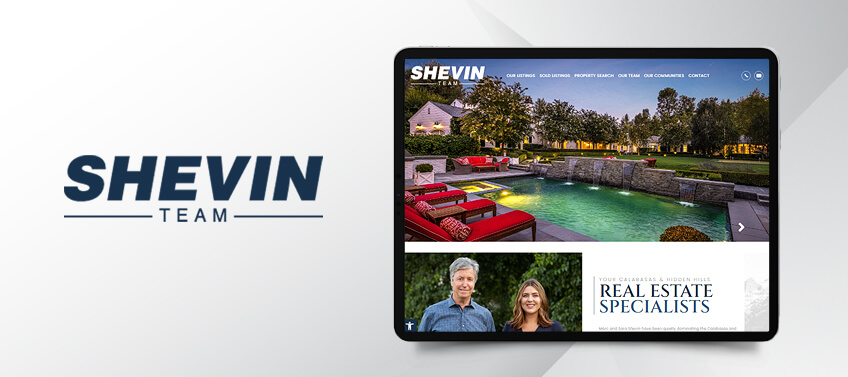 Super Luxury Group
Miami Beach, Florida
Super Luxury Group more than lives up to its name as it deals primarily with properties over the $5 million mark. Since the brokerage specializes in Miami Beach, we wanted to channel the city's dynamic vibe. We achieved this by skillfully employing animations to make the site feel lively and energetic; as users scroll, design elements neatly snap into place. Of course, function was just as important as form. The site offers a preview of featured properties and neighborhoods, and site visitors can schedule open houses and access market reports easily. Likewise, a dedicated section on Super Luxury Group's media coverage further establishes its mastery of Florida's high-end real estate market.
What makes this website stand out: This brokerage wears its expertise on its sleeve and offers prospective clients a taste of its top-notch service through its personalized home marketing plan. Sellers can receive a personalized report that includes an expert evaluation of their property, a competitive analysis, and a marketing game plan. It's an excellent service that users can get through Super Luxury Group's revamped site.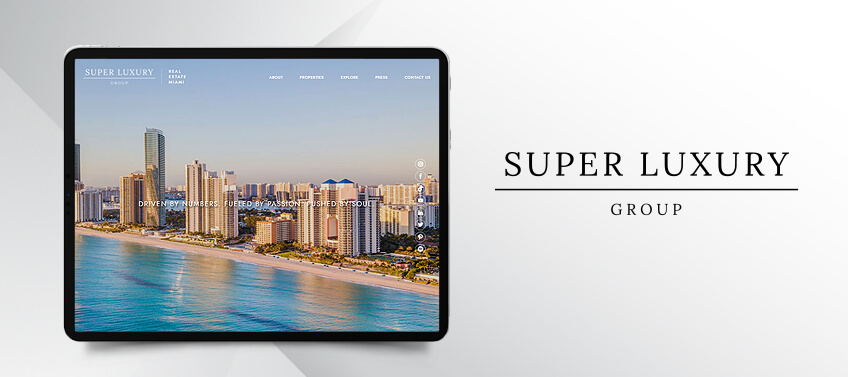 Mike Lombardo
Cape Coral, Florida
An agent who sells 100+ homes a year deserves a website that's just as hardworking. This was our marching order when we were designing the website for Mike Lombardo, the #1 producer in Cape Coral, Florida. Just below the fold is an array of recently sold houses — a testament to his incredible ability to close deals. There is also a section that highlights his myriad accomplishments, backed up by impressive figures. The video section showcases Mike's various media appearances and further drives home his real estate expertise. The website was designed with utility in mind, as users can request a free home evaluation and take video tours of listed properties.
What makes this website stand out: Mike takes a tried-and-tested approach to selling homes and we've created a section to illustrate it. Rendered as an interactive timeline, the process is broken down step by step, giving us a peek into their secret for success.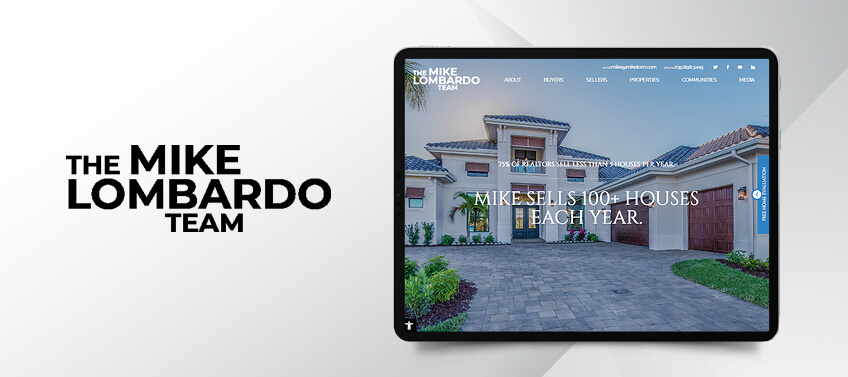 Myriam De Roye
Malaga, Spain
Agent Image's renown extends beyond North America, as evidenced by our recently completed website for Myriam De Roye, an agent who sells luxury properties in Southern Spain. The challenge with building her site is to evoke the same refined elegance that her listings embody. As such, our team used a sleek black, red, and gold palette to create a site that's effortlessly sophisticated. Design elements gently fade into view as well, a nod to the slow and leisurely living that this part of the Iberian Peninsula promises. Each listing comes with an elegant slideshow that lets people appreciate both the interior and exteriors of a property. There's also a map at the bottom to let people know which region the home is located in.
What makes this website stand out: Myriam understands that luxury property buyers don't merely buy a home — they invest in a lifestyle. Hence, we included a section that describes what's in store if you move to Southern Spain.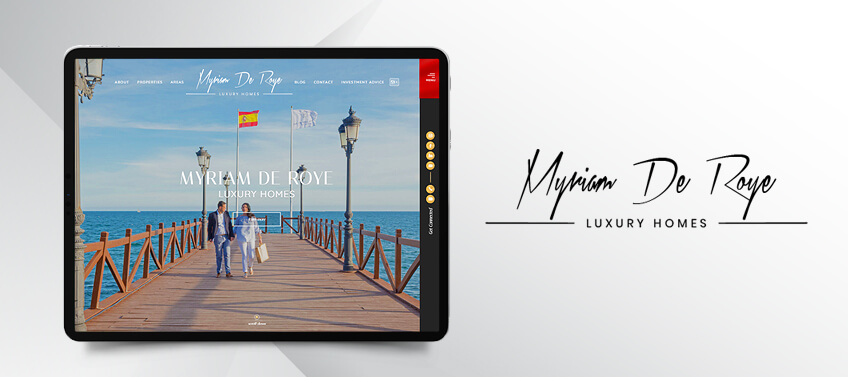 Real Estate By Arrow
Treasure Valley, Idaho
Arrow Tallman, the CEO of Real Estate By Arrow, believes that real estate is all about quality service and this is evident in the website we created for her. It features a video that not only welcomes users to the site but also introduces its team, expertise, and raison d'etre. There's also a case study featuring satisfied clients who sing the praises of this deluxe real estate agency. As an all-woman brokerage, the team figures prominently on the site, telling you more about each agent with each click. For the look and feel of the design, we went with a classic black-and-white palette that complements the strength and sophistication that Real Estate By Arrow embodies.
What makes this website stand out: In keeping with its promise to provide top-notch services, the brokerage has prepared a free relocation guide that serves as a preview of Treasure Valley's amazing lifestyle. The guide is formatted like a magazine, which reflects the refined living that buyers can look forward to.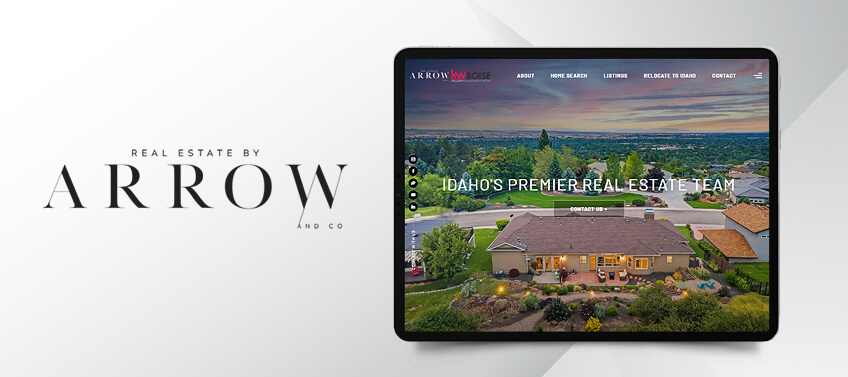 The Raivax Group
Tysons Corner, Virginia
The secret to The Raivax Group's success is its ability to think outside the box. Fittingly, we designed a website that's unexpected but no less impressive. Users are greeted by an introductory video that serves as a highlight reel of the company's accomplishments and sales figures. Each section of the site is presented as a card and users can flip through them with ease. Furthermore, all pages are framed in gold — a reference to the group's prestigious reputation. There's also a section that features The Raivax Group's various media mentions, which help establish its authority and credibility. An FAQ and blog page also provide valuable information that people need. Throughout the site, you'll see full-sized photos overlaid with tasteful copy and minimalist but modern icons.
What makes this website stand out: The company understands that its best spokesperson is its former clients. That's why we included a testimonial section where customers share their experience of working with The Raivax Group. The clips are supplemented by quotes from positive reviews as well.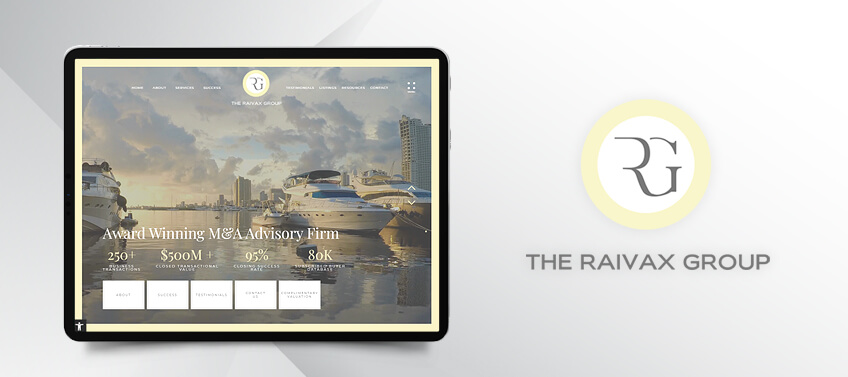 Kimberly Casey Team
Washington, DC
If the name Kimberly Casey sounds familiar to you, it's because she's been featured in national publications like The Wall Street Journal, The Washington Post, and The New York Times. For this power broker in DC real estate, it's all about the properties, which is why the historic district and its beautiful homes take center stage. Instead of a static banner, we used sweeping overhead videos of the locale to fully capture its grandeur. Just below the fold is the property search bar, where users can begin their journey toward finding their dream home. Listings are prominently displayed, too, with each one providing all the crucial details a buyer needs. By integrating Kimberly's social feeds into the site, people can get a peek into the glamorous lifestyle of DC's leading property expert.
What makes this website stand out: Clicking on a listing takes you to a page with a full-screen slideshow of the property. Each listing also comes with a downloadable and printable flyer that contains even more information. If you'd like to take a virtual tour, you can do so right from this page, too.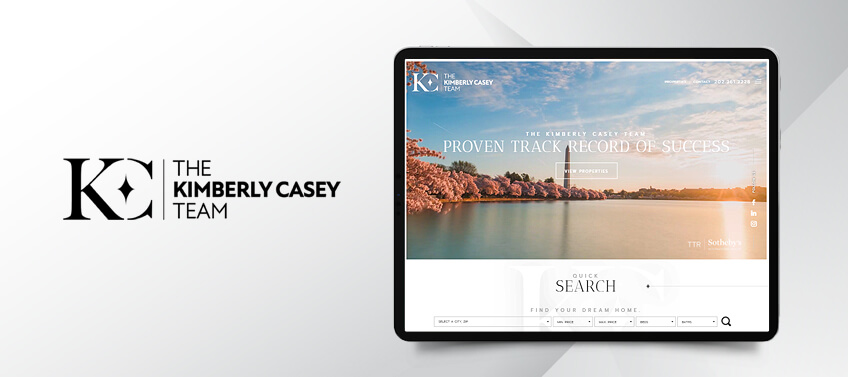 Casa By The Bay
San Francisco, California
Honesty and integrity are the hallmarks of Casa By The Bay, a leading San Francisco real estate brokerage. This website is all about making it easy to find that perfect property, so usability was a key consideration for our team. It features dedicated portals for both buyers and sellers, with each one offering comprehensive information and guidance. There's also an interactive map that allows people to select a certain county or neighborhood and see all the available listings there. Alternatively, listings are also presented as oversized postcards complete with all the pertinent details. And to make navigation even smoother, we went for a simple, uncluttered layout and a classic black-and-white color scheme.
What makes this website stand out: As part of its mission to make buying or selling a home in San Francisco as seamless as possible, Casa By The Bay provides easy access to two of Compass, Inc.'s premier services: Compass Concierge and Compass Bridge Loan. The former covers all upfront renovation costs to make a property more salable, while the latter provides competitive mortgages from established lenders.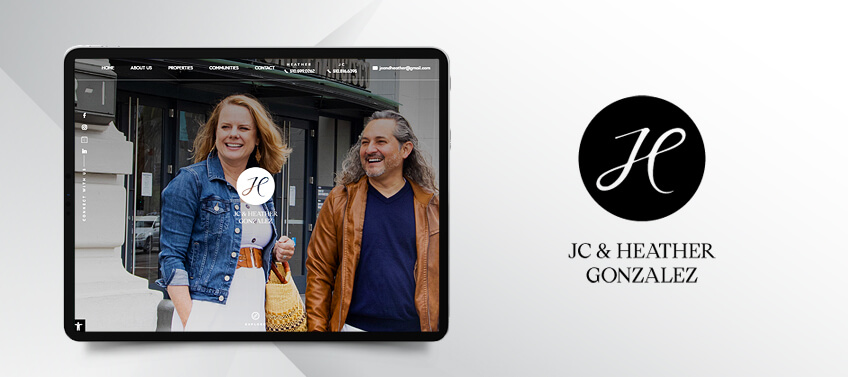 Staffing Properties
Beverly Hills, CA
While we're experts in real estate websites, our team is equally adept at servicing other industries, too. Case in point: Staffing Properties, a company that provides property management services. Our site perfectly marries form with function as exemplified by the banner, which is composed of impressive imagery and a search bar for specific staffing needs. We made sure to demonstrate the company's credibility by adding a section on the founder, its media coverage, and client reviews. The design is sleek and modern, using a color scheme of dark gray, white, and gold. Small dots on the right-hand side informs users where they are on the site, and clicking on any of them will immediately take you to a different section.
What makes this website stand out: To help clients make the best hiring decisions, the website features a guide on simple and effective recruitment. The search feature also allows users to filter candidates by job, state, and city, leading to more accurate matches.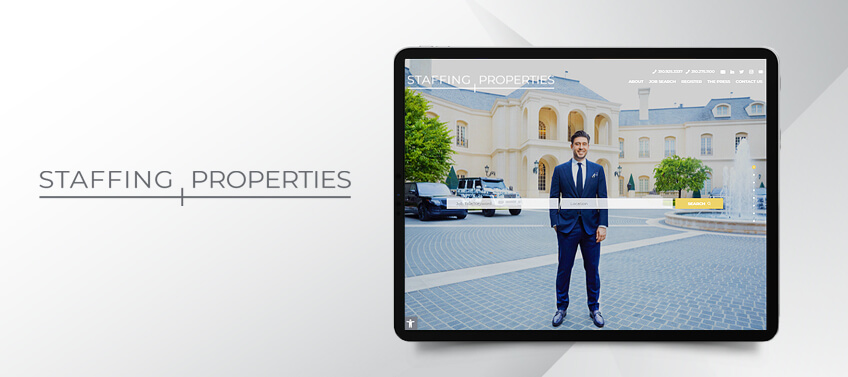 Highlights of November 2021's best websites
We're extremely thankful to our clients who entrusted Agent Image with the task of revamping their websites. Here's a quick recap of this month's best sites:
Jonathan Postma — A section highlighting his achievements solidifies his stature as Boca Raton's top-producing realtor.

The Shevin Team — By leaning into their niche expertise in 2 established neighborhoods in LA, site visitors are afforded a succinct and curated experience.

Super Luxury Group — This website features valuable features like a personalized home marketing plan that clearly demonstrates the agent's expertise.

Mike Lombardo — An interactive timeline showcases the step-by-step process this respected realtor takes to sell a home.

Myriam De Roye — A lifestyle guide for Southern Spain gives prospects a peek into what awaits them after they purchase a home.

Real Estate By Arrow — Users can download a magazine-like resource that highlights all the perks of living in Treasure Valley.

The Raivax Group — Testimonial videos from past clients give a first-hand account of how great the brokerage's services are.

Kimberly Casey Team — Each listing is an engaging experience that allows people to take a virtual tour of a property.

Casa By The Bay — This website grants easy access to Compass, Inc.'s premier services.

Staffing Properties — A guide on effective recruitment helps clients find the best people for the job.
As you may well know, first impressions matter. With a well-designed website, you can turn mere visitors into warm leads and, eventually, actual clients.
If your website needs a makeover, allow the experts at Agent Image to give it a new lease on life. With over 20 years of experience in crafting beautiful and effective websites, we've helped countless clients achieve next-level growth. Along the way, we've even worked with elite agents like Joyce Rey, the Altman Brothers, and Jason Oppenheim, to name a few.
It would be our pleasure to lend our expertise to you and unlock your business' full potential. To get started, get in touch with our team at 800.979.5799 for a FREE consultation.
Did you enjoy reading this article?
Sign up for more updates with our Agent Intelligence Newsletter!
We are committed to protecting your privacy.
Real Estate Websites for Agents
Learn which package works best for you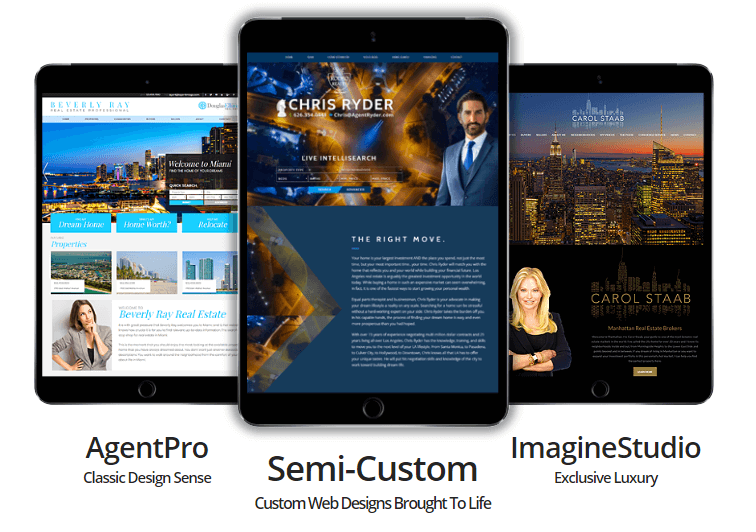 Learn More