10 Best Real Estate Websites for October 2021
The finest real estate websites once again take center stage this October. The Agent Image team is delighted to share these newly launched agent and team sites, where clients' preferred designs have been taken to heart and made into an online reality.
Among the many websites fresh off the production line, these 10 chosen ones stood out the most:
Wendy Walker
Scottsdale, AZ
More akin to a high-end magazine than a typical real estate website, Wendy Walker Fine Properties makes a stunning display of Arizona's vibrant luxury real estate market against a classy red, black, and gray color scheme.
Established and led by top-producing agent Wendy Walker, this esteemed real estate team has made it its mission to provide first-rate quality service to buyers and sellers alike, as emphasized in their beautifully designed and intuitive website features.
A powerhouse team in every sense, WendyWalkerFineProperties.com does an excellent job at displaying all their available properties, as well as the glowing recommendations and reviews from satisfied clients.
What makes this website stand out: WendyWalkerFineProperties.com takes a cool approach to their featured property showcase, displaying them in monochrome before revealing them in full color. The same interactive effect is made more personal on their team photo further down the home page. The site leverages the use of smart IDX integration, making it easy to see all available listings in the area.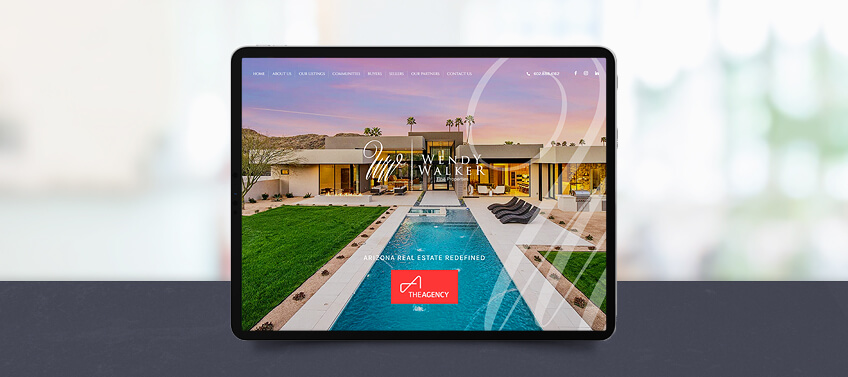 Ben Bacal
Los Angeles, CA
Ben Bacal is one of the most sought-after real estate agents in the world. In fact, he is the go-to agent for top celebrities and superstars such as Matt Damon, Ellen DeGeneres, and Madonna.
Based in Beverly Hills, Ben owes his solid reputation to his history of successfully marketing upscale properties. As one of the most well-respected and experts in the industry, he doesn't shy away from celebrating his wins as part of his marketing display. Scroll down his homepage and you'll be greeted with some of the show-stopping properties he has sold, such as a $94-million Bel-Air home.
His website design is laden with large scale images and highlights that tell a story of his illustrious career. There is the use of clear and bold typography set against a monochromatic color palette, punctuated with pops of mellow mauve.
What makes this website stand out: Much like the man himself, BenBacal.com has a classy overall design: the website is sleek and polished, the transitions smooth and seamless. The website also has a dedicated Videos page, which helps give visitors an immersive look at a selection of high-end real estate properties.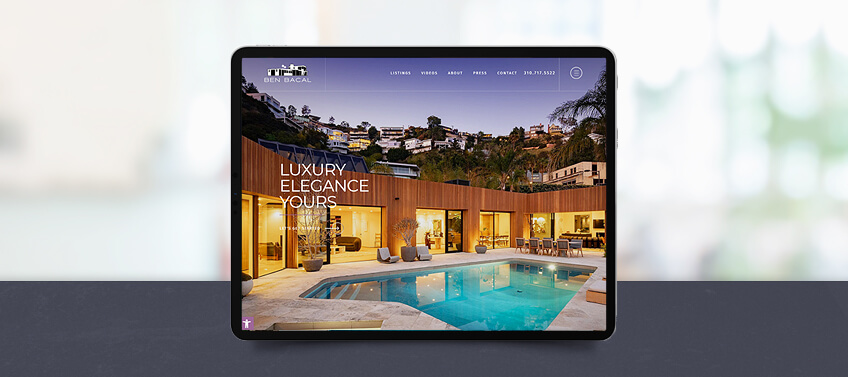 Michael Latousek
Aspen, CO
Voted Aspen's best male Realtor, Michael Latousek specializes in high-end residential properties in the city and its surrounding areas —a point made clear by a stunning photo of the Colorado valley landscape greeting you upon arrival at the website's homepage.
Reflecting Michael's approach when it comes to real estate transactions, StarwoodAspen.com is very much informative and carefully tailored to its niche market. The website design is crisp and clean, but also peppered with curated lifestyle and community photos that quickly familiarize you with the locale. Everything comes together to provide a smooth online experience for homebuyers to efficiently find their dream homes in Aspen.
What makes this website stand out: StarwoodAspen.com sports a homepage that can rival any online travel magazine. Active and sold listings are prominently displayed with engaging interactive hover effects that encourage you to learn more. The overall consistency of their branding and coordinated imagery leaves users immersed in the idyllic local landscape and serves as an apt backdrop for happy house hunting.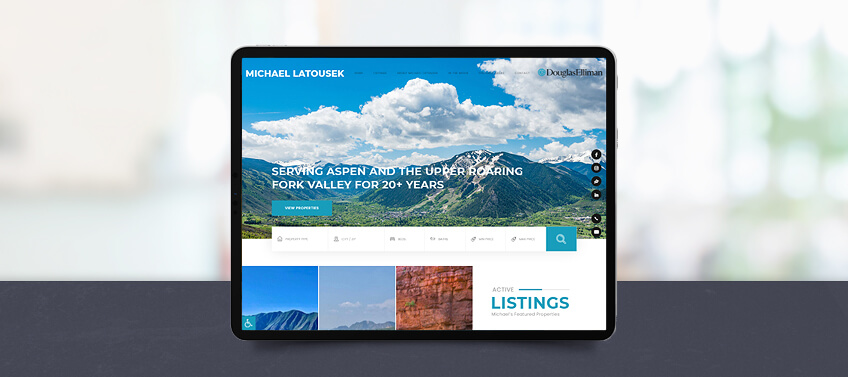 Gary Gold
Los Angeles, CA
For luxury real estate expert Gary Gold, opulence is the name of the game. Everything you see creates a solid first impression, from the slideshow of elegant properties, to the sleek layout in classic black and gold colors, and all the fine details in between.
As an internationally-renowned real estate ace, Gary is best known for selling some of the most esteemed homes in the world — a list that includes The Playboy Mansion and the Chartwell Estate, which he was able to sell for a record-breaking $100,000,000 and $150,000,000, respectively.
What makes this website stand out: SoldByGold.net uses an edge-to-edge layout for most of its website features, exuding a high end look that allows beautiful photos to sell themselves. The high contrast of gold tones used across a dark background also solidifies the website's bold aesthetic and clever branding.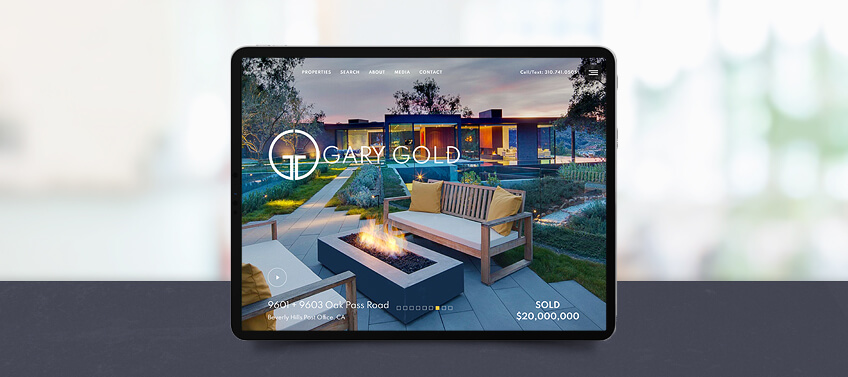 Brian Loebker
Sarasota, FL
When it comes to selling and buying luxury properties, making a good first impression is everything. For Florida-based real estate agent Brian Loebker, this sentiment also extends to his professional website.
Brian's website homepage kicks off the online experience with a full-sized slideshow of some of Florida's loveliest luxury properties. Visitors are then toured through a breakdown of some of Brian's impressive career milestones, and several testimonials that speak volumes of the top-notch service that he provides.
What makes this website stand out: Echoing Brian's first-rate customer service skills, BrianLoebker.com is incredibly informative. The blog section is filled with articles that target both homeowners and fellow real estate agents. It also presents links to social media profiles that reflect the strength and reach of Brian's online presence.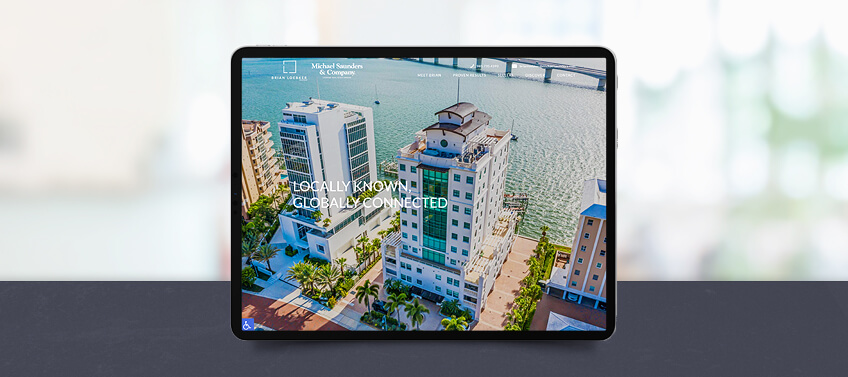 Brandy Coffey
Sarasota, FL
Resplendent in a powerful blue, white, and gold color scheme, The Coffey Group's website invites visitors to explore the azure skies and sapphire waters of Sarasota, Florida.
Founded and led by client-centered and top-notch real estate expert Brandy Coffey, The Coffey Group is known for its consistency in providing exceptional service to its clients. This is what made them one of the most successful boutique real estate brokerages in Sarasota and Manatee County.
TheCoffeyGroup.com pulls no punches when it comes to showcasing their properties and services. High-resolution photos and videos keep site visitors engaged, while the Concierge page offers links to additional services that may interest keen buyers.
What makes this website stand out: TheCoffeyGroup.com boasts an intuitive Map on its homepage that allows visitors to easily jump to specific locations. This saves them from any hassle in site navigation.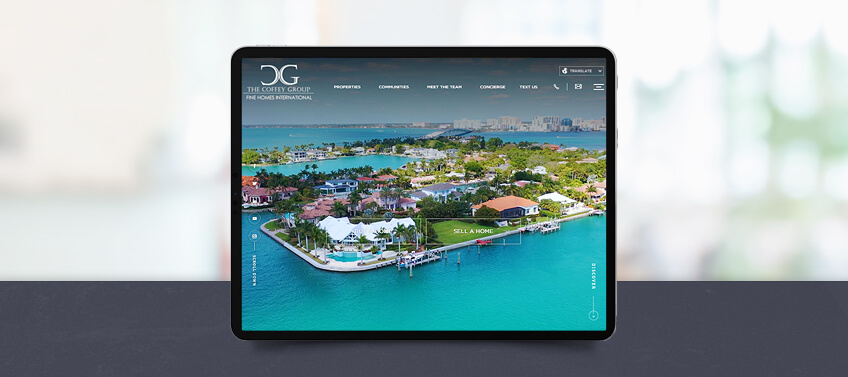 Kerry Andrade
Atlanta, GA
For top-tier broker Kerry Andrade, rolling out an impressive and professionally designed website is the cherry on top of his brand of real estate excellence.
Boasting a sleek edge-to-edge layout, smooth animation, crisp photos, and a classy, gray, black, and white color scheme, HHREHomes.com exudes the same sense of authority and power that Kerry has, making it extremely attractive to prospective clients who wish to experience the type of service that an agent of his caliber can offer.
What makes this website stand out: HHREHomes.com puts the spotlight on Kerry's achievements and expertise, with specific sections of its homepage dedicated to their sales records, as well as videos and other media. The website also showcases informative community pages, making it easier for prospective clients to look up properties in certain neighborhoods.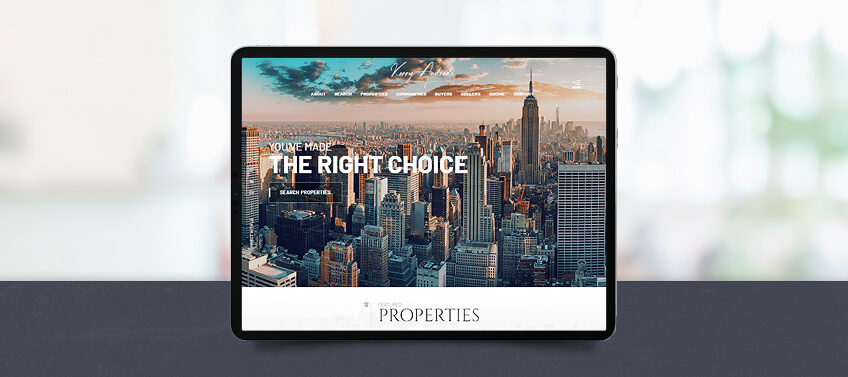 Partridge Estates
Los Angeles, CA
The Partridge Estates Group is a premier real estate firm in California that specializes in luxury properties.
Led by expert realtor Mick Partridge, The Partridge Estates Group counts celebrities such as "Crazy Rich Asians" star Awkwafina and producer Simon Kinberg among its esteemed clientele.
Echoing the firm's dedication to providing only the best type of service to its elite circle of clients, PartridgeEstates.com boasts a sharp and classy design that evokes a certain sense of timelessness and excellence.
What makes this website stand out: For PartridgeEstates.com, pictures do paint a thousand words, with the site's homepage purposely laid out to highlight the full-sized images of million-dollar properties. The site also sports snappy transition effects, making it seamless and interactive for visitors navigating through.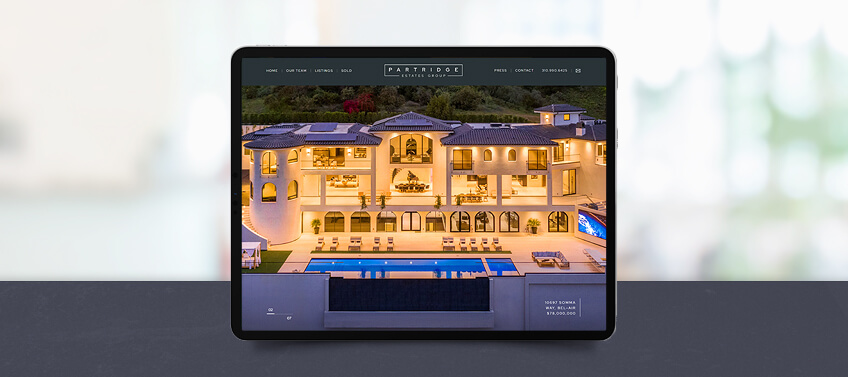 Isley Tapie Group
Corona Del Mar, CA
With over three decades of experience in the California luxury home market, The Isley Tapie Group has built a reputation for providing top-notch service to its clients.
This is evident in IsleyTapieGroup.com, which boasts a dynamic and well-designed homepage that underscores the firm's strengths – case in point, the website's banner. This eye-catching homepage opener consists of video clips that highlight the beauty and overall vibe of Corona Del Mar and nearby seaside communities.
What makes this website stand out: More than simply showcasing available properties, IsleyTapieGroup.com also puts a premium on exclusivity. Their "Buy With Us" contact form allows buyers to gain access to off-market properties that they can't find anywhere else.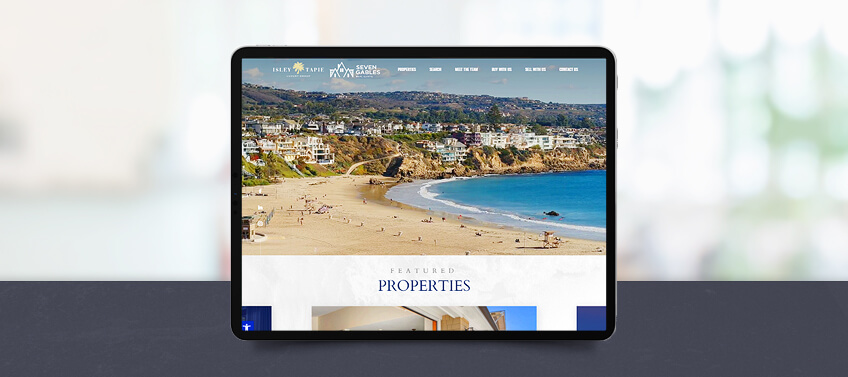 Jen Pyatt
North Texas
An expert Realtor under the Patty Turner Group, Jen Pyatt is best known for her innate ability to score the best deals for her clients.
Jen's website reflects her positive and energetic vibe in many ways. It is decked out in a palette of pinks and grays with gold elements and employs a well-designed and dynamic layout.
Given her brand of personalized service, JenPyatt.com features seamless integration with her social media profiles, which allow her to share real-time updates to her network of clients.
What makes this website stand out: Aside from integrating her social media feed to the homepage, JenPyatt.com also features solid multimedia integration in the form of property videos. This allows her prospective clients to check properties without needing to actually step foot in their premises — a strong advantage for Realtors and their clients in the age of social distancing.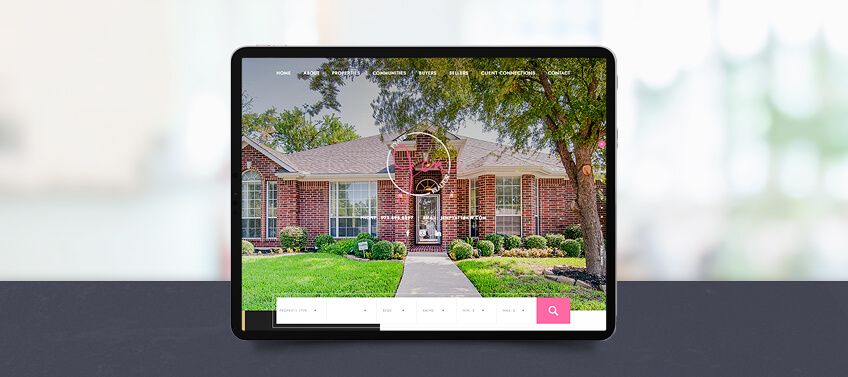 Highlights of October 2021's best websites
More than just being online galleries for properties, real estate websites are also avenues for you to show your expertise and trademark style of service in the field of real estate.
Agent Image can help elevate your business endeavors by designing websites that are benchmarks not only of website aesthetics but also of full-on functionality — just like the ones featured in this month's selection:
Wendy Walker – An intuitive layout that makes browsing properties a breeze.

Ben Bacal – A sleek and polished layout and a dedicated media section that allows for immersive property tours.

Michael Latousek – Expert use of hover animations and a layout that provides visitors with an efficient home buying and selling experience.

Gary Gold – A unique edge-to-edge layout that brings A-list properties into the spotlight.

Brian Loebker – An informative blog section that can help buyers to decide on a community to live in.

Brandy Coffey – A unique map that spares visitors from any hassle when it comes to looking at properties in specific locations.

Kerry Andrade – Laid out to highlight the Realtor's experience and capabilities, making him an easy choice for an agent by prospective clients.

Partridge Estates – A clean layout that showcases the listed properties nicely, making it easy to navigate by visitors and buyers.

Isley Tapie Group – Striking visuals and polished design that perfectly highlight the San Francisco Bay Area.

Jen Pyatt – Effective multimedia integration through property videos that allow prospective clients to check properties in detail without the need for on-site visits.
Have your own professional website that provides a next-level online presence to your business
It's time you worked with Agent Image and our talented team of design and marketing experts.
Whether you're a new Realtor or a seasoned agent, we can help you create and launch a website that can take your business to the next level. Get in touch with the Agent Image team today at 800.979.5799 for more information.
Did you enjoy reading this article?
Sign up for more updates with our Agent Intelligence Newsletter!
We are committed to protecting your privacy.
Real Estate Websites for Agents
Learn which package works best for you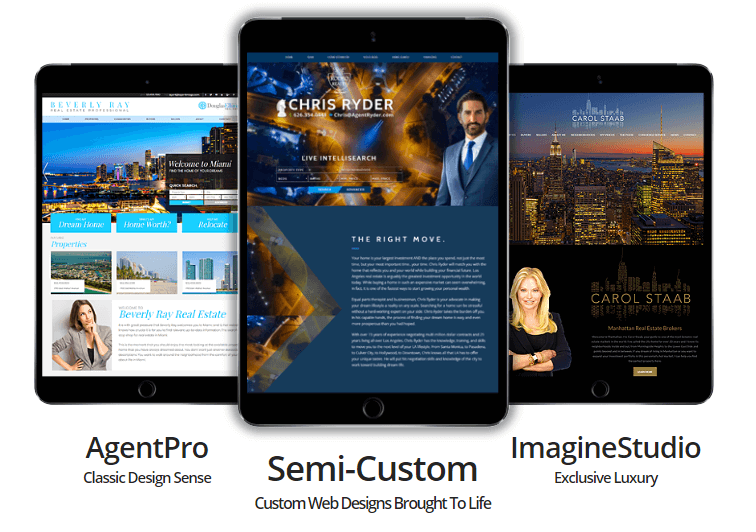 Learn More