10 Best Real Estate Websites for September 2021
A well-designed real estate website helps you build a strong web presence for your business by providing more exposure for your properties and giving you opportunities to connect with prospective clients.
Our team of skilled designers here at Agent Image are experts at creating eye-catching, intuitive, and informative websites geared towards success. On this page, we share the 10 best websites we've launched in September 2021:
Josh Flagg
Los Angeles, CA
Josh takes a fresh approach to Los Angeles real estate by capturing the essence of the luxury lifestyle in the midst of one of the most dynamic cities in the world.
With over a decade's worth of high-end deals throughout his career, Josh firmly holds a spot among the most elite agents in Los Angeles by representing billionaire families such as the Gettys and the DeBartolos, as well as high-profile clientele the likes of Steve Aoki, Shonda Rhimes, and Adam Levine.
The best thing about this website: JoshFlagg.com sets the stage nicely with beautiful monochromic images of upscale properties transitioning to full color through the clever use of hover effects.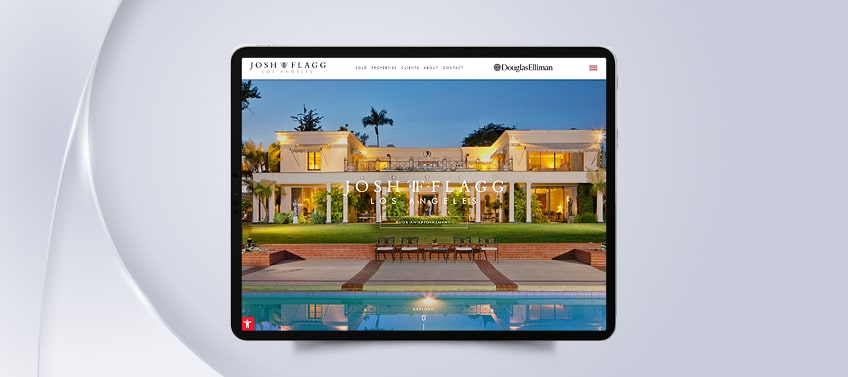 Kendyl Young
Glendale, CA
Kendyl Young and her website, GlendaleDiggs.com, give site visitors a warm welcome through a vibrant and fun color palette combined with smart design choices and a highly intuitive interface.
Kendyl is a seasoned broker who leads the small, handpicked real estate team of professionals at DIGGS, a group that has built their reputation largely on their ability to deliver an enjoyable and stress-free home buying or selling experience for clients.
The best thing about this website: GlendaleDiggs.com's eye-catching color scheme and the fun, easygoing vibe throughout the different sections reflects the team's main mission: to "connect cool people and cool homes."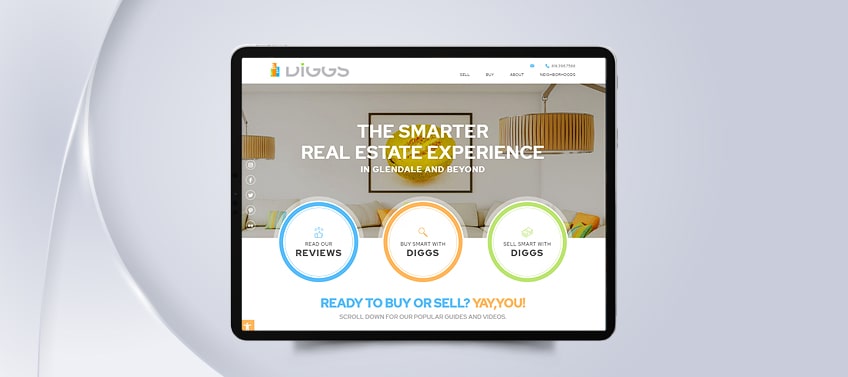 Philip & Carla Smith
South Florida
Philip and Carla are the dynamic duo behind Luxury Resort Portfolio, a Delray Beach-based boutique luxury real estate firm dedicated to helping clients fulfill their real estate goals in some of the most sought-after communities throughout South Florida.
Their website, LuxuryResortPortfolio.com, offers a glimpse of the laid-back lifestyle you can enjoy in these prime communities filled with ultra-luxurious properties and surrounded by picture-perfect views of the sunny South Florida coast.
The best thing about this website: LuxuryResortPortfolio.com's Featured Areas section gives visitors a highly informative overview of the different communities Philip and Carla specialize in.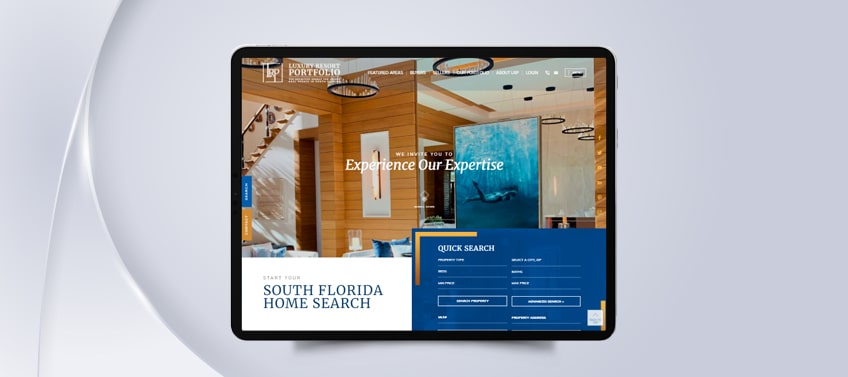 Scott Lyle
Palm Springs, CA
With over 40 years of experience, Scott Lyle is the go-to resource for clients looking to buy or sell a property in the Palm Springs area.
Together with his team of experts at the Scott Lyle Group, Scott has helped thousands of clients looking to navigate the Palm Springs real estate market by leveraging his experience and expertise in the area to provide a smooth and efficient home buying and selling experience.
The best thing about this website: A stunning video montage and slideshow showcasing the Palm Springs area's natural beauty serves as a perfect introduction to the communities and properties served by the Scott Lyle Group.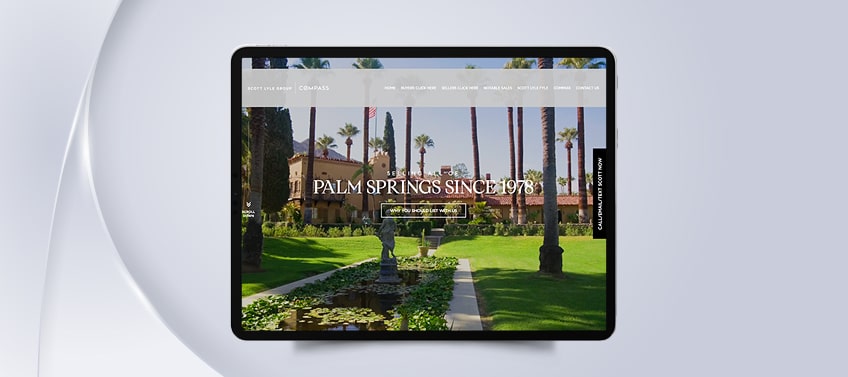 Greg Noonan
La Jolla, CA
There's a reason why Greg Noonan is La Jolla's #1 Top-Selling Agent Overall – he knows how to get things done. Throughout his career, Greg has established a reputation for tenaciously protecting his client's interests, helping them navigate Coastal San Diego's exciting real estate market through his uncompromising integrity, laser-focused marketing strategies, and unparalleled negotiation skills.
The best thing about this website: LaJollaHomes.com combines breathtaking images of high-end properties surrounded by sweeping views with a sleek layout enhanced by clean lines, a fresh coastal-inspired color scheme, and smart font selection that ties the whole look together.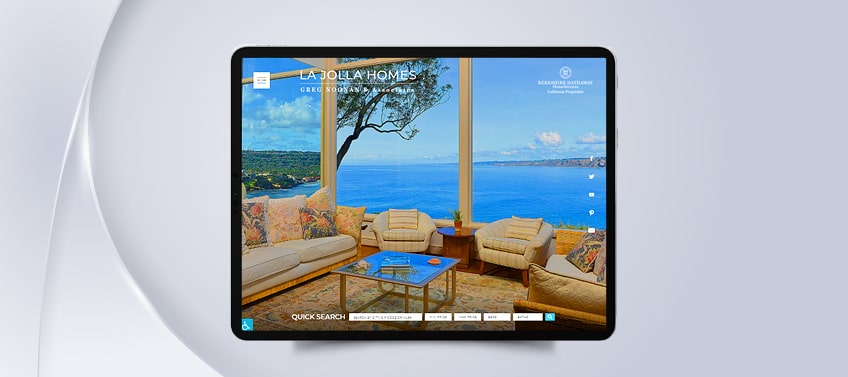 James Danley
Birmingham, MI
James Danley is among the top-tier market experts in Birmingham, Michigan and its surrounding communities due to his extensive real estate background, exceptional attention to detail regarding market values, and first-rate negotiation skills.
His website, JDALuxury.com has that polished and professional look down to a T, which perfectly suits the level of service you can expect when you work with one of the finest agents in the area.
The best thing about this website: JDALuxury.com features a very balanced look with all its elements clicking into place nicely, from the classic serif fonts, snappy hover animations, to the dapper navy blue and ruby red color scheme tying everything together into a neat visual package.
Resnick & Nash
Los Angeles, CA
Resnick & Nash is the duo behind countless multimillion-dollar sales in the most prestigious communities in Los Angeles including West Hollywood, Malibu, and the famed Platinum Triangle.
Together with their team of elite agents, Resnick & Nash gives clients the advantages they need to successfully navigate Los Angeles' dynamic real estate market, whether they're searching for their dream home or looking to sell their residence for top-dollar.
The best thing about this website: ResnickAndNash.com impresses with its highly refined look and understated elegance, capturing your attention with crisp, full-screen images while offering easy access to whatever info you need for your real estate goals.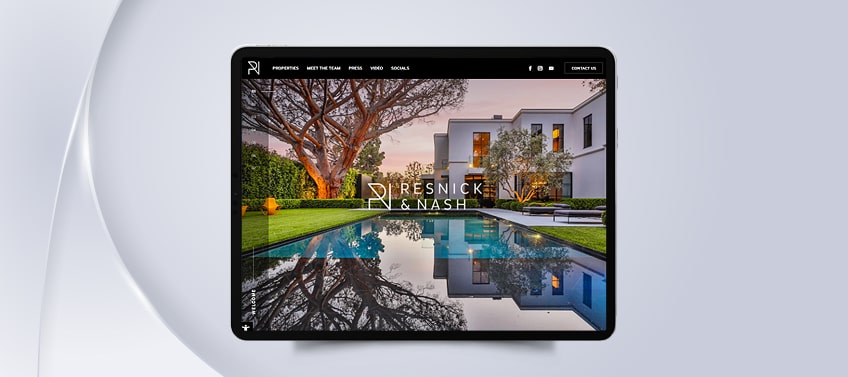 Katelyn Smith
Seattle, WA
With her years of experience in the Seattle real estate market, Katelyn Smith knows the importance of having relevant, up-to-date information during a home search or sale. Her website, KatelynSmithHomes.com, sees to it that you get all of the detailed information you need while enjoying a smooth and intuitive browsing experience along the way.
The best thing about this website: The striking coral pink accents balanced by soft baby blue shades is a brilliant design choice as it anchors other elements flawlessly, giving the entire site a relaxed and laid-back feel.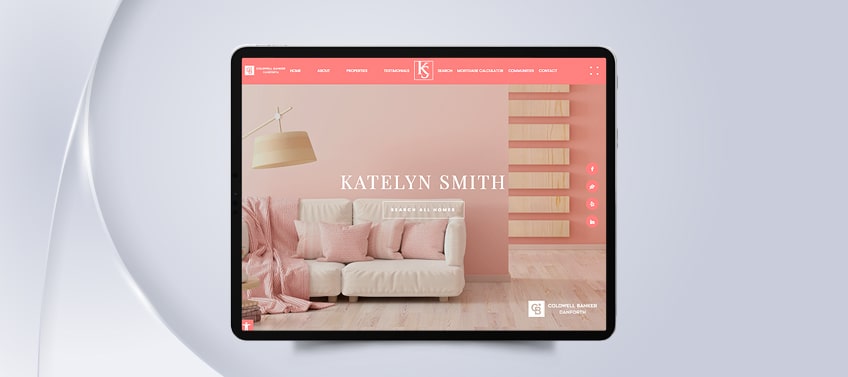 Jing Fang
San Francisco, CA
Jing Fang is an award-winning, top-producing real estate broker who specializes in the San Francisco Bay Area. Throughout her career, she has built a stellar reputation for exceeding clients' expectations by leveraging her comprehensive market expertise, tech-driven marketing strategies, and strong negotiation skills to deliver outstanding results.
Jing's website, JingFangRealEstate.com, serves as a one-stop shop to the finest communities and properties in the Bay Area, offering a detailed look at the lifestyle, the variety of real estate options, and other relevant information.
The best thing about this website: JingFangRealEstate.com's striking visuals and clean, sophisticated design elements perfectly capture San Francisco's scenic beauty and diverse communities.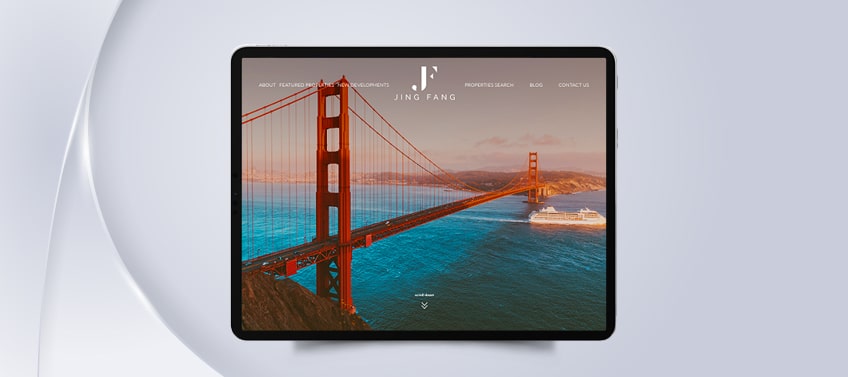 Blue Ocean Real Estate
Pensacola, FL
BlueOceanRealEstate.com welcomes you to the luxury lifestyle in Pensacola, FL through breathtaking edge-to-edge images that highlight impressive high-end properties and gorgeous sun-kissed beaches along the Gulf Coast.
The website offers an in-depth overview of Pensacola, including its array of attractions and destinations, the type of lifestyle it offers, and the excellent real estate options available.
The best thing about this website: BlueOceanRealEstate.com has a very easygoing vibe enhanced by crisp images, refreshing seaside-inspired colors, and polished layout, making your home search a breeze.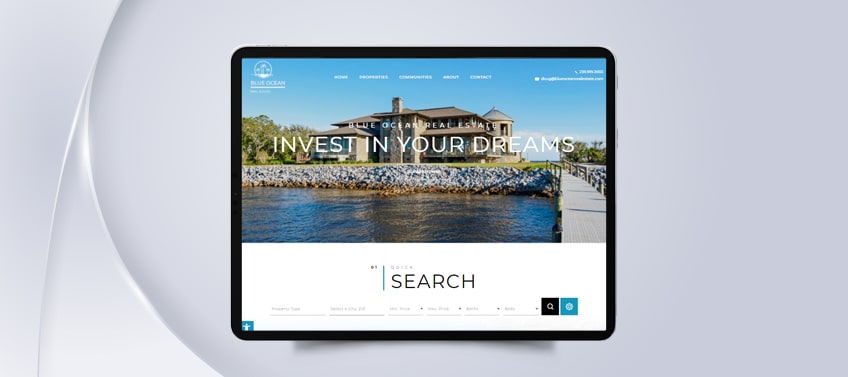 Highlights of September 2021's best websites
At Agent Image, we take businesses to greater heights by designing beautiful, intuitive websites that reflect a company's brand identity, business goals, and core values.
Here's a quick recap of our favorite features from this month's selection:
Josh Flagg – Brilliant use of hover effects bringing gorgeous monochromic images to life.

Kendyl Young – Vibrant and fun color scheme that perfectly captures the company's brand identity.

Philip & Carla Smith – Comprehensive Featured Areas section that shines the spotlight on the different communities.

Scott Lyle – Impressive visuals and design elements that reflect the laid-back lifestyle in Palm Springs.

Greg Noonan – Impressive edge-to-edge images complemented by a clean site layout and refreshing color scheme.

James Danley – Smart design choices that combine seamlessly to give the website a tight and cohesive look.

Resnick & Nash – Sophisticated look and feel enhanced by an optimized user flow.

Katelyn Smith – Eye-catching color scheme that gives the website a relaxed feel.

Jing Fang – Striking visuals and polished design perfectly highlighting the San Francisco Bay Area

Blue Ocean Real Estate – Easygoing feel created through crisp images, refreshing colors, and minimalist interface.
Create a stunning professional website that boosts your online presence
Work with our talented team of design and marketing experts at Agent Image to create a website that will take your business to the next level. Call us today at 800.979.5799 to get a free consultation.
Did you enjoy reading this article?
Sign up for more updates with our Agent Intelligence Newsletter!
We are committed to protecting your privacy.
Real Estate Websites for Agents
Learn which package works best for you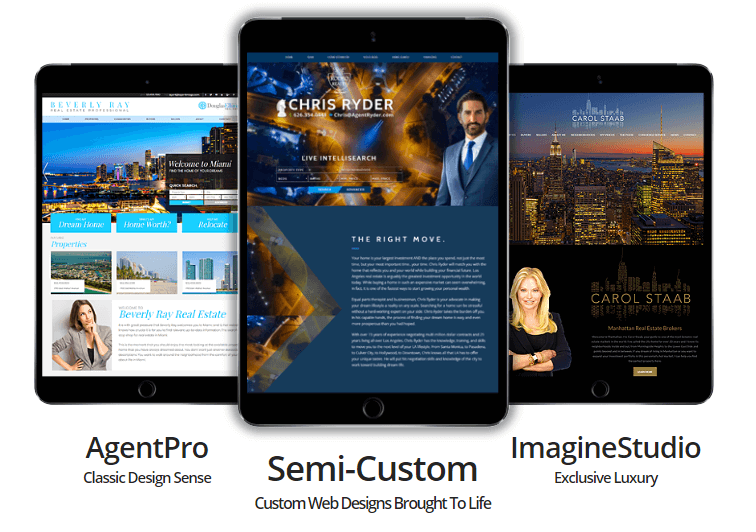 Learn More