10 Real Estate Quotes to Keep You Inspired
"People often say that motivation doesn't last. Well, neither does bathing – that's why we recommend it daily." – Zig Ziglar
Sometimes you just need a dose of confidence or a boost in your motivation. Selling and buying real estate is hard. But if it is something that you love, you can't imagine doing anything else. Still, few things can recharge your passion like a good inspiring real estate quote so we found 10 of them to keep you inspired.
​10 Inspirational Real Estate Quotes
"To be successful in real estate, you must always and consistently put your clients' best interests first. When you do, your personal needs will be realized beyond your greatest expectations."

The best real estate agents in the business have a knack for anticipating their clients' needs and matching those needs with the right piece of real estate. When you put your clients' interests first, you will succeed in real estate.

"Real estate is my life. It is my day job, if you will. But it consumes my nights and weekends, too."

Unlike most other jobs, real estate really has no set hours. You are working around the clock most days but because you love it, you don't mind. Still, take time to recharge so that you don't burn out.

"Real estate is an imperishable asset, ever increasing in value. It is the most solid security that human ingenuity has devised. It is the basis of all security and about the only indestructible security."

Even at the height of the housing collapse, people were snatching up distressed properties and trying to turn lemons into lemonade. Real estate is an imperishable asset in times of prosperity and times of financial distress. There are always people looking for it.

"The problem with real estate is that it's local. You have to understand the local market."

Now more than ever, localizing your market is the key to building a solid real estate business. Your website content as a local expert goes a long way to showing off your local expertise. For everything real estate, start local.

"I think if people are passionate about something, it could be real estate or biochemistry, and that spark gets turned on in them, everyone's beautiful in that zone."

A person in love has a glow just like an expectant mother does. When you love what you do, it shows in your face, in your smile, in your demeanor. The most passionate real estate agents tend to be the most successful and attitude is at least 50% of that success.

"Commercial real estate always trails residential, and as residential growth flourishes, shopping centers flourish and service the communities, and jobs come out."

As a residential real estate agent, you are an integral part of the success of a city or community. When you bring in families, businesses come in to serve those families. You are a crucial part of the circle of life.

"You must learn that selling is not selling; it is providing and the key to providing is knowing in advance what to provide."

Again, meeting your client's needs will go a long way to securing your success in the real estate business.

"Success is not the key to happiness. Happiness is the key to success. If you love what you are doing, you will be successful."

Money can't buy you love or happiness. Making a lot of money is not the definition of success. You can have a billion dollars in your bank account and be miserable. Do what you love and happiness is sure to follow.

"In real estate, you make 10% of your money because you're a genius and 90% because you catch a great wave."

Part of being the best real estate agent is knowing your market. Still, having a little bit of luck doesn't hurt either.

"Real estate is the best investment in the world because it is the only thing they're not making anymore."
Good News to Keep You Inspired
We hope you really enjoyed those quotes. Hopefully you can come back to this piece throughout the year to re-inspire yourself or better yet, memorize them so that you will always have them within you as a source of inspiration.
But, here's some really good news to keep you inspired; Agent Image is here to make your job easier. Just take a look at some of the remarkable real estate websites we have designed fully optimized for function, lead generation, and high lead conversion rates.
You too can have a killer real estate website. Just contact us now for your free consultation to get started! Want some more inspiration? Check out our real estate quotes blog post from 2012 for additional motivation for your real estate career.
Did you enjoy reading this article?
Sign up for more updates with our Agent Intelligence Newsletter!
We are committed to protecting your privacy.
Real Estate Websites for Agents
Learn which package works best for you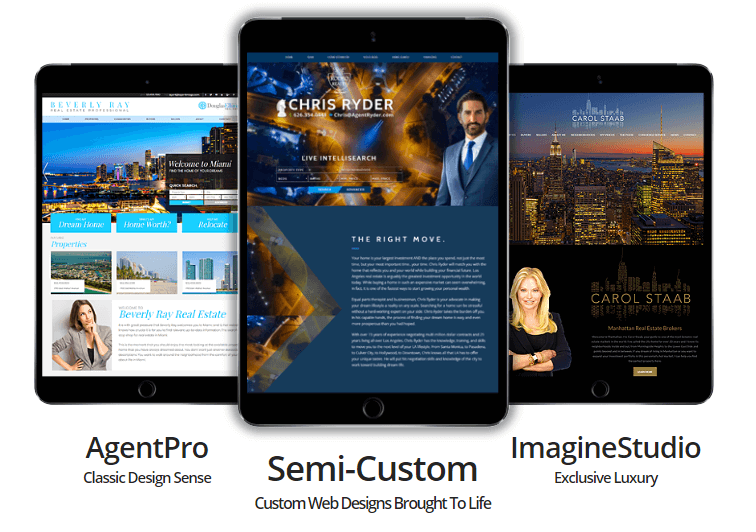 Learn More