12 Real Estate Apps to Boost Productivity
As a real estate agent, you know just how valuable time-saving tools are to your business. Technology is making it easier to stay on top of all of your most pressing tasks and insane schedule. So we collated some very useful real estate apps made for on-the-go real estate agents.
Our list covers three categories that will be most useful to real estate professionals:
Productivity, organization and cloud storage
Homebuyer calculators and widgets
Document signing
Productivity Apps for Agents
If you work with a large team, centralizing your files where it can be accessed by the whole team is important. If you're an independent agent, you also need to be able to share information with your clients quickly and efficiently. Apps for document sharing, e-signatures fast, and cloud storage can streamline a bunch of tasks for you.
DOTLOOP. This is a document collaboration and task management tool for real estate professionals. It allows you to upload a file where your client can access it and legally and securely sign it through e-verify. It is encrypted and lets you highlight signature areas so that no signature line is missed. Dotloop also offers other solutions such as management of team transactions, workflows and more.
Download Dotloop for your iPhone or iPad
DROPBOX. A popular online document sharing and cloud storage app where you and your clients are able to access documents from both mobile device and desktop. For example, if your client needs to find your last inspection report, they can view it anytime even if they don't have a Dropbox account. Store photos, videos, docs and other large files.
Get DropBox for your iPhone or iPad
EVERNOTE. This is one of the best workspace and storage apps today. Evernote is a flexible tool for organizing your notes, photos, checklists, web articles and more . Use this to record meetings between you and your client, store notes, attach files,, upload business receipts, scan documents, take property photos, add checklists and sync them across all your devices. Evernote also has a collaboration and reminders feature.
Get Evernote for your iPhone, Mac or iPad here
DOCUSIGN TRANSACTION ROOMS (formerly, CARTAVI). This app has a similar appeal as Evernote but geared towards real estate practitioners. From listing to closing, this tool provides a secure way for real estate professionals to manage, share, and digitally sign documents. You have the ability to pick and choose who has access to which documents and which documents to make public. Cartavi was recently acquired by DocuSign.
Download DocuSign Transaction Rooms here
Apps and Widgets for Your Real Estate Website
COMMUTE TIME. Want to show your website visitors just how close their house is from the closest park, school or establishment? Embed the Commute Time Widget on your website. Created by Homes.com, this app calculates the distance from the property being looked at to the list of important locations that you select, like schools, businesses, parks, downtown, etc.
MARKET MONITOR. This wonderful app from Trulia shows a visual graph of local real estate market trends in your neighborhood or city. Embed this widget on your site page or blog to show average/median home prices or number of recently sold homes over time.
MORTGAGE CALCULATORS. Every real estate website should have a mortgage calculator that is easy to use and accurate. If your site visitor falls in love with one of your properties but isn't sure if they can afford it, place your mortgage calculator where it can easily be accessed to give them an idea of what they will be paying each month for the property. The detailed Mortgage Calculator widget from Zillow is a good one. View payment breakdown and schedule, interest rates, taxes, insurance and dues. Another option is the Affordability Calculator widget, also from ZIllow.
CRIME STATISTICS. As a real estate agent, your role is not just to sell homes but essentially the neighborhood as well. Reassure your potential home buyers by giving them access to crime stats data using the Movoto Crime Stats app.
Document Signing Apps for Agents
It used to be that you had to physically (and repeatedly) sign documents and then mail them to your clients and vice versa. Those days are quickly vanishing as the paperless culture is gaining more popularity even in the real estate industry. These apps are designed to make paperwork filing safe and more convenient.
GENIUS SCAN. Since so much paperwork is done through e-mail, being able to quickly scan documents and send them is why the Genius Scan app is so important. It is a portable scanner that allows you to upload documents and send them as a PDF file or as a JPEG image quickly and easily.
SCANNABLE. If you're a fan or user of Evernote, then Scannable for Evernote may work best for you. Scannable creates high-quality shareable scans that looks great on all devices.
DOCUSIGN. With documents available in real time, the last thing that you want is to have to wait on a signature. DocuSign allows you to send and receive electronic signatures securely, eliminating the need to wait for signed documents to come through the mail.
Simplify Your Business
Pick your best choices and take advantage of these productivity boosting apps! Streamlining and improving your day to day tasks will help you stay within schedule and ahead of your competition.
Know someone who needs help in organizing their daily routine? Don't forget to share this article on Facebook and Twitter so they can learn too!
Did you enjoy reading this article?
Sign up for more updates with our Agent Intelligence Newsletter!
We are committed to protecting your privacy.
Real Estate Websites for Agents
Learn which package works best for you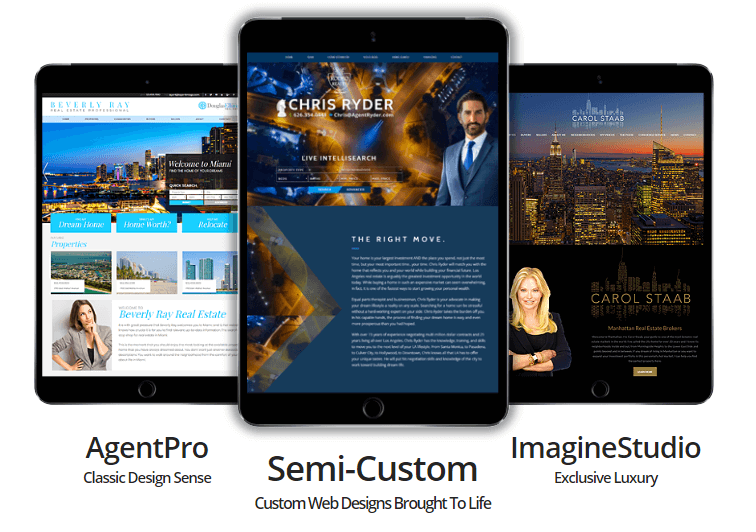 Learn More