5 WordPress Plugins Your Real Estate Website Can't Live Without
WordPress makes it so that anyone can edit and maintain their own high quality website using their standard free templates. However, if you are not using these 5 WordPress plugins for your website, you are missing some important features that no real estate website can live without.

#1: Yoast SEO
First and foremost when talking website building you have to shore up your SEO technique. With Yoast SEO the guesswork is taken out of it. The Yoast SEO plugin handles all of the complex detailed search engine optimization that results in better search engine rankings.
If you are like many novice website builders, you may think that just providing SEO content is good enough; it is not. Your SEO technique goes far beyond plugging in keywords into your blog posts and home page. You will also need to:
Use Alt Tags
Add Meta Descriptions
Verify that Images are SEO
Strategically Place Keywords in Content, etc
Yoast SEO prompts you to add all of these SEO features into every piece of content that you add to your website. This ensures that you don't forget to do it yourself and more importantly, that search engines are recognizing your site and attracting more visitors.
#2: W3 Total Cache
If you are building your real estate website yourself on WordPress but you don't know much about web building then you are probably not even aware of W3 Total Cache. This plugin is a must-have for all real estate agents.
What W3 Total Cache does is help to speed up your page load speed and image download. Why is this imperative for real estate agents? If you are doing it right, your website should be full of high definition videos and images of properties.
The more images and videos that you add to your website, the slower your pages will load. This plugin helps to combat that by accommodating the content load by improving the performance of your server.
#3: Simple 301 Redirects
In our business, we know the ins and outs of all WordPress plugins. That's because we use WordPress based templates for all of our web designs at Agent Image. Yet when our clients are moving their real estate website to a brand new, top flight real estate website created by our team, they don't want their regular visitors to get stomped by a broken link.
What Simple 301 Redirects does is seamlessly send users who use your old address to your new website URL. It may seem like a small thing but when it comes to page rankings and user functionality, bad links to your real estate website will kill your business.
#4: Google Universal Analytics
As professional website designers we do not recommend building any website without including in analytics to track user behavior. Our goal is always to maximize a real estate website's effectiveness. Without proper metrics tracking, how will you know if it's being effective or not?
Google Analytics has seen a recent upgrade and now we recommend using Google Universal Analytics. This plugin is easy to use and takes the original Google Analytics plugin to a new level. All you have to do is copy and paste a simple tracking code into your system and voila, you can:
Track Users Across Different Devices
Track External URL Clicks, E-Mail Clicks, and Downloads
Get More In-Depth Analysis and Reporting
Customize Many Features
Access Marketing Tools like Google AdWords
Your website's effectiveness is only as good as the metrics used to analyze your user data. With the Google Universal Analytics plugin you ensure that you get the best most reliable measurements for improving your rankings on Google searches and for attracting more leads.

#5: AIOS Listings Plugin
Finally for any real estate agent website you will need IDX optimization. MLS listings should accurately and easily integrate into your website using any number of plugins for real estate agents. However we recommend AIOS Listings Plugin. It is exclusive to Agent Image and it is the best plugin for integrating MLS listings.
That said you can still download a really good free listing plugin through WordPress. The downside is that only our proprietary AIOS Listings Plugin pulls in MLS listings and can also be completely customized for your particular agency. Here are some of the free listing plugins available:
Simple Real Estate Pack
Realbird or IDX Plugins
Headspace or All in One SEO
Displet RETS
Even though you cannot access the AIOS listings plugin free and online, you do have access to this extraordinary technology. All you have to do is call on our WordPress masters at Agent Image.
More Help from the WordPress Masters
Our professional website designers take the basic features of WordPress to create highly customizable and optimally functioning real estate websites.
If you have been trying to do it all yourself and find yourself drowning in plugin confusion, all you have to do is get more help from the WordPress masters. We are one simple call or click away. Schedule your free consultation now.
Did you enjoy reading this article?
Sign up for more updates with our Agent Intelligence Newsletter!
We are committed to protecting your privacy.
Real Estate Websites for Agents
Learn which package works best for you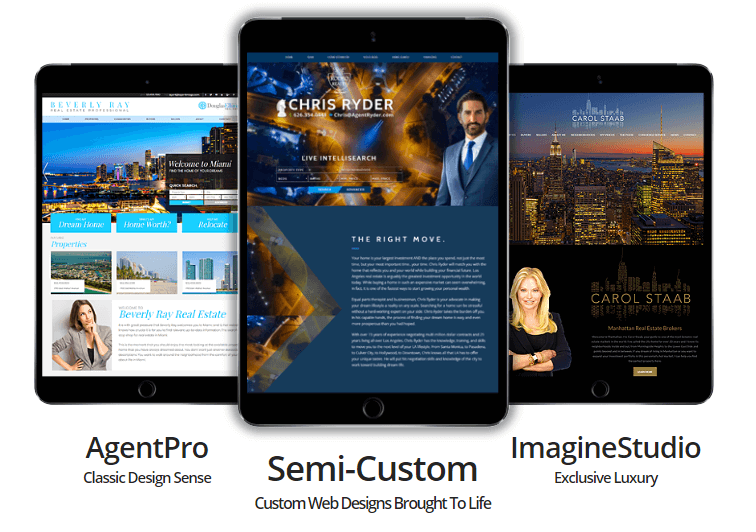 Learn More