6 Steps to Building the Best Real Estate Website
Using Effective Storytelling to Create a Compelling Online Presence
Genuine connection is all about effective and compelling storytelling. Everyone appreciates a good story. We've all been doing so since our formative years, in fact.
The real estate professional as storyteller
As a real estate professional, communicating your story is key to connecting with your clients.
Your story can be something that leads can relate better with – a common ground for your prospective customer and you, the service provider, to establish a working partnership.
For your existing customers, this can deepen and strengthen your current relationship. We all know how a strong working relationship leads to better results for everyone involved.
Use your real estate agent website to begin telling your story
Your agent website is, for many prospective clients, the first chance to connect with you. Don't let this opportunity go to waste. Design your real estate website to fully capture your story.
These 6 essential elements will show you how:
1. Know your audience

The best way to get your message across is by knowing how to connect with your target audience. Tap into their concerns and interests to keep them engaged.

Diligent research and careful planning goes a long way in identifying the true needs and interests of your audience.
Use relevant and relatable language to communicate your story with your target demographic.
Keep your website streamlined and straightforward with a sensible, structured, and well-planned flow.

2. Paint a clear picture

Visual elements elevate and emphasize your message. Draw attention with stunning imagery and keep them glued to the page with strategic design.

High-quality photos and video are a must have. Nothing catches internet users' attention better than stunning high-res images.
Highlight the most important sections of your website using powerful and strategically placed visual elements.
Use custom design elements and layouts to keep your website visually distinctive and memorable.

3. Embrace your roots

Home is not just where the heart is, it's also where strong and lasting connections begin.

Tell the story of your hometown or region in your own words. Not only will this convince your viewer of your extensive local knowledge, it will also reflect how much you love your local community.
Share your agent team's journey towards success. An elaborate company history will help discerning customers appreciate you and your team better.
Introduce your visitors to the amazing agents who comprise your team. Share entertaining bios, comprehensive professional profiles, and lists of individual achievements.

4. Build trust

Make your connections count by effectively building trust with potential leads and clients.

Present success stories and testimonials. Word-of-mouth marketing is priceless in the internet age.
Showcase key resources and easy-to-use tools on your website. These will showcase your expertise and reliability in an instant.
Publish blog posts on the regular. Use this platform to share your professional opinions and maintain a relevant reputation in your local community.

5. Guide your customers

Design smart to lead potential clients to the most important parts of your website.

Help website users access the top 3 features they need before focusing on anything else. For real estate agents, these are typically your home search, featured properties or communities, and home valuation pages.
Keep your contact forms simple, concise, and user-friendly. Regardless what device your website visitor uses, they should easily find your contact information, or a quick way to send you an inquiry.
Use compelling calls-to-action to bring your users to the finish line fast!

6. Design with the end in mind

Keep your agent website design consistent with your overall business mission and brand identity by using thoughtful design planning.

Make sure that all the pieces of your website fit well together. Cut away irrelevant clutter that can just distract your users and ruin their overall experience.
Be sure that you and your potential clients are on the same page. Craft a clear mission statement to establish and manage your users' expectations.
Ask real estate web design experts for tips and advice. A well-designed website should be part of your core strategy.
Use deliberate and strategic website design to make your website "read" like a story. You will thank yourself later for putting in an effort that ultimately results in creating lasting positive impressions among your current and potential clients.
The Agent Image team is eager to help you tell your story. Reach out to us for a free design consultation. We can get started on building your real estate agent website as soon as today!
Did you enjoy reading this article?
Sign up for more updates with our Agent Intelligence Newsletter!
We are committed to protecting your privacy.
Real Estate Websites for Agents
Learn which package works best for you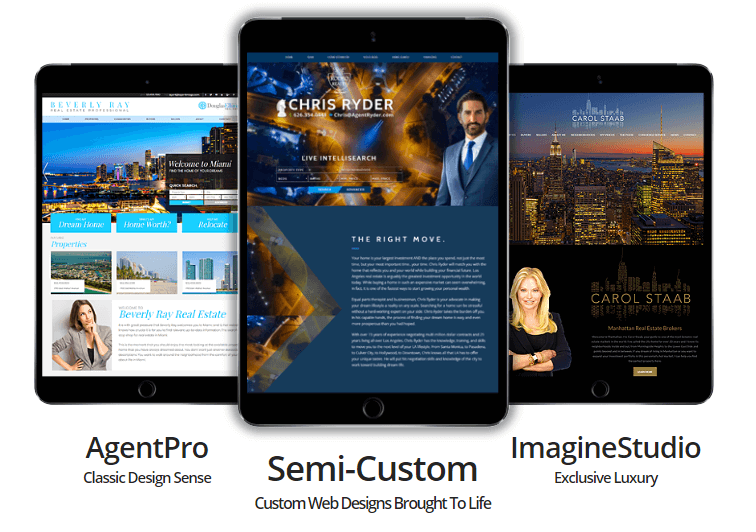 Learn More