8 Digital Marketing Trends Making Waves
There's no rest for the wicked. In this case, the wickedly relentless world of online marketing. One moment you're in, running an effective campaign, and then the next, you're out as algorithms change, demographics shift, and better ways to bolster your client base and business supplant old ones.
If you want to stay on top of your game, pay attention to the following trends experts agree will dominate online marketing in 2016.
1. Video is king
There is nothing on the web today more compelling than video.

It now accounts for 50% of all mobile traffic
Companies enjoy 41% more web traffic when they employ videos
A video on your landing page can increase conversions by 80% or more
Adding a video makes users linger on your site for another 2 minutes

This is not to say long form content is dead. It will still have a place in content marketing. It's clear, however, that video trumps all else in upping the rate of user engagement.

So, use video now. Use it effectively. Agent Image shows you how in ways that will do wonders for your business.
2. The rise of digital assistants
You know them better as Siri for the iPhone, Cortana from Microsoft, and Google Now. They're digital assistants – in this case, voice-based apps promising to pave the way for a new type of optimization. While SEO and pay-per-click (PPC) advertising will remain relevant in online marketing, having a digital assistant (or two) in your real estate website is expected to increase user visits, and expand site audience by providing an easier and more engaging way to provide the data the user wants.
3. Relationship marketing
Today, it's not enough to get your client the best deal around and then part ways. Today, real estate agents must establish a relationship beyond the end of a transaction.

Fortunately, smart phones make it easier than ever to keep in touch with former clients and seek out new ones. The idea is to strengthen the loyalty and trust of your clients, as well as engage them on a long-term basis.

More importantly, relationship marketing results in client retention. This is especially important to real estate agents because after-sales customer engagement increases the likelihood that you're going to be top of mind when your client decides to buy another house or sell their old one.
4. Mobile-focused online marketing
It's only a matter of time before mobile phones completely supplant desktops. 2015 was a major leap for mobile when Google released the "Mobilegeddon" algorithm update – allowing mobile traffic to overtake desktop traffic in 10 countries.
Today, 21% of millennials no longer use desktops. On the opposite end of that demographic, users 55 years and older have become one of the fastest growing age groups for mobile.

This palpable shift in usage have led some companies to launch mobile-only websites. And seeing that people bring their mobile phones with them wherever they go, the opportunities for mobile-focused online marketing are wide open.

If you have an existing website, you can have it optimized for mobile. If you're thinking of launching one, Agent Image will build it for you using WordPress, one of the easiest content-creation and management tools today with thousands of plug-ins that enhance the functionality and responsiveness of your website. WordPress is now used by Google, Facebook, Sony, Disney, LinkedIn, The New York Times, CNN, Time Magazine, eBay, and 22.5% of nearly 1 billion websites today. If you want to migrate your existing website to WordPress to make it more responsive to your online marketing efforts, the Agent Image team will happily do it for you.
5. Virtual reality
Is virtual reality a fad beyond its obvious application in gaming? While the jury is still out on that one, the fact that tech experts are trotting it out as a trend to watch in 2016 says a lot about how it's poised to become a game changer when it comes to online marketing. If Buckingham Palace can offer a high-definition 3-D tour of some of the palace rooms using a $14 Google Cardboard viewer to which you attach your smartphone, think of the possibilities when the same technology is applied to real estate.

The head-mounted VR display Oculus Rift is set to be released in early 2016; others are in the pipeline. Once these devices are out, or marketers get the hang of the technology, expect your garden variety virtual tours of properties for sale to change dramatically.

Surely, short of being there, nothing can be more potent than having potential clients see a 3-D, 360-degree view of that prized piece of property you've been eager to unload.
6. Ephemeral marketing
If you're going to court millennials, it's time to understand the language they speak and the social platforms they frequent. Ephemeral marketing is set to make waves this year for its "less is more" appeal: shorter, straight to the point, and with an expiration date. Snapchat, a messaging app whereby photos or videos people send disappear after a brief period of time, is already being used by some marketers to make their clients feel connected all the time. The app, says CEO Evan Spiegel, allows users to employ photos and videos "to talk" – making images and not words into the new language. Already, companies like Audi and ESPN are among its frequent users.

For Realtors, ephemeral marketing is a way to reach out to a younger market – or else introduce this new idiom to its more mature client base – by creating content that has an exciting or intriguing immediacy based on the strengths of their brand. Find out more about ephemeral marketing's best practices.
7. Wearable technology
Smart devices such as the Apple Watch are gaining traction, and this trend might pave the way for new online marketing strategies. Compared to virtual reality, wearable technology is not quite there yet, but Forbes.com predicts that such devices may very well blur "the lines between 'online' marketing and 'real' marketing."
8. App indexing
With mobile set to supplant desktop, apps are expected to take over mobile-optimized websites. Not only are apps more appealing to mobile users, they can pretty much do everything a website can in a more convenient way and accessible way.

And now, Google is indexing apps – that is, including mobile apps and their content in its search results. This means that users won't just see applicable apps, they can also tap directly to the relevant content within the app. If you're a Realtor, this means that it's no longer enough to turn your website mobile friendly. You must seriously consider creating your own dedicated and well-functioning real estate app to make it even easier for clients to find you.
More trends are expected to surface this year, all driven by consumer adoption. If you'd like to be on the rising end of the new wave of marketing strategies, adopt a few of them. See how they work for your business. Our professionals at Agent Image can help you create a unique personal brand and design a forward-thinking campaign that taps into the new sell. Get in touch with us today for a free consultation.
Did you enjoy reading this article?
Sign up for more updates with our Agent Intelligence Newsletter!
We are committed to protecting your privacy.
Real Estate Websites for Agents
Learn which package works best for you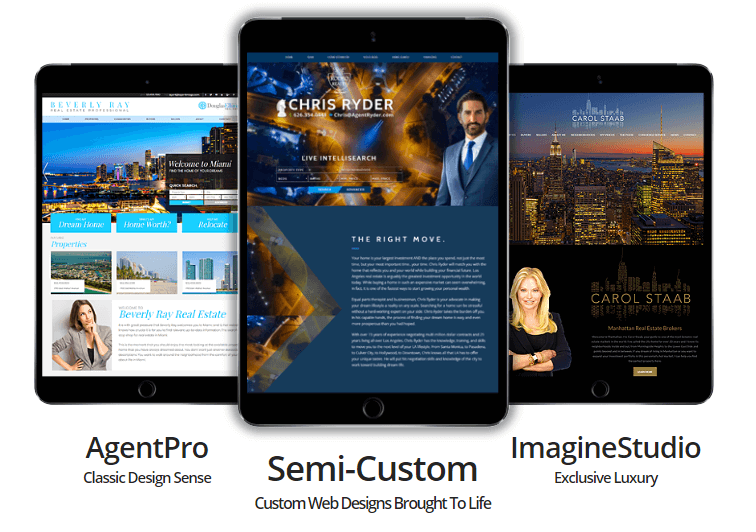 Learn More