8 Tips for Creating Effective Websites for Realtors
A strong online presence is an integral piece in a modern real estate professional's marketing arsenal. Is your website equipped with the right tools to boost your impact in a competitive industry? Check for these 8 essential elements:
1. Responsive Design
It's official: Mobile internet use has surpassed desktop computer use.
If your website isn't easy to use on smartphones and tablets, you're already a step behind. With the majority of users searching on-the-go, your website must incorporate responsive design elements that make your site content accessible on any browser, platform, or device.
Smartphones and tablets have smaller screen sizes, use touch input, and are often at the mercy of variable mobile connection speeds. Will users be as comfortable viewing your website on these devices as they are on their computers? A refined user experience – independent of the device – is key to maximizing your online presence.
Not only that, there is also a premium on searchability for mobile-optimized web design. Google has in fact been using a search algorithm that rewards responsive websites with higher search rankings since early 2015

2. Lead Capture
When it comes to websites for realtors, success is not measured by the number of clicks and views. The website should be an effective tool to capture leads that can potentially become new clients.
Don't let your users trail off your website without first making a connection. Encourage them to provide their information using smart call-to-action elements.
Go beyond catchy phrases. Make your calls to action subtle but effective by:
Highlighting the benefits of subscribing to your updates, such as regular and timely market and listings updates.
Designing strategic graphics and layouts that lead the viewer's attention to a contact form.
Offering freebies (an e-book or a market report, for example) or access to exclusive pocket listings to showcase your expertise.
Just as important is ensuring that your users have multiple opportunities to get in touch with you. Make sure that your contact information is prominent on every page of your website, and provide links to your social media accounts to encourage quick and accessible conversations.

3. Featured Listings
Searching for the best homes can take plenty of time and effort – especially for buyers looking into a new and unfamiliar neighborhood.
Make property searches fun and engaging for your users by publishing your latest best deals and recommendations on dedicated pages on your website. Featured listings pages work very well for real estate professionals that specialize on particular types or categories of properties.
Want to showcase the best luxury estates in your area? Highlight new or up-and-coming constructions? Acreage properties for sale? Build customized hot sheets that shine the spotlight on your most high-profile listings. Use customized layouts to summarize and make the pertinent info quick and easy to read.
Your users will love you for making their lives easier.

4. Search Tools
Most, if not all, visitors on your website will head there to look for their ideal real estate buying or selling opportunities. This is why search tools always rank high on the indispensable features of a real estate website.
Some real estate customers are more experienced and savvy than others, while there are also those that have no idea how to even get started. Placing different search tools in your website will allow you to appeal to this variety of users, boosting your chances of gaining leads and potential clients.
Websites for realtors benefit from having any or all of these search tool styles:
Quick search toolbars. Compact and simple to use, these are ideal for first-time buyers or those unfamiliar with your area of operation. Place these on home screens and inner page margins, so users can launch into searches wherever they are on your website.
Advanced search page. The wider range of search parameters that this search tool is perfect for buyers or sellers who have a clear idea of what they want.
Interactive map search page. The visual nature of this tool will help homeowners looking to relocate within the same area or region, as well as buyers who want to move close to a particular place of interest, such as a school or commercial establishment.

5. Quality Images
Images are a powerful element in any website – especially so on websites for realtors.
While good copy communicates important information and useful, intuitive features keep users engaged, images have the power to evoke emotions and capture the imaginations of their viewers. For real estate professionals, this means conveying ideal living scenarios and lifestyles that listings often do not fully capture.
Images also break the monotony of blocks of text on a webpage. Strategic placement of relevant images can effectively improve the readability of your content.
Stock photos and video footage are always a cost-effective and convenient option you can choose for your website. Investing in professional photography and videography, however, can go a long way in creating a more authentic, more personalized, and more trustworthy feel.

6. Simple Navigation
Does your website follow the 3-click rule? In web design, three is (unofficially) the optimal number of clicks that a user needs to find any content or information that they need.
The 3-click rule is not a hard rule by any means, but you get the idea: Quick, easy, and convenient is key to keeping clients happy.
Need ideas on how to streamline your website's navigational structure? Here are a few:
Fixed headers keep your website's main sections visible at all times.
Descriptive, topic-focused labels guide your visitors better than generic section labels. They are great for SEO, too.
Avoid drop-down menus. They are neither user-friendly nor search engine-friendly.
Limit your menu items to seven.
Add fat footers to give users an overview of your site's sections at the bottom of every page – where the links won't distract from your main content.

7. Testimonials and Affiliations
Never underestimate the power of word-of-mouth. In the real estate business, a glowing review or a familiar network connection may be the key to making you relatable in the eyes of a discerning potential client.
Dedicate a full page on your website – as well as a section of your homepage – to a few choice testimonials. Choose statements that highlight your unique strengths as an agent, as well as a few memorable anecdotes. Ask some of your satisfied clients to record video testimonials – preferably from the home you helped them secure.
List your key affiliations, as well, especially if you have key partners in your local community. Associating with recognizable companies and brands will instantly boost your credibility, and your partners will surely appreciate that you acknowledge them on your website.

8. Useful Resources
Be sure that the information you offer on your website is not limited to property listings. Instead, become a one-stop shop for all your potential clients' needs.
Pack your website with informative sections that will make you the top resource for local information. Consider these examples:
Buyers' and sellers' guides. Real estate transactions can be drawn out and overwhelming, so give your readers something to keep them appeased throughout the process.
Mortgage calculator. Help buyers avoid committing to a property they cannot afford. A built-in mortgage calculator can keep buyers' expectations in check.
Home valuation. Give prospective a reliable estimate of their current property's value so they can maximize their returns on a sale.
Regular market reports. Savvy property owners and investors may be keeping an eye on the market before making a move. Publish market reports on your website to keep them informed – and coming back.
Lifestyle guides and blogs. Prospective property buyers will always appreciate a glimpse of the local lifestyle they may soon be part of. A blog is a versatile section you can add on your website to write about various topics of interest, such as detailed neighborhood descriptions, lifestyle guides, and lists of notable attractions and events.
To see these essential elements in action, check out our AgentPro, Semi-Custom, and ImagineStudio realtor website designs.
Get on the right track to building and maintaining a strong online presence with Agent Image. Contact the team today for more information.

Did you enjoy reading this article?
Sign up for more updates with our Agent Intelligence Newsletter!
We are committed to protecting your privacy.
Real Estate Websites for Agents
Learn which package works best for you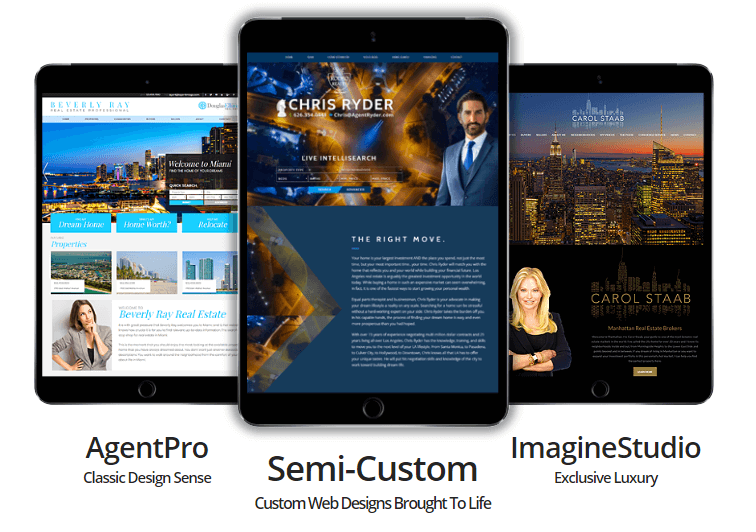 Learn More