Agent Image Anniversary Special: Top 5 Favorite Websites of All Time
Launched as a small web development start-up in 1999, Agent Image has become one of the most sought-after real estate agent website design and digital marketing firms in the U.S.
In its 22nd year, the company has created over 24,000 sites for some of the world's top real estate companies and agents. Agent Image is also highly regarded for an impressive suite of products and services developed for real estate professionals, including website design, agent branding, and digital marketing.
What is it that makes a website great? How does one stay creative? And, perhaps more importantly, how does one survive in the fast-paced world of design and web marketing?
In celebration of Agent Image's 22nd year in the industry, we sat down with the company's founders, Jon Krabbe, Tiger Bitanga, Luigi Amante, plus veteran marketing executives Ginette Wright and Rachel De Mesa. We wanted to understand what websites have been standouts for them over the years and why.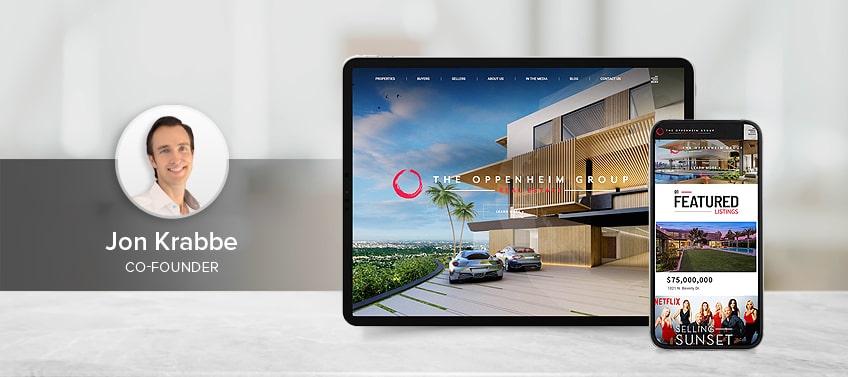 For Agent Image co-founder Jon Krabbe, choosing a favorite is tough. However, one site he points to as an example of outstanding design is the Oppenheim Group, https://ogroup.com/.
"We're proud of what we've created for Jason Oppenheim and his team. For two years in a row, his website earned awards for best design, best mobile, and best overall categories by RealTrends Design Awards," Jon said, adding that the website has since become one of the most popular designs in Agent Image's portfolio.
According to Jon, the site's success lies in attention to four elements.
Striking design

A daring interface style that highlights O'Group's brand persona

Powerful imagery that speaks to their target audience and keeps visitors engaged on the site

High-quality, original content to drive search engine optimization
Additionally, Jon says the website's success comes from the synergy and cooperation between the project managers and Jason Oppenheim's team.
"We were very exacting with the design work. Jason's team is particular about how the information looks and feels to its audience. Every section of the website was polished and perfected before the site launch. This teamwork and hands-on approach contributed to the site's success," Jon noted.
Jon, in an interview, stressed that because the needs of clients evolve as their careers grow, design and marketing professionals constantly keep in touch with them to produce work that complements the clients' brands.
"We have high respect for agents who hustle hard. We aim to give them the best experience possible. It's really about fostering that relationship because, at the end of the day, we want to make their lives better and give them the professional attention to detail that they deserve. We want to make our clients look good!" Jon stated.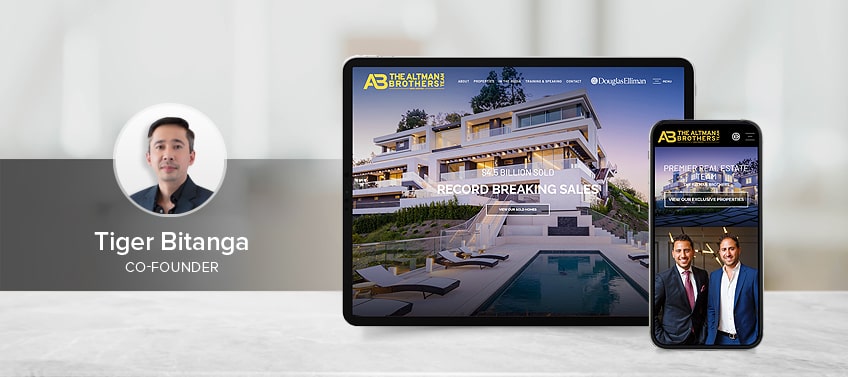 When it comes to unique real estate websites, Agent Image co-founder Tiger Bitanga has one site in mind: The Altman Brothers.
"The Altman Brothers website design is always a fan favorite because of their beautiful photography, no holds barred approach, and bold, confident aesthetic. There is a huge emphasis on social networking and video content, adding a dynamic and vibrant feel. The timeless black and gold color scheme with modern block-type fonts creates a classic look that suits them quite well," Tiger said, adding that Agent Image has been working with the brand for over a decade.
According to Tiger, one of the major factors that inspired the overall look for the Altman Brothers' website was their superstar reputation.
"With wide exposure in the media because of their reality TV show, Million Dollar Listing Los Angeles, it's vital that we provide them with the best-in-class design work that matches their image," Tiger said. He adds that Agent Image had the vision to create a website that would capture the brothers' larger-than-life personas and resonate well with their network of followers.
As a seasoned design and marketing professional, Tiger notes tremendous effort in each website that Agent Image creates for its clients.
"There is more to our creative work than meets the eye. We do plenty of research when it comes to understanding user behavior and psychology behind design choices," Tiger stated, adding that when it comes to creating a unique design for clients, the learning never stops. "Technology and design both keep changing and reinventing over time. We look toward emerging trends and see if there is something that can translate to our niche in real estate," Tiger added.
So, how does one come up with a great design?
"We usually get the best results when our clients trust our designers to follow their instincts and flex their creative muscles. The end product is fresh and exhilarating," Tiger shared.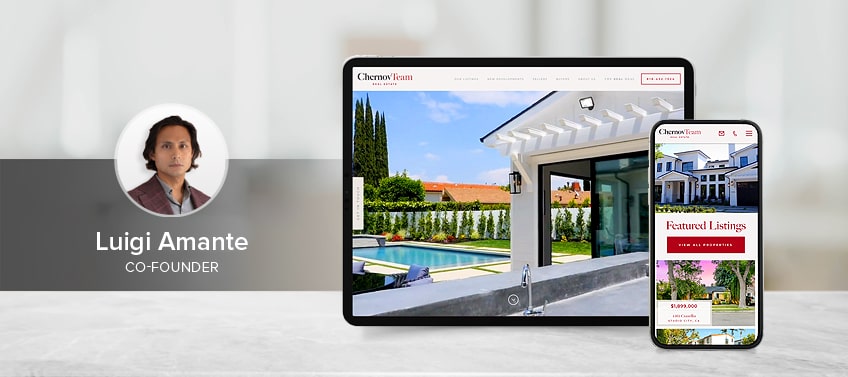 According to Agent Image co-founder Luigi Amante, one of the things a real estate professional or agent must do is ensure that their website reflects their brand.
"My advice is – focus on what makes you different and have it permeate throughout the entire design of your site, including the subjects you highlight, photography, video, and navigation," Luigi states. He adds that websites should function as a second salesman for a real estate agent's brand.
"Your website is your salesperson when you're not around, so you need to make sure it is an amazing one!" Luigi noted.
Luigi said that one website that encapsulates his definition of a focused website is the Chernov Team. "I love all the curated photography and detail work on every single page of the website, and the Chernov team's concierge-services section is a great example of an element that sets an agent apart from the rest," he said.
When it comes to design, he encourages the team at Agent Image to search for innovative ways to create a wow factor for clients. "I encourage our designers to explore – art, culture, technology, or the work of peers and mentors. A curious mind is always prime for creativity".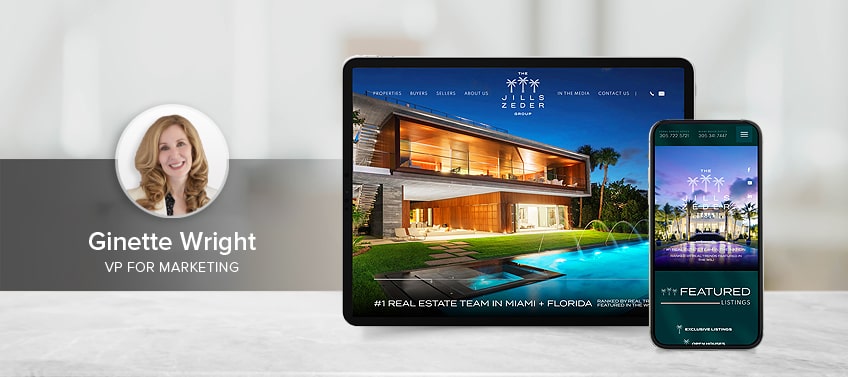 For Agent Image VP for Marketing Ginette Wright, the Jills Zeder Group's website is a favorite when it comes to a well-executed site.
"The Jills Zeder Group is a powerhouse real estate team in Miami, Florida. With the global reputation and unmatched track record they have, there is much to consider when it comes to highlighting their brand online," Ginette acknowledges.
According to Ginette, the Jills Zeder Team tasked Agent Image to bring a new, combined brand to life following a team merger in 2019.
"The new design style was a complete 180 from the previous brand image the Jills and the Zeders were individually known for," Ginette noted. "The new website had to hit the mark of their new, combined brand, period."
According to Ginette, the Jills came to the table with a strong vision, a new logo mark, and brand guidelines. "I wish all agents doing custom web design work would take this step. Brand guidelines create consistency not only in web design but across everything in the business that touches marketing. "It also helped that principals on the team were deeply involved in the design process," states Ginette. "It kept us on track and ensured we were hitting their vision, and the proof is in the result – a fantastic website that beautifully articulates Miami luxury real estate and the energy of the team."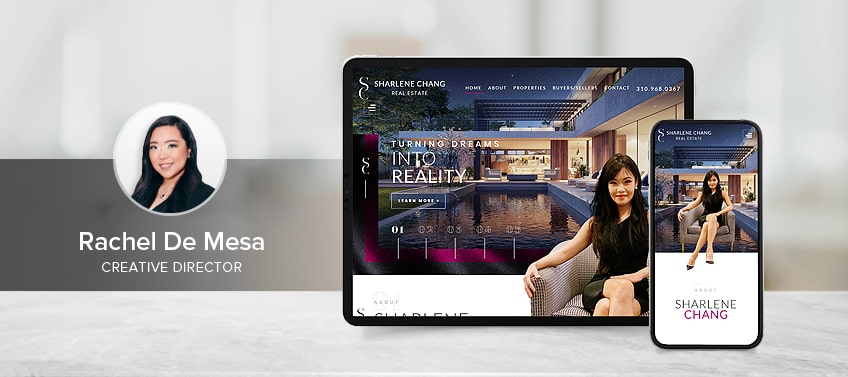 When asked about Agent Image's best projects, Agent Image Creative Director Rachel De Mesa has one website in mind: Sharlene Chang.
According to Rachel, Sharlene's website acted as the perfect creative canvas for the Agent Image design team.
"We had the opportunity to craft a new brand image to represent her as a real estate agent beginning a career in the industry," Rachel said. She adds that the team was able to create a design that used a unique blend of rich colors, subtle textures, and smooth animation that all worked together to create an atmosphere of modern sophistication.
Having been part of the company for over a decade and observing design trends over time, Rachel believes that Agent Image maintains its creative spark by taking unexpected design risks – especially for the real estate industry.
"By being open to elements from fashion, music, technology, luxury, and everything in between, we're able to discover new design combinations that push us out of our comfort zone and create the necessary "wow" factor that is in high demand," Rachel said.
As one of Agent Image's authorities on design, Rachel has sage words for designers: pay attention to the minor details.
"It's one thing to have a foundation of solid visual elements such as fonts, colors, and design accents, but I think the real technique to take a brand to the next level is attention to detail. For instance, selecting complementary photos that bring the design to life and create relevancy for your audience. Ask yourself if every image you choose for your marketing is eye-catching, thought-provoking, and elicits the right emotion and response upon first glance."

While we may speak of favorite sites, the truth is we are proud of all the work we do and appreciate each client who trusts us with their website and digital marketing.
For over two decades, Agent Image has employed a hands-on, collaborative approach to providing clients with top-notch web design and digital marketing services. We have helped thousands of real estate professionals establish and grow their businesses in an always-evolving digital world. Now, more than ever, a powerful website coupled with a robust digital marketing strategy is critical to highlight your brand, increase leads and stand above the competition.
We hope to be around for the journey for years to come.
Did you enjoy reading this article?
Sign up for more updates with our Agent Intelligence Newsletter!
We are committed to protecting your privacy.
Real Estate Websites for Agents
Learn which package works best for you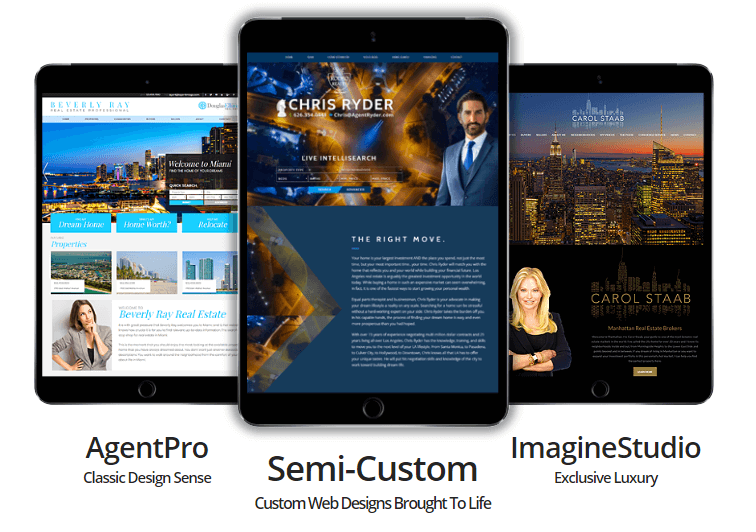 Learn More