Bring Your Listings to Life with Video
Update: Agent Image TV is no longer offering video services. If you are looking for real estate website and marketing services, please visit www.agentimage.com.
---
If you thought posting home photos on your property listings page was the end-all method of reaching out to consumers, imagine how much more you could share through video. These days, the most effective property listings are one to three minute videos that let you showcase the beauty of a home in its full glory. Guided walk-throughs give potential buyers an accurate idea of spatial dimensions as if they were actually exploring the house themselves. And, with more and more people opting to watch videos rather than read lengthy write-ups online, adding video to your listings is a surefire way to make a lasting impression on potential buyers and sellers.
Whether you choose to shoot the video yourself or hire professionals to do it for you, the end product should prominently appear on your website in your listings page. Typically, these videos will feature you talking about market trends or highlighting the appeal of a home and its neighborhood. Historically, studies have shown that you can convert more clients quickly when they are presented with video. The secret is to stand out. Place videos strategically throughout your website, with the right message at the right time.
Agent Image TV provides video consultations and production services for your website. Presenting your customers with a well-made video adds some gloss to your service and assures buyers of your professionalism. With Agent Image TV, you can choose a 30 or 60 second video. A professional videographer will shoot your video at a specified location, inclusive of one round of edits with narration, background music and video cuts – with a turnaround time of just 14 business days.
As an added bonus, using social networks can also work wonders for generating more hits on your video listings. Since posting a video to your blog is done through an embedded player window, all you have to do is copy the link and paste it as a status update on Facebook or Twitter to spread the word to family, friends and just about anybody online. Taking a powerful medium like video and using social networks to go viral with it in real time will boost traffic to your website almost instantly.
The truth of the matter is, real estate videos are the reinvention of virtual tours, except video helps buyers connect with a product in a more personal way and all in one click. Whether you choose to create the video yourself, or whether you hire professionals to create the videos for you, with proper planning and direction, anyone can produce impressive videos to tell your story or walk-through your listing.
For more info and guidance on creating a property video, visit www.AgentImage.tv or call 1.800.492.6777.
Did you enjoy reading this article?
Sign up for more updates with our Agent Intelligence Newsletter!
We are committed to protecting your privacy.
Real Estate Websites for Agents
Learn which package works best for you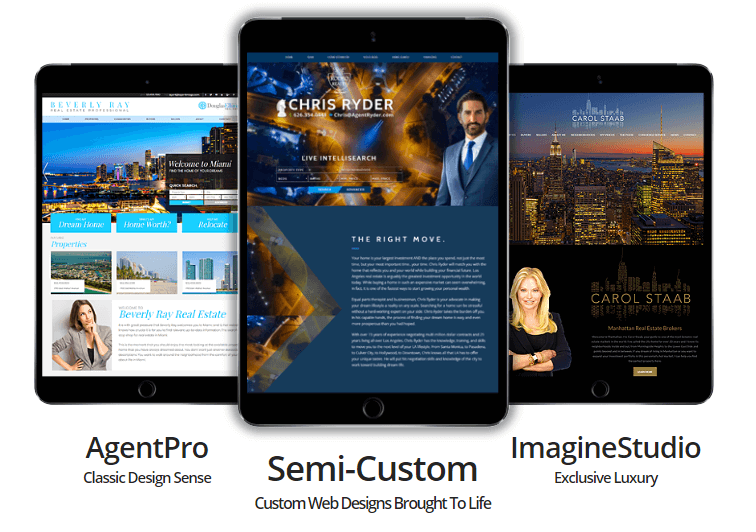 Learn More