Drive Traffic & Leads to Your Website with Pinterest
Did you know that Pinterest can generate more referral traffic to your website or blog? Pinterest, if you're wondering, is a virtual pinboard that allows people to share, discover and comment on interesting content found on the internet.
A recent comScore report shows the growing popularity of Pinterest, which was the 3rd fastest-growing site in January 2012.
According to a January study by Sharaholic, Pinterest drove more referral traffic to sites in January than Google+, Reddit, YouTube, LinkedIn and MySpace all combined.
Pinterest also grew from 2.5% of referral traffic in December to 3.6% of the referrals in January —an impressive growth from just .17% back in July.
A "pin" is essentially any photo content that a Pinterest user uploads, containing a link to its external website source. For example, this can be a photo of a house you are selling or of a recently purchased home accessory.
You can drive traffic to your website by pinning photo content that your market is interested in. People who are looking for real estate or home design-related content can visit your pins and your site.
A pinboard is a set of pins with a cohesive theme. Popular pinboards include interior design ideas, home decors, wedding styles, fashion ensembles, visual art inspirations, and food recipes.
A repin happens when another user reposts your pin. It can also be called a reblog.
A pin it button can be placed on any third-party website. This makes sharing easier as users can just click on the URL-based button and the third-party image will be pinned on their Pinterest page. The new post will be linked back to the original website, thus facilitating link building.
In addition, your pins can also be reposted not only through Pinterest but also through Facebook and Twitter.
Tips to get you started:
Create boards that contain real estate or home-design related content.
Do not simply pin, interaction is key. You gain more followers to your profile by commenting on other users' content.
Be consistent. Spend a few minutes each day on building your following on Pinterest.
Pinterest relies on visual content. Sites that offer large resolution images with good content are far more likely to be shared. So make sure your website has this.
Aside from being able to sign in to Pinterest using a Facebook or Twitter account, you can also publish your new pins to your Facebook news feed.
The world of social networking does not exist in a vacuum, and it is important to access all ways possible to promote your website and obtain maximum online exposure for your business. This is why social media marketing is such a huge deal.
For more social media marketing tips, lookout for our next newsletter and follow us on Facebook. We're now on Pinterest too!
Sources: Comscore and Shareaholic.
Did you enjoy reading this article?
Sign up for more updates with our Agent Intelligence Newsletter!
We are committed to protecting your privacy.
Real Estate Websites for Agents
Learn which package works best for you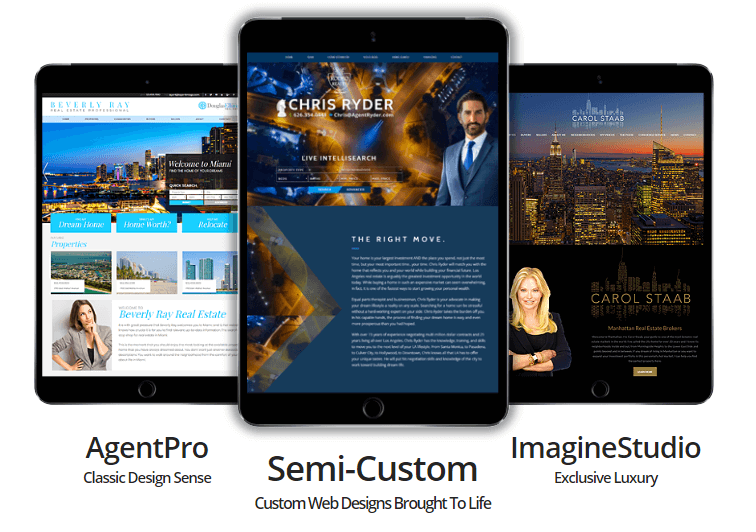 Learn More