Google, Site Names, Breadcrumbs and Real Estate – What?
Google's recent algorithm change may be causing some confusion for real estate agents. Site names, breadcrumbs, schema markups, it all sounds very complicated, but this change is going to help real estate agents provide a better user experience for their site visitors.
Starting April 16, 2015, Google began implementing a change in the way that search results are displayed on mobile devices. For now, the site name changes only apply to mobile devices and only in the U.S. however, the formatting changes are being rolled out globally and all changes are expected to broaden to all searches on PCs too. This is in conjunction with another recent Google change, which impacted the way that mobile-friendly websites are ranked in search results.
In this article, you will learn exactly what this change means overall and more specifically what it means for real estate websites. By the end of this article, you should be ready to start implementing these changes so that you can get ahead of the curve while these changes are still being rolled out.
Google SERPs Before the Change
To understand what this change means, you must first understand how Google SERPs (Search Engine Results Pages) worked before the change. Before the change, when users searched for say, "Virginia Real Estate," the search engine populated a list of sites where those keywords were relevant.
The limitation to these results, particularly for mobile users is that in order to find out what each website was about, users had to click on each link to get information about what the business is, what it does, and how relevant it is to their search. The only clue to what the website was about was contained in the "rich snippet" description just underneath the relevant page title.
Google SERP After the Change
With the new algorithms, search engines will now display more useful information under the "rich snippet" description of websites to reflect the actual website name as opposed to the domain name. In addition, instead of providing the URL address above the snippet, search results will now display the site name and relevant page name in a breadcrumb format.
Site Names: After the change, when users search online, the main title will appear first as it always has, but now the actual website name will be displayed instead of say the relevant page on the website; i.e., Agent Image (website name) as opposed to Real Estate Web Design.
Breadcrumbs: Underneath the site name, instead of displaying the URL address, the link will be displayed in the same formatting that it appears on the actual website in a breadcrumb format; i.e., home [forward arrow] services [forward arrow] and then the relevant page with the SEO keyword searched.
How Schema Markups Will Help
You may not know what schema markups are, but for programmers this is an essential feature of coding that helps search engines aggregate results. It is the newest innovation to SEO that has to date been woefully underutilized. Now with these changes, schema markups are going to be more important than ever.
Schema markups are simple codes that tell search engines how to display your search results in search engines. It enables you to add more useful information to your rich snippet text like business hours, pricing, properties, etc. Instead of users only seeing a partial sentence…under your site name, they will now see specific information that explains what your website is all about without having to click through page after page.
It Tells Search Engines What Keywords Mean: Instead of just searching your website for words that match the search terms in the search bar, schema markup codes tell search engines what keywords mean. For example instead of simply displaying generic results like "Virginia real estate listings and Virginia homes for sale" the rich snippet can be coded to display your business location, office hours, service areas, and more.
It Boosts Page Rankings: Your schema markup codes can improve your page rankings by allowing you to direct search engines to display your website pages which contain the most commonly searched terms.
It Gives Users More Information About Your Website: You will be able to define the terms for search engines to give users more to go on. For example you can list your specialties so instead of just displaying "real estate agent," your schema markup can tell users that you specialize in luxury real estate in Southwest Florida for active adults.
It Improves the User Experience: Search engines were designed to help users find information and businesses. These changes will make online searches much more informative providing users each sites "virtual business card."
How Schema Markups Work for Real Estate Websites
For real estate businesses, this change is going to make a world of difference, especially once this change is instituted across the board. Instead of your site only appearing in search results when your main keywords are searched, you can now add schema markups to each page on your website.
You Can Add Schema Markups to All of Your Pages: If you represent several States across the U.S., you can add schema markups for each of your properties so that no matter which terms are searched, your site will rise to the top. Plus the rich snippet can also include links to blog content, neighborhood information, property photos, and your contact information all right there on the page one search results.
You Can Gain An Advantage Over Competitors: Right now less than 0.5 websites are using schema markups to their advantage. If you were to start optimizing your site now as these changes are being rolled out, you can put your real estate website in a decided advantage over most competitors in your market.
You Can Add Schema Markups Easily: Schema.org provides a complete list of all of the different schema markup codes so that anyone can add these codes to their websites. The codes are broken down according to type and branch out into specific subgroups. Schema markup codes for real estate agents can be found here.
Making the Change
Keeping your real estate website up to date is paramount to its success as a lead generating tool. Whether you're willing to undertake some of these changes on your own or want the help of a real estate marketing company to assist you – one thing is certain: you've got to keep up with these changes or implementing them down the road can be challenging.
Our team of real estate website experts are standing by to assist you and are happy to offer a complimentary consultation to discuss ways to improve your site. Connect with us today to learn more!
Did you enjoy reading this article?
Sign up for more updates with our Agent Intelligence Newsletter!
We are committed to protecting your privacy.
Real Estate Websites for Agents
Learn which package works best for you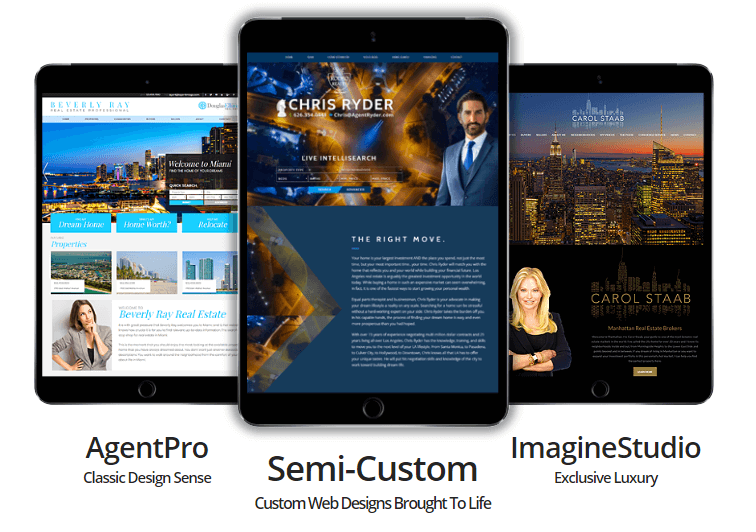 Learn More