Google Tools for Real Estate Professionals
Just how many real estate buyers and sellers utilize the Internet to find or sell a home? A lot. At some point in their search, today's buyers turn to the Internet to search for an agent or to initially evaluate a home. And in many cases, these buyers will either accept or reject a home based on how it's presented online.
According to the NAR survey, roughly 9 out of every 10 or more than 80% real estate consumers use the Internet as a home-buying tool, with this number growing every year. And Google, the leading search engine, offers a full suite of tools for real estate professionals that let you reach prospects at all stages of their home search – while they're looking for properties, checking out locations, and selecting an agent or broker.
If you're a real estate agent in today's market, why shouldn't you be the one that they end up working with? Of course, you want your name, website and contact to be displayed when they search. Google Tools gives both agents and clients the power of finding real estate and property information conveniently:
"Google AdWords provides effective, efficient local lead generation." Bring targeted traffic to your real estate website using Google AdWords to make sure people will easily find your listings on the first pages of search results.
"Make your listings more easily searchable using Google Maps and Google Earth" Use interactive Google Maps on your property search page so prospects can immediately zero in on the neighborhoods that they're interested in. Put a Google Maps direction on your Contact Page and show clients the location of your office.
"List your business where customers are searching via Google Places" Google Places gives real estate professionals an easy way to submit business listings.
"Power your business with Gmail and Google Apps" Communicate and collaborate with colleagues, clients and other agents minus the hassle with the Google Apps suite. It includes fully customized email addresses, instant messaging, calendars, doc sharing and collaboration and video. You can access these services and all of your information wherever you are, even on mobile devices.
"Create a Google+ Profile and expand your social network."
Google+ is rapidly becoming Facebook's main competition. Creating a Google profile makes it easier for prospects to find you because Google profile results appear at the bottom of U.S. name-query search pages. Your profile can include photos, information about your real estate business, and ways for people to contact you. Turn on the 'Send a message' feature, and anyone with a Google Account can send you a message through your profile, without having your email address revealed to them.
"Create a YouTube channel to showcase your listings in a dynamic format." Keep your buyers engaged by utilizing real estate videos such as company videos, agent videos and informative video blog posts. Virtual tours may not replace the physical act of viewing a house but imagine the convenience of looking at your home without the hassle. This is where video tours come in. For many years now, videos have been an effective marketing tool, especially for marketing luxury properties or services. When you host your real estate videos on YouTube , you can easily share it with your prospects by providing a link or have the video embedded on your agent website's listings page.
(Update: Agent Image TV is no longer offering video services. If you are looking for real estate website and marketing services, please visit www.agentimage.com.)
For questions on how to get the premier GoogleApps suite for your company, contact us at support(at)agentimage(dotted)com
Did you enjoy reading this article?
Sign up for more updates with our Agent Intelligence Newsletter!
We are committed to protecting your privacy.
Real Estate Websites for Agents
Learn which package works best for you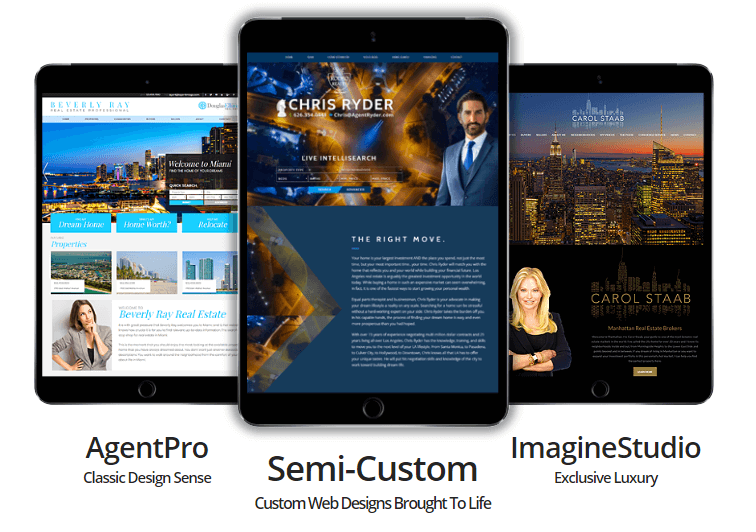 Learn More