How Strong is Your Branding?
There's one variable that is becoming increasingly important in this industry – Branding.
Increasingly, consumers are having their online expectations set by VERY brand-conscious companies, like Apple, Target, CNN, Google, Amazon, etc. Just look at any brand-name commercial site, or browse the web in general, and you'll begin to see the growing disparity between what consumers have come to expect from industry professionals, and what they find on most real estate websites – a real, professional image.
If your home is likely the largest investment of your life, and the bar has been set by the giants in the industry, when you come to a realtor's website that is poorly branded, or poorly designed, are you likely to surrender your largest asset to the care of that person?
Conversely, what about if you come to an agent's website that really stands out from all the other template-based websites you've seen, a website that has been professionally, custom designed? Outside of all the content/form architecting you can do, the appearance of your website speaks volumes about who you are, how serious a player you are in the industry, how savvy you are with technology, and the care with which you will market their greatest asset.
At a time when an agent's image is being severely threatened by market forces, it's becoming increasingly important, if not imperative, to NOT look like the rest, to preserve your image through quality design. Now, more than ever, your website design is playing a real role in what makes a consumer choose an agent.
So when it comes right down to it, analyze the importance of your website design to ensure it establishes your image and gets results. Be aware of the increasing role design works for your branding because that ultimately determines whether visitors believe you're a respectable agent or broker.
Did you enjoy reading this article?
Sign up for more updates with our Agent Intelligence Newsletter!
We are committed to protecting your privacy.
Real Estate Websites for Agents
Learn which package works best for you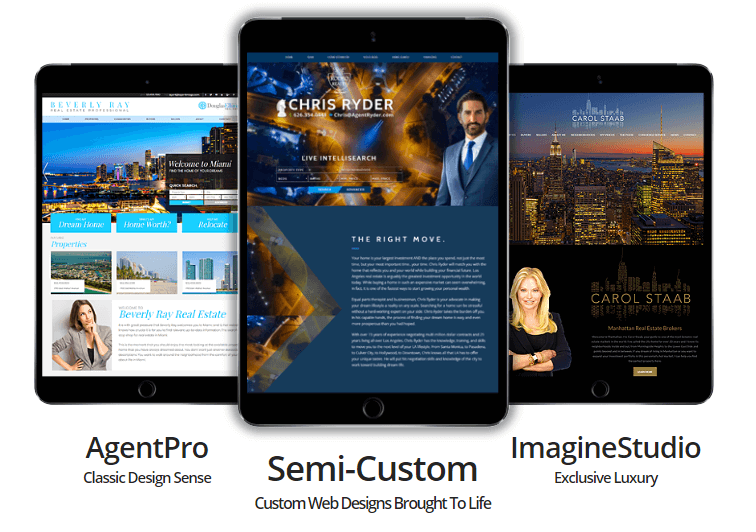 Learn More