How to Generate Leads in a Slow Market
Every company, at some point or another, hits a dry spell when it comes to generating new business. Many real estate companies, perhaps even yours, have experienced these dry spells recently with the state of the real estate market the past 12 months.
What can you do to generate business in a slow market or during a dry spell?
Mediocre companies will continue on with the same lead generation techniques that they have used for the past 20+ years (i.e. poorly targeted print marketing) or worse off, will bring spending on marketing / advertising to a dead halt. Any highly successful Realtor® will tell you that when things dry up you have to market smarter and more aggressively. Marketing should be the last thing that gets cut off for any business. Your marketing strategy, in any market, should consist of strong online marketing (solid website, search engine marketing, email marketing, blogging, and social marketing) and word-of-mouth marketing (asking for referrals, networking, providing consultation).
Not sure where to start on generating new business in this market? Here are some tried and tested methods to increase your lead generation efforts:
Optimize Your Messaging: Everyone, just like you, is budget conscious right now. The messaging you display on your marketing materials (website, blog, flyers, emails, etc) directly influences your conversion rates. Try using powerful words like "ROI", "cost savings" or "reduce costs" to draw the attention of prospective home buyers / sellers.
Work Your Referrals: Many professionals focus solely on generating new customers. All the while, their existing client base receives little to no attention. Clients you have helped buy, sell, or invest in their home(s) hold some of the highest converting leads for you – just ask! Put together a well-thought out plan to ask your past clients for testimonials and referrals.
Revisit Your Old Leads: Whether you have been in business for years or just months, you should always be maintaining a database of leads – yes, even the ones you considered "dead" or "cold". The reason why is because in times like these there is no better opportunity to dip into that well of leads to try and drum up some interest again for your services. Implement a solid marketing campaign (i.e. email marketing) to reach out to these older leads and use a strong marketing message to entice these older leads to, at the very least, come back and visit your website.
Spark Up A Conversation: Buyers, sellers and investors are more savvy than ever before. They are hungry for information and want to know as much as possible – especially about what is most likely the largest financial transaction in their life. Play into this by engaging people online via blogging, online chats, social marketing (i.e. Facebook) and start developing yourself as a useful resource or authority for what you do. By passively consulting those seeking information you gradually develop the strongest tool in sales – trust. Once you have someone's trust and respect they will be putty in your hands.
Redefine Your Leads: Just because things may be slow for you right now does not mean that you should be chasing every single lead that you receive. Instead, you need to implement a well structured qualification system to determine if a lead is someone who is worth your time and effort right now. By working every lead the same way you are actually losing money as your valuable time, effort and skills could be maximized and better appropriated on a better defined, qualified lead. Remember, you are not a salesperson…you are a consultant. Start thinking of yourself like one and so will your clients.
These five tips should provide you with more than enough to keep your business running during any dry spell. These are actually things that you should always be doing as well, not just in a down market. Spend the time planning and implementing these things in conjunction with solid, well thought out online marketing strategies and you will be well on your way to a fruitful 2009. If the effort and investment, whether money or time, is put into these techniques then your business will be full proof in just about any economy.
Did you enjoy reading this article?
Sign up for more updates with our Agent Intelligence Newsletter!
We are committed to protecting your privacy.
Real Estate Websites for Agents
Learn which package works best for you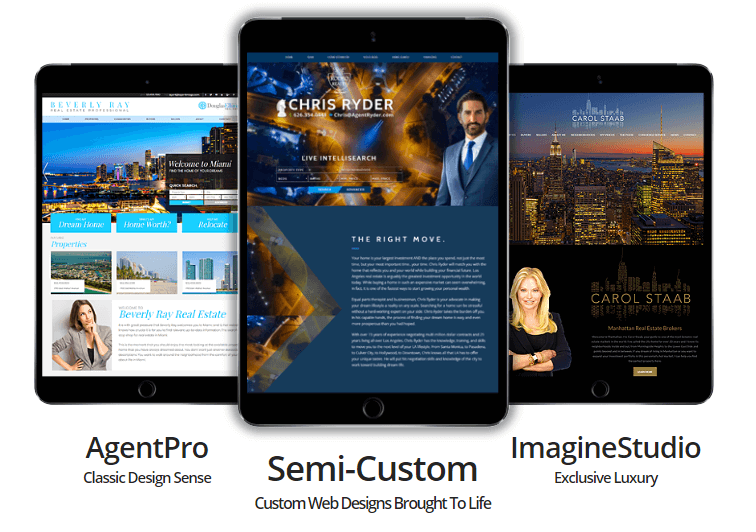 Learn More