How to Grow Your Real Estate Business with YouTube Marketing
If there is any real estate marketing trend that is here to stay, it's definitely video marketing. This booming industry has exploded over the last decade, allowing real estate agents to say so much more and represent listings with the language of video in all its forms. Now imagine that capability partnered with YouTube: one of the biggest social media platforms in the world today. With such a widely known platform, you could make your voice heard, grow your online brand, and expand your real estate business with well-crafted videos that resonate with your audience.
If you're on the fence about incorporating YouTube into your overall real estate marketing strategy, or are tentative to dive into the technical details of producing video content, we'll first take a look at the platform as a whole and see how you can make it work for you and your business.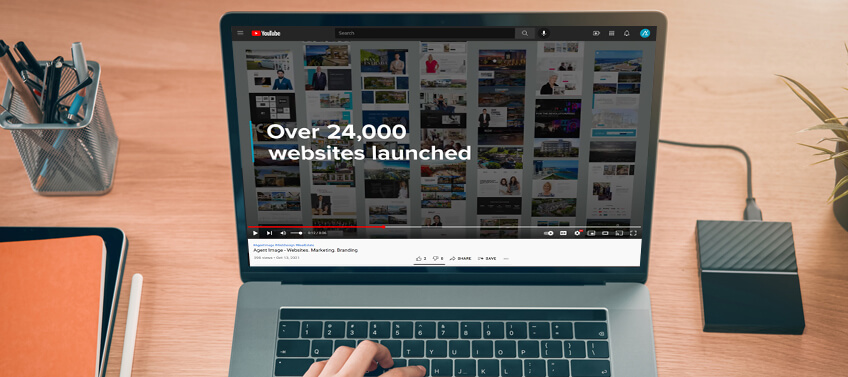 The Power of YouTube
YouTube is the biggest online video platform right now with a total of two billion logged-in users from all over the world according to Hootsuite. What's more, a recent study by Pew Research Center shows that YouTube is the most used online platform by Americans, exceeding Facebook by a wide margin.
Its size and scale aside, YouTube is a well-established website that is easy to access and use. On the content production side, you can upload a video with a few clicks, then share it on various other platforms like Facebook as well as individual property listings. Meanwhile, prospective viewers and clients can watch the videos on desktop or mobile. They don't need to go to your channel to view a video, either.
Finally, YouTube can boost your overall marketing campaign, affecting both your online brand and your clients' properties. Google recognizes that it takes hard work to produce a video, which is why it rewards pages with embedded videos on web search rankings, effectively increasing visibility and traffic.
Boosting your real estate business through YouTube marketing
Like most campaigns, you should have a cut-and-dried approach to enjoy the benefits of marketing on YouTube. Here are the most essential things to do to successfully incorporate YouTube marketing in your overall strategy.
Bring your brand to your channel
Think of your YouTube channel as an extension of your real estate website. Apart from having a username that is easily recognizable, you should add visual elements to your channel that tie the two together.
Granted, channel customization options on YouTube are limited so a full makeover is impossible. But what's currently available should suffice: the banner photo, the profile image, and the about page.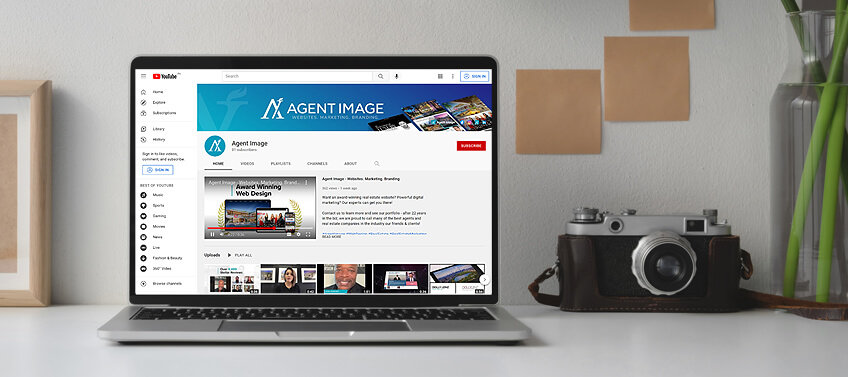 The banner photo is the first thing people see when they view your YouTube channel. Therefore, it should represent you or your real estate team.

One of the simplest ways to do it is to create a banner version of your website's header elements—containing your real estate logo, your name or company name, and contact information.

But if you want something different, consider a banner photo that features your personal photo (and those of your associates, if you have them). Doing so puts a face to the brand and makes the channel more personable and easier to remember.

The profile image takes up little space in YouTube's user interface. You can see it below uploaded videos, community feeds, and the channel page. That said, it's just as important as the banner photo.

Since the profile image is usually small, the picture you pick should be impactful, recognizable, and easily tied to your channel name. Most content creators on YouTube go for well-designed logos since they make the best use of the space that's available. But should you go for your existing logo? It depends. We advise hiring a designer to come up with a YouTube version of your real estate brand's logo.

Logo symbols and monograms are usually best for real estate teams and companies. But if you're flying solo, your own profile image may be a better way to literally put your face forward.

The about page is a separate tab in the channel page. That means it's not one of the first things visitors see—they have to intentionally click the About tab to read your description. But that doesn't mean you can make do with whatever. YouTube About descriptions still count and help raise your visibility on YouTube.

YouTube channel descriptions should be short and sweet, but also rich with descriptive keywords that fit your market and specialization. If you're an expert on Beverly Hills luxury real estate, make sure to mention that! Identifying your geographic location keeps your audience aware of where they can find you and knowing your exact expertise. Knowing which specific keywords to use can be a guessing game if you don't know your SEO basics—but thankfully there are SEO Specialists in the industry who know all the tricks of the trade to boost your channel for its best performance.

One easy improvement that not everyone remembers to include, is adding a call-to-action (CTA) message at the end of your channel description. You can invite video viewers to visit your real estate website and social media profiles, to continue the conversation beyond YouTube likes and comments.
An extra step that can elevate your YouTube channel page is to pin a welcome video to the Home tab. The video, including the description, should summarize or exemplify what your channel is really about. This pinned video is located right below the main navigation panel, making it the third feature visitors see when they access your channel page.
Plan your content in advance
On YouTube, you offer your unique value proposition through the kind of video content you create and publish. And when it comes to your videos, consistency is important.
Creating a long-term content plan helps you maintain consistency and establish yourself as a subject matter expert on your field and market. Nowadays, long-time YouTube content creators, no matter the topic, have several video "series" with set premiere dates so their viewers know when to expect new episodes.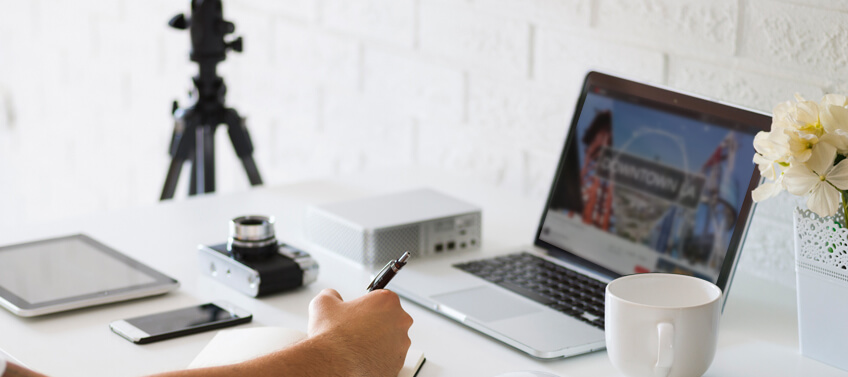 Well-produced videos take time to create. Start small with one to three types of video content depending on your schedule. Here are a few options to start with:
General how-to videos: Answer popular home buying and selling questions with this kind of content, which can be short and direct to the point. You can incorporate both general queries and topics that are specific to your focus area or market, just make sure to balance both to appeal to a wide audience.

Listing videos: Everyone loves an immersive virtual tour video of a property. It's basically the next best thing to an in-person open house, and even better when it's a personal walkthrough of a home. Listing videos are great because they maximize the reach of 2 platforms: YouTube's network of users who may search for listings by area of interest, and the actual listing page on your website, where the video feature serves to boost search engine visibility and page engagement.

Neighborhood guides: Well-written and comprehensive community write-ups are great, but you can go one step further by showing, not just telling. Neighborhood videos can complement existing community guides on your real estate website by fleshing out what's being described—from schools, to the best downtown hotspots, community parks and recreation, and so much more. Videos are a great medium for capturing the attention of viewers for a longer time—certainly a better choice than to read through a long paragraph of text!
Spend some time ironing out the details
Any video you publish on YouTube is supported by a host of details you shouldn't ignore. Taking some time to understand the importance of each component can make a difference in the overall reception of your work. Make sure to plan for the following elements:
The video title: Video titles should be concise, SEO-friendly, and relevant to the type of content being shown. This is especially important for videos that are a part of a series: incorporate a recurring word or two to let viewers know what to expect from the video format once they click in.

For example, you're making a series of how-to videos about home buying. Here are a few titles that feature recurring as well as relevant words.

Home buying 101: Are home inspections important?
Home buying 101: All about mortgages
Home buying 101: Where's the best place to live in LA?
Home buying 101: How do you negotiate for a good price?

The thumbnail: Thumbnails accompany video titles on search results, not only on YouTube, but on Google as well. If you are sharing the video on Facebook or Twitter, the thumbnail shows up, too.

The ideal thumbnail is crisp in quality and should feature the main topic of the video. You can do this by adding a relevant image or even the title. Then, it should have your name or your real estate brand's logo.

Thumbnails work best if they're consistent, which is why it's also important to develop a certain style over time that can clearly be attributed to your real estate brand. Some people do this by incorporating visual elements, such as consistent font styles, colored borders that reflect the brand, or even a constant human element, such as an agent headshot.

While consistency is key when you're still starting out with YouTube, it's also nice to add some variety after some time to grab the attention of your subscribers. Don't feature the exact same headshots or pictures on thumbnails for different videos as it could make your video library look a little generic and repetitive.

The video description: The longer the video description, the better. But length isn't the only important factor to aim for. It should be relevant and provide reference to the video content. You can preface the video description with a short summary, then offer more details in the following paragraphs.

For longer videos, you can also provide a transcript of your content so viewers can fully understand the information you presented, or even include some handy shortcut links to video timestamps, so they can jump to sections that interest them the most.

Subtitles: Make your videos more accessible to all users by providing video captions or subtitles. YouTube does provide viewers the option to turn on system-generated subtitles, but its accuracy is far from perfect. Do subtitles really affect your video optimization? Not really. But it can have a significant effect on capturing certain leads. Sometimes it helps to pay attention to these details since doing so extends your range of communication and helps viewers truly understand what you're saying.
Should you worry about tags?
Tags can help people find your content if the topic is commonly misspelled, but in terms of visibility, tags don't do much. Furthermore, using tags excessively in your video descriptions can be considered as spam and, therefore, be detrimental to your videos' performance.
Curate and share
Now that you know how to customize your YouTube channel and optimize your videos for the best results, what are the other things you can do to improve your YouTube marketing?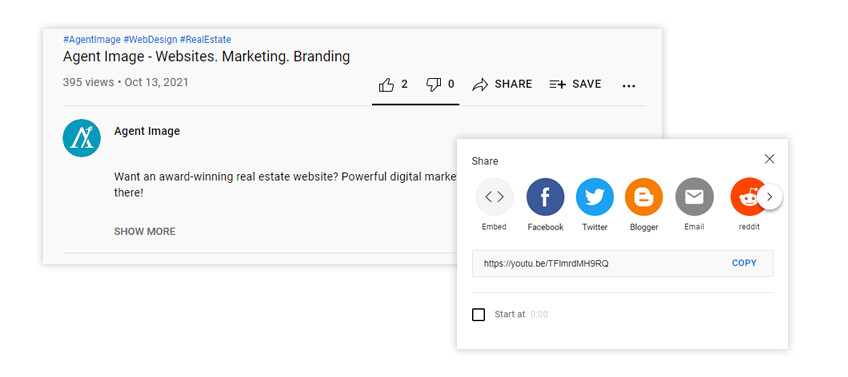 Add playlists: Once you have amassed a number of videos on your channel, you can create playlists and segregate videos according to their topic. You can also do this for videos that are a part of a series.

Playlists are shown at the Home tab of your YouTube channel. It is usually placed after the pinned or most recent video, which makes it a pretty visible spot. To use this space widely, create a playlist that advertises your most viewed videos or one that showcases your real estate expertise. You can follow it up with series playlists so viewers can easily find the videos they want to watch based on the topic.

Share your videos on other platforms: Share your videos whenever, wherever. Did you recently upload a new video on your YouTube channel? Share it to your followers and clients on social media. If you have a video that is timely, share it again and add more insights.

Instead of just posting about your YouTube videos on your real estate website, consider creating partner blogs that expand what was tackled. Just remember to embed the video on the actual blog post when it's ready to be published.
YouTube can solidify your position as a real estate expert
Explore more ways on how you can use YouTube to your real estate business's advantage with Agent Image. Get in touch with us at 1.800.979.5799 or send us a message here.
Did you enjoy reading this article?
Sign up for more updates with our Agent Intelligence Newsletter!
We are committed to protecting your privacy.
Real Estate Websites for Agents
Learn which package works best for you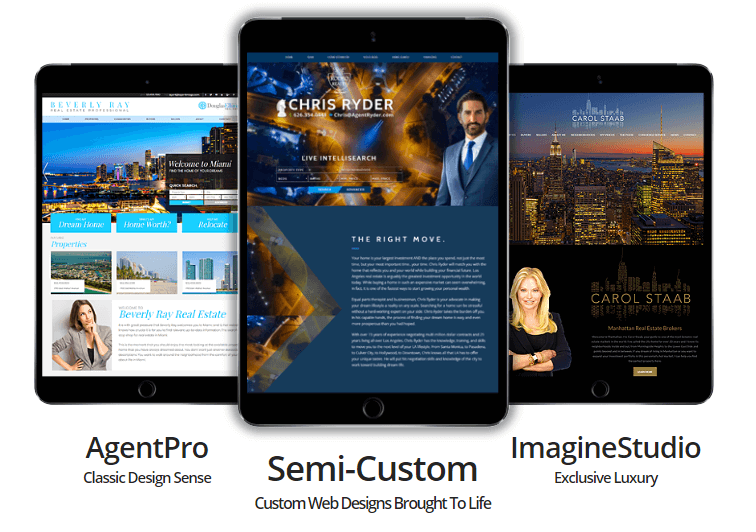 Learn More