Investing in SEO for your Real Estate Website
Does website SEO sound gibberish to you? Many people share the same sentiment but the thing is, SEO is a must for any business. But how does SEO work for real estate professionals?
Visibility
Search Engine Optimization (SEO), is an umbrella term for a cohesive set of strategies that you do to influence the results that appear in search engine results pages (SERPs). By following SEO best practices, your website has a higher chance of appearing in Google, Yahoo or Bing.
With this online exposure comes actual visits (traffic), leads or conversions, and eventually a sale.
The more people you reach, the more you establish your authority in your niche and your brand eventually becomes associated with specific search terms that are relevant to what you offer (e.g. "luxury homes in San Diego" or "downtown Miami condos")
Search engines love ranking brands who are trustworthy. If they see that your site follows all the SEO guidelines and that your site is actually useful to people, there's a high chance that you will own your rankings in a few years' time.
Rankings as a popularity contest
Sites become popular for a reason – number one reason is that people find those sites useful, informative or entertaining, something that they want to come back again or refer to their friends.
Search engines l
ike Google, Yahoo and Bing each have a goal to provide the best set of results for the searcher and devalue sites who have nothing much to contribute.
Online Reviews and Niche Keywords
Different industries use different marketing approaches to make sure that they reach their target audiences.
For instance, if a restaurant owner wants to make his or her menu page highly ranked, they would work to get discovered on review sites like Yelp or maybe even travel review sites like TripAdvisor.
Reviews also work for real estate agents. For example, if I search for terms like "San Diego Realtor" or "San Diego real estate agent", Google understands that you're looking for a list of the best agents in the area, so it will favor review sites like Yelp, Zillow, Trulia or even testimonial pages in the search results: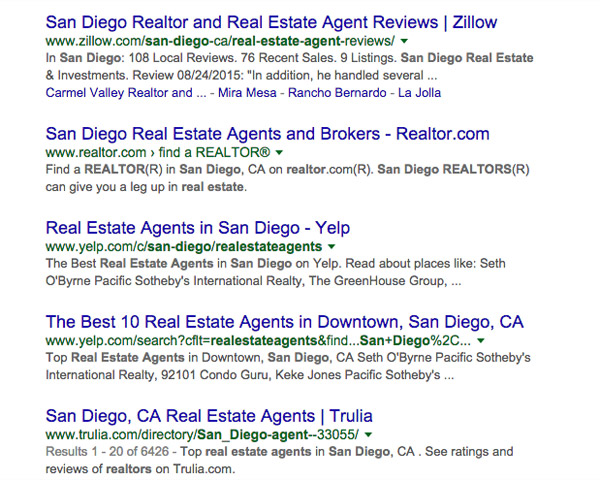 Now if someone is searching for more specific search terms like "Atlanta luxury homes for sale" rather that the more broad "Atlanta real estate", Google will churn out more niche results in favor of those agents or companies who are really specializing in luxury homes: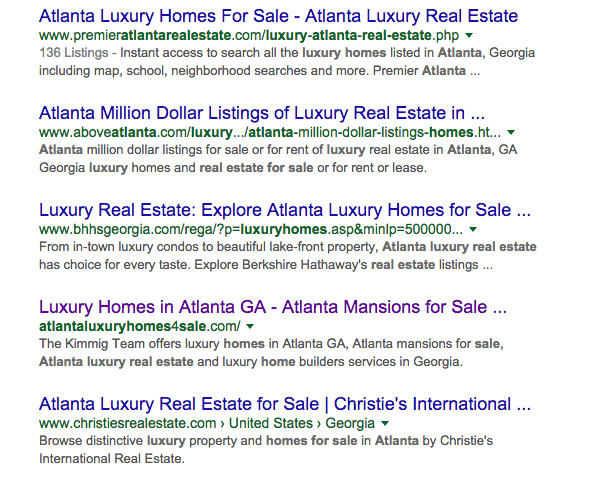 Getting the best results
There are many advanced strategies for attracting the right traffic. An SEO strategist will consider the city and communities that you serve, the property types that you specialize in and more. Your strategist will also give you advice on how to earn natural linkbacks for your site that will help you improve your popularity and rankings. Real estate SEO also makes sure that you have the best:
Natural keyword usage and on-page optimization
Listings and directory submissions (only to high authority sites relevant to your industry)
Great user experience for your site visitors
Familiar navigation and web page structure
Valid coding and tag markups for search engines
Content that will be valuable to people
Content Marketing
In addition to getting in front of your general audience, real estate SEO can also help you to target a niche group. The most successful agents localize their websites so that people in their hyperlocal areas can find them.
The typical real estate agent serves many different communities and neighborhoods. Your SEO strategist can optimize your site pages so that wherever visitors are searching for a property, your website will appear in the results. Types of content that will help you with local content marketing are:
Community information
Local events
Market reports
Interactive maps
How-to guides
Blog posts about the area
Video tours of the property or neighborhood
Lead Generation
Aside from establishing industry authority, the end goal of SEO is lead generation. The more unique visitors and repeat visitors that comes to your website, the more likely they are to become leads and eventually clients.
Think about how much your business can flourish from an influx of people who find your website through an online search. The fact is that most buyers start their home search online. Real estate is a super competitive industry and more and more sites are doing SEO in some way or form. Without real estate SEO your site will be invisible, and expecting to compete without it will only lead to frustration.
Have SEO-specific questions? Send us your details and availability to get your free consultation!
Did you enjoy reading this article?
Sign up for more updates with our Agent Intelligence Newsletter!
We are committed to protecting your privacy.
Real Estate Websites for Agents
Learn which package works best for you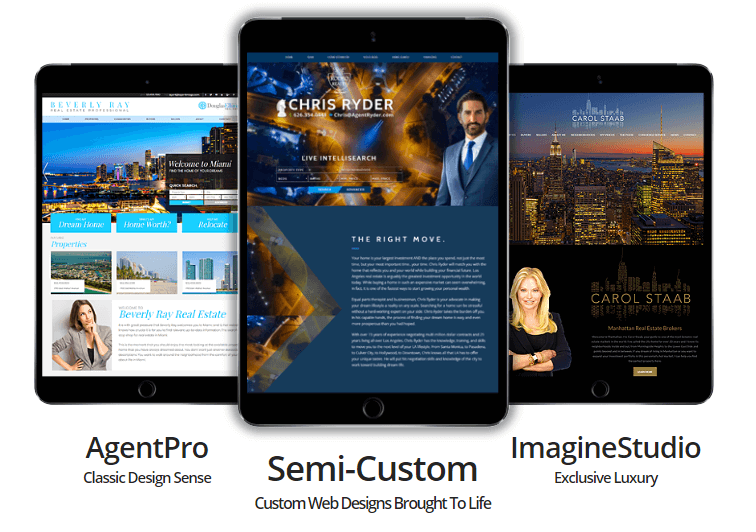 Learn More