Jumpstart Your Real Estate Blog With These Pro-Tips and Topics
Buyers and sellers crave information. You have precisely the knowledge they need.
It's a perfect match — except you don't have nearly enough hours in the day to talk to all these people.
That's where blogging comes in! By posting informative content on your website, you effectively create a virtual information kiosk that prospects can access 24/7.
Sounds interesting? This in-depth guide tackles everything you need to know about blogging — from the why to the how and everything in between.
Why Start A Real Estate Blog?
Let's start with the most important question: why bother with blogging at all? While providing free information to buyers and sellers is admirable, blogging offers rewards to you as well.
A real estate blog Increases organic website traffic – Regularly publishing up-to-date and relevant information gives people a reason to keep coming back to your website, which has a snowball effect on your website traffic. If search engines notice that your site attracts repeat visitors, they will deem it authoritative. Why is this important? Because Google and other search engines tend to prioritize high-authority websites when displaying search results, giving you a higher chance of landing on the coveted first page.

A real estate blog boosts your credibility – A house is a massive investment and potential clients will gravitate toward agents who can demonstrate their mastery of the real estate market. A well-written, in-depth blog is concrete proof of your expertise.

A real estate blog attracts and nurtures leads – At the end of the day, blogging is a marketing exercise — one that naturally requires a return on investment. Luckily, blog posts can help you attract and nurture prospects precisely because you provide people with the information they need. Even better, blog posts can become pillar content that can generate leads for months (or even years) to come.
How To Start A Blog
With so many benefits to blogging, you may be raring to get started. The only problem? You're not quite sure where to begin. Luckily, we've got a step-by-step guide to help you find your footing!
Step 1: Sharpen Your Brand Voice
As a real estate agent, you have your own unique brand. Your job when blogging is to capture this brand in the tone and manner of your writing so your content is not just more relatable, but more believable, too.
Are you a millennial agent who has a friendly and approachable vibe? Or are you a luxury agent who has discerning tastes? Whatever the case may be, you want your blog posts to capture your personality so it's almost as if you're talking to your prospects directly.
Step 2: Create Reader Personas
If you want your blogs to resonate with readers, your content has to speak to their needs. That's why at the outset, we recommend creating reader personas that correspond to your target prospects.
Look at your most recent clients and take stock of their backgrounds, demographics, life stage, and real estate goals, then see what picture emerges. After all, a newlywed couple buying their first home has very different interests from recent retirees who wish to relocate to an active-living community.
When you know who you're writing for, coming up with relevant topics becomes much easier.
Step 3: Do Keyword Research
Inserting keywords into your blogs makes your content more searchable online. And while keyword research may seem daunting, there are many tools you can use to make it easy. Google, for instance, has a handy keyword planning tool.
Pick a certain persona and think of what they'd look for online when buying or selling a home. Input that search phrase into a keyword tool and it will recommend related keywords. Take these suggestions and try to insert them as naturally as possible in your blog content.
Step 4: Brainstorm Topics
Now that you have your reader personas and target keywords, you have everything you need to start brainstorming meaningful topics people will actually want to read about. Here's an example:
PERSONA:
NEWLYWED NORTHONS
(Late 20s, dual-income, enjoys the outdoors)
TARGET KEYWORDS:
Buying first home in Oregon

Oregon first-time homebuyer assistance program
POSSIBLE TOPICS:
How First-Time Homebuyers Can Get Low-Downpayment Mortgages Through ACCESS Program

Mistakes First-Time Homebuyers in Oregon Should Avoid
Step 5: Plan Your Workflow
Blogging is something you have to juggle on top of your duties as a real estate agent. That's why it's worth asking these questions early on:
How often should I post? We recommend starting slow, then gradually increasing your post frequency as you get the hang of things.

Who will write my blog posts? You can do it yourself, but if writing is not your forte, you can delegate this task to your marketing team or hire a content agency to write blogs for you.
Step 6: Promoting Your Blogs
As amazing as your blog might be, it won't get traction unless you promote it. Luckily, you can use your social media pages to share the news with your existing audience or send an email blast to announce your blog's launch.
Coming Up With Blog Topics – The Easy Way
Unlike pay-to-play marketing campaigns, blogging is a long-term investment in organic web traffic. That means you'll always have to regularly publish fresh and insightful content for your website — something that's easier said than done. Fortunately, there are several ways to come up with great topics to blog about.
Industry-related topics – If you keep your ears to the ground, you'll never run out of topics for your blog. From market trends to the latest development, draw inspiration from recent events that have an effect on buyers and sellers.

How to Sell a Home in a Buyer's Market

5 Secrets to Getting The Best Deal on Your Home Mortgage

Maximizing Your Selling Price in Today's Downmarket Conditions

Seasonal topics – As you're well aware, real estate is a seasonal business. This means that your readers' concerns change from season to season, giving you plenty of topics to mine for your blog.

Why Selling Your Home During the Holidays is a Brilliant Idea

Summer Home Renovations That Yield a Big Return on Investment

Make Your Home Sale-Ready in Time for The Hectic Spring Season

Answer commonly asked questions – Buying and selling real estate is a complex process, so people naturally have lots of questions about it. Show off your expertise by developing blog topics around such questions. You can also use forums like Quora and Reddit to get a sense of the burning real estate questions people have.

I Just Sold My Home. How Can I Minimize Capital Tax Gains?

An Insider Look at Real Estate Agents' Commission Fees

What is HELOC – Should You Tap it?

Community spotlights – Real estate blogging doesn't have to always revolve around properties. Remember: a community can be just as big a selling point as a house. You can use your blogs to highlight the kind of lifestyle people can expect when they move to your neighborhood.

The Best Microbreweries in Downtown Los Angeles

Discover These 5 Family-Friendly Day Hikes Around Portland

The Foodie's Guide to the Best Restaurants in Ohio

Health, Hub, Hygiene model – Popularized by Google, this framework is an excellent guide for content marketing (including blogging).

HUB

Regular content that caters to your avid readers.

Easy Upgrades That Boost Home Value

Fun Spring Activities in Oregon For Nature Lovers

HYGIENE

Content that answers questions your audience might have.

Which Buyer Contingencies Can I Safely Drop?

What First-Time House Flippers Should Know

HERO

Tent-pole content that's high-effort but less frequent.

INFOGRAPHIC: A Guide to Historic Attractions in Seneca Falls

MARKET REPORT: Analysis of Recent Sales in San Francisco's Most Coveted Neighborhoods
Best Practices For Real Estate Blogging
You're well on your way to becoming a real estate blogging pro! Just keep these best practices in mind and it'll be smooth sailing ahead.
Be consistent – Search engines like Google reward websites that regularly share new content with greater visibility.

Make your headlines click-worthy – Clearly state what the reader stands to gain from reading your blog.

Write conversationally – Banish highfalutin words and complex jargon from your copy – make your blog sound like a trusted conversation instead.

Make your content skimmable – Readers find walls of text daunting. Break up your content with headings and subheadings.

Don't shoehorn keywords – Only use keywords when they make sense. Google actually penalizes websites that use keyword stuffing.

Add calls to action – Make it clear what you want readers to do after reading your blog. Do you want them to look at listings? Would you like them to book a call with you?

Don't forget about internal linking – Sprinkle your blog with hyperlinks that lead readers to other blogs or sections in your website. The longer they dwell on your site, the better your search rankings will be.

Never plagiarize content – Google knows if you've copy-pasted someone else's content into your own blog – and will penalize your website accordingly.
Want To Succeed At Real Estate Blogging?
Blogging is an art and a science – just like selling homes. So if you need experts to help get your blog off the ground, allow Agent Image to be of assistance. Our team of ace writers and search engine optimization (SEO) pros will handle all aspects of your blog so you can focus instead on growing your business.
For a FREE consultation, call 1.800.979.5799 or send a message here.
Did you enjoy reading this article?
Sign up for more updates with our Agent Intelligence Newsletter!
We are committed to protecting your privacy.
Real Estate Websites for Agents
Learn which package works best for you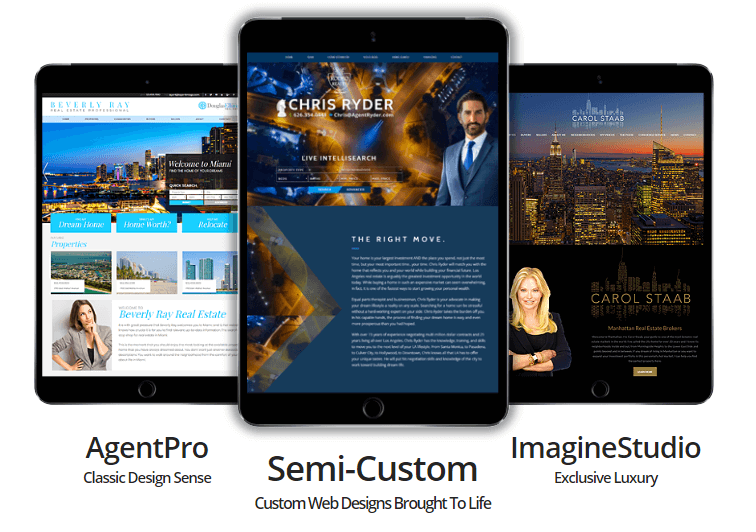 Learn More