Making the Internet Work For You
Your website exists for a reason – to generate leads and help you convert them into actual clients. When it comes to internet marketing, getting a website up isn't the end of the process, it's only the beginning. If you're just going to put your site out there and then wait for buyers and sellers to come flocking, you'd best be prepared to wait a very long time.
A website that draws traffic is no overnight creation. It's the end result of a multi-pronged marketing approach, persistence, and plain hard work. Turning traffic into solid leads is even harder.
But first, you begin with getting that traffic. Much of this will be coming from search engines (Google, Yahoo!, et al.) and you'll want to rank high on their results pages because, let's face it, you're going to have a lot of competition and most people won't click past the first few pages of search results. While climbing up the ranks of search engine results is not easy, it can be done and here are some tips to go about it:
Know who your audience is. This will probably be the home buyers and sellers in the areas you service, so make sure that you narrow the location(s) down. Think of search terms that they will be using and feature those prominently in your site.
Give them what they want. What kind of information would home buyers and sellers in your area be looking for? Make it available on your site.
Keep them coming back with fresh, regularly updated content. Fresh content attracts audiences and search engines both.
Get some of that link love by asking other people you know that have websites to add your website link or by adding your website link in your marketing materials and social marketing pages. When other sites link to you, new avenues for creating traffic open up, plus this also makes search engines think better of your site.
Once you've got visitors dropping by, the next step is to turn them into real leads. How?
By making it easy for them to contact you. Include a contact form on all your pages.
By offering a wide range of information and unique services. Entice them to contact you with newsletters, free home evaluations, and more.
If this all seems overwhelming – remember, you can have things automated! Our Internet Marketing Specialists can show you how to make your internet marketing strategy easier to handle and, more importantly, effective. Call 1.800.635.1231 for more details.
Did you enjoy reading this article?
Sign up for more updates with our Agent Intelligence Newsletter!
We are committed to protecting your privacy.
Real Estate Websites for Agents
Learn which package works best for you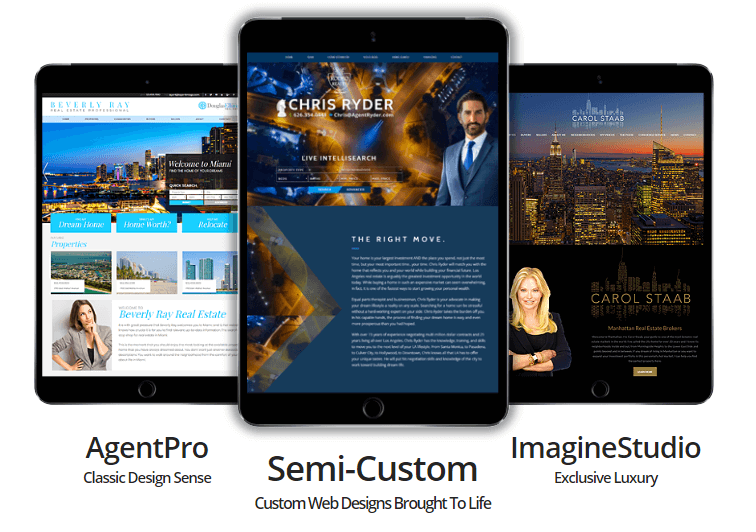 Learn More