More Photo Apps for Real Estate Agents
Visual and emotional connections play a big part in almost every real estate transaction. Encouraging prospective home buyers to visualize and emotionally connect to a property they see online can help you make a sale. The following mobile photo apps make taking, editing and sharing creative photos fun and easy.
Instagram
We can't start this list with just any photo app. With over 30 million users as of April 2012, Instagram continues to be everyone's favorite photo app.
Available for iPhone and Android.
It's free, user-friendly and also includes a good amount of filters to enhance your photos.
However, it limits photos to a square shape, similar to Polaroid images.
Facebook Camera
The Facebook Camera app highlights three features: Easy sharing, easy editing and easy tagging.
Currently available for free for iPhone only.
However, it only allows uploading of photos to personal profiles. It also isn't integrated in the Facebook app, which means you'll have to use either of the two.
Snapseed
Snapseed is more on the photo editing side.
Currently available for $4.99 for iPhone, but an Android version is coming soon.
It has both a mobile and desktop version, but you can't sync to one another.
Features a simple interface, but offers complex photo editing tasks such as sharpening capabilities. Special effects and filters are also available.
Photo Studio
Available for free for Blackberry, but an upgrade is available for $3.99.
Includes basic editing tools such as cropping, red eye removal, and image adjustments.
The free version features 29 filters and you can get more when you purchase the upgrade.
However, saving photos can take a while, especially if a number of edits were applied.
Creative Studio
Available for free for the Nokia Lumia Series.
The Live Styles option enables you to use the effects even while shooting.
Filters are available ( though limited compared to other photo apps) if you're still interested in touching up photos afterwards.
The Face Warp feature lets you have fun by morphing the faces of people in the photo.
Also, here are tips on taking better smart phone pictures.
Hold Still.
This is just a reminder that even the smallest shake can lead to blurry photos.
If you can't hold the camera steady, use a mini tripod.
If your only option is to hold the camera, bring your arms in and use your upper body to steady your arms.
Don't Delete Photos Yet.
The resolution on your phone screen is different from your computer resolution. So what shows on your phone is different when you view it in your computer. We recommend you keep your photos on your phone until you can view them on a computer.
Do It Manually.
Unless your camera-phone has 41 megapixels, its zooming capabilities will have its limitations. So don't hesitate to take a few steps to get close to the subject of your photo.
Find the Right Light.
Keep in mind that lighting can make or break a photo and it's not just about being over or underexposed. Proper lighting can add to the desired feel of the photo.
Do research as to what type of lighting is best for your photos. Also consider effects certain lighting can have.
Practice.
Practicing taking photos with your camera-phone will not only help you get better, but you'll also pick up some tricks along the way.
Keep in mind that you shouldn't heavily rely on mobile photography. But as a supplementary visual, this type of photography can pique the interest and catch the attention of potential clients in social media.
For your website property pages, professionally taken photos or real estate videos are still the best choice.
Did you enjoy reading this article?
Sign up for more updates with our Agent Intelligence Newsletter!
We are committed to protecting your privacy.
Real Estate Websites for Agents
Learn which package works best for you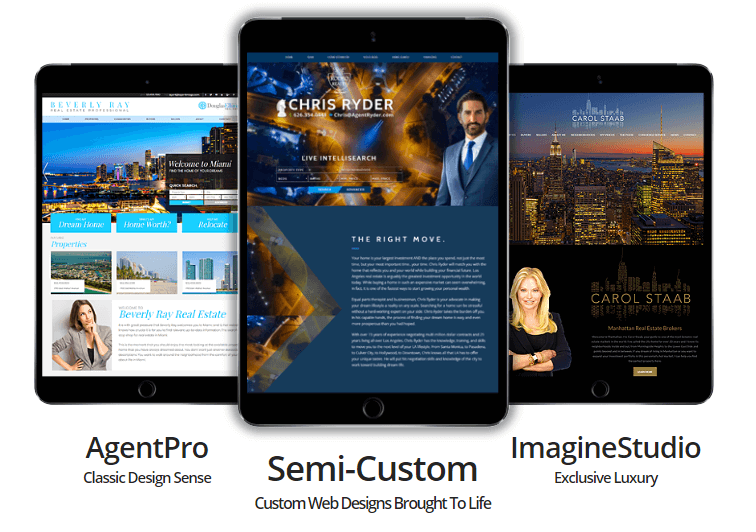 Learn More