Promoting Individual Listings with additional Property Domain Names
At Agent Image, we understand the importance of property domain names and the lure of making single property websites for real estate. However, a single property website only caters to a very specific niche with something like "119PlumStreet.com".
Single property websites are only encouraged for high value featured listings because these domain names aren't very rich in keywords that search engines like Bing and Google can pick up. People will also prefer to find all your listings in one place — your real estate website. What we recommend is having an efficient agent website with additional property specific domain names pointing to specific listing pages on your website.
Rather than maintaining and promoting hundreds of single property websites, having property domain names point to specific community sections or individual listings on your main agent website means less maintenance and cost for you and your team.
If this is an option that you'd like to consider, Agent Image offers very affordable domain name registrations, renewals and transfers. You can purchase new .COMs for only $10.99 per year and other popular, top-level domains at low pricing . There are also some free, extra features that are sure to benefit you in the long run with every domain you purchase:
Auto Renew Protection. You'll never have to worry about manual domain name renewal. With our services, your registration gets renewed automatically.
Domain Forwarding and Masking. This way, we make it easier for you to redirect any address to your existing website.
Total DNS Control. Our Domain Control Center makes sure that you can set your email, FTP, sub-domains, web site location and most importantly, manage your domain name server smoothly.
Change of Registration. Assigning your domain name to another registrant and doing it online is possible and easy. You can even change all four contact fields for the domain anytime you want to!
Status Alerts. No need to worry about someone accessing with your domain's administrative information and ownership. We prevent unauthorized/accidental transfers and stop anyone from misdirecting your name servers.
Parked Page with Domain. You get a Coming Soon sign from us immediately after domain registration, giving you the time you need to launch your website. Your page may also remain parked during the length of your registration.
For more information on our services, visit us at http://agentimagedomains.com or give our guys a call at 800.635.1231.
Did you enjoy reading this article?
Sign up for more updates with our Agent Intelligence Newsletter!
We are committed to protecting your privacy.
Real Estate Websites for Agents
Learn which package works best for you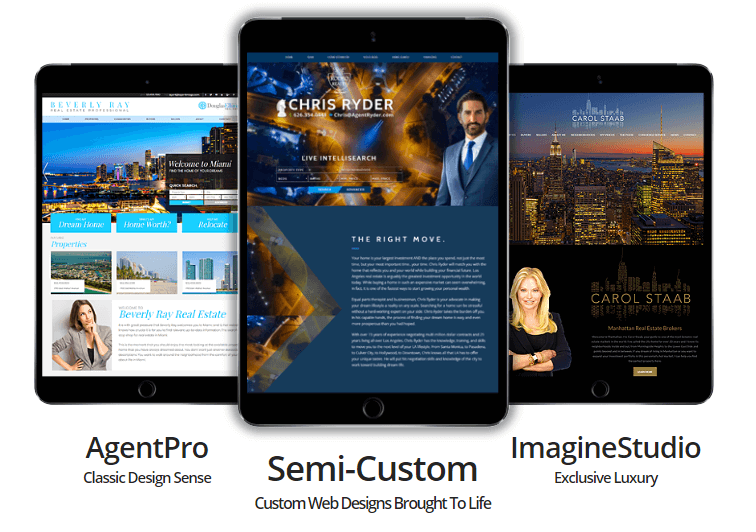 Learn More