Why Real Estate Blogs Work
It's easy to point out what real estate blogs are doing wrong – generic content, visual clutter, erratic updates – but it's also worth asking what successful bloggers are doing right. With so many mediocre blogs flooding the web, how do you bring value to the table?
Here's what makes real estate blogs work:
Blogging platform

It all starts with the blogging platform one chooses. WordPress is still the most popular platform to date, and it's an excellent choice for those who want to have full control over their blog's customization. It lets you install custom themes and plugins, enabling you to make your blog look exactly the way you want it to.

You'll need a reliable web host to use this platform. You can start out with shared hosting, which puts you on a server that hosts hundreds of other sites, or VPS hosting, wherein a physical server hosts fewer clients and gives you low-level access to administrative functions. Managed hosting lets you rent a server, giving you additional capacity and a support team dedicated to your site. 

Superior design and easy navigation

At the end of the day, it doesn't matter how useful or fascinating your content is if it's difficult to get a hold of. That's why the best real estate blogs aren't just easy on the eyes, they're easy to navigate, too. They put remarkable effort into making it simple for visitors to find the information they're looking for.

Make your blog more user-friendly by incorporating search bars, tags, archives, categorized posts, and sort by author into the design. Use white space to emphasize text and images, and to make it easier for visitors to focus on your content. Bullets also allow you to present information in a way that's easier and quicker to digest.

High-quality content

High-quality content is unique, specific, useful, and informative. It has to bring more value than the kind of content that can be found in other sites – otherwise, your blog is just adding to the noise. Use well-written and engaging text, along with crisp, high resolution images.

Choose blog topics that are of local and national interest. For instance, when writing about local home values, you can discuss how they compare with the state or national average, and so on. Avoid grammar or spelling mistakes, broken links, inaccurate or dated information, and excessive ads. The last thing you want is to turn visitors off with inconsistencies and factual errors.

Reader focused

Real estate professionals maintain blogs so that they can promote their brand and services. Although blogs should be monetized in some way, you need to strike a healthy balance between self-promotion and being genuinely helpful to visitors if you want to be relevant.

Avoid shameless plugs that don't offer value. Mention products and services sparingly, with as much tact as possible. This should only be done within the context of offering substantial assistance to readers. Keep the focus on helping others, and away from generating profit.

Industry specific

Stay focused on your industry and niche in order to serve your audience well. The most successful real estate blogs are able to build large and loyal followings because they give what readers exactly what they're looking for. For instance, a reader who wants to know more about flipping homes wouldn't want to sift through inspirational posts, political rants, or autobiographical accounts.

Local expertise

Stand out from the competition by being an expert on local communities and neighborhoods. Your knowledge of the area is precisely the kind of information readers are looking for online, and they'll be more likely to get you as their agent when you demonstrate this knowledge.

One of the most effective ways to do this is by creating  community pages for all towns or cities that you cover. This shows readers that you are the real estate expert to contact in the area. 

Frequent updates

Publish new and original content regularly. Come up with a posting schedule of once or twice a week – any less than that and your readers might lose interest in your blog. You can even post thrice a week, or daily, if you can realistically manage it. Sync your updates with the time of day or day of the week when you get the most traffic. Doing so lets you get as many views as possible. 

Social media engagement

You'll need to establish your presence on social media sites, as these are excellent platforms for promoting your blog. Just keep in mind that people who use social media want to connect and gather information from brands and public figures they like. They could care less about being sold to, and any effort to hard-sell yourself will be ignored or avoided.

Work on becoming a valuable member of the community by offering expert advice and useful information. Over time, your social media participation will result in a high level of engagement. 

Online presence

Links play a big role in SEO, and a shout-out from a credible real estate blogger can drive traffic to your blog. That's why it pays to initiate and nurture sincere, mutually-beneficial relationships with other real estate bloggers. In fact, this should be part of your social media planning.

Having peers and being part of a community will help you build your online presence. On the flip side, being perceived as difficult to deal with on the blogosphere can easily hurt your brand.

SEO

Search engine optimization, or SEO, is the process of optimizing websites for the search engines. You'll want your real estate blog to appear on the first page of Google's search results, and you can make it happen by putting SEO to good use. Understand how onsite and offsite optimization works, and which SEO tactics you need to deploy in order to achieve results.
With these in mind, you'll be on your way to having a successful blog that reflects your capacity and expertise as a real estate professional.
Did you enjoy reading this article?
Sign up for more updates with our Agent Intelligence Newsletter!
We are committed to protecting your privacy.
Real Estate Websites for Agents
Learn which package works best for you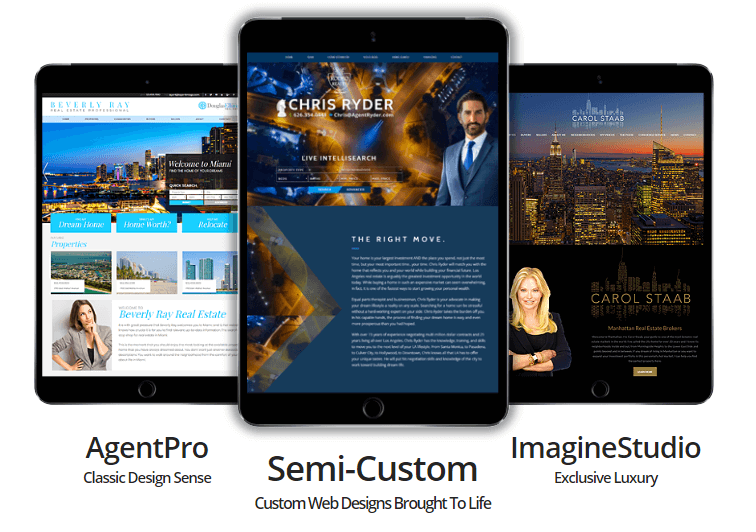 Learn More