Real Estate SEO Dos and Don'ts
With nearly all homebuyers using the Internet as a source of information, having a great-looking website with easy-to-use features is just the beginning.
You also need to have good online visibility, which basically means you have to get your site on the first pages of SERPs (search engine return pages). The most effective way to achieve this is through search engine optimization (SEO).
When it comes to SEO, it's important to always be mindful of search engine algorithms. They change – constantly – and the changes are often a reaction to existing practices that are unhelpful or harmful to users' experience.
So what may have worked a few months ago may no longer be effective with the latest algorithm changes. Worse, sticking to these old practices can get you penalized.
With that in mind, here are a few real estate SEO dos and don'ts to consider:
On Keywords
DO conduct good research on effective keywords for your market. There's no one-size-fits-all rule in choosing the right keywords. A long-tail detailed keyword, for example, may work in certain markets, but fail in less specific searches.
Find out which keywords are popular in your market and don't have too much competition. These are the main ones to use.
You could also consider niche keywords with low competition as secondary keywords.
Avoid keywords that are overly competitive particularly if you're operating in a big market. Instead of "New York apartments," for example, consider something like "Brooklyn New York apartment for rent."
DON'T stuff your content with keywords. Keyword stuffing was fine – even encouraged – in the past. But this was abused, resulting in low-quality content stuffed indiscriminately with keywords.
With the new search engine algorithms, natural-sounding content is given far greater weight than keywords.
Search engines now highly favor content that are useful to readers and provide specific answers to questions.
Write with your audience in mind. Provide them with the answers they seek and insert keywords without disrupting the natural flow of the language.
On Links
DO take linking seriously and avoid sites with bad, suspect content. Link only to related businesses and services, particularly those your market will find useful. For example, if you're marketing homes in a Chicago neighborhood, you might want to add links to the Chicago Transit Authority site or to popular restaurants in the area.
Incoming links are still needed to rank well in Google, but they have to come organically. You can get these links through social media sites, blogs and other platforms, and by creating relevant and interesting content that people will find useful and will link to.
You could also consider developing relationships with bloggers, news sites and other businesses, whose content you can feature on your site and vice-versa.
DON'T participate in link spamming or have "unnatural links" on your site. Link spamming involves linking to or from popular websites as a way to improve search engine rankings. An example would be spamming forums or comment sections with your website links.
Another spamming technique is buying guest spots on popular websites, or simply buying or selling links. This can lead to serious, hard-to-reverse penalties from Google. Likewise, a link directory on your site can result in its removal from Google's search results.
On Blogs
DO create blog posts that are relevant and interesting to your market. Blogs can help you achieve several things:
Establish your expertise. As a real estate agent, you need to prove that you're an expert not only in the business of real estate but also in your market. Blogging can help you achieve both.
Buying and selling tips, articles on market trends, financing guides, and similar topics can help show off your industry savvy.
Blogging about your community helps prove your claim that you're the local expert your clients can rely on.
Through blog posts, you can provide more information than what you include in your community guides. You can talk about farmers markets, new restaurants, community activities, etc. —topics that will show the depth of your knowledge on your market.
Gain links and referrals. When you write a restaurant review or feature a home furnishings store, for example, you gain the interest and attention of the restaurant or the store, which could lead to referrals or getting linked to their sites.
Grow your audience. By writing about topics your market is interested in, and through authoritative and interesting content, you can grow your readership and develop an following. This can help you get incoming links and improve your search engine rankings.
DON'T write half-hearted, vague content that has been written simply because the topic is popular. Some of your blog posts may miss the mark despite your best efforts, but these can help you better understand what your market really wants, and tailor future content to your audience's tastes.
On Domain Names
DO choose a domain name that will help you get found in searches. There are no clear rules to this. You may include your brand and service (e.g. "brandnamehomesforsale.com), or your market and service (e.g. "sellyourhomeinbaltimore.com). The right domain name is one that's most likely to be found when your target market does an online search.
DON'T over-optimize your domain name or choose one that's either too long or too unremarkable. Google has said that they're on the lookout for over-optimized domain names to ensure these do not get a more favorable response than the others.
On the other hand, the right amount of optimization could help improve your visibility on search engines.
Also, DON'T use multiple domain names that point to only one website, or to various websites with almost identical content. If caught by Google, you could lose the ability to use the other domain names, get penalized, and lose visibility altogether.
Did you enjoy reading this article?
Sign up for more updates with our Agent Intelligence Newsletter!
We are committed to protecting your privacy.
Real Estate Websites for Agents
Learn which package works best for you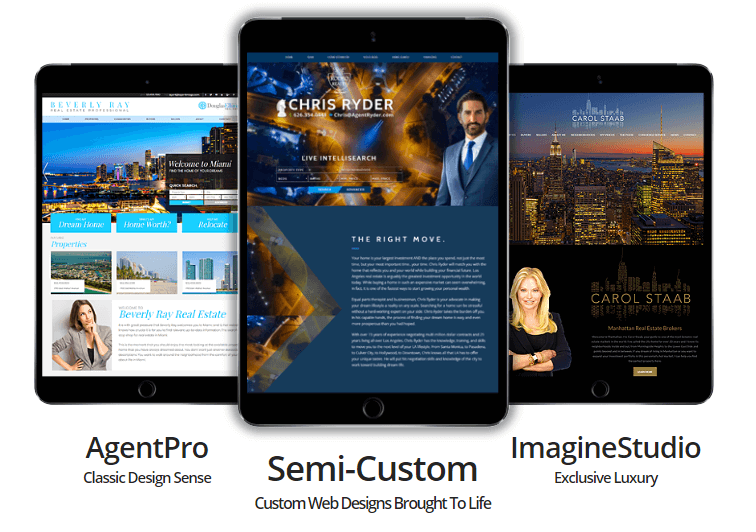 Learn More