Real Estate Website Must-Haves for 2019
Are you ready to make it big this 2019? Now that the holiday season is long over, it's time to get to work on the things that really matter for your business. To help you start the year on the right foot, we looked at the latest trends in the marketing and design industry.
The result? Five tips on how you can improve your real estate website, and your overall business this 2019. Let's get started.
Focus On The Lifestyle
Home searches usually start with homebuyers going online to key in target areas or ideal price ranges. While this has been a tried and tested approach, it's quite hard to differentiate yourself in a saturated market as a unique resource for your potential clients. This year, it's time for a different approach.

It's not new at all to focus on lifestyle experiences in real estate marketing, but this year, this method will take the center stage. By doing so, you assert your expertise within a specific market or community.

You can start on this strategy by creating pages on general topics such as:

Top restaurants
Local attractions and entertainment
Annual events and festivities

From there, add more pages addressing specific needs and customer preferences. You can tackle anything and everything from the best brunch spots in town to recommended running and biking trails in the city. This type of content can be placed on community descriptions, resource pages, or even blog posts to keep your target audience in the loop with all the area has to offer.

Make Sure You're GDPR-Compliant
Last year saw the introduction of the General Data Protection Regulation (GDPR) by the European Union. It does not have significant effect on American Realtors, but if you do business in Europe or include European buyers in your target audience, take heed.

There is also the notion of the "Brussels effect." EU laws are usually adopted on a global scale. In fact, California already passed a bill like the GDPR.

The heart of the GDPR lies in responsibly handling and using client information provided online. To make sure your website is GDPR-compliant, incorporate elements that:

Inform clients you are collecting their personal data
Get consent for data collection
Provide options so clients can opt out of marketing campaigns or remove their data entirely from your database
Meet clients' requests with regard to their data


Read more about the GDPR and how it can affect your real estate business here.

Make Your Social Media Presence More Pronounced
This year, make it a point to get your voice on social media heard. Do not leave your social media channels on the sidelines of your real estate website as this is a growing opportunity to connect to a vast network of users who are already searching for relevant content online. There are plenty of creative ways you can make your social media (and web) presence more visible.

Clients are no longer just settling for the written word. They want to engage with you and your brand, sometimes as soon as they visit your website. By making your web presence known and accessible, they can interact with you and get to know you on a more personal level.

Increase Engagement By Adding An AI Chatbot
Have you ever visited a website recently where a small chat window greeted you after a few minutes of looking around? Chatbots act like online receptionists on a website, receiving your guests and making your website more interactive with programming that mimics artificial intelligence. It can greet multiple visitors, determine their needs and lead them to corresponding solutions.

This can be an especially helpful tool, particularly among homebuyers or sellers who are still unfamiliar with your website, the area you specialize in, or the services you have to offer.

Additionally, the AI chatbot may also allow you to collect real-time feedback on your website's user experience. From that info gathered, you can make the specific and necessary adjustments to improve your website's functions and content. The result of this is a more user-centric platform that remains true to you and to your brand.

Update Your Website's Homepage
Times change, and so should your homepage. Keep it fresh, communicate your brand clearly, and provide all the necessary information that will help your visitors get started.

If you've just recently created a website or have had a rebrand, you may not need a complete overhaul in terms of design. But a few simple tweaks can do the trick to create a more engaging and effective interface. One foolproof technique to increase audience engagement is to improve on your website's calls to action. Providing multiple ways for users to get in touch is an essential part of a successful business relationship. Encourage your site visitors to ask a question, click to read more of your content, send in their search criteria, or even sign up for a regular newsletter.

Agent Image can help you prep your real estate website for the rest of 2019. Give us a call at 1.800.979.5799 or send a message here.
Did you enjoy reading this article?
Sign up for more updates with our Agent Intelligence Newsletter!
We are committed to protecting your privacy.
Real Estate Websites for Agents
Learn which package works best for you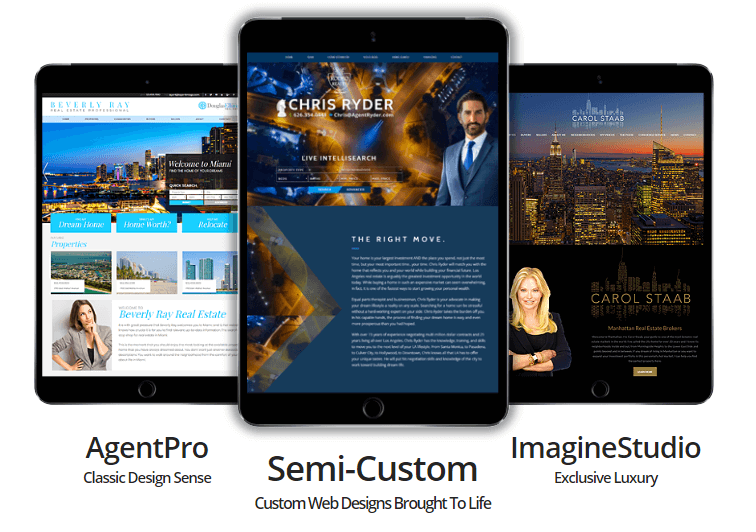 Learn More