Real Estate Websites That Work the Way Your Eyes Do
As more and more businesses find their clients and customers online, the need to figure out the most effective ways to stand out has lead to numerous studies about online user behavior. One of those behaviors is the way that users navigate around the web, and what visual cues stimulate the visitor to take action.
In fact, it is the eyes that do most of the work without the viewer even thinking about it.
Understanding the way that the eyes search for information and the patterns by which they locate and view information can vastly improve web design to generate better website traffic and user engagement. This article discusses the ways in which agents, teams and brokers can create real estate websites that work the ways your eyes do to maximize the effectiveness of website content and search results.
Optimize Your Website to Match Search Results
Most users will find your website after first doing an online search via a search engine. How you rank in the search engines is directly correlated to whether or not your business is discovered. There are ways to optimize your website to match search results based on the way that your eyes work.
The fact is that most users never click on the second page of search engine results. Moreover, even on the first page of results, most users do not scroll beyond the top five results. You can improve your search ranking if your website descriptions on the search engine results page match the information that users are looking for.
For example, if a potential home buyer is looking for "homes for sale in Palm Beach, FL" and your website contains those keywords in your short description, users are more likely to click on your link. This is just one of the many ways that search engine optimization techniques can greatly improve lead generation. It's about drawing the searcher's eyes to your website within the search results via relevant keywords and phrases.
Tweet this: Drive visitors to your #realestate website by appealing to their eyes in search results!
Placing Photos Strategically for Viewers
To build real estate websites that work the way that your eyes do, the way that you organize your photos are crucial. Of all of the real estate websites on the internet, nearly all of them include property photos and videos but not all of them are placing photos within their content strategically for viewers.
Eyes are drawn to photos on real estate websites. The best way to use those photos to optimize your website in a way that peaks the interest of your visitors is to place images of your best properties prominently. There are several ways to do this that have proven most effective:
Use creative photo imaging like aerial views for expansive luxury properties.
Highlight beautiful home interiors in a wide shot across the top of your landing page.
Add images of the neighborhood, cityscapes, and local attractions in a photomontage.
Draw attention to best area features like waterfronts, marinas, and harbor views.
In addition to photo placement, the types of images that you use are also important to crafting a website that leads your visitors' eyes to the information that you want them to see and that they want to find. Here are things to remember when adding photos:
Make sure that the images are of the highest quality and large enough to be viewed on phones and will resize to be viewed on mobile devices.
Place images near the top of the page and not at the bottom where visitors will have to scroll down to see them.
Link your images to other information on your website so that your photos serve as a "Call to Action" – i.e., clicking on a neighborhood photo leads viewers to content about the neighborhood.
Tweet this: Use photos to optimize your #realestate website by appealing to the visitors' eyes!
Arranging Blog Content for Maximum Effect
Over the last several years, many studies have been conducted to figure out just how much reading people do on websites and found that most people just scan web content and only read about 20% of it. Yet, the way that you arrange your content to make it engaging, concise, and easy to skim through can increase readability by more than 100%.
Different information benefits from different text layouts. News sites benefit from what is termed an "F-pattern" layout while consumer sites work better using a "Spotted pattern." For real estate websites where listing information, images, and links to blog content are used to engage readers, using a table layout makes it easier for viewers to take in data and information.
The difference for real estate websites is that usually you will have to use a combination of the two. Your blog content can be styled in an F-pattern while your listings should be displayed in a table layout for easy data consumption. For your blog content, property descriptions, and other text, these things are crucial to improving readability:
Your first word of each sentence and your blog title will determine whether or not your content is engaging enough to keep a reader's attention.
Your paragraphs should be to the point and full of useful information.
You should use bullet points to break up large blocks of text to make it easier to scan your content for critical information.
Tweet this: The F-Pattern and its impact on your #realestate website. What you need to know!
Combining Images and Text for Easy Viewing
Now that you understand the purpose behind image and text placement on your website that makes reading easier for viewers, combining images and text on your real estate website puts it all together. These tips will help you to use your images to improve the effectiveness of your text and vice versa.
Placing images within your text helps to draw the eyes of your website visitors down the page in an engaging way. Use images to divide up text, to begin paragraphs, or to introduce posts.
Naming your images using keywords that will be recognized in search engines will improve your page ranking. Give them property names like street names and numbers or neighborhoods where the property is located.
Placing the images within your text content gives it a better chance of being clicked by readers. Turn it into a call to action button that leads readers to the specific property's image gallery, property description, or blog content.
Adding alt text to your images makes them more searchable. Make sure that the layout of text with images is aesthetically pleasing to the eye to make your text more readable.
Tweet this: Combine text + images to appeal to website visitors, and other ways to design #realestate websites for the eyes!
Learning How to Create Websites for the Eyes
These and other techniques are changing the way that people engage with your website. To make the most out of your real estate websites, you need to learn how to create websites that work the way that your eyes do. Discover how a professional team can help you to improve your overall user experience by connecting with our real estate web design team today. We're happy to offer you a free consultation and look forward to helping you find and execute areas of improvement in your site to drive conversion and lead generation. Let's get started today!
Did you enjoy reading this article?
Sign up for more updates with our Agent Intelligence Newsletter!
We are committed to protecting your privacy.
Real Estate Websites for Agents
Learn which package works best for you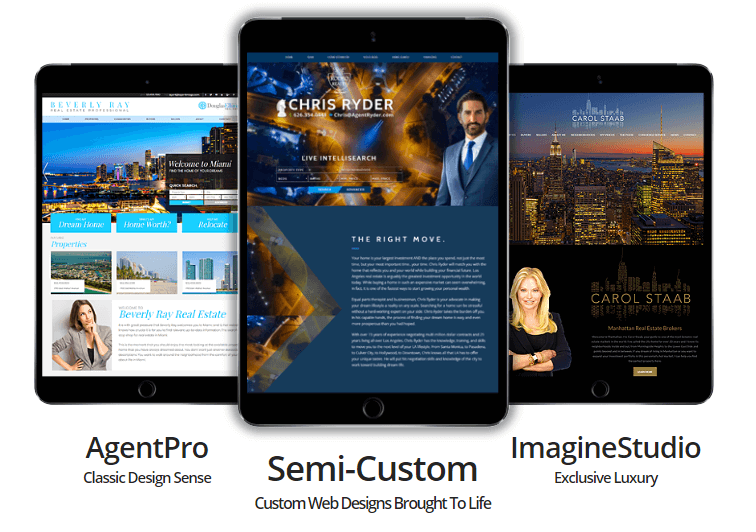 Learn More