Realtor Spotlight: William Fastow, Appleton Properties
There is no denying how real estate is an exciting field. No two days are exactly the same. Even real estate professionals in the same area spend their work hours differently. There is a revolving door of new people to deal with. It is dynamic and will keep even the best of the best on their feet.
With that said, it is always interesting to get a glimpse of another real estate professional's day in the life. Today's blog post is all about William Fastow from Appleton Properties, who specializes in Washington DC real estate:
Real estate is a great industry and a rewarding career. Every day is different and presents unique challenges. I get to learn about architecture, design, and building practices – all while forging a bond and rapport with my clients, and helping them make what will be one of the biggest investments of their lives.
A typical day
My day at work practically starts just a few minutes after I wake up and ends right before I go to sleep. As a real estate professional in one of the most dynamic markets in the United States, the long hours are often necessary. But when you love what you do, it stops feeling like work. And as my work and personal routine take me on unending drives around the city, my passion and appreciation for everything Washington, DC has to offer are always rekindled.
Here's a peep at how a typical day goes for me:
7:30-8:30 AM
My lovely wife, Allison, and our other son, Lucas, are awake. Everyone gets cleaned up and dressed. Quick review of schedules and a brief family conversation about everyone's upcoming day. Eli has soccer after pre-school today at 4:00 so I mark it on my calendar.
8:30-9:30 AM
Our wonderful nanny, Evelyn, arrives and takes control of the kids. My wife heads out the door and everyone's real day begins. I head straight into our home office and begin corresponding with my clients.
I have about an hour to set up showings for later in the week for my buyer clients, coordinate contractors for one of my sellers, follow up on active transactions with other agents, and everything in between. This is my opportunity to take care of the details and make sure all my clients are in the loop, aware of new listings. My goal each day is for my clients to hear from me before they start their day, and this hour is crucial to getting all of that accomplished.
9:30-11:00 AM
I jump in my car and am off to my first showings of the day. Brian and Stefanie were referred to me by a close friend, and they are struggling to find the perfect house in their ideal neighborhood in a tight market.
I run over to Columbia Heights to pick them up and show them 3 new listings that just came onto the market the day before. I pride myself on getting my clients through properties before anyone else gets to see them. I pick them up, run them through the homes, take my notes, discuss the pros and cons of each house and drop them off back at home in less than an hour and a half.

Le Caprice Bakery in DC
11:00 AM-12:00 PM
One of my favorite local coffee shops and bakeries is right around the corner from Brian and Stefanie's house on 14th Street. I run into La Caprice and grab a quick espresso and a croissant for the road. I'm now back in my car heading north up to our offices in Bethesda.
On the way, I am on the phone with two clients who are developers working on a row house project in Petworth. They have hit a snag and are struggling to get their project through DC Zoning. A quick search through my contacts and I have put them in touch with an architect who can quickly redraft their plans and a permit expeditor to help ferry the project through zoning and approvals.
Though the development will not be out of the ground for at least 2 months and will not be ready for sale for another 6-8 months, I am working with them throughout the process to make sure things go as smoothly as possible.
12:00-1:30 PM
I arrive at our brokerage office in Bethesda. I carry a cooler bag with me most days with my lunch and snacks in it. Before I started doing this, I found that I would go through the whole day and not have time to eat.
I sit down at my desk and start my working lunch. While I eat, I draft an offer on a property in Chevy Chase. Though my clients are still on the fence, I like to get a jump on the paperwork now that things are starting to get serious. Even if my clients don't move on this house, it's an opportunity to get them acquainted with the offer process.
Once the offer is drafted I make a call to their mortgage broker to request a pre-approval letter, and then call a different broker to follow up on another client's appraisal that should be posting later today.

Appleton Properties at Bethesda Metro Center
It's important for me to remain in contact with everyone associated with a client's transactions. I make a point of developing a personal relationship with everyone involved – from their inspector to the appraiser, right down to the receptionist at the title company. People are more willing to go the extra mile for someone they know, and establishing personal relationships with all parties is the best way to keep the axles greased and things moving smoothly.
1:30-2:30 PM
I can carve some time out of my work day for a gym workout 3 or 4 times a week. I typically aim for mid-day when most people are at or heading back to work. The gym down the street from my office is empty and I get a solid workout and a shower in just about an hour.
2:30-3:30 PM
Time to head back into DC. I have a listing in Spring Valley that I brought onto the market 2 weeks ago and it's getting good traffic. The property is a large 5000+ square-foot home. I make it a point to be on hand at all the showings so I can highlight the features of this great house.
Today, we are doing a second showing with some buyers, along with their agent and architect. We're working on the viability of some exterior and interior renovations that the buyers would like to price out before making an offer. This is a great opportunity to also pick their architect's brain about improvements to the house that might make it more desirable to others if these buyers opt not to move forward.
3:30-4:00 PM
Eli's soccer practice is at 4:00 so it's time to jump back into the car and head over to Turtle Park in the American University Park neighborhood. I love to arrive a few minutes early so I can see him before they get started. That – and I need to pick up a bottle of water for him and coffee for my wife Allison on my way over.
4:00-5:00 PM
Eli gives me a big hug as I come into the park. He has already had a busy day and is eager to tell me about what happened at school before taking the field. I give my wife Allison a peck on the cheek, and check my messages and emails one last time before my phone goes into my pocket and on silent for the first time all day.
For the next hour, I am just watching my son play soccer and talking to my wife. Family time is critical and it's important to be present. My clients all know that they will always hear back from me within an hour. Watching my little man run up and down the field is truly the highlight of the day.
5:00-6:30 PM
Soccer practice wraps up and it's time to load Eli into my wife's car. A quick hug goodbye, a little kiss from Allison, and they are on their way home. I, however, have another showing across town. My client Chris is just getting out of work and there is a condo in Logan Circle that he must see right away.
6:30-7:00 PM
After a quick cross-town trip in rush hour traffic and a showing of a fantastic two-bedroom duplex with roof deck on Swann Street near Logan Circle, it's time to head home.
On the drive home, I am following up with my clients Tim and Sheryl about their offer on the house in Chevy Chase. After reviewing the paperwork I drafted over lunch, they want to move forward. From my phone, I forward them the documents again, but this time for formal e-signatures. Looks like I will be submitting an offer after dinner.
7:00-7:45 PM
I pull up to our home and head inside. Allison is busy pulling dinner together and it's my job to bring the kids to table. Over a nice family meal, we all catch up on the details of the day and talk about plans for the coming weekend.
7:45-8:30 PM
After dinner it's time to clean up, do the dishes, and get Eli ready for his bath and bed time. Toddlers are a lot like real estate, it's all about developing a reliable routine. I rush Eli upstairs, give him a quick bath, and it's into his bed for two stories and some songs before lights out.
8:30-9:30 PM
Kids are in bed and I have about thirty minutes of work to get the offer for the Chevy Chase house finalized. My clients have e-signed and I have the contract in hand. Time to attach the pre-approval letter I requested from their mortgage broker during lunch and a brief letter to the seller's agent.
I pride myself on submitting an organized and well summarized offer that lays out my client's position and situation without any ambiguity. If my clients end up in a multiple offer situation, I want to make sure that their offer is fully executable, has no "x-factors" or any point that might lead to confusion. In summary, I want my clients' offer to be the easiest decision for the listing agent to make, and for her to feel like we are going to make the transaction easier and not harder. One last proofread and the offer goes out via email.
9:30 PM
Time to lie down with Allison, watch a recorded episode of "So You Think You Can Dance," and get some sleep so I can do it again tomorrow.
Life-work balance
Balancing work and family life is important to me. It's something I do very deliberately and carefully. To be successful, I need to be there for my clients, especially in times of crises. And to be a good father and husband, I must also be there for my family.
Efficiency is key. My clients know that they can always reach me through calls or texts, and that I keep a strict "one hour" response time to all client communications. I always anticipate what my clients need so I can work on them on them with little time lost. By being proactive and efficient, I also get to save more time for family and home life.
With that said, my cell phone is my lifeline. With everything online and in the cloud, I can access real estate listings, my contacts, other agents and all my documents and offers in the palm of my hand. That is a dramatic change from when I started in real estate in 2002.
Most important success strategy
Keeping up with local news in Washington, DC is a must. Every neighborhood is its own insulated community, so it's important to understand the ins and outs of what's going on from one micro market to the next.
New development is rife in DC right now and I try and stay abreast of all the new projects, openings, and parcel bids working their way through the market. The landscape of our city is changing daily, and opportunities, dangers and fortunes exist in those shifting sands.
Advice for first-time homebuyers
See as much as you can as quickly as you can. Regardless if you're just starting your search or are a year away from buying, get out there and get to know the market. We are still very much in a seller's market, especially in affordable segments under 1 million dollars. When the time comes, you will need to be decisive with your offer in order to win out against other buyers.
The best way to commit completely to a property is to know the market, to have seen the competing inventory, and be in a head space where you are confident that this is the house or condo for you. That confidence not only comes from a gut feeling, but also from being educated about the market, what has sold, and what you are bidding on.
Advice for sellers
Declutter and stage for success. The way your home presents can make the difference between languishing on the market and selling with multiple offers.
With HDTV, Instagram, and a million other influences that shape our opinions of how a "dream home" should look, it is more important now than ever to put your home's best foot forward. This means editing your possessions – that is, putting away family photos and reducing your clutter and personal possessions.
Consider supplemental furniture to showcase spaces and features that your family might not utilize. As a rule of thumb, I would advise sellers to remove about 25-30% of their stuff. Off season clothing should be packed up and stored offsite to show off those closets!
To know more about William Fastow and Appleton Properties, visit https://www.appletonproperties.com/ or follow them at https://www.facebook.com/appletonpropertiesrealestate.
Did you enjoy reading this article?
Sign up for more updates with our Agent Intelligence Newsletter!
We are committed to protecting your privacy.
Real Estate Websites for Agents
Learn which package works best for you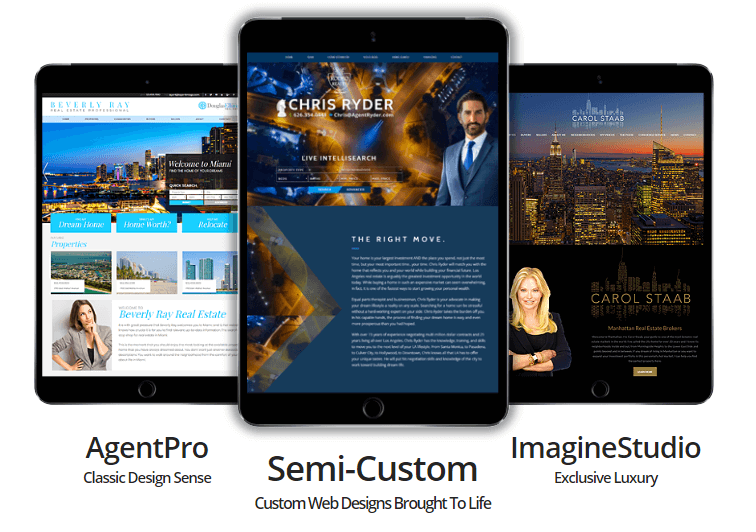 Learn More