The 10 Best Real Estate Websites for February 2021
With the American Rescue Plan in full swing, things are looking even brighter for the US real estate industry and the rest of the economy. Things are slowly going back to normal, but one thing that's here to stay is the industry's shift to the digital landscape.
As more Realtors double down on their digital presence this year, Agent Image is continuing the momentum by unveiling a new batch of professional real estate websites every month.
Here are the 10 best real estate websites Agent Image launched in February 2021.
Mel Bernstein
Lake Mary, FL
The Mel Bernstein Team is known for their 20+ years of unmatched service in North Orlando's luxury real estate market.
Their website sets the tone right away with a bold statement: "Luxury is an experience, not a price point." This is set against an immaculate photo of one of North Orlando's majestic luxury estates, which drives The Mel Bernstein Team's message home.
With a jet-black backdrop throughout the website, The Mel Bernstein Team's expertise and achievements plus excellent dusk photography stand out. Smooth hover animations reveal more information about featured properties and communities as visitors continue to scroll down.
This website is best for: Understated elegance and excellent use of moody dusk photography.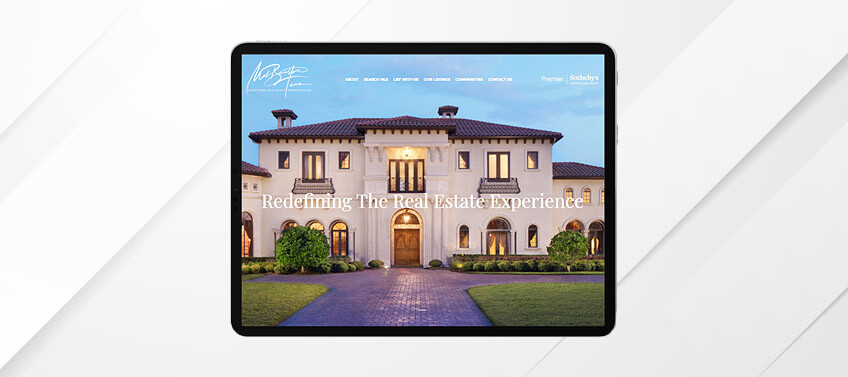 Desert Estate Homes
Indian Wells, CA
Led by Dave Kibbey, this seasoned team of Realtors specialize in Coachella Valley luxury real estate. Both old and new clients come to them for their wealth of knowledge of the Rancho Mirage, La Quinta, and Indian Wells housing markets.
Dave Kibbey and Associates presents all of their expertise through a magazine-style real estate website that's engaging and visually impactful. Featured listings are prominently shown as individual boxes, with hover effects to quickly pull up address and price information. A compact value proposition section clearly lays out the team's accolades and record-shattering sales numbers.
This website is best for: Big and bold imagery, sharp homepage copy, and contemporary magazine-style layout.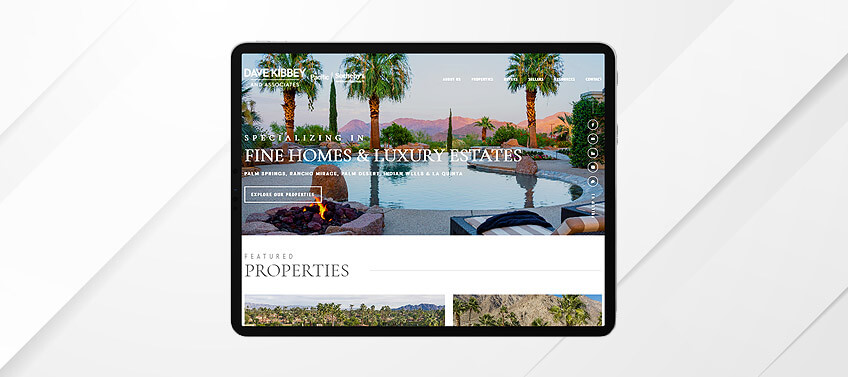 Tulsa Premier Home
Tulsa, OK
Tulsa Premier Home emphasizes top notch marketing and decades of experience in helping clients achieve their real estate dreams. And it clearly shows in their website, which lavishly showcases the powerhouse team whom clients will be working with.
There's a resplendent team photo at the top, followed by individual shots of each member. Most of the images are in grayscale but bloom in full color through seamless hover animations. Hovering over each agent's profile photo is like shining the spotlight on these real estate experts. Red accents provide pops of color in a black-and-gray color scheme.
This website is best for: Team marketing, striking imagery made more powerful by simple hover animations.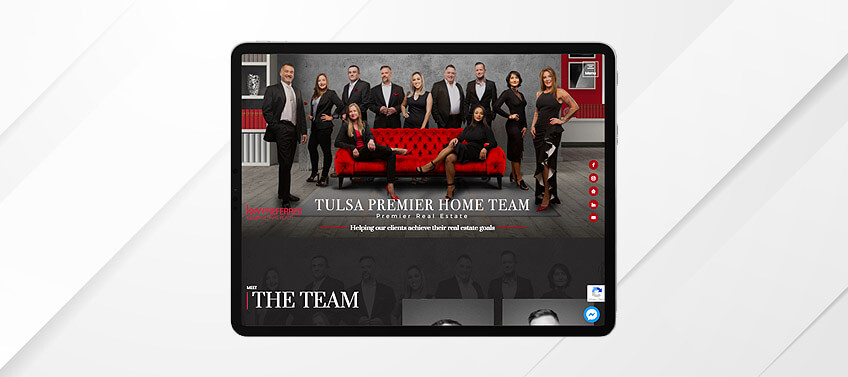 Nemeyer Diaz Team
Napa, CA
This real estate website opens with an enthralling video montage of excursions into the idyllic communities of California's Wine Country. It's a wonderful way to introduce The Nemeyer Diaz Team's area of expertise, all while exuding comfort and displaying the Wine Country's sophisticated lifestyle.
As visitors scroll down, they will find the essentials: a slideshow of the team's featured properties; a short yet evocative homepage copy inviting visitors to dive into Wine Country real estate; and their unique value proposition: an excellent track record and industry recognition.
Together, the entire real estate website does an excellent job representing The Nemeyer Diaz Team and the areas they serve.
This website is best for: Full-width video montage and a great balance between lifestyle and agent marketing.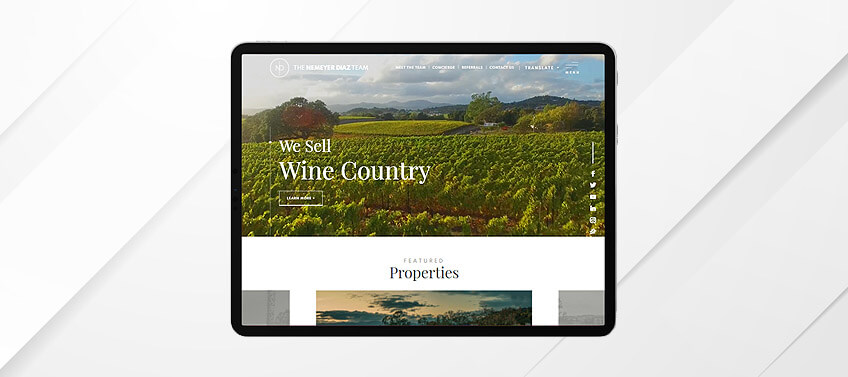 Solveig Johnson
Bellingham, WA
While Solveig Johnson only joined the real estate industry in 2014, she has quickly made a name for herself in the industry as an agent with impeccable design skills and style choices. This is reflected in her real estate website: clean, well-balanced, and contemporary.
Edge-to-edge photos showcasing her interior and exterior design chops dominate her homepage. These are complemented by short, well-written copy inviting visitors to learn more.
Overall, the website is intuitive and easy to navigate, making important information like client reviews, top Bellingham neighborhoods, and contact information quickly accessible. It's an amazing example of style and substance in a real estate website.
This website is best for: Edge-to-edge imagery throughout the entire homepage.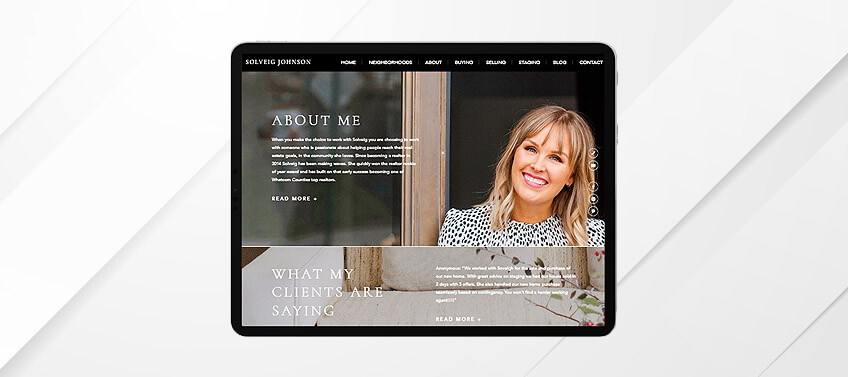 Niva Telfort
Hallandale Beach, FL
With over a decade of experience in the field of customer service, Niva Telfort will settle for nothing less than perfection when it comes to helping her clients and Niva Jude 1st Class Realty's real estate website.
The homepage features a simple template enlivened by blue and yellow accents that easily remind visitors of Florida's year-round sunshine and turquoise waters. This deliberate choice in accent hues is a subtle and thoughtful design decision, showing even small touches can be highly effective.
This white-blue-yellow color palette supports an image-heavy homepage showcasing the hottest properties in Miami and The Diva in action.
This website is best for: Top-notch agent marketing, unique but thoughtful color palette evocative of both Florida and Niva Telfort herself.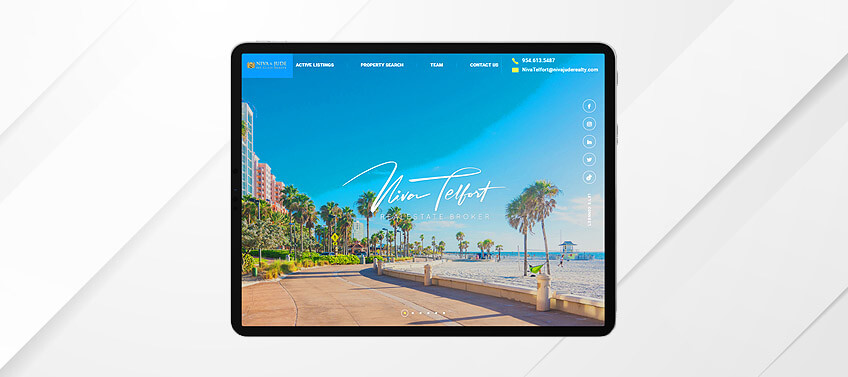 Mitchell Freitas
Orlando, FL
Some Realtors join the real estate industry after moving into a gorgeous community that they fell in love with. Mitchell Freitas, now one of the leading agents in Orlando, is one of these Realtors. His website, MitchellFreitas.com, is a digital love letter that visitors can read and, in the process, fall in love with Orlando, too.
The real estate website does this by successfully capturing the same beauty and wow factor Mitchell Freitas saw in Orlando all those years ago through a full-width slideshow, concise copy, and shades of blue.
A "Realtor's Corner" further down the page features blog snippets that showcase his expertise and insights on the Orlando market. This is followed by client testimonials and numbers that prove his track record.
This website is best for: Warm and approachable agent marketing while emphasizing the client's unique value proposition.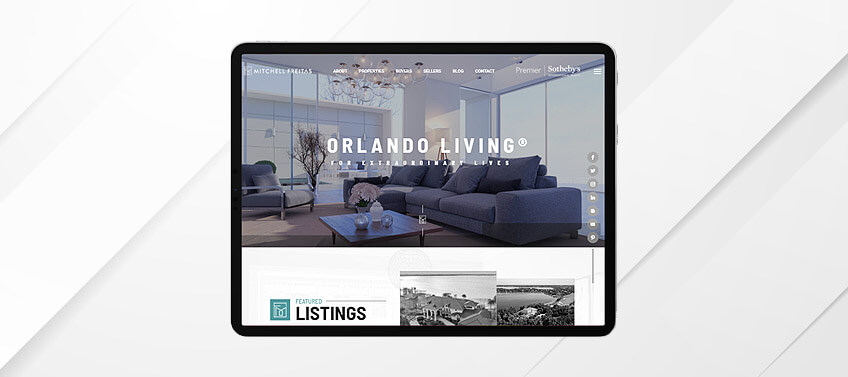 Kathy Broock
Birmingham, MI
How do you visually impart over a hundred years of elite real estate expertise and legacy? As a fourth-generation Realtor and the great-granddaughter of the legendary Max Broock, Kathy Broock's stellar achievements and highly esteemed background do most of the heavy lifting.
Kathy Broock's real estate website serves as the perfect platform to highlight her impressive numbers and key differentiators. It has a smooth and clean magazine-style design with a simple black-and-white palette, never taking visitors' attention away from her unique value proposition and expertise.
Company branding and social media buttons are subtly displayed on the sides and a clear navigation bar at the top of the page make this website rank high in style and user-friendliness.
This website is best for: Clean and luxurious real estate web design that is also user-friendly.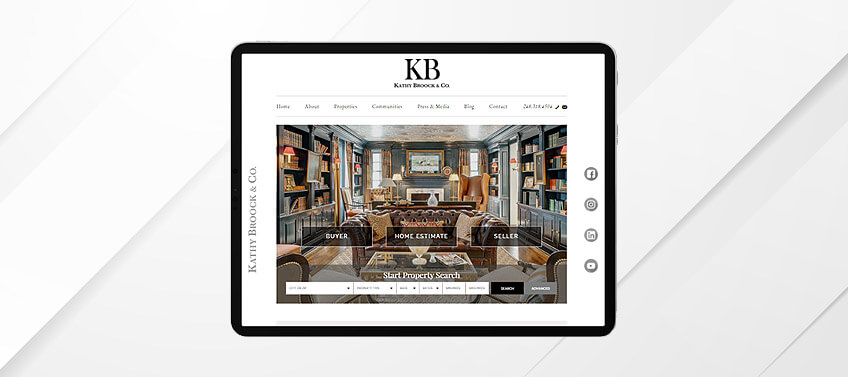 Jonathan Spencer
Carmel-by-the-Sea, CA
Jonathan Spencer's real estate website immediately blows visitors away with captivating aerial photos and videos of exclusive waterfront properties throughout the Monterey Peninsula.
His background in finance, investment management, and perfect winning streak in real estate is on full display in a highly informative homepage text that follows the hero shot. Featured homes sales and listings are shown one at time and syncs seamlessly with an easy-to-navigate carousel panel below. All of these design and functional elements are set on a simple backdrop of white and black, drawing visitors' attention to Jonathan Spencer and his website's content.
This website is best for: Dramatic hero shots for powerful location and lifestyle marketing set against a simple and clean layout.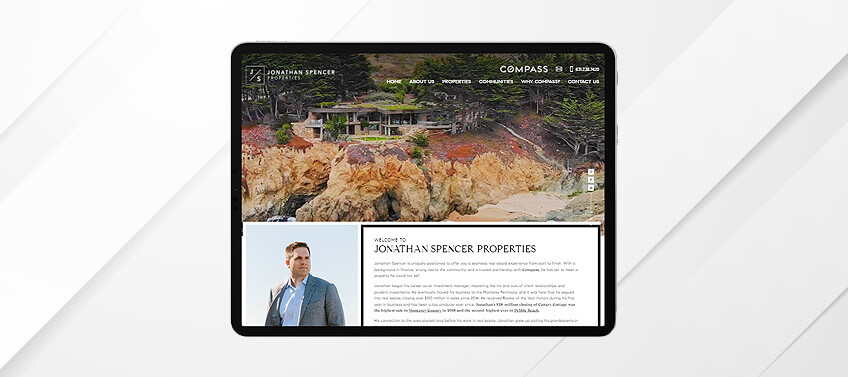 Ashley Tillman
Las Vegas, NV
One of the Ashley Q. Tillman Group's areas of expertise is creating tailored experiences for buyers and sellers. Whether it's in residential, commercial, and luxury real estate, client experience and actual results take precedence over everything else. This high level of service starts right from their real estate website, where visitors can access a wealth of real estate resources easily.
One of the highlights of their homepage is the interactive map of the Las Vegas Valley, stretching from Skye Canyon all the way to Inspirada. This gives visitors a clear overview of the area. It will also lead them to the relevant community guides should they wish to explore further.
This website is best for: Creative display of market expertise, intertwined with company branding and real estate marketing.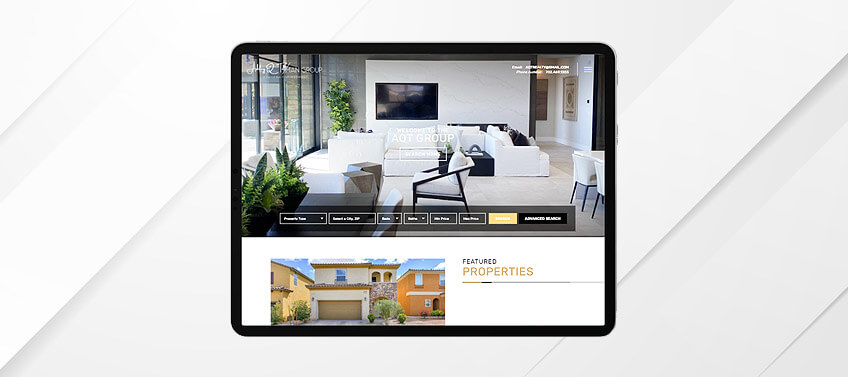 Summing up Agent Image's best February launches:
Here are the key highlights that made these websites stand out among all of Agent Image website launches last February:
LuxuriousHomes.com – The excellent use of dark backgrounds and dusk photography, matched with convenient navigation features, brings out the best of the Mel Bernstein Team.

DesertEstateHomes.com – Fuss-free and maximizes the available space to provide key information to potentially busy clients.

TulsaPremierHomeTeam.com – Overall website design and layout plays to the team's strengths in marketing and branding.

NemeyerDiazTeam.com – Packed with information and visuals without becoming overwhelming for the user.

TheRealEstateStylist.com – A simple website layout is executed perfectly to illustrate Solveig Johnson's main strengths.

NivaJudeRealty.com – Another example of simplicity, but with well-placed accents for a bit of elegance and style.

MitchellFreitas.com – Immediately grabs attention in the headline section. The level of visual detail and information ramps up as you scroll through the site.

KathyBroock.com – A clean and luxurious design that doesn't try hard to stand out visually. Her body of work and legacy speak for themselves.

JonathanSpencerProperties.com – Strategic use of aerial shots and other visual elements create an immediate and lasting impression.

AQTrealty.com – In-depth community knowledge and market expertise is cleverly illustrated via a snappy, interactive map of Las Vegas.
It's becoming more competitive to make your brand truly shine in the digital landscape. Looking to create highly engaging and intuitive websites to set yourself apart from the competition?
Work with Agent Image, an award-winning company and trailblazer in digital marketing for more than two decades. Get a free consultation with our top-notch design and marketing experts here. You can also contact us by phone at 800.979.5799.
Did you enjoy reading this article?
Sign up for more updates with our Agent Intelligence Newsletter!
We are committed to protecting your privacy.
Real Estate Websites for Agents
Learn which package works best for you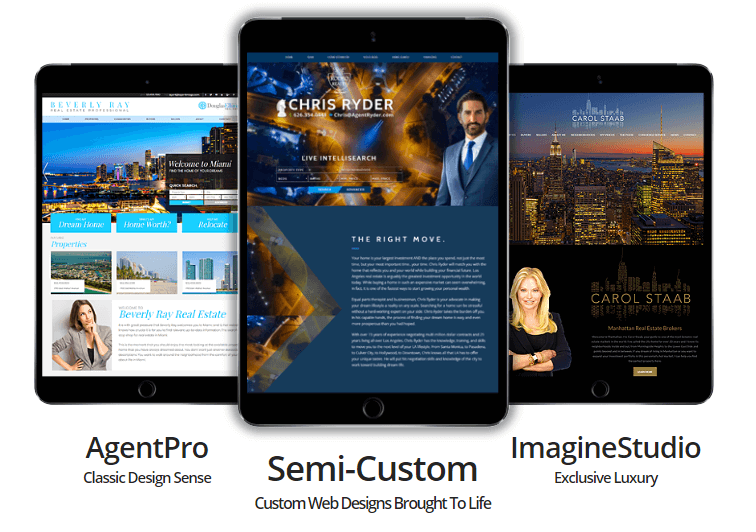 Learn More