The 14 Key Features of the Best Lead-Generating Real Estate Websites
First impressions can make or break your website's potential to generate leads. The best real estate websites in the world have the perfect balance of form and function to convince visitors they've come to the right place. This is what puts award-winning sites ahead of the pack.
At the same time, well-crafted Realtor websites are not just advertising platforms. They are essential tools in growing the business they represent. They have the capability not only to attract interested viewers but to generate quality leads and convert those leads into clients many times over.
Your website is the digital face of your business. This is where you make a connection with many potential clients for the first time. Upon opening your site, what's the first thing your visitors experience? Will they like what they see and stay, or will they move on to something better?
What your website must do
The success of the best real estate websites rests on their ability to do the following:
Prioritize the user journey

One of your website's biggest goals is to encourage leads. To get there, you must incorporate the right features to capture viewers' attention amid the multitude of websites on the internet. Once that's achieved, you have to provide a pleasant experience to make visitors want to stay and explore your site. Only then can potential leads be generated.

To illustrate, see this Agent Image website. High quality photographs of luxury homes and the thoughtful use of design elements make for eye-catching visuals while reinforcing the agent's branding. Navigation is seamless and intuitive, and easy to use interactive features add value to the user's experience.

Provide great content

High quality content is essential in Realtor websites for two main reasons. First, search engine bots crawl and analyze website content to determine websites' rankings in search engine returns pages. Second, when viewers do find your website, your content should be engaging and authoritative enough to make them realize you're the right Realtor for them.

Have a compelling design

First impressions last. With the internet being a highly visual medium, the design and appearance of your website needs to be relevant to your brand as a real estate agent. If you need inspiration, take a look at some of these best real estate websites as samples. From the get-go, one could tell the kinds of properties they sell and their market just by viewing at their page. Creative real estate websites are guided by an entire philosophy on the impact of design elements like color, contrast, font, and others on the emotions of viewers.

Use technology for effective website management

As much as you'd want to, your website cannot run itself. You will need to keep it updated and maintained to optimize its function. However, the best real estate listing websites incorporate technical tools to facilitate their jobs and achieve their objectives more efficiently.

A tailored backend dashboard can serve as a hub for all the website plugins you'll need. There are thousands of plugins that are free and easy to install that can help you achieve a variety of goals.

IDX plugins are portals for users to expand their home search capabilities and a way to keep users in constant contact with you for market reports and listing updates from your MLS Board. A good CRM plugin can assist in monitoring your influx of leads and how to efficiently manage them at each stage of their journey through your sales funnel. There are also automation tools you can set up that can save you time in the long run by sending your client base a series of email updates, reminders, and key information for common queries received on your website.
14 Key Features Every Successful Real Estate Website Must Have
Now that we've identified the basic elements behind the making of a successful website, let's explore the key features that will bring these to life. We've previously talked about some of these. Here's a deeper look at them, plus a few more your website needs to succeed: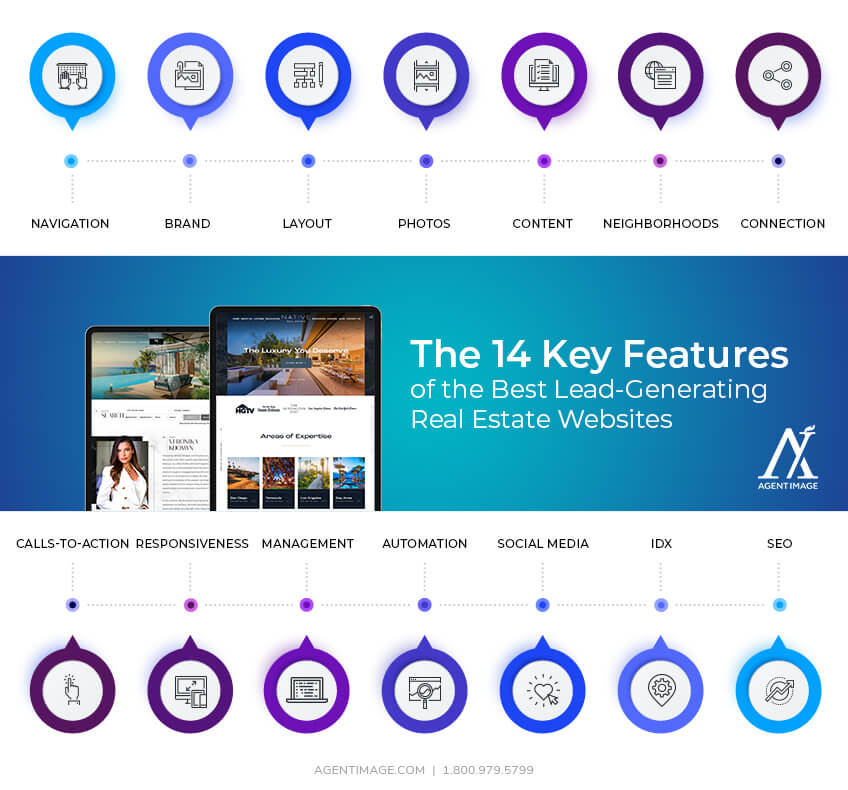 Easy navigation

Intuitive navigation is key to a good user experience. Your real estate website design should be user-focused, which means it needs to have a well-planned navigation structure. You'll want to make it easy for visitors to find their way from the homepage to any other page with the information they seek.

Keep your website clean and uncluttered and position navigation buttons where users can easily find them — usually at the top of the homepage, and again at the bottom. As visitors scroll down the page, there must be easy to find prompts and call-to-action buttons that lead them to other pages and features.

Take a look at this website that we created for one of our clients. Notice how the navigation bar is easily found on the top of the page and call to action features are front and center without being intrusive. As you scroll down, you'll find more photos and headlines that link to additional information on the inner pages.

Brand promotion

Marketing a Reator's brand is the foremost role of real estate websites. Let clients know why they should choose you over your competition. Highlight your unique services. Do you offer free home staging? Are you a concierge Realtor who can get your clients tickets to a big concert? Do you have a financing background? Any of these can resonate with the right clients.

Flaunt your achievements, including sales and industry awards. Don't scrimp on the testimonials. Social proof is one of the most important tools in real estate marketing — people want to know they're making the right choice based on what others say. Likewise, promote your persona — if you're on TV, have just recently published a book, or are active in community projects, potential clients should know about that.

See how we put the spotlight on our clients' brand on this website:

Uncluttered layout

You want to make it easy for your viewers to go through your website and find the information or the navigation key they're looking for. To make this happen, go for a custom real estate website design with a clean, uncluttered layout. Photos are great but not when there are too many that they overwhelm your message. There should be the right balance of dynamic elements, photos, and text. Consult an expert to achieve a harmonious web design.

Check out some of our Website Before and Afters to see how it's done.

High-quality photos

It can't be emphasized enough — the internet is a visual medium. People respond to colors, fonts, layout, and most especially, photos. High-quality photography is an essential tool in real estate marketing. They're highly effective in capturing not only the best features and details of a listing, but also the lifestyle that comes with it.

Beautiful, high-resolution photos can make the most impact when featured in a slider that greets visitors entering luxury real estate agent websites. Take advantage of the "wow" factor that comes with a stunning slideshow by featuring your best listings. They're not only attention-grabbing, they also establish the type of properties you specialize in. Some choose to highlight the lifestyle in the area, which is also an excellent way to capture attention. You may have a combination of both. Avoid stock photos that will not help in distinguishing your website from the pack.

Fresh and evergreen information

In addition to neighborhood guides, pepper your website with information that's useful to buyers and sellers. Be an indispensable guide to local hotspots and source of the latest real estate news. Share expert tips and advice on home buying and selling processes, home improvements, financing, and other real estate related topics. Give market data updates. One of the best real estate website features you can have is a blog with interesting and up-to-date topics. This will keep your site current and let viewers know you're on top of your market.

Neighborhood guides

Neighborhood guides are among the best real estate website features that significantly boost your chances of being found online. Buyers want to know everything they can about where they're planning to move. Comprehensive neighborhood guides give them a good picture and help in their decision making. They can not only help promote your area, they're also a great service to clients. Additionally, it helps establish you as the local expert. Feature not only real estate listings and market trends in the area but restaurants, shops, parks, and other places of interest. Sell the lifestyle, not just the property. Maps and other interactive tools are extremely helpful as well.

A personal connection

Start by identifying your target market and what their specific needs and pain points are. What are your target audience's goals and motivations? Their struggles? What do they want to achieve? Then show why you're the agent who can address these needs. Tell your story, highlight your experience, and let your prospective clients know how you've helped others in the past.

For example, in this Agent Image website, you can immediately see how our client's specialized services for athletes and celebrities make him the perfect choice for individuals with similar needs.

Multiple calls to action

Calls to action are among the best real estate website features. They encourage potential clients to touch base. Sometimes, a website visitor wants to send an inquiry but won't know how. A call to action provides a way for them to take the next step without committing to anything. It can be something as non-intrusive as a "Read more" button, which encourages them to explore your website more. Or it can be a "What's my home worth?" or a "Contact us" form, which requires them to leave their contact information that you can follow up on.

Have multiple CTAs on your home and inner pages to prompt viewers at any stage of browsing. For example, something they read on a neighborhood guide might get them excited about living in the area. A strategic "Contact Us" button on the page can spur them to take that first step.

Strategic CTAs should not fail to show what the prospect client clicked at. Short messages with the right sense of urgency can not only get leads but possible conversions as well. The buttons should always direct to the correct page, regardless of the device used.

These Agent Image websites show various uses of CTAs and where to position them strategically on the homepage.

Responsive design

Browsing on the go is the new norm. If you still don't have a responsive website, you're setting yourself back years. But to give your viewers a truly satisfying experience, you have to offer more than a website that loads fast on a mobile device. Tailor the features to make browsing and interfacing easy and satisfying regardless of the device. For example, show side to side listing photos on mobile phones for a detailed look at the property even on a small screen. Make sure lead capture forms can be easily filled out and sent even on mobile devices.

Check out the best mobile versions of the real estate websites we created.

Backend databases (CRS and CRM)

Your database is one of your most valuable assets. It is a major component of your entire network, with data that you can share with other professionals to increase your referrals. As you build engagement in your website, you need an effective backend database system or content management system to efficiently store, manage, and retrieve leads and customer information. The best property websites integrate backend databases with CRM tools to ensure no contact is missed and the websites' benefits are optimized.

Automation for marginal tasks

Effective real estate websites provide opportunities to automate some CRM functions using the site's backend database. For example, sending out holiday greetings for top of mind awareness, or event announcements, such as open houses, a tour of a new development, real time updates, and others. The best property websites incorporate automation that allows you to reach as many clients as you can while effectively managing your costs.

Social media integration

Social media is a great way to build brand awareness and craft lasting relationships with your clients. It enhances your reach and engagement by giving you a platform to interact directly with your target market. By engaging with clients directly, you're able to provide better customer support and establish trust with a faster response rate. Social media is also the perfect venue to showcase the human side of your business, particularly the brand values you share with your market.

Integrating social media with your website maximizes your reach in both platforms. Prominent links to your social media sites are among the best features you can have. Display them throughout your website, and include links to your website on your social media pages. This allows visitors to easily navigate from one platform to another. You can also include an Instagram or Twitter feed on your homepage, or add social media sharing buttons on your blog posts or property features.

This Agent Image website shows how to seamlessly display social media buttons on the homepage and all inner pages.

IDX Features

Finally, we come to the reason most visitors come to real estate agent websites — to look for homes. You wouldn't want homebuyers to go somewhere else in search of properties in your area, and this is why IDX is crucial. When buyers see a property they like, they can click on a CTA button and touch base with you.

You can highlight your own listings and feature properties prominently on other parts of your website. Some of our luxury real estate websites are designed for an elite group of buyers and sellers who don't rely on the MLS for their home search. But even in this exclusive market, it's often necessary to include an IDX search to respond to the needs of the majority of buyers.

Preferably, your IDX home search features should be highly visible right on your homepage. With this clear and prominent placement, you can immediately direct users to what they need to see.

On the other hand, plugging in a ready-built tool while marrying it to your company's brand and overall look can pose a challenge. IDX search features typically come with default settings and a one-size-fits-all style for their layouts.

To achieve a seamless design on property listing sites, one advanced approach is to customize IDX style elements to match the website's specific layout and colors. In the hands of expert designers and developers, this can elevate the whole search experience for website visitors. Customizing your IDX features can help create a truly professional look that will help you stand out from the lot of templated IDX solutions out there.

Check out our best real estate websites with IDX features.

Targeted SEO

There's no getting around it — if you want your website to be seen, you need to incorporate search engine optimization or SEO. More than 90% of homebuyers use the internet when searching for homes, and the vast majority of online users click only on the top results of search engine returns. Your goal is to become a top 10 real estate website or better.

SEO makes your business easier to find on the internet. It builds your online presence as it increases organic traffic to your website. It also helps in boosting brand awareness and encouraging brand recognition and recall.

The best SEO practices are designed to enhance user experience, and that means optimizing your website with a client-first approach. Understanding your market allows you to target their needs and motivations with high intent keywords, which increases your chances of ranking well. For example, instead of aiming to rank for the keyword, "homes for sale in Southern California", go for a more local target like "homes for sale in La Jolla," or "best real estate agents in San Diego."

By targeting the right market, you generate quality leads. And by providing visitors with quality content and the information they seek, you establish your business expertise. As you build trust and authority, search engines will look more favorably upon your website and put you on top of the rankings.

Effective SEO involves more than just peppering your website with keywords. The top 100 real estate websites effectively make use of an arsenal of SEO tools and techniques. For the best results, hire an expert to do the work for you.
Get in touch with a top real estate website design company
Agent Image is the choice of the most successful real estate professionals around the globe. We create the best real estate websites for agents. We start by listening to your story and mapping your journey so we can capture your brand and build a beautiful website that works optimally for you.
Call us today at 1-800-979-5799 for a free consultation.
Did you enjoy reading this article?
Sign up for more updates with our Agent Intelligence Newsletter!
We are committed to protecting your privacy.
Real Estate Websites for Agents
Learn which package works best for you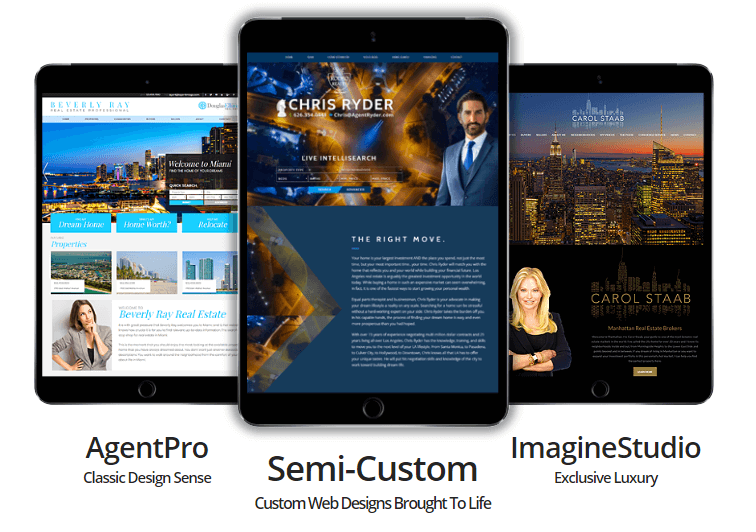 Learn More