The Important Role of Testimonials in Gaining the Trust of Clients
You've likely received a host of thankful messages and glowing praise from satisfied clients. Don't just keep them in your happy pill bottle! Convert them into testimonials and flaunt them for everyone to see.
Testimonials are crucial to your marketing success, especially in this age of viral posts and online reviews. Real estate clients look for an agent they can fully trust as they venture into what's probably the single biggest transaction they'll make in life. Testimonials are powerful trust signals that can go a long way in enticing new clients to your business.
Why trust is important in marketing
By nature, customers will not do business with anyone they perceive to be untrustworthy. And more often than not, customers turn to their peers, or "people like them" with the same goals and pain points, for advice on the trustworthiness of a service or product.
Key findings in BrightLocal's 2017 Local Consumer Review Survey demonstrate the power of online reviews and testimonials in establishing trust:
97% of consumers surveyed searched for a local business online
73% said positive reviews made them trust local businesses more
85% of those surveyed said they trust online reviews as much as personal recommendations
Consumers read an average of seven reviews before they trust a business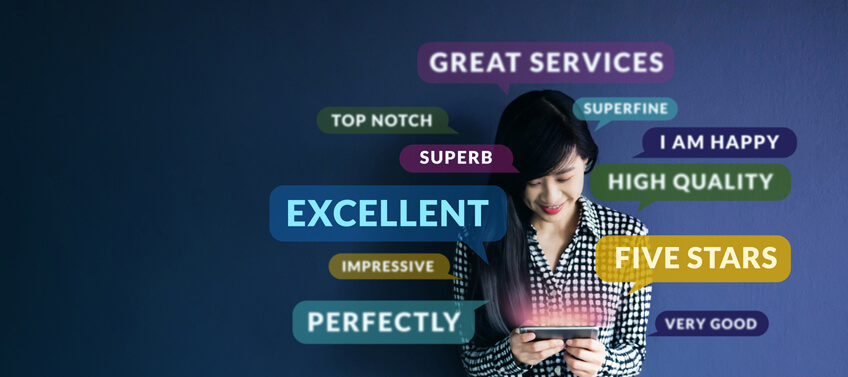 How testimonials work in building trust
The effectiveness of testimonials is rooted in the concept of "social proof," which states, basically, that people are more likely to do something if others who they consider as better informed are already doing it. Social proofs in marketing today come in various forms, including case studies, data or numbers, social media posts and comments, reviews, and testimonials.
Of these, testimonials resonate the most to real estate clients. Hearing good things from people who have worked with you gives potential clients the assurance that you're someone they can trust. Testimonials provide a window through which clients can visualize what it's like to do business with you. They can even highlight your strengths and specializations. And in the crowded and competitive real estate market, this can set you apart from the rest of the field.
On the flipside, not presenting testimonials can lose you clients who look to reviews in qualifying their choice of Realtor. These clients will move on to other agents who can present social proof, whether or not these agents actually provide better service.
How testimonials can be displayed to maximum effect
Traditionally, testimonials are lumped on a "testimonials page" on a website. While such a page is good for archiving, it does little to reel in customers through the various stages of the conversion funnel.
The conversion funnel concept states that first-time customers go through a buying path with three major components:
Brand awareness – Potential customers become aware of your company and checks out your website for the first time
Consideration – Potential customers review what you have to offer to determine if you're the right fit to their needs
Conversion – Customers decide to work with you or buy your product
By displaying testimonials on strategic parts of your website and other platforms, you can encourage potential customers to move on to the next stage of the conversion funnel.
For example, having testimonials on your home page can motivate new website visitors to continue browsing and learn more about you. Testimonials on your "About" or Listing pages can seal the deal by convincing customers you're a person they can trust, and/or an authority on the type of home or the community they're interested in.
In addition to your website, other platforms where testimonials can create maximum impact include:
Marketing emails
Social media
Blog
Your profile on national real estate sites like Zillow and Realtor.com
What is an effective testimonial?
For a testimonial to be effective, it has to be authentic. People can spot fake testimonials from miles away and shun your business completely as a result.
While all testimonials are inherently good, you need to choose the most effective ones to highlight in your campaign. A good testimonial is one that:
Reflects your strengths and specializations
Refers to how you addressed the client's pain points
Favorably compares you to the competition
Sounds sincere and credible – includes the name and some information about the reviewer. A bit of back story or unique detail is also very effective in conveying authenticity
Here are some examples from websites created by Agent Image: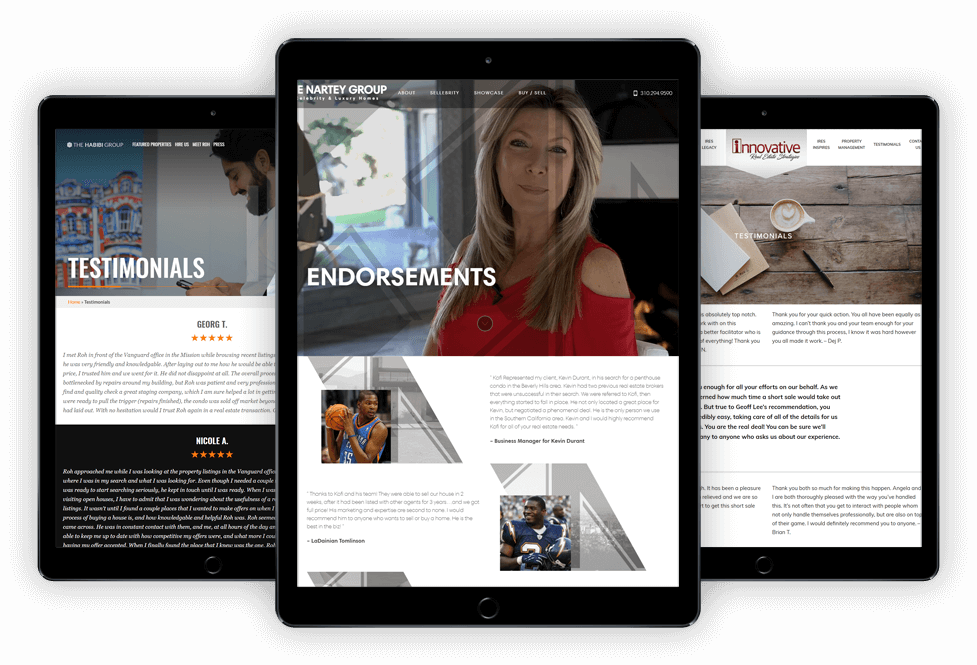 How to collect testimonials
A good time to ask for a testimonial is whenever you have a positive experience with a client. Staying engaged and maintaining a good relationship with your clients even after a sale will make it easier to request for reviews, in the same manner that it encourages referrals.
You can also adopt a system that allows you to continuously collect testimonials without having to chase clients. Include links, auto-responders, call-to-action features, and similar tools where clients can easily leave feedback on your website, direct mails, and other platforms.
Excellent sources of testimonials also include positive social media engagements, and letters or emails of thanks from your clients.
Never let a good review go to waste. Establish that all-important trustworthiness factor with the effective use of testimonials. The marketing experts at Agent Image know how to make testimonials work for you and your business. Call us today at 800.979.5799.
Did you enjoy reading this article?
Sign up for more updates with our Agent Intelligence Newsletter!
We are committed to protecting your privacy.
Real Estate Websites for Agents
Learn which package works best for you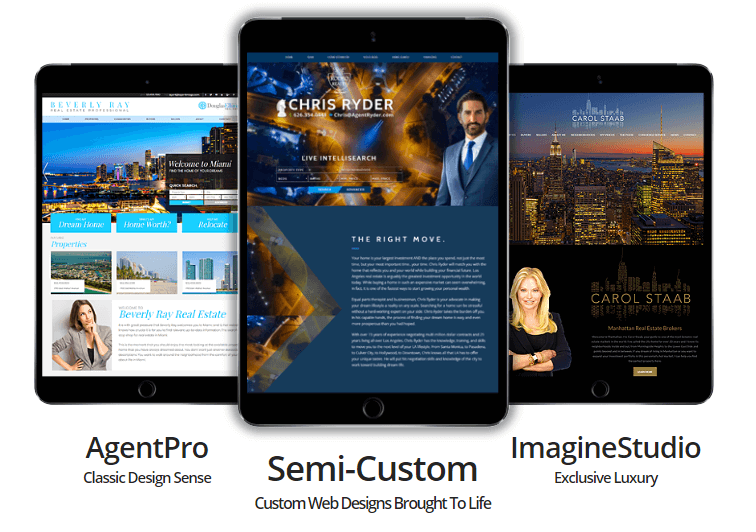 Learn More