The Latest Agent Website Themes To Kickstart Your 2022 Marketing Goals
Your website is more than just an online destination. It's your lead generation machine, brand ambassador, portfolio showcase, digital calling card, and more all rolled into one.
Indeed, it fulfills so many crucial roles to your business that having just any website simply won't do — especially at a time when most people begin their home search online.
Enter Agent Pro, the theme-based website design package by Agent Image that's ideal for both individual agents and brokerages. Each theme is packed with features every real estate website should have: property listings, community pages, virtual tours, videos and photos, agent bios, and more. Even better, each theme is carefully crafted by a team of designers and art directors to make it look stunning and sophisticated.
And now, after months of testing and tweaking, we are introducing three new designs to our roster of Agent Pro website themes. Read on to know all about their style, features, and unique characteristics: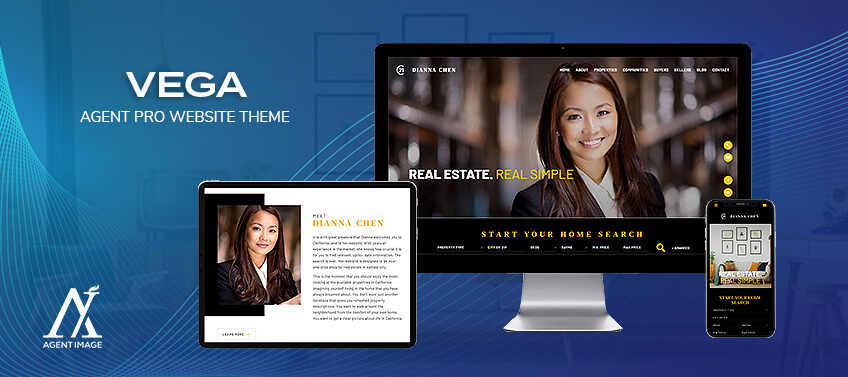 Vega Agent Pro Theme
Subtle and Elegant
Striking and sophisticated, Vega makes a strong first impression thanks to its starkly contrasting color scheme and image-centric landing page. The auto-scrolling header image lends this design a decidedly dynamic feel — perfect for go-getter agents like you who go above and beyond for your clients.
Of course, this theme is every bit as functional, too, with the property search feature located above the fold for ease of access and use. This section is fully compatible with your IDX system, making your website a one-stop shop for the best listings in your market.
You can easily customize the website to display featured listings, sought-after communities, and your professional bio or profile. Meanwhile, a floating panel of buttons to the right allows users to contact or connect with you on social media on the fly. Speaking of which, you can connect your Facebook or Instagram account to this theme so that all your posts are reflected on your site.
If you're a fan of strong visual design that's tempered by subtle elegance, Vega is the Agent Pro website theme for you.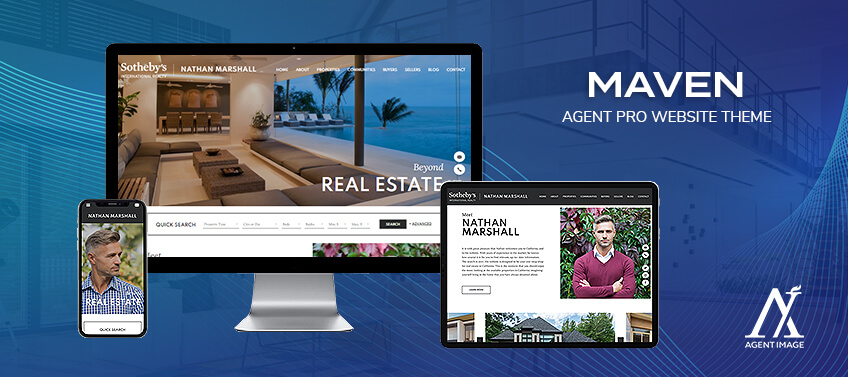 Maven Agent Pro Theme
Minimalist Yet Powerful
"Inspired minimalism" is the best way to describe Maven, and we're excited to share this design with agents who want a no-frills website that doesn't skimp on the wow factor. The spare white-and-black theme allows the eye to focus on the images and text, which is crucial to making a good impression on users.
The featured properties section, which is rendered as a slideshow, lets you place oversized photos so your listings can do the talking. Highlighted communities, meanwhile, are arranged like a grid of picturesque postcards, each waiting to be discovered.
As part of Maven's intuitive design, you will notice that each scroll coincides with each section, making navigation easy and seamless. The navigation bar can also be customized to showcase your branding, and it hovers constantly so that users can click on the links no matter where they are on your site.
Indeed, the Maven Agent Pro Theme proves that less can definitely be more. More sophisticated, more enticing, more impressive.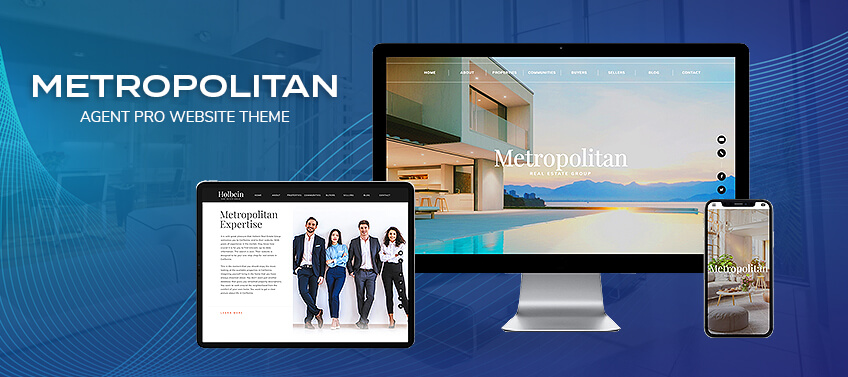 Metropolitan Agent Pro Theme
Custom Built For Teams
Our Metropolitan theme takes immersive browsing to an all-new level with its full-screen header image. From the moment you load a website with this design, you can't help but feel like you're inhabiting the luxurious properties on display.
Visually stunning though the homepage may be, we made sure to let functionality be the star of the show. There's the top navigation bar, of course, but it's subtly incorporated so as not to break the immersion. At the bottom left, on the other hand, is a quick search feature that lets people get started on their house-hunting pronto. Over to the right is a column of contact and social media buttons.
The visual-first approach is evident throughout the theme, too. The featured homes and communities, for instance, both used oversized photos, making them truly eye-catching. There's also more than enough space for photos of you and your team, making this design theme ideal for brokerages. What's more, there are dedicated portals for property portfolios, sellers, and newsletter subscriptions.
If you want a show-stopping theme that will surely impress your prospects, the Metropolitan Agent Pro Theme is truly worth a look.
Choose The Right Agent Website In 2022
All of these new themes have been expertly designed with an eye towards excellent user experience, intuitive user interface, and mobile compatibility. For your next website redesign project, make the choice between the Vega, Maven, or Metropolitan website themes. We are confident that these designs will help you achieve your marketing goals for 2022.
Of course, this is just the tip of the iceberg when it comes to custom built real estate website design options. We've got 12 more professionally designed, ready-to-use design themes in our Agent Pro package — the perfect choice for agents who are just starting out.
Start the new year right with a brand new website! Just call our team at 800.979.5799 to know more about our different packages or schedule a free, no-pressure demonstration here.
Did you enjoy reading this article?
Sign up for more updates with our Agent Intelligence Newsletter!
We are committed to protecting your privacy.
Real Estate Websites for Agents
Learn which package works best for you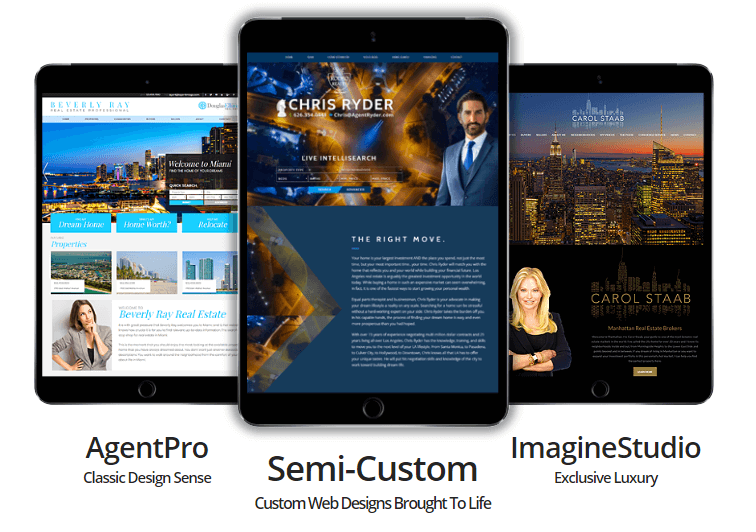 Learn More