The Most Important Things People Look For On Your Website
People are looking for an experience. That's the crux of the matter. Consumers will come for all different reasons. They may come for listings, or local information, or to learn about you, or for rates, or for general real estate help, or for any number of other, unforseen reasons.
But what they want, and what you better be able to deliver, is an experience. Disney isn't that concerned about what toys are in their souvenir shops. What they're concerned about is creating an experience so remarkable that kids will beg their parents to take them. They know that if the experience is strong, the souvenirs sell themselves, people will evangelize them, and customers will return.
The way you deliver that is through superior design, usability, cutting-edge technologies, and a wealth of information. Can you have it all? Possibly, eventually. But what matters most is that you pick one, or two, and perfect them. Then gradually do more.
But trying to do them all, at once (trying to be all things to all people), is the surest way to erode the experience for everybody, and by nothing to anybody.
So what a real estate company's website needs, first and foremost, is an identity, a direction. What are you? Are you the premier authority for real estate information? Are you the easiest way to find the right listing? Are you the most high-tech real estate company in your market? What ever it is you decide to be, will naturally attract like-minded consumers. From there on, your primary decisions should be based on meeting and exceeding that particular group's expectations. That's what creates a successful website. That's what creates an experience worth talking about.
Did you enjoy reading this article?
Sign up for more updates with our Agent Intelligence Newsletter!
We are committed to protecting your privacy.
Real Estate Websites for Agents
Learn which package works best for you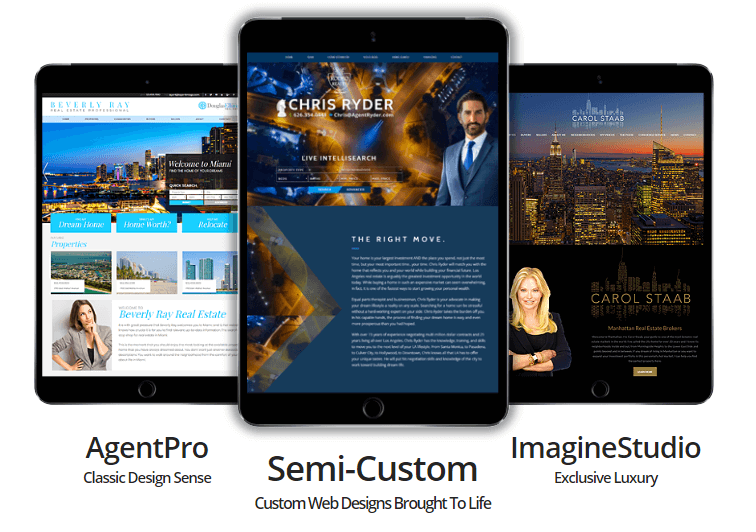 Learn More