TikTok 101: A Beginner's Guide For Real Estate Agents
From MySpace in the 2000s to Facebook and Instagram in the 2010s, every era has its social media darling.
Today, that honor unquestionably belongs to TikTok, the massively popular and fast-growing platform where viral dance trends, lip-synch videos, and tutorials abound.
Before you dismiss the platform as just another fad, though, note that more and more agents are using TikTok to generate more sales than ever. As it turns out, TikTok and real estate are a match made in marketing heaven.
That's why we created this beginner's guide for realtors who want to navigate and succeed at social media's newest "it" app.
What exactly is TikTok?
In a nutshell, TikTok is a video-centric social platform where you can post clips ranging from 15 seconds to three minutes. While it might seem like TikTok burst onto the scene out of nowhere, it's been available to download in the U.S. since 2017.
TikTok comes with a plethora of musical tracks, filters, sound effects, and stickers, which make creating engaging videos a cinch — a crucial factor in its rise to dominance. It also has the "For You" page, an algorithmically curated selection of videos that the app thinks you'll find interesting.
Just how big is TikTok? According to data from its owner ByteDance, the app counts over one billion active global users, including over 100 million in the U.S. alone. What's more, its audience is primarily Gen Z (58%) and millennials (39%) — two massive generations on the cusp of homeownership.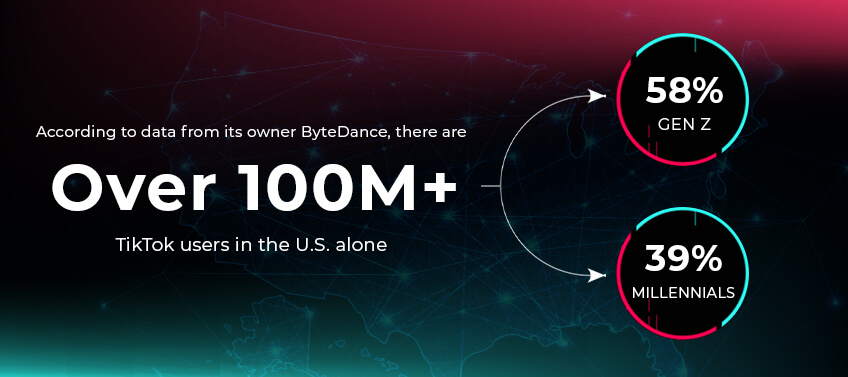 Why should real estate agents use TikTok for marketing?
While TikTok is primarily known for its catchy dance clips and funny videos, there are many reasons why realtors should establish a presence on this channel.
Less competition – More and more real estate agents are catching onto the potential of TikTok, but relatively few are utilizing it right now. If you can establish a strong presence on the platform today, you can corner the market on TikTok-savvy realtors – and all the leads that come with it.

Visual-centric platform – Just a few years ago, in-person property viewings were the industry standard. What a difference a pandemic makes! Now that agents are relying heavily on remote video tours to generate leads and close deals, TikTok is a natural choice for marketing your listings. What's more, users can interact with your content and you can reply back to turn inquirers into hot leads.

The "For You" page – As with other social media apps, TikTok's algorithm looks at the content users consume and recommends more videos like it. Hence, the "For You" page acts as your ally in reaching new audiences who have yet to follow your account. You can also ride on video and music trends, but give them a real estate twist to boost your chances of making the "For You" page.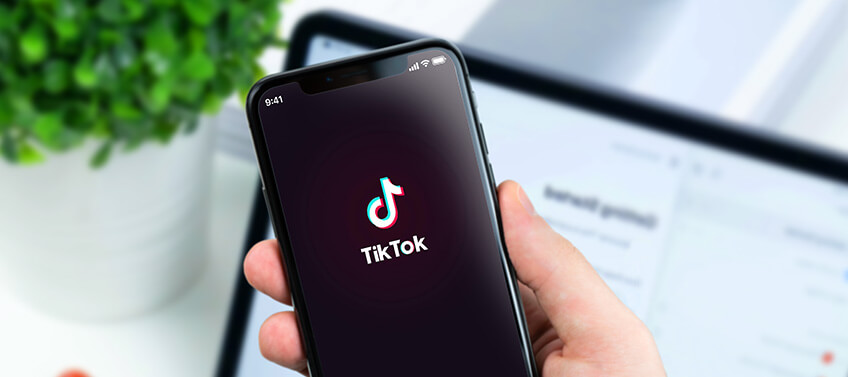 How can I succeed at TikTok marketing?
Trying out a new marketing channel inevitably involves a learning curve. Don't fret, though: we prepared these pro-tips to help you grow your brand and business on TikTok:
Take the leap – The best way to master TikTok is to use TikTok. After downloading the app and creating your account, tinker around with the platform to familiarize yourself with its features. Fortunately, creating videos is fairly simple: just click the "+" button to start recording content, after which you can apply visual effects, music, SFX, overlay text, and stickers.

Pick a niche – There are millions of videos being uploaded to TikTok every day. To stand out, you have to pick your niche. If you're a luxury realtor, for example, focus your content on multi-million-dollar properties. People are naturally curious about how the 1% live and you are in the position to give them a peek into that lifestyle. When planning posts, identify your ideal client, list down what their concerns or questions are, and develop content around them.

Offer valuable content – TikTok videos are also a great way to demonstrate your expertise and boost your credibility. Why not solicit questions from followers and answer them in a Q&A session? Or perhaps you can offer quick and easy staging tips for sellers. You could even share the latest real estate trends to show your mastery of the local property market. Trust us: you don't have to do a single TikTok dance to cultivate a strong following.

Take advantage of music – The best TikTok videos tend to be music-driven. In fact, a study shows that ads with audio generated higher purchase intent and brand favorability than those that didn't. The good news is that the app comes with an extensive library of royalty-free music which you can filter according to duration, genre, and other criteria. Even better, there's a trending playlist that makes it easy to find the music people are currently obsessed with so you can incorporate them into your own content. Whether you're doing an impressive house tour or a day-in-my-life video, there's a perfect soundtrack for your content.

Use hashtags – Not unlike Instagram, users often search for videos using hashtags. As such, anticipate your audience's search behavior and incorporate likely search terms as hashtags. Since post captions have a 300-character limit, be very judicious and strategic about which hashtags to include. Five hashtags, arranged from generic (#realestate) to niche (#californiamansions), should cover all your bases.

Repurpose posts – No, you don't have to create unique and bespoke content for this platform (at least at the outset). If you already have Instagram or Facebook videos, you can just repurpose them for TikTok. In fact, you'll often find people cross-posting content across all three channels. Not only does this strategy save you time, but it also populates your account with content quickly.

Be consistent – Last but not least, make a concerted effort to bootstrap your TikTok account. You may not be TikTok-famous overnight, but a great online presence takes time to build. As a general rule of thumb, it's best to post at least once a day to keep followers engaged. Of course, you can post more videos if needed, such as when you introduce a new listing or announce a newly closed deal. The point is, consistent posting gives people a reason to keep checking and following your TikTok account.
Learn from the pros
Of course, the best way to master TikTok is to study what other successful agents have done on the platform. Below are some Agent Image clients you should definitely take notes from.
Josh Flagg
This post from Beverly Hills luxury realtor Josh Flagg shows how music can take a typical video walkthrough and turn it into an engaging experience. Notice how the beat of the sound matches the fast zooms in the video, creating a more dynamic clip.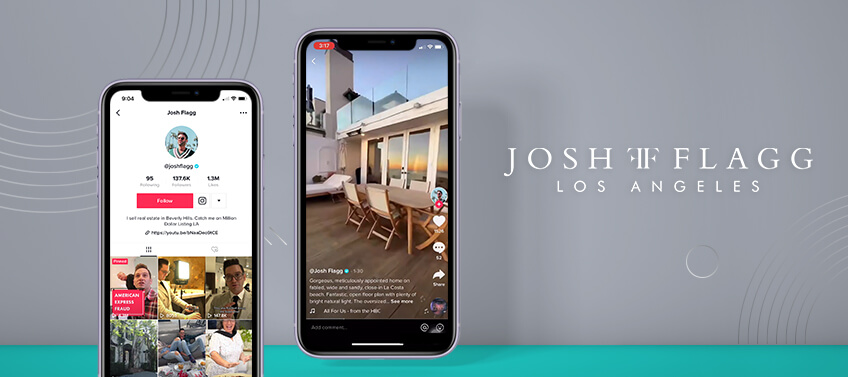 Tracy Tutor
Though real estate videos on TikTok are dominated by property walkthroughs, Tracy Tutor wisely creates content geared towards sellers, too. Here you'll see her giving a behind-the-scenes look into her team's proven marketing process. Groovy music and text overlays make this content enticing and informative from start to finish.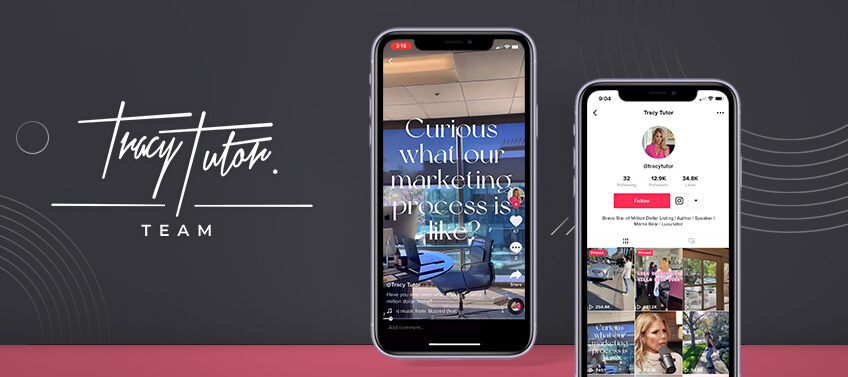 Josh Altman
If you've spent any amount of time on TikTok, you've likely heard its signature text-to-speech AI voiceover. Celebrity realtor Josh Altman cleverly uses this feature to create an on-trend way to reveal a listing's clever little feature.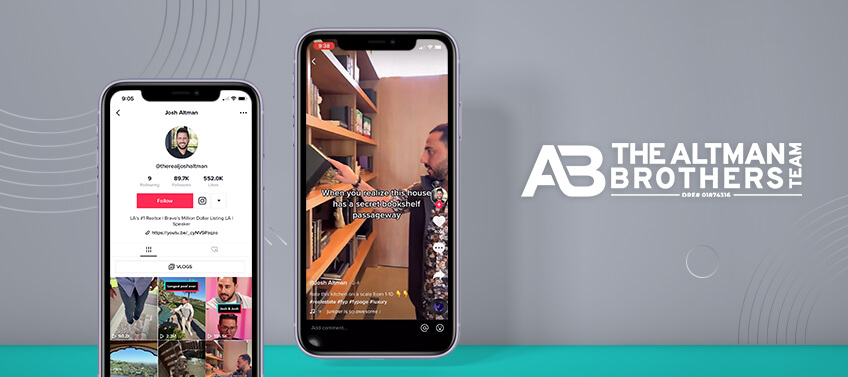 Jills Zeder Group
Jills Zeder Group, the #1 real estate team in the nation, gives the "What Can $$$ Get You" trend the luxury treatment by showcasing one of its elite listings in Miami Beach. It just goes to show that you can adapt any TikTok trend for real estate purposes with a little creativity.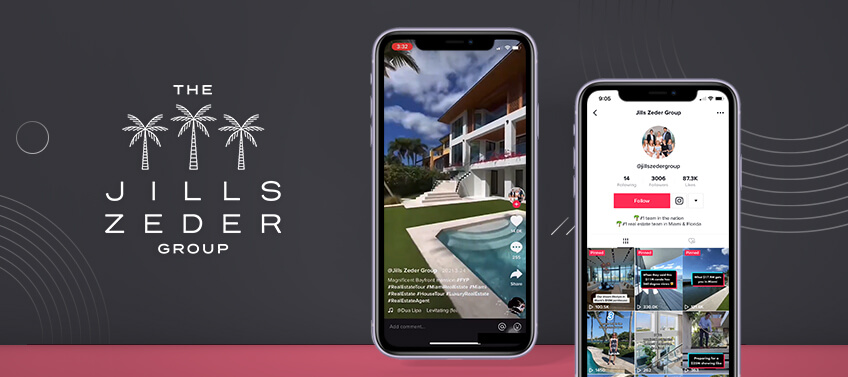 Super Luxury Group
Here's a pro-tip you can pick up from Super Luxury Group: you can actually upload premade videos on TikTok! As you can see in this post, the brokerage masterfully blends together time-lapse videos and interior shots of luxury properties — something you can't do without editing or post-production.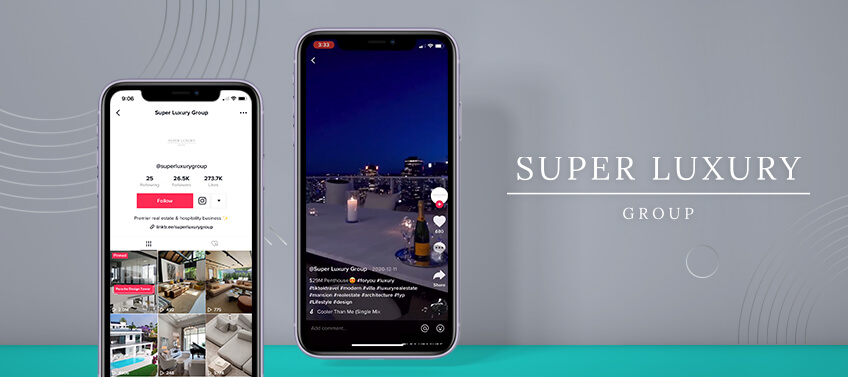 Aaron Kirman
Last but not least, make it personal! After all, you're a person first before a real estate agent, and people want to get to know your personality, too. As you'll see in this video, Aaron Kirman offers some sage advice to those aspiring to become celebrity realtors as well.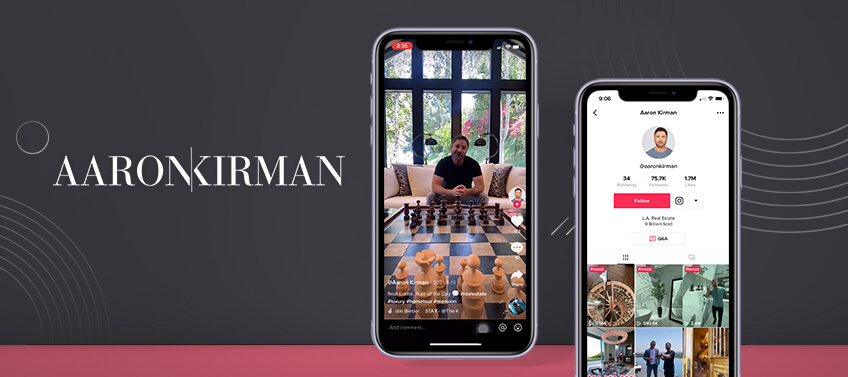 Of course, the ultimate goal of TikTok content is to drive traffic to your website. The question, however, is whether your site is as impressive as the videos you upload on TikTok.
Agent Image has launched over 25,000 websites over the last two decades, many of which are for the industry's most respected agents. When it's time to level up your digital presence, allow our team to give you the edge you need.
Just call 1-800-979-5799 or use this contact form for a free consultation!
Did you enjoy reading this article?
Sign up for more updates with our Agent Intelligence Newsletter!
We are committed to protecting your privacy.
Real Estate Websites for Agents
Learn which package works best for you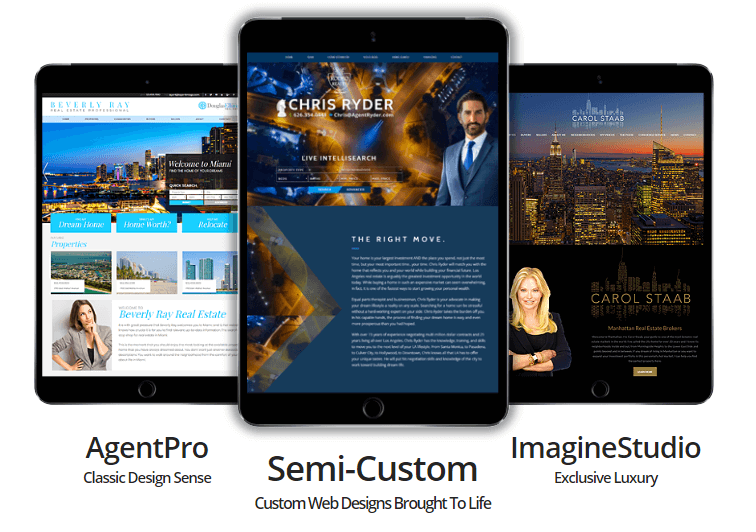 Learn More