Tips and Tricks For Promoting An Open House Online
Attracting interest and foot traffic for an open house can make or break a sale. After all, a transaction is dependent on whether you were able to generate enough interest to warrant an offer or two.
This time around, don't bring out the front yard sign. Skip the flyers and other "traditional" methods of advertising an open house. It's time to take the campaign online. Here are tips and tricks to help you advertise your open houses on the World Wide Web.
Send emails.

If you don't have time to make personalized invitations, sending emails is your best course of action. The thing is, emails either go read or straight into the trash bin.

To avoid the latter, include an attractive subject. Make it seem like an important event. Include all necessary details, as well as add-ons like free food and drinks (or the giveaway you've prepared). To make your email even more enticing, use a template with photos of the house.

Sign up for promoted pins.

Another way of marketing your open houses online is tap into the power of Pinterest, where you can sign up for promoted pins. This strategy will help you attract the attention of prospective home buyers and even Millennials as they are active Pinterest users.

Pinterest is particularly popular among home buyers as it's a source of home décor ideas.

Use your social media accounts creatively.

Don't limit yourself to boring posts on Facebook, Instagram, and Twitter. Use a template, post a photo collage of the home, and post it on pages available in the community. Of course, be sure to check community rules to make sure you're not violating any terms.

Have you ever heard of Snapchat? The popular social media platform is a great way of promoting your open house listing. Instagram recently added a similar video-sharing feature if you're not too keen on using Snapchat. Post pictures and videos of the listing, and include informative or witty captions to create some buzz.

If you're a heavy user of Instagram, make a separate account solely for open house listings. Take "Instagram-worthy" pictures of the property, and curate your feed. Don't forget to add relevant tags!

Perfect the art of a visual-heavy blog post.

Blogging is an effective marketing tool, and with the use of beautiful visuals, a blog post can serve as an enticing invitation to an open house. Best of all, you don't need to spend hours crafting one. All it takes is less than an hour to write a real estate blog post.

A teaser for an upcoming open house can be a visual-heavy blog post. It gives interested home buyers a little taste of what they can expert from the open house. Talk about the listing showing, include important information about the property, and do not skimp on the visuals. You can even add a little virtual tour of the property to pique the interest of viewers.

All in all, blog post laden with attractive visuals is definitely one of the easiest lead generation tools you can use to promote an upcoming open house.

Build a single property site.

Instead of relying on your real estate website to promote the property, why not have a site made especially for the home? Building a single property site, especially for high-profile listings, will allow you to showcase all of the home's features as well as the upcoming open house.

Aside from providing extensive information about the property listing, dedicating a property site for that home will allow you to expound on other details. You can add information about popular businesses and attractions near the listing, and top-rated schools nearby. You can even dedicate separate pages for specific room types. Like the visual-heavy blog post, this will act as a teaser and will help generate foot traffic through the door.

Send a weekly newsletter.

Once a week, send a newsletter to your buyer leads with information about any upcoming open house. Think of it as an announcement. If you've already got the open house blog post prepared, don't hesitate to mention it in the newsletter as well. If you had a single property site made for the open house, include the link.

To avoid the fate of having your email sent to the trash bin, announce your intentions right in the subject line. Think of it as a headline for an article, and include details or words they'll find interesting.

By emailing your buyer leads with the appropriate information, you will be able to spark enough interest to guarantee a successful open house.

Create a video montage.

If you have any pictures or footage of previous open houses, why not make a video montage and turn it into an invitation? By showing how successful your previous open houses have been, interested parties might be enticed to attend your future ones.

In the video montage, you don't have to highlight the property features of previous open houses. This is your chance to highlight that it's like going to your open houses. Make it fun and interesting. You're not only enticing people to go to your open houses, you're also promoting yourself as an agent.

Create a virtual tour of the property listing.

Another way to generate interest for your upcoming open house is through virtual tours. More and more companies are providing 3D imaging technology that makes it possible to let your buyer leads take a peek of the property. Besides, a picture may be worth a thousand words, but a virtual tour is worth a million.

Once interested home buyers view the virtual tour, they'll be more driven to attend the open house to get more information. After all, a virtual tour may be great, but touring the actual property is far better.
Tapping into the World Wide Web is a great way to generate buzz about your future open house listings, so go ahead and be creative! In this day and age, the internet is your best friend.
Did you enjoy reading this article?
Sign up for more updates with our Agent Intelligence Newsletter!
We are committed to protecting your privacy.
Real Estate Websites for Agents
Learn which package works best for you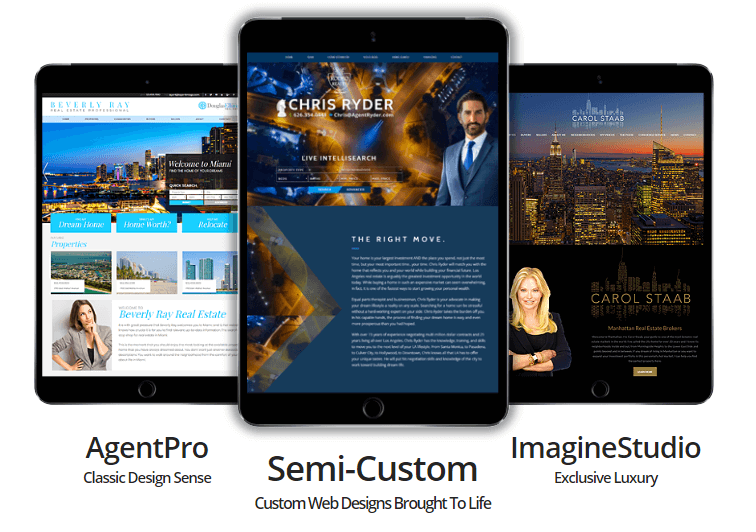 Learn More