Unique Ideas to Win Real Estate Clients on Social Media
It is no secret that social media matters when it comes to marketing your real estate brand. No longer just an online medium for networking and keeping in touch with friends, social media is now a crucial outlet for growing your business.
There are plenty of ways to market your real estate business on social media. But it's the unique ideas that will make you stand out. Continue reading to learn how you can find (and land) your dream client through social media.
Why does social media matter in your market strategy?
Social media has proven to be a game changer for real estate marketing.
Around 97% of homebuyers use the internet to search for homes according to this report by the National Association of REALTORS® (NAR.) The pandemic also saw real estate agents maximizing their online presence to complete transactions despite lockdowns and restrictions. And with 4.4 billion active social media users around the world, the time to raise your social media game is now.
When it comes to quality leads, social media generates the most— 52%, according to the same report by NAR, beating customer relationship management and MLS sites. It is because you can directly engage with different users through social media posts, be it pictures, short videos, or even text updates.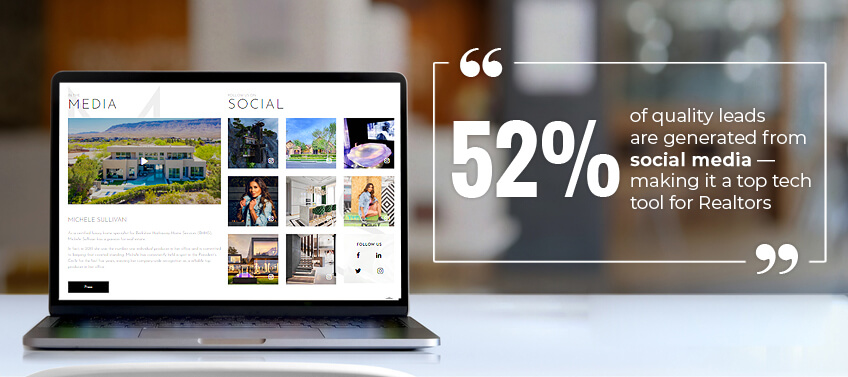 New ways to win real estate clients on social media
Chances are you already have a social media strategy to complement your overall real estate marketing plan. But as social media platforms and trends continue to evolve, you need to infuse some new ideas to stand out in this increasingly crowded space. We took a leaf out of the books of the most successful social media influencers and found six things you can do to gain new clients through your social media profiles.
1. Showcase your real estate brand through Stories
Before prospective real estate clients engage with you on social media, you must give them something to talk about. Instagram and Facebook Stories allow you to reach out to your audience in quick, short bursts.
Although Stories expire after 24 hours, they tend to get more views than actual posts. This is because users can immediately see when a Story has been published. Moreover, you can share existing posts, as well as a combination of photos and videos, enough to pique the interest of followers and prospective clients.
2. Connect with potential clients in real time
Going live on social media can be intimidating, but the rewards are totally worth it. Another effective way to connect to potential clients, it allows you to have an honest and authentic conversation without edits or filters. When you go live on a social media platform like Facebook or Instagram, you can actively engage with your audience, read their comments, and respond to them in real time.
3. Build your brand on TikTok
Tiktok is one of the fastest-growing social media platforms and it shows no signs of slowing down. Many people look down on the platform or think it is geared towards younger people. But contrary to popular belief, there is more to TikTok than dance trends and recipe hacks.
The popular video-sharing app has over 700 million active users spread across 150 countries. Although it is true that most TikTok users are on the younger side, the base is aging up. TikTok has approximately 100 million users in the United States, 48% of which are composed of 18 to 29-year-olds according to Pew Research Center. This is followed by 30 to 49-year-olds and 50 to 60-year-olds, comprising 22% and 14% of its US user base, respectively. And more people from these older age groups are joining the app.
The real estate industry has taken note of TikTok's huge potential to create informative content and reach more audiences. And the best part is, you do not have to be an influencer for your TikTok videos to do well. All you need to do is to create relatable content.
Take Josh Flagg, for example. One of the top Realtors in Beverly Hills and an original cast member of Million Dollar Listing Los Angeles, Josh is not shy to show himself having fun. He often posts clips about real estate, his never-ending love affair with wine, and his fellow cast members. Josh currently has over 103,400 followers and has received more than 773,700 likes.
Even bigger on TikTok is Daniel Heider, who has amassed a whopping 3.2 million followers and 45 million likes. He posts quick tours of homes in Washington, D.C., Maryland, and Virginia, showing the kind of lifestyle most people dream of.
4. Create Instagram Reels
Similar to TikTok, this new Instagram feature lets you post 15-second or 30-second videos to your profile. And unlike Instagram Stories, they will not disappear after 24 hours.
Once posted, these videos will be added to the Reels tab in your profile and can be shared to your main feed. One of the best things about Instagram Reels is that you can reuse previous photos and videos posted on your Story and combine them into a reel. You can even post your real estate TikTok videos here.
5. Make the most out of your hashtags
One of the biggest mistakes that real estate agents make is not optimizing their hashtags on their social media platforms. This can be detrimental to your overall social media strategy as hashtags are essential in boosting brand awareness and increasing exposure. But while you are allowed to use a number of hashtags on a social media post, do not overdo it. You do not want your caption to look too messy or cluttered.
6. Add captions and subtitles to videos
Making your social media content more accessible can go a long way. When you make your posts more inclusive, you reach a wider audience because it allows them to follow along without needing to hear the sound. A study by Facebook showed that views of video ads increased by 12% when they had subtitles. Discovery Digital Networks also noted a 7.3% in YouTube views for the videos that had captions.
Be on top of social media marketing trends for real estate
There is no doubt about social media's impact on your real estate business. That is why it makes a world of difference to partner with the right real estate marketing agency.
Build your social media presence and expand your real estate business online with Agent Image, your go-to real estate marketing experts. We have over 20 years of experience in helping real estate agents diversify their marketing strategies and establish a solid social media presence.
Let Agent Image take the reins when it comes to managing your social media. Schedule a FREE consultation by getting in touch with our team at 800.979.5799.
Did you enjoy reading this article?
Sign up for more updates with our Agent Intelligence Newsletter!
We are committed to protecting your privacy.
Real Estate Websites for Agents
Learn which package works best for you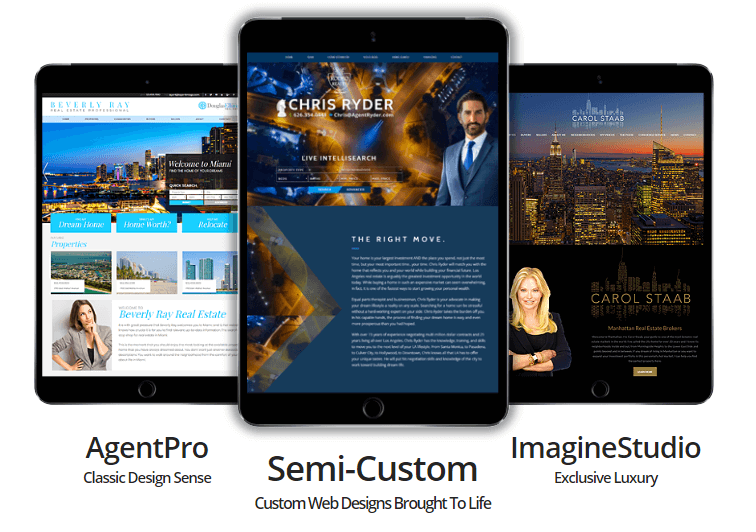 Learn More