Using Social Media for Real Results
Your clients are talking about your company and services such as yours online. And they will keep talking this year and beyond, as the social revolution and niche networking continues. Are you there to listen?
Real estate professionals now use their blogs, Twitter, Facebook, YouTube, LinkedIn and other niche sites to promote their services and listings — tools through which they can become more approachable and trustworthy.
In a recent survey by Postling, 79% use Facebook for real estate advertising with Twitter coming in on second spot. This is an example of the influence of social networking to businesses, specifically real estate. This social trend results in higher competition in the global market of home buying and selling. So based on what we're seeing out there, here are a few things that you can include in your social marketing for 2012.
Be Visible
With more than 800 million Facebook users,we can't deny the impact of social media in reaching out to people. Most potential clients go online to look for houses, contact agents or review companies. This is why it is important to maintain active accounts in most social networking sites, in order to effectively direct people to your agent site.
Improve your FB and Twitter Presence
If your prospects are on Facebook, make sure you're there and make sure you have a strategy that works. Social media marketers pay more attention to thoughtful, insightful marketing. Use FB and Twitter to interact with your customers and prospects on a more in-depth level so you can be certain you're providing the services that they need.
Start with a customized landing page that is designed to get people to Like you. Follow up by posting engaging content on your business page that encourages people to like, comment and share your content. This will land you on your customers' news feeds, and help you stay front of mind. You can also try targeted Facebook ads or targeted Twitter followers to attract new prospects.
Stay Mobile
Today's mobile consumers are always "on." Access your accounts easily by installing social apps on your tablet or mobile. Being available and answering to inquiries, comments and posts as soon as they're up is a good thing.
Be Consistent
For blog sites that contain real estate news and articles, constantly updating your page will keep your followers checking your social accounts often. Hook your profiles to a social management application so that your posts are automatically visible on the news feeds of your fans.
Be Professional
For obvious reasons, keep your business profiles separate from your personal page.
Optimize
SEO is no longer just for Google. Use keywords on your page name or info description to help people find your page on a social media search. Tag and label your listing photos, optimize your videos properly with keywords and use relevant #hash tag words on Twitter.
For more social media marketing tips, keep subscribing to this newsletter and follow us on Facebook.
Did you enjoy reading this article?
Sign up for more updates with our Agent Intelligence Newsletter!
We are committed to protecting your privacy.
Real Estate Websites for Agents
Learn which package works best for you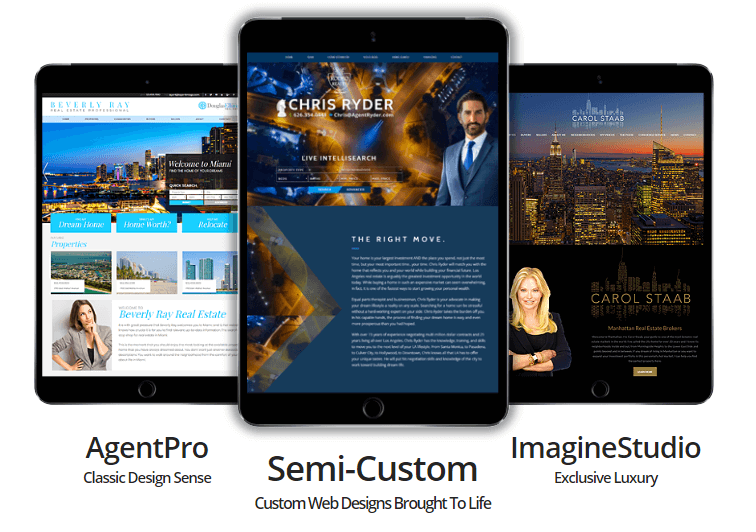 Learn More