Web Marketing Trends and Strategies for 2012
From a multitude of gadget options, apps, social networking platforms and cloud computing solutions, 2012 will continue to revolutionize how technology and Internet marketing works:
Infographics
Twitter has allowed us to digest our daily dose of news and gossip in 140-characters. This has resulted in marketers realizing the potential that information is better digested and shared when presented in tidbits – even better when it's in cool infographic form.
Companies are now hiring graphic or web designers to creatively represent (usually boring) data in engaging ways. Graphic charts and illustrations work for most people because they're easy to understand.
Use infographics to disseminate the necessary news tidbits or real estate statistics relating to your business. Typography, images and easy-to-understand text are paramount.
Proximity Marketing
Also called location-based marketing, this strategy almost works like the traditional advertising of giving out flyers on local street corners.
Through location-based apps like FourSquare, Facebook Places and Yelp, you will be able send out the latest promos and events about you whenever a customer happens to "pass by" or detect your location.
For more on location-based apps and how you can use it for your real estate business, subscribe and stay tuned to our next month's newsletter.
Mobile Apps
Productivity apps continue to streamline our day to day tasks. With smartphones and intelligent applications, we can now do paperless transactions using e-signatures, access remote files hosted on the cloud and whip out listing presentations on the go whenever you need them.
For more on real estate apps, check out this article.
Quick Response (QR) Code
2011 has seen the boom of marketing using QR codes, and 2012 will see more applications of this matrix barcode variant embedded on brochures, websites and flyers.
If beta tests are successful, future plans for the QR code involve virtual shopping. Stores can put up virtual shelves where each item has its own QR code. Shoppers can then whip out their phones and scan the code of the item they want to buy.
Check out this related article on a browser-based QR code reader.
Mobile Browsing
More people are turning their backs on bulky desktop computers and even laptops. Tablets and smart phones are now built for browsing websites, shopping or looking for services.
Can your real estate website be viewed on mobile phones? Are home buyers able to search for homes when they're using their tablet or smart phone? If not, you should seriously consider getting your agent website revamped.
Apps can also be developed to complement the mobile version of your website.
Social Media
There are already thousands upon thousands of articles and things said about social media. And marketers have taken advantage of them with the use of ads, web banners, promoted Tweets, landing pages, viral contests, videos and more.
The idea is to bring your business closer and more accessible to your market and build brand awareness, so make sure you keep your social pages in check.
More importantly, you can easily monitor what your market and clients need by giving them information of value and keeping them updated with the l
atest offerings that you have.
For the latest on real estate web marketing topics, add us on Google+ and Like us on Facebook.
Did you enjoy reading this article?
Sign up for more updates with our Agent Intelligence Newsletter!
We are committed to protecting your privacy.
Real Estate Websites for Agents
Learn which package works best for you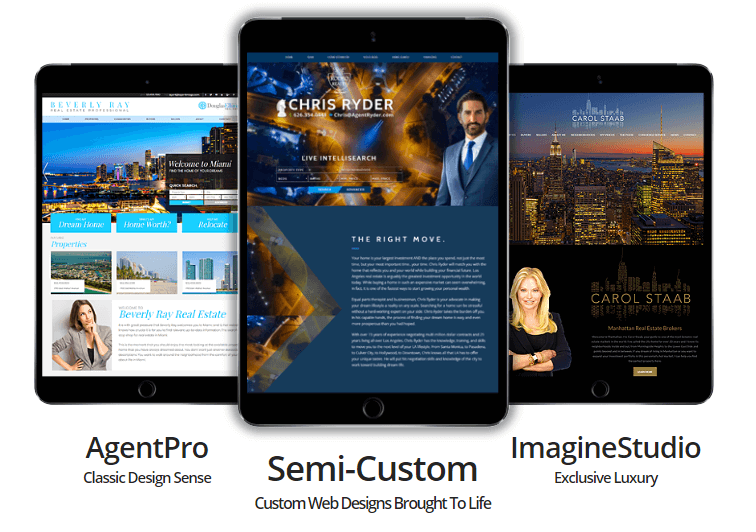 Learn More