What to Look For In A Real Estate Videographer
Update: Agent Image TV is no longer offering video services. If you are looking for real estate website and marketing services, please visit www.agentimage.com.
---
Thinking of using video to jazz up your site and draw attention to your featured listings? When done right, nothing catches the eye and holds the interest as effectively as the moving image. A poorly executed video, on the other hand, will have the opposite effect, turning off website visitors and making you appear unprofessional.
Hiring a professional real estate videographer is the best way to ensure that your video marketing campaign will get you the results you want. If you've never worked with a videographer before, finding the right one can be a bit of a challenge. Here are a few tips from our video pros at Agent Image TV to help you in your search for the best real estate videographer:
Do your research. Anyone can call themselves a videographer, so the first thing you should do if you're thinking about hiring a particular firm is to take a look at their portfolio.
Do they have the right tools? Ask them about the equipment they use. These days, any videographer worth their salt will have high definition cameras and complete lighting systems.
Can you get some background music in? Having a low-key yet appealing soundtrack playing in the background will make your video look and sound more professional.
What kind of post-production work do they do? Find out if their services include quality editing and post-production work that will make your videos look professional. Your add-on options with Agent Image TV, include the creation of a custom watermark or copyright info, a YouTube customized branded background, Listing Presentation Video and Landing Page.
Can your video go mobile? More and more people are using their phones and other handheld devices to browse the web these days, so it's important that your videos will be in a format that's supported by mobile devices.
What's the turnaround time going to be? Ask your videographer to explain their process to you and to let you know how long it will take. This way you can plan the rest of your marketing campaign.
On your end, do you already have someone who's going to be in charge of your video campaign? If you're planning to launch a major video campaign, it's a good idea to have someone on your team take charge of it. The production process can be lengthy and someone has to coordinate with the videographer all throughout.
Don't like to be in front of the camera? Consider doing the voiceover. Or you can have a professional do the voiceover and you just have to make an appearance at the start and at the closing. The important thing is to give the viewer the chance to actually make a personal connection with you.
Visit http://agentimage.tv/ to get more tips and find out how Agent Image TV can help you create compelling videos for your real estate website.
Did you enjoy reading this article?
Sign up for more updates with our Agent Intelligence Newsletter!
We are committed to protecting your privacy.
Real Estate Websites for Agents
Learn which package works best for you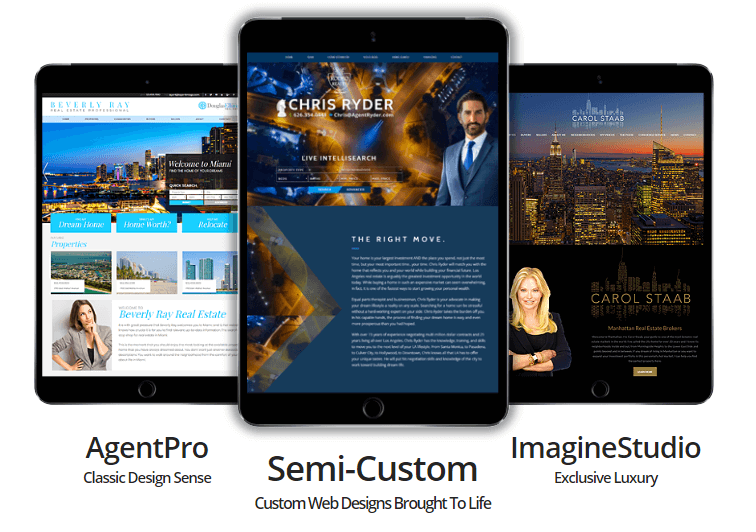 Learn More