Why Every Real Estate Website Needs SEO to be Successful
In many ways, building your online presence is like growing a garden. You lay the foundation and plant the seeds, but if you don't maintain and nurture it to ensure it flourishes, it will likely die. The same can be said for your real estate website.
If you've designed, developed and launched your real estate website and are sitting around waiting for that first-page spot on Google and the leads to pour in, your site is likely to fall short of your expectations. You're missing the optimization – the maintenance and nurturing your site needs to grow.
All search engines index content on the web so that whenever keywords are typed into asearch box, the most useful sites come up first. As such, you must optimize your website to be found and ranked appropriately. In essence, executing the best search engine optimization tactics is how you push your real estate website to the top. It's how it flourishes.
To understand why every real estate website needs SEO to be successful, just look at some of the statistics about real estate searches:
With numbers like these, agents and brokers must have real estate websites that are SEO-friendly just to compete in this field. But understanding how to get yourself or your agency to the top of search engine results is ever-changing and in order to reach number one on Google, Bing, and Yahoo, you need to know how to use SEO effectively.
Understanding Real Estate SEO Concepts
You may have heard of search engine optimization but most agents only have vague idea of what it actually means. Even if you understand some SEO concepts, the metrics by which search engines populate search queries is constantly changing.
While you should always focus first on building a website that is useful to your target audience, you also need to ensure that your site uses keywords that are specific enough to your market that your website will be indexed uniquely. The way in which you structure your website plays an important role as well as making sure that your content is rich and full of information related to your market.
Search engine optimization isn't something you do one time; it's a constant process to ensure that you're staying top-of-mind. It's the nurturing and care that you're website needs to be successful in generating leads and maintaining authority in your market.
We've expanded on these ideas below, and have put together this list of important SEO features that you should consider for your real estate website.
Start local
First time homebuyers tend to fall in the 25 to 49 age demographic. More than 95% of homebuyers in that age range use Internet searches to find their first home. Over half are more inclined to select the link that shows up at the top of their search results. And nearly 70% of those homebuyers search based on a specific location.
That means that if you want your website to top that list, using keywords that include local terms is an often effective strategy, especially in the real estate market. Include specific keywords like "Palm Beach luxury condos" or "San Diego homes for sale" throughout your website to yield better results in search engines– start local!
Optimize IDX searches
Every real estate website needs an IDX search box to allow users to refine their search by location, number of bedrooms, price range, etc. While IDX makes searching within your website easier for users, it will not improve your website's ranking on internet search engines without additional optimization.
In order to optimize IDX searches so that you also increase your ranking on search engines, you must add relevant content to your property pages. For instance, if someone searches for homes in a particular neighborhood, when they are directed to that page, include information about the neighborhood, video, or snippets from a blog post about the property or area with a link to that post.
See this tip in action: Gregory Corman, an agent with Rodeo Realty serving Southern California, recently completed his new website project with our team at Agent Image. Gregory's IDX search and community pages are optimized to provide relevant content to visitors and search engines. The human visitor learns more about the community, its characteristics and housing options, while search engines have unique content to read and, therefore, index.

Target keywords & phrases
As we stated before, search engine algorithms are constantly changing to improve search results for users. Initially using keywords was basically all that there was to effective SEO. Now that SEO techniques have become more sophisticated, using keywords and phrases to optimize online searches must too evolve.
One way to use keywords more effectively is to target them more specifically. In other words, in addition to targeting your locality, you can target your prospective buyers directly. Some of the rising search categories are for first time homebuyers, retirees, renters, and those searching for home loans. Target your age demographic by going beyond basic "homes for sale" keywords and phrases and use "new homebuyers" or "50+."
Furthermore, long-tail search terms such as "mortgage options for new homebuyers" or "how to buy a home in Chicago" are most effective in gaining traction in the search engines, and often produce higher quality leads, as the visitor was looking for something very specific and actionable.
Write SEO-friendly blogs
The type of content on your website, if done correctly, can increase the effectiveness of your SEO strategy by more than 50%. That goes for your property descriptions, your Meta descriptions, and page tags. Even if your SEO techniques are solid, once a user clicks the link to your website, if your site is not full of helpful and interesting content, they will not linger there for long.
As effective as building a real estate website using advanced SEO concepts is, your search engine ranking is also based on your following. The more unique visitors to your website, the more popular your site becomes, and therefore the higher your rank. Write SEO-friendly blogs that spark interest and inform your visitors to make your website more useful and thereby more popular to improve your ranking.
See this tip in action: Ginger Martin, a luxury Napa Valley and Sonoma real estate specialist with Sotheby's International Realty, recently completed her new website with our team at Agent Image. Ginger and her team use their blog not only to provide visitors with interesting information on the area's housing market and events, this unique content helps fuel their search rankings.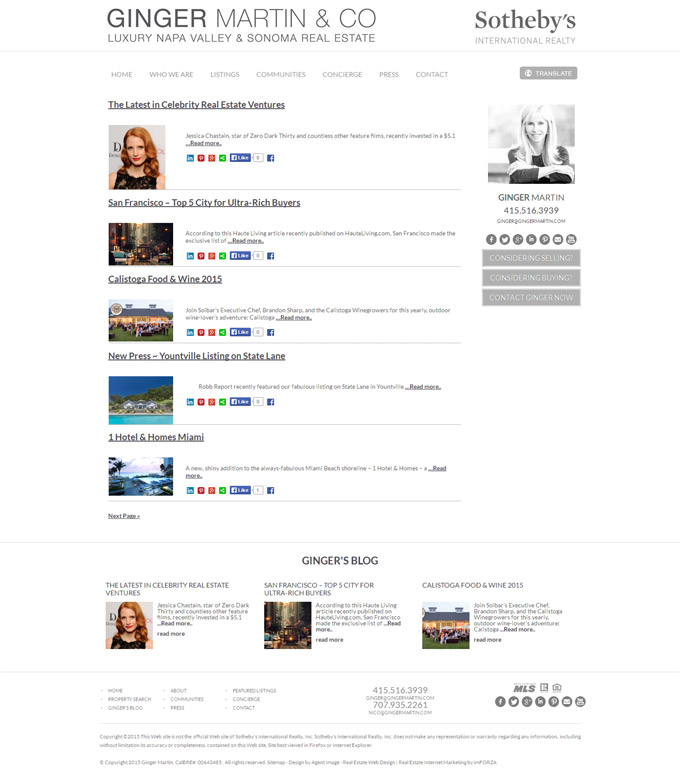 Add keywords to photos & images
Effective SEO blog content is not the only way to improve your ranking on Internet search engines. If you add specific keywords to photos and images on your real estate website, those too will help to move your site to the top of real estate searches. That includes adding tags and using file names that follow the SEO concepts that we have discussed previously.
Instead of tagging a particular property photo with a generic "Four bedroom" or "Colonial" use the locality, i.e., "Fort Lauderdale two bedroom Condo," to appear higher on the list in local real estate searches. Including video content as well when visitors look at a photo of your properties can triple or even quadruple inbound links to your website.
Enhance mobile searches
Use of mobile devices for real estate searches is more than doubling every year and just like SEO practices for websites are continually changing, so are SEO techniques for capturing the growing number of mobile searches. Google's algorithm has been recently updated to reflect this increase.
According to Google, the best way to enhance mobile searches is to use a method called "responsive design." Responsive design refers to how well your website responds to all devices. Google recommends using the same URL on all devices as opposed to building a website for mobile devices and a separate one for desktops.
This makes sharing your content easier and eliminates the need for users to be redirected to an external link. Like we said before, the key to building a successful real estate website is to make it most user-friendly and that includes making mobile searches easier.
Link to social media
Backlinks to your website is an effective way to increase your visibility on search engines. Building a robust social media site that links back to your real estate website can greatly improve your SEO ranking.
In fact, a study by Moz from 2013 showed that social media presence, particularly on Google+, was one of the factors with the strongest correlation to higher search engine rankings. Add retweet buttons, use hashtags, and frequently post on Facebook to improve your ranking on search engines and produce more unique visits to your site.
Build your name brand with SEO
A simple yet overlooked aspect to building an effective real estate website involves building your name brand online. Especially for real estate agents and brokers who operate under their own name or as part of a brokerage, getting your name to climb to the top of search engine results will take more effort.
For just a small monetary investment, you can buy your own domain name and unique URL to improve your SEO capability. Exact matches and partial domain matches are higher if your website ends in .com. Instead of free sites that include their name, for instance "wordpress," in your URL, buy that domain so that just [your name].com shows up in search engines.
Building a Top Performing Real Estate Website with SEO
You could access much of the free information on the Internet to craft a website that follows many of these concepts to improve the success of your site. However, as new algorithms, methods, and technologies evolve, if web design is not your specialty, it is very hard to stay up-to-date at all times.
At Agent Image, we do the work for you and because web design is our specialty, you are sure to have the latest and most advanced SEO capable website in your market. We offer a variety of design packages to meet your specific needs, and provide custom SEO packages to ensure your site is up to par.
Contact us, your real estate web design specialists at Agent Image, to discuss your options and to schedule an audit of your site! We look forward to helping you achieve all of your real estate marketing goals.
Did you enjoy reading this article?
Sign up for more updates with our Agent Intelligence Newsletter!
We are committed to protecting your privacy.
Real Estate Websites for Agents
Learn which package works best for you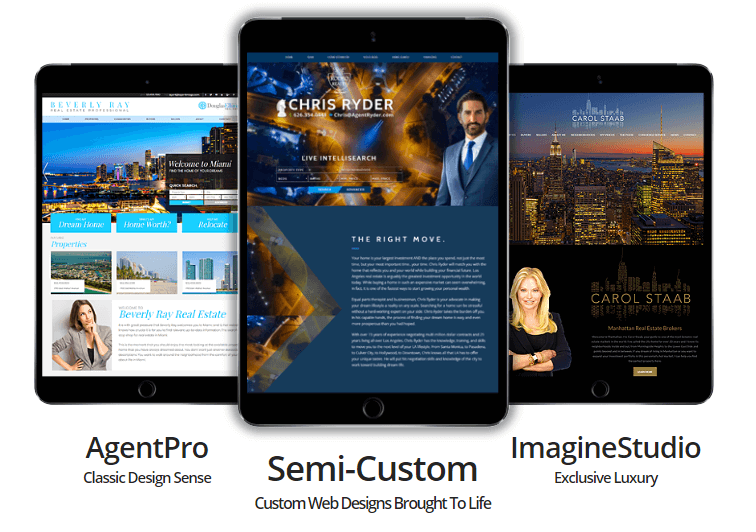 Learn More