Why Every Real Estate Website Needs SEO to be Successful
In many ways, building your online presence is like growing a garden. You can prepare the plot and sow the seeds, but if you don't maintain and nurture your garden, it simply won't flourish. The same can be said for your real estate website.
Even if you've designed, developed, and launched a beautiful site, it won't automatically get the #1 spot on Google search results. What you need is optimization – the maintenance and care your website needs to thrive.
All search engines index content on the web so whenever keywords are queried, only the most relevant results will be shown. As such, you must optimize your website to boost its chances of being ranked first – a process called search engine optimization (SEO).
To understand why every real estate website needs SEO to be successful, take a look at these statistics:
With numbers like these, agents and brokers must have real estate websites that are SEO-friendly so they can compete against a very stacked field. Not sure where to start? Take heed of these pro-tips!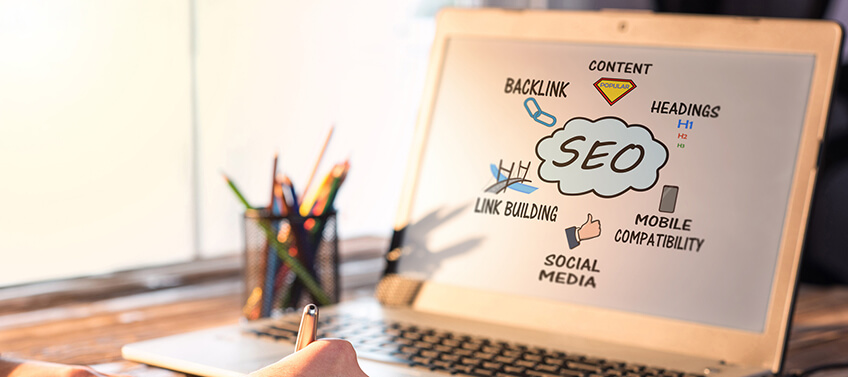 Understanding Real Estate SEO Concepts
While you should focus first on building a user-friendly website, you also need to use keywords that will help you rank favorably on Google. How you structure your website plays an important role, too, as does making sure your content is relevant and informative.
It's also worth noting that SEO isn't a one-off thing; it's a constant process of tweaking and adjusting. As search trends and algorithms evolve, so too must your optimization. Like all marketing strategies, SEO is all about playing the long game.
Start local
Real estate is all about location, location, location. As such, your SEO efforts should have a distinctly local focus if you want to get the best results. After all, 99% of consumers have used the internet to find a local business last year — and that includes real estate agencies like yours. Needless to say, online property searches are highly location-driven, too. "House for sale + location" is one of the most common online queries in today's red-hot real estate market.
Inserting phrases like "Palm Beach luxury condos" or "Miami realtor" into your website copy tells Google that you're catering to a specific community, allowing you to target local search interest more effectively.
Optimize IDX searches
An IDX allows users to refine their property search by location, number of bedrooms, price range, etc. To optimize IDX searches for Google, however, you must add relevant content to your listings. This makes each property page a comprehensive guide to a certain locale, which elevates your authoritativeness and credibility.
See this tip in action: The Jills Zeder Group, the #1 real estate team in the country, goes above and beyond with its IDX search feature. The site offers advanced filters for more precise results, and each listing is chock-full of valuable information. A blurb fills in buyers about the property and the community it belongs to, while a fact sheet details its specifications. Aside from photos, listings also have a virtual tour that lets prospects better appreciate a home. Most importantly, the site uses Google Maps' API to pinpoint the property's location. Not only does this allow users to save the listing for future reference, but it also does wonders for online searchability.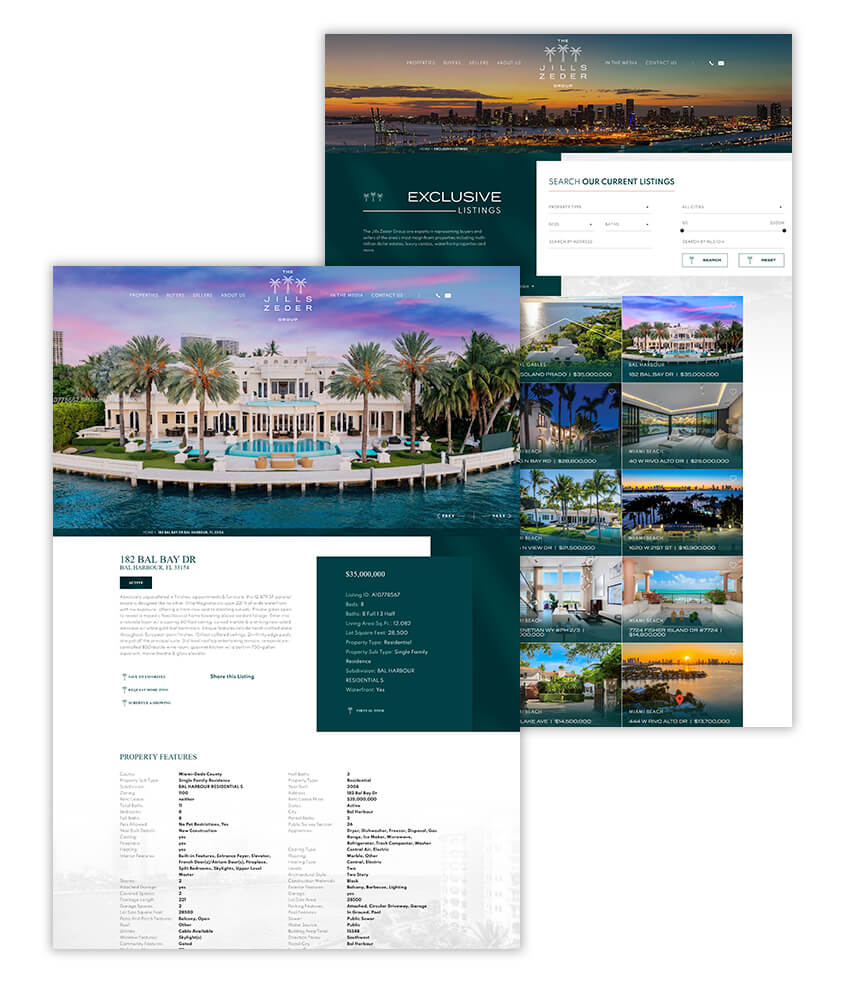 Segment your targeting
Finding the perfect SEO keyword is both an art and a science. On the one hand, you don't want a search term that's so generic that all your competitors already target it. At the same time, you don't want a keyword that's so niche that there's almost no search volume for it.
An easy way to improve generic search phrases is to make them more specific. Instead of just "homes for sale," for instance, you can add a location to make it more precise (e.g., "homes for sale in La Jolla CA"). You can also target specific audiences, such as first-time homebuyers, over-50s, new retirees, or property investors.
Furthermore, long-tail keywords like "mortgage options for new homebuyers" or "how to buy a home in Chicago" are great at targeting high-intent leads.
Write SEO-friendly blogs
A decade ago, SEO was all about adding as many search phrases as possible to a website. Nowadays, Google's algorithm not only focuses on the quality of content, but also actively penalizes over-optimized sites. After all, people visit a website or page to learn more about something — not to be bombarded with keywords.
That's why writing blogs has become a cornerstone of modern SEO. Imagine being a buyer and finding all the information you need about a real estate market on one website. Of course, that's not to say you can't include keywords in your content – as long as they're inserted in an unforced and logical way.
See this tip in action: Joyce Rey, the legendary Beverly Hills realtor with $5 billion in career sales to her name, uses blogging to showcase her expertise and provide in-depth information about California's elite real estate market. From celebrity home features, to property trends, to notable sales, it's clear that Joyce is an insider who knows what makes luxury buyers and sellers tick. In addition to being insightful, her blogs serve as an opportunity to naturally and tastefully insert keywords relevant to her business.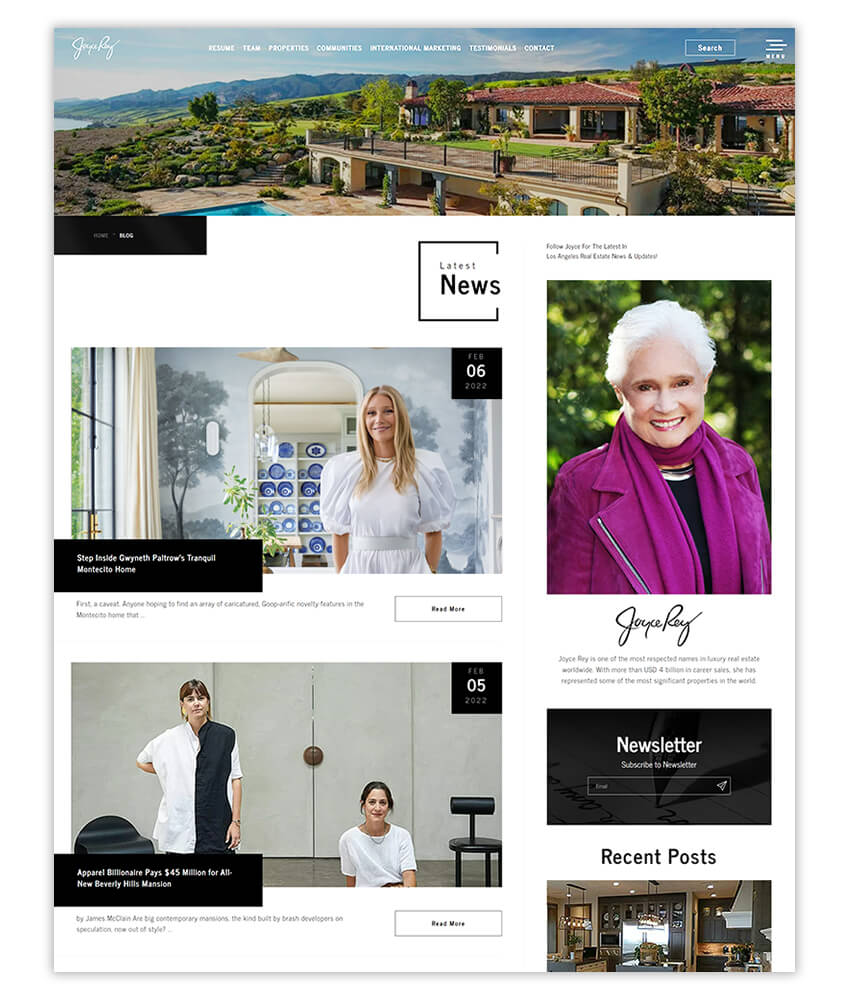 Add keywords to photos & images
SEO-friendly blog content is not the only way to improve your ranking on search engines. Adding keywords to images on your website can help lift your placement, too. Instead of using generic photo tags like "four bedroom house" or "colonial home," a better option would be "Fort Lauderdale two bedroom condo."
Enhance mobile searches
Did you know that mobile phones now account for 54% of global website traffic? Or that 76% of all homebuyers used a smartphone or tablet in their home search? That's why optimizing your website for mobile use is paramount
The best way to make websites mobile-compatible is so-called responsive design, which automatically resizes text, visuals, and interfaces for optimal use on smaller screens.
On a related note, Google recommends using the same URL on all devices as opposed to building a mobile-specific version of your site. This makes sharing your content easier and eliminates the need to redirect users to an external link.
Link to social media
Using Facebook, Twitter, and Instagram to share content like new listings and blog posts can increase your reach and generate organic web traffic. And if people reshare your content, you also get backlinks that add authoritativeness to your website.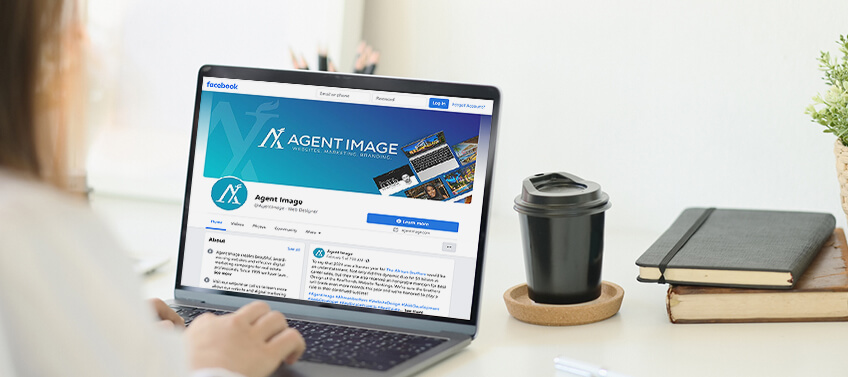 Build your brand with SEO
A simple but oft-overlooked aspect of building a solid online presence is capitalizing on your name and brand. This is especially ideal for agents or brokers who operate under their own name or lead a real estate team. Luckily, you can buy a domain that's named after you or your business for a small price. Doing so makes you seem more trustworthy and boosts your website's visibility for exact-name search queries.
Build a high-performing real estate website with SEO
At Agent Image, we do the hard work of designing your website and making it search engine optimized so you can focus on what you do best: delighting clients and closing deals. We offer a variety of flexible design packages and include SEO by default for a truly one-stop-shop experience. We also have writers who can craft engaging and informative content that both your audience and search engines will love.
Want to know more? Get in touch with our team by calling 1-800-979-5799 or use this contact form for a FREE consultation.
Did you enjoy reading this article?
Sign up for more updates with our Agent Intelligence Newsletter!
We are committed to protecting your privacy.
Real Estate Websites for Agents
Learn which package works best for you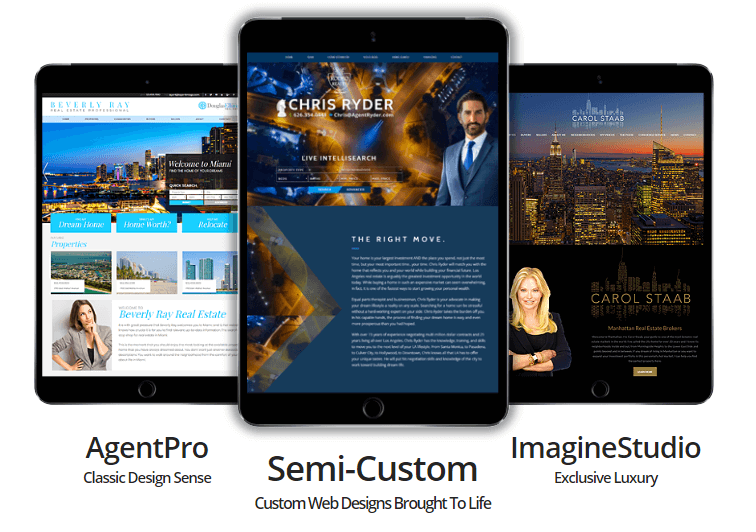 Learn More