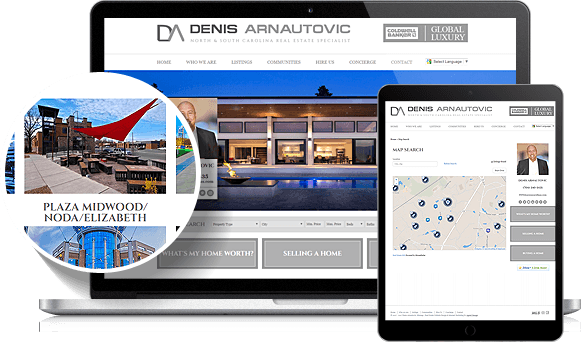 Denis Arnautovic
North and South Carolina
Denis Arnautovic provides simple, fast, and accurate IDX functionality to real estate customers in North and South Carolina with AccessCarolinas.com. Scroll down past the homepage image slideshow and you'll immediately finda search bar and relevant resources for homebuyers and sellers. The 12 informative Featured Community pages are designed to help virtually explore various locales, offering detailed and regularly updated listings alongside well-written area and community descriptions. Users can also maximize convenient features like saved searches and email alerts– features that provide a sense of continuity and sustained connection with Denis's service and expertise even after they leave the site.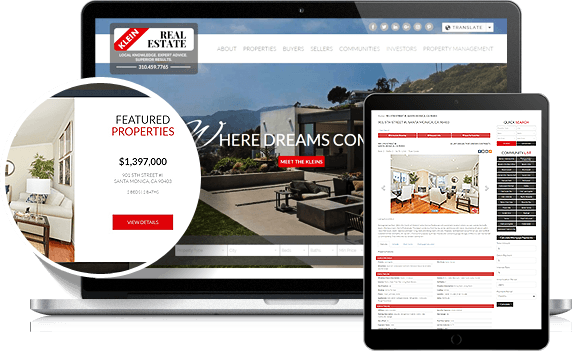 Klein Real Estate
Los Angeles, CA
The homepage of KleinListings.com seamlessly combines attractive visuals with effective calls to action on its full-width image slideshow. From the main menu, you can quickly launch into the site's offerings, from the listings search page, to the property value calculator, to client testimonials, and more. Even more functionality can be accessed without needing to scroll down as the site's quick search bar appears above the fold. Since Klein Real Estate specializes in the broad Westside area of Los Angeles, community sections needed to be broken down into individual pages. Each community IDX page is a wealth of information — containing charts, real estate stats and a list of Sold and New Listings linking to individual property pages.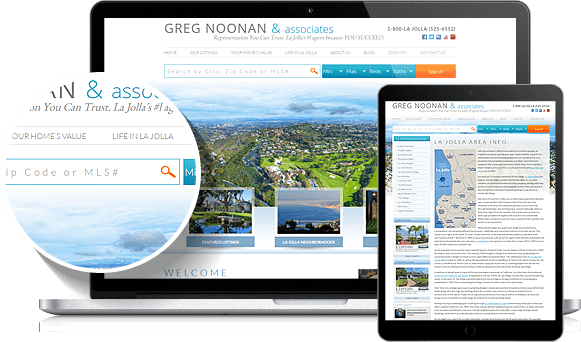 Greg Noonan & Associates
San Diego, CA
LaJollaHomes.com is an amazing IDX real estate site. Do one visit and users can already see that Greg Noonan & Associates are the experts in all things La Jolla. On the homepage, site visitors are first treated to a captivating aerial view of coastal San Diego. A quick scroll down will reveal the group's featured listings, neighborhoods, and the newest additions to their portfolio. These are neatly presented, with large pricing details and brief blurbs that invite you to click through to learn more. For sellers, requesting valuation is easy through a link found at the top banner. The search results shown on the custom IDX pages are also beautifully presented, with clean colors and minimalist layout. Listings with upcoming open house dates are labeled in red and the details page looks like its been taken straight out of a luxury interior design magazine.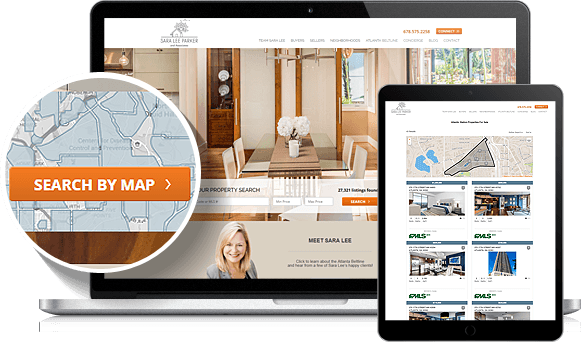 Sara Lee Parker
Atlanta, GA
The elegant white background of Sara Lee Parker's website serves as a crispcanvas for rich IDX features. After a parade of high-resolution property images invite you to experience luxury living in the Atlanta Beltline, the property search bar leads users to a wide range of property options – the toolbar, in fact, cites the total number of listingsavailable at the time of your visit. Users can also use an interactive map for a more visually engaging search based on neighborhood, city, or county boundaries. Beyond the main page, each neighborhood page features detailed area summaries that make the listings easier to appreciate.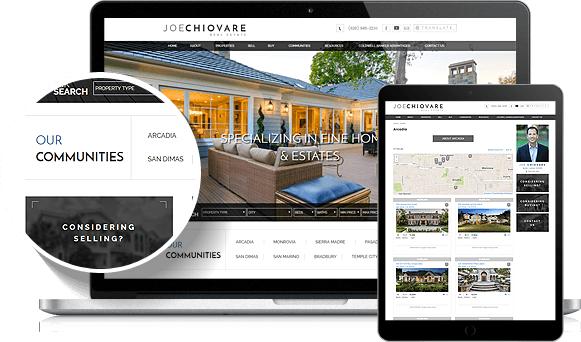 Joe Chiovare
Los Angeles, CA
It's easy to find your dream home on an elegantly designed real estate website like JoeChiovare.com. With a modern and fresh vibe, every section of the site is crafted to appeal to both buying and selling clients. Each community and search results page uses a custom IDX setup that features a map that pins the locations of available properties so users can see their options at a glance. Click on a particular listing and you'll be taken to a details page where you can tag the property as "Favorite," so you can come back to it later if you decide to continue shopping around.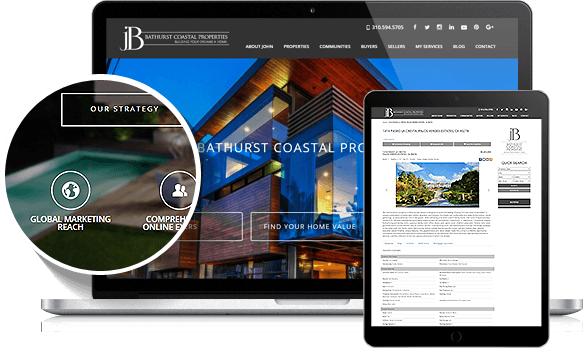 Bathurst Coastal Properties
Los Angeles, CA
BathurstCoastalProperties.com is always a crowd favorite in our showcase gallery and it's easy to see why. This real estate website doesn't just excel in aesthetics but in overall user experience as well. Browsing properties is a breeze since you can start your search from multiple sections of the site and the listing pages are presented beautifully, both on desktop and mobile. Check out a sample of their customized IDX integration and you'll see why IDX Studio is the perfect search solution for their luxury listings.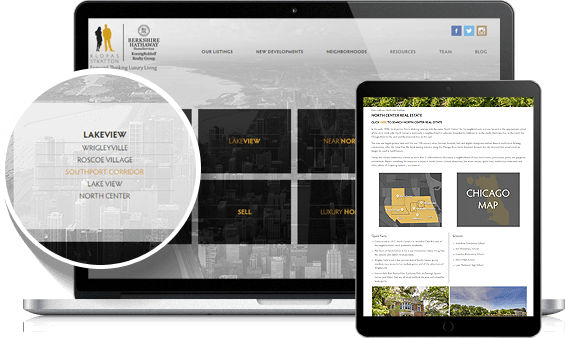 Klopas Stratton
Chicago, IL
KlopasStratton.com uses a minimalist layout and color scheme, making it easy for you to focus on your home buying or selling needs. On the home page, the featured neighborhoods are shown straight away so users can start their home search. Users are then directed to a custom designed community page that shows in detail the information, map and photos of the neighborhood. Scroll further and you'll see a seamlessly integrated IDX functionality that shows the available MLS listings for that area.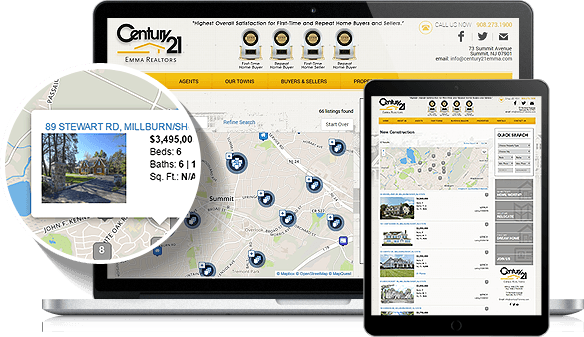 Century 21 Emma Realtors
Summit, NJ
Century21Emma.com makes sure that you hit the ground running as soon as their site loads, presenting a map of their listings alongside a quick search box. Below these are prominent links to the site's property value calculator and selling and buying pages. It's easy to navigate to the company's listings — you can either click on any image on the Featured Properties or browse through the site's community pages linked through the top menu. Getting Agent Image's IDX Studio as their property search solution is a good strategy since it's the perfect blend of design and functionality.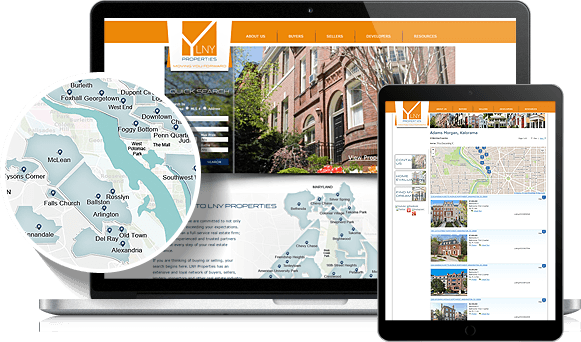 LNY Properties
Washington, DC
Clean and direct to the point, LNYProperties.com makes searching for a home in Washington D.C. a walk in the park. Set against a light background color, the contents of the site stand out and call out to its viewers. The one-click interactive map search on the homepage is a feature you have to check out! Click on any of the areas on the map and it will immediately take you to a custom IDX page that shows the available properties in the neighborhood that you chose.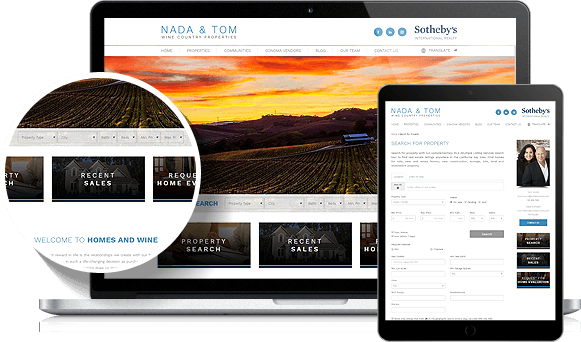 Nada & Tom
Sonoma, CA
Whether you're looking for an entry-level home, a luxury estate, or a farm or commercial property in California's Sonoma wine country, HomesAndWine.com makes it easy to find the right choice. The advanced search page features an interactive map, enabling a more flexible, customized search. Rich, informative content can be found all throughout the site, designed to ease potential buyers and investors into the Sonoma real estate market. These include community profiles (in text and video form), a directory of reliable vendor partners, and a blog section that offers market updates and feature interviews with notable members of the local community.