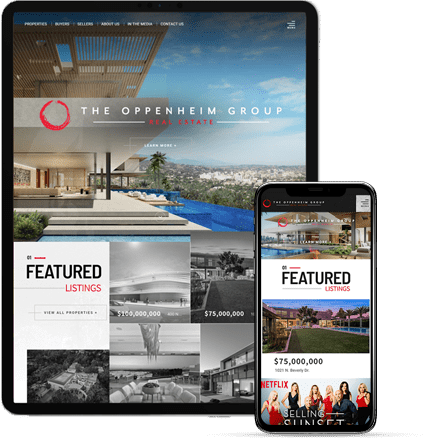 The Oppenheim Group
Los Angeles, CA
As agents to the stars, The Oppenheim Group knows a thing or two about style and substance. Their real estate website is proof. In addition to being a visual treat on the vertical, high-resolution displays of modern mobile devices, OGroup.com boasts a clean layout that effortlessly flows while highlighting the information that matters most—from featured listings to the company's long list of services. With its complete package of form and function, this website has claimed the top spot on REAL Trends' 2019 list of Best Overall website designs.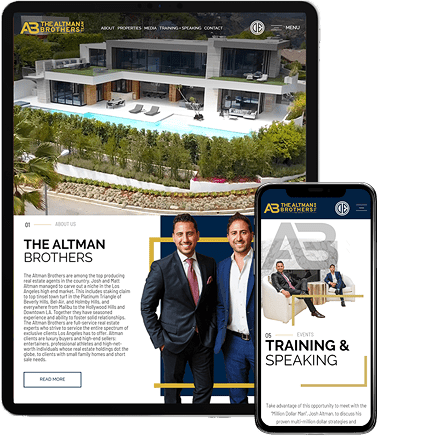 The Altman Brothers
Los Angeles, CA
As leading authorities in Los Angeles luxury real estate, the Altman Brothers embody sophistication and confidence. There is little surprise that the very same qualities describe their professional website. TheAltmanBrothers.com is the ideal platform for LA's most prestigious multi-million dollar properties, with featured listings showcased on the home page using automated image slideshows. Brandishing a sleek layout with sharp navy and gold accents, compelling high-quality images and video, and easy-to-read content, this mobile-ready website deserves its spots in REAL Trends' 2019 Best Mobile and Best Overall website rankings.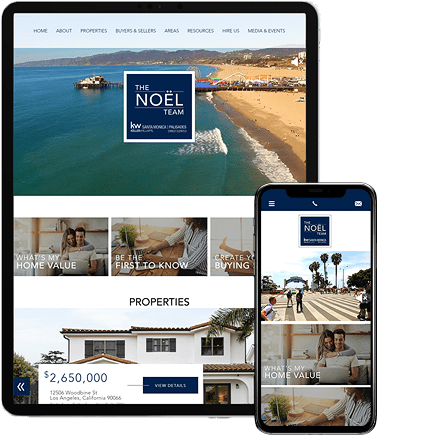 The Noël Team
Santa Monica, CA
Ever wanted to hold paradise in the palm of your hand? Check out The Noel Team's breathtaking website from your phone. Ranked sixth among REAL Trends' 10 Best Mobile websites of 2019, TheNoelTeam.net draws you in with crisp, high-definition videos of the vibrant Pacific Palisades lifestyle at the top of the home page. Scroll further down and be mesmerized by animation effects that introduce the site's various features. Each new page element inspires action as it slides into view, inviting visitors to explore featured properties, read relevant real estate resources, and more. Now that's smart design.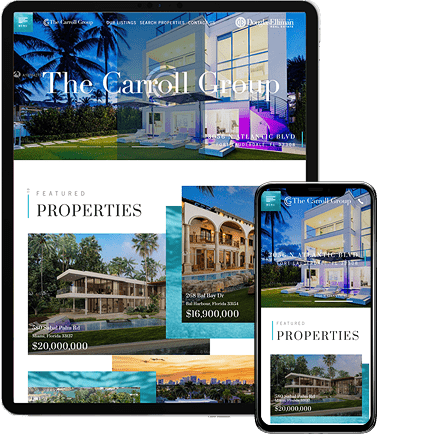 Chad Carroll
Miami, FL
South Florida's most aspirational homes for sale instantly take the spotlight when you fire up TheChadCarrollGroup.com on your mobile device. With this deliberate design choice, Chad Carroll and his team send a clear and resounding message: With us, you are always one tap away from the home of your dreams. Backing up this bold claim are useful tools and features like quick search fields and curated listings pages—all presented with a refreshing water-inspired color scheme that evokes South Florida's irresistible oceanfront vibe.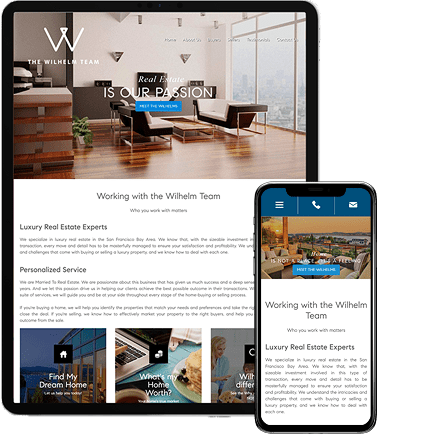 The Wilhelms
San Francisco, CA
The mobile version of the Wilhelm's real estate website shows how limited screen space is no barrier to functionality – in fact, it can serve to heighten it. MovingToTheBayArea.com knows what to prioritize: large contact buttons are prominently displayed on top and a customizable home search tool occupies the bottom half of the screen. In the middle, the eye-catching image slideshow features buttons that lead to the Wilhelms' about page and to their listings. Clear, compelling copy pulls everything together and encourages the user to keep scrolling.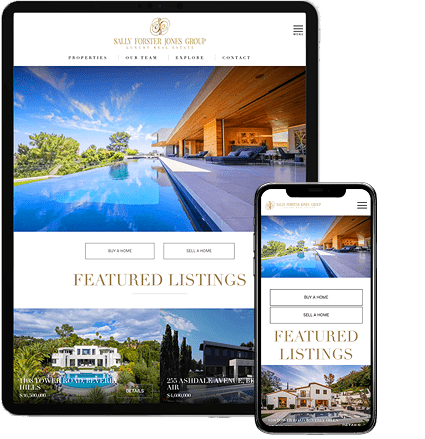 Sally Forster Jones
Los Angeles, CA
Decked in an immaculate white background with eye-catching gold accents, Sally Forster Jones's website epitomizes elegance in simplicity. This website boasts a straightforward and mobile-friendly design that keeps the most important features front and center. Curious about the Westside LA lifestyle? Let the topmost video wall take you on a journey through the region's most exquisite living spaces. Looking for the finest homes for sale? Find the latest featured listings just below the fold. Whatever your real estate goals, you can achieve them faster with SallyForsterJones.com as your starting point.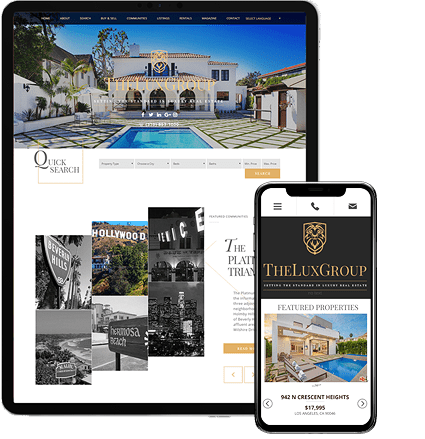 The Lux Group
Los Angeles, CA
If you're going to do a pop-up on mobile this is how you do it. TheLuxGroup.com's real estate website is tasteful, tells you what you're going to get if you subscribe to their newsletter, and has a prominent close button. This is also how you do social media sharing buttons – lined up in a row at the bottom, they are easily viewable and, like the large main menu and contact buttons on top, are a permanent feature on every page whether you're viewing on a phone or a tablet.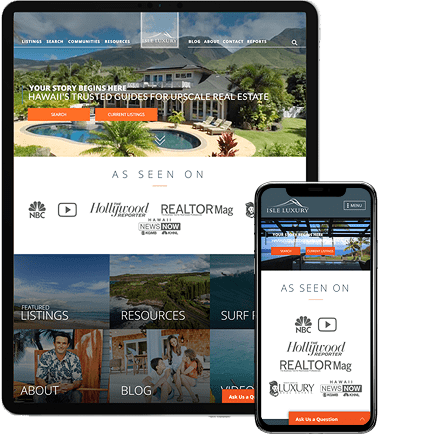 Isle Luxury
Maui, HI
From the get-go, IsleLuxury.com's mobile version invites guests to take part in Hawaii's upscale real estate. A mini video tour of the Hawaiian islands greets interested buyers and sellers to the page, followed by dedicated buttons for home search and the latest property listings. Guests can also get in touch with Greg Burns of Isle Luxury straightaway using the contact form on the bottom right side of the page.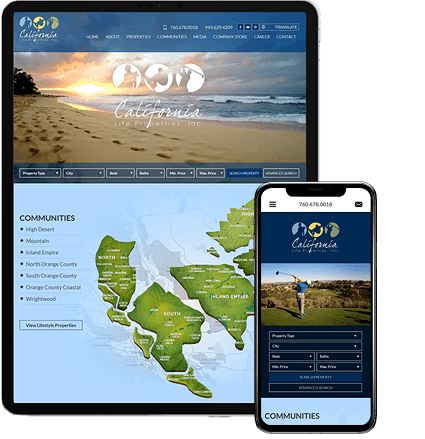 California Life Properties
Victorville, CA
Guests are swiftly invited to explore Southern California and its vast real estate market as soon as CaliforniaLifeProperties.com's mobile version is fully loaded. A video feature, followed by a customizable and highly advanced home search tool, lets people know California Life Properties means business. The piece de resistance of the mobile website, however, is the interactive map of Southern California, detailing the many real estate markets found in the region.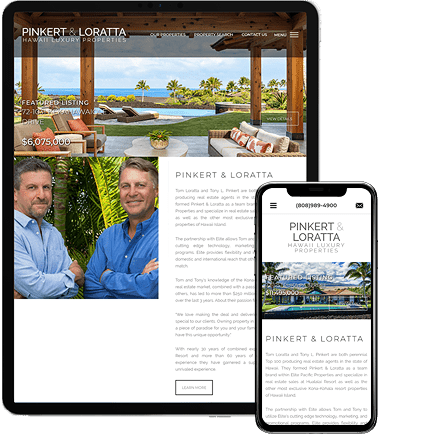 Pinkert & Loratta
Kona-Kohala Coast, HI
It's relatively easy to look for the best luxury properties in Hawaii's famed Kona-Kohala Coast using Pinkert & Loratta's mobile website. Once the page loads, the spotlight immediately shines on the latest luxury listings in the market. Guests can contact Tom Loratta and Tony L. Pinkert right away using the contact button on top of the page. Dedicated community guides are accessible via anchored buttons that feature professionally shot images. Further down, one can read all about Pinkert & Loratta's exceptional client service with the dedicated testimonial box. The overall result is a user-friendly and functional real estate website, a prime example of what mobile pages should be.