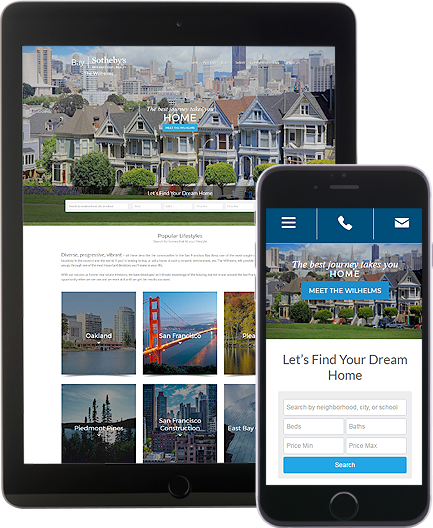 The Wilhelms
San Francisco, CA
The mobile version of the Wilhelm's real estate website shows how limited screen space is no barrier to functionality – in fact, it can serve to heighten it. MovingToTheBayArea.com knows what to prioritize: large contact buttons are prominently displayed on top and a customizable home search tool occupies the bottom half of the screen. In the middle, the eye-catching image slideshow features buttons that lead to the Wilhelms' about page and to their listings. Clear, compelling copy pulls everything together and encourages the user to keep scrolling.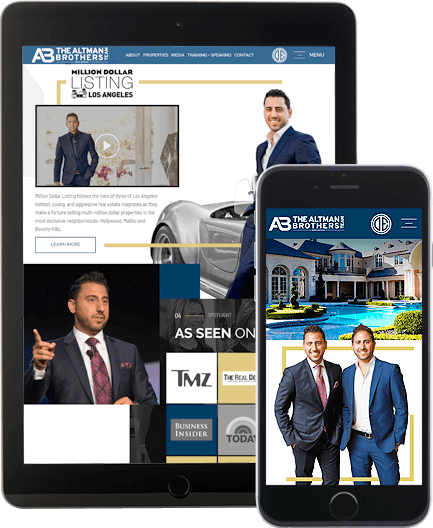 The Altman Brothers
Los Angeles, CA
The Altman Brothers are at the top of their game, and their real estate mobile-responsive website lets people know just that. The clean layout, along with the navy and gold accents, are the very epitome of LA cool, made dynamic by the addition of slide shows that showcase featured properties in Los Angeles luxury real estate. One look at TheAltmanBrothers.com and guests will quickly know they're in very good hands.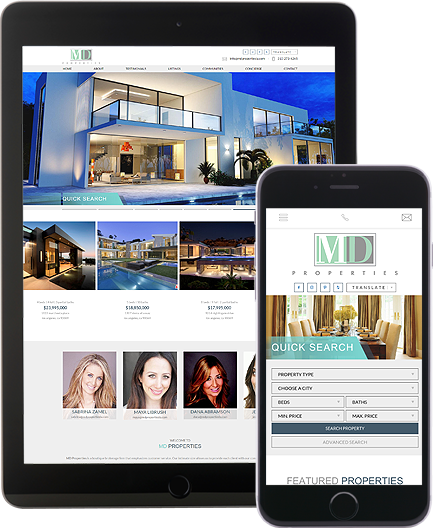 MD Properties
Los Angeles, CA
Boutique Los Angeles brokerage MD Properties caters to the needs of an international, always-on-the-go clientele, and this translates well on their mobile real estate site. Note the helpful translate and social media sharing buttons just above the quick search tool. Swipe left or right to view crisp, beautiful images of featured properties and go further down the page to meet the team and view listings by community. Easily navigate to other pages, which include buyers' and sellers' guides as well as about and testimonials pages, via the main menu.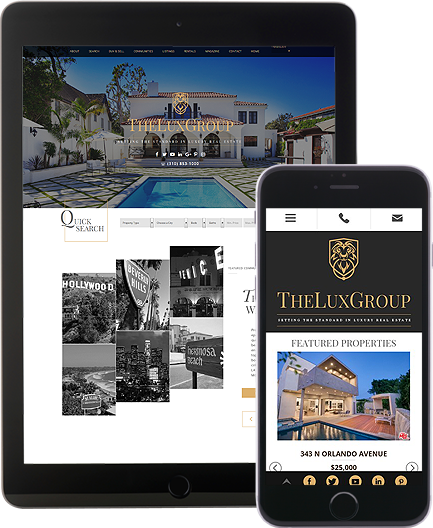 The Lux Group
Los Angeles, CA
If you're going to do a pop-up on mobile this is how you do it. TheLuxGroup.com's real estate website is tasteful, tells you what you're going to get if you subscribe to their newsletter, and has a prominent close button. This is also how you do social media sharing buttons – lined up in a row at the bottom, they are easily viewable and, like the large main menu and contact buttons on top, are a permanent feature on every page whether you're viewing on a phone or a tablet.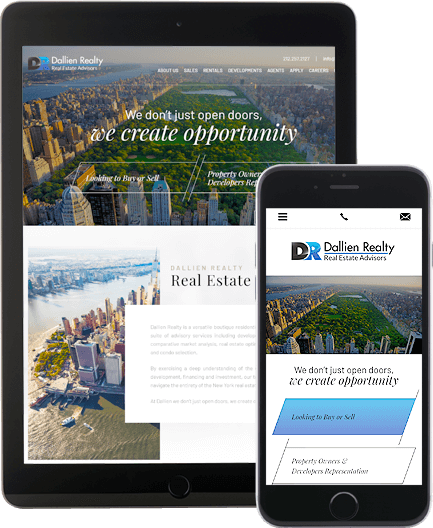 Dallien Realty
Manhattan, NY
Dallien Realty's mobile website embodies the style of the real estate market it serves. A bird's eye view of Central Park smoothly transitions to the rest of the page, which feature clean lines and a beautiful serif font. Exclusive listings in the form of image-anchored buttons appear as one scrolls down, offering buyers a glimpse of what New York City real estate has to offer. The website is neatly tied together by a modern layout, which also features a contact form should interested parties wish to get in touch with Dallien Realty.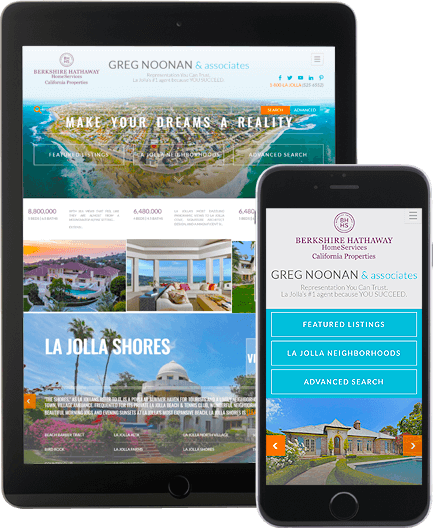 Greg Noonan
La Jolla, CA
Great customer service and "representation you can trust" − these factors are just some of what makes Greg Noonan and his team the go-to specialists for La Jolla, CA real estate. This message is evident in their website's mobile version, which takes guests straight to what matters: featured listings, advanced home search tools, and the best neighborhoods in the city. For easier navigation, guests can simply click the button on the top right side of the page.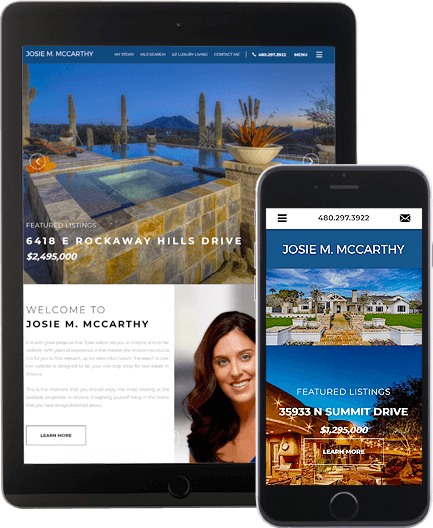 Josie McCarthy
Phoenix, AZ
On desktop, Josie M. McCarthy's website is expansive. The borderless images and the subtle minimalism are simple and refined. These are well-translated on the mobile version of JosieMMcCarthy.com. Front and center on the mobile website are the latest luxury property listings in the Phoenix metro area. Note the arrows, which allow guests to go back to the property that caught their eye. Josie's contact details are always available as one scroll through the page. And should one think to find her on social media, handy links can be found down the page.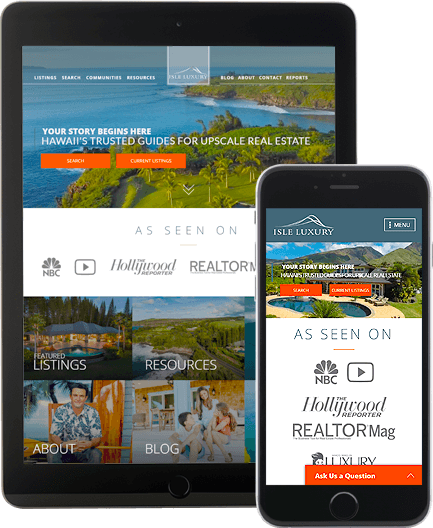 Isle Luxury
Maui, HI
From the get-go, IsleLuxury.com's mobile version invites guests to take part in Hawaii's upscale real estate. A mini video tour of the Hawaiian islands greets interested buyers and sellers to the page, followed by dedicated buttons for home search and the latest property listings. Guests can also get in touch with Greg Burns of Isle Luxury straightaway using the contact form on the bottom right side of the page.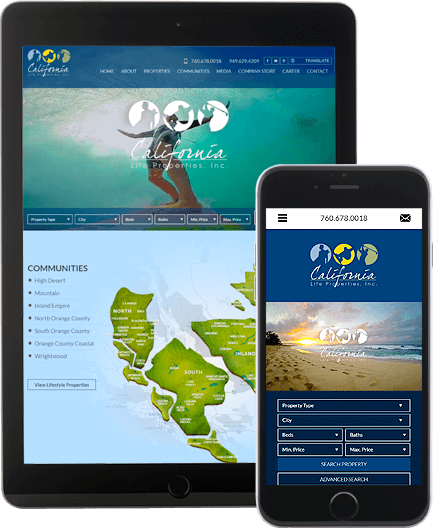 California Life Properties
Victorville, CA
Guests are swiftly invited to explore Southern California and its vast real estate market as soon as CaliforniaLifeProperties.com's mobile version is fully loaded. A video feature, followed by a customizable and highly advanced home search tool, lets people know California Life Properties means business. The piece de resistance of the mobile website, however, is the interactive map of Southern California, detailing the many real estate markets found in the region.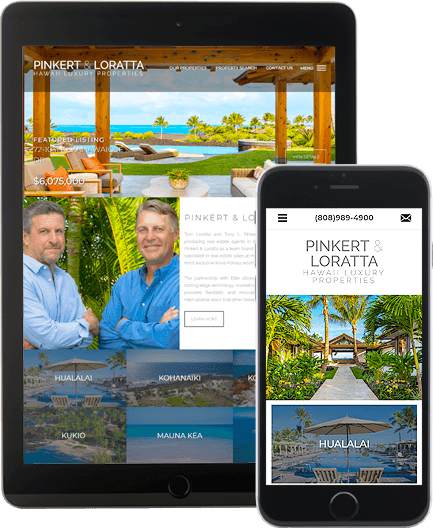 Pinkert & Loratta
Kona-Kohala Coast, HI
It's relatively easy to look for the best luxury properties in Hawaii's famed Kona-Kohala Coast using Pinkert & Loratta's mobile website. Once the page loads, the spotlight immediately shines on the latest luxury listings in the market. Guests can contact Tom Loratta and Tony L. Pinkert right away using the contact button on top of the page. Dedicated community guides are accessible via anchored buttons that feature professionally shot images. Further down, one can read all about Pinkert & Loratta's exceptional client service with the dedicated testimonial box. The overall result is a user-friendly and functional real estate website, a prime example of what mobile pages should be.