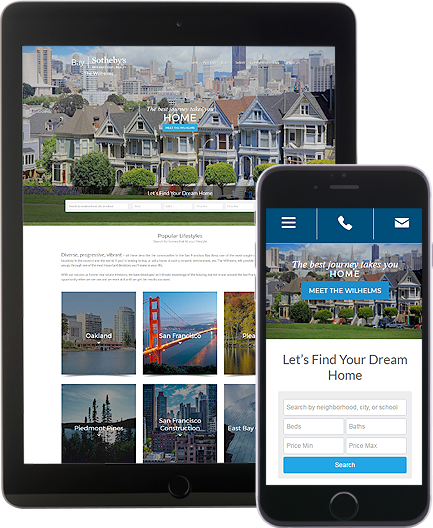 The Wilhelms
San Francisco, CA
The mobile version of the Wilhelm's real estate website shows how limited screen space is no barrier to functionality – in fact, it can serve to heighten it. MovingToTheBayArea.com knows what to prioritize: large contact buttons are prominently displayed on top and a customizable home search tool occupies the bottom half of the screen. In the middle, the eye-catching image slideshow features buttons that lead to the Wilhelms' about page and to their listings. Clear, compelling copy pulls everything together and encourages the user to keep scrolling.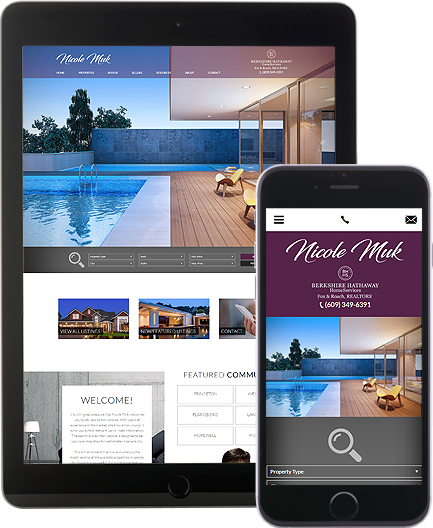 Nicole Muk
Princeton, NJ
Viewed on a mobile device, NicoleMuk.com is just as visually striking as its desktop version. In keeping with Muk's subtle and elegant branding, this agent website has discreet but easily seen contact buttons beside the main menu dropdown on top. Swipe up and immediately access the search tool, which lets you search by property type, area, price, and number of bedrooms. Launch a more customized search by tapping the "Advanced" button. Large, image-anchored buttons enhance the user experience as does the contact form at the bottom of each page.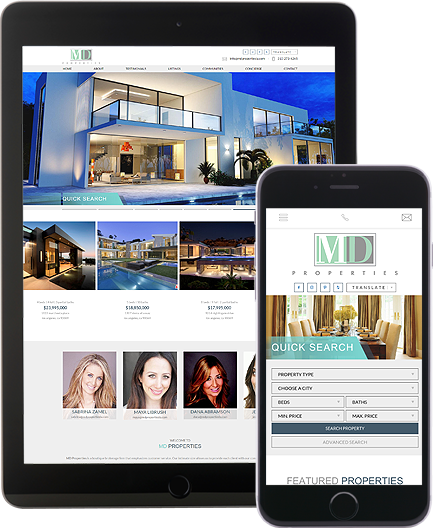 MD Properties
Los Angeles, CA
Boutique Los Angeles brokerage MD Properties caters to the needs of an international, always-on-the-go clientele, and this translates well on their mobile real estate site. Note the helpful translate and social media sharing buttons just above the quick search tool. Swipe left or right to view crisp, beautiful images of featured properties and go further down the page to meet the team and view listings by community. Easily navigate to other pages, which include buyers' and sellers' guides as well as about and testimonials pages, via the main menu.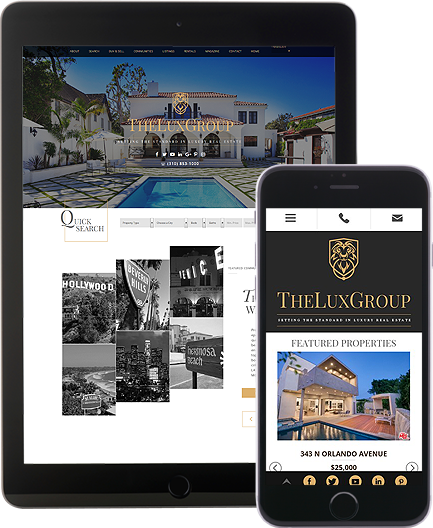 The Lux Group
Los Angeles, CA
If you're going to do a pop-up on mobile this is how you do it. TheLuxGroup.com's real estate website is tasteful, tells you what you're going to get if you subscribe to their newsletter, and has a prominent close button. This is also how you do social media sharing buttons – lined up in a row at the bottom, they are easily viewable and, like the large main menu and contact buttons on top, are a permanent feature on every page whether you're viewing on a phone or a tablet.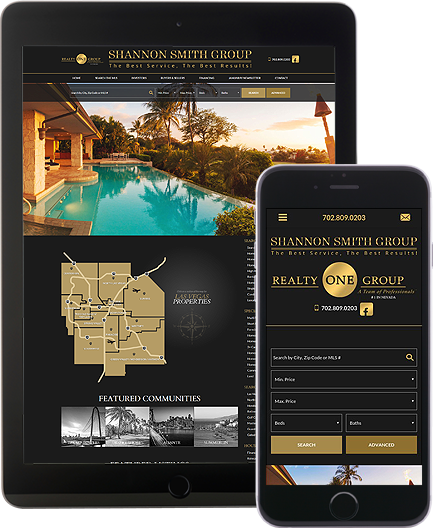 Shannon Smith Group
Las Vegas, NV
The Shannon Smith Group's responsive real estate website keeps things lean for smaller screens. On smartphones, the team's logo, contact info, and the customizable property search tool are first displayed. Screens with larger real estate, like tablets, hew more closely to the design of the desktop version. Because people access sites on multiple devices, it's important to provide the best possible experience for each, which is what responsive design is all about. And this is exactly what VegasCribs.com succeeds in doing.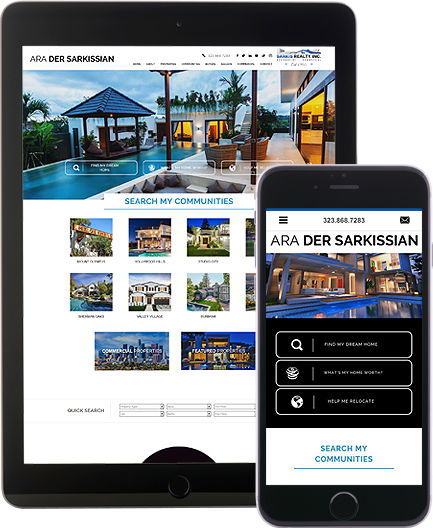 Ara Der Sarkissian
Mount Olympus, CA
Navigating a real estate agent website that has a lot of listings can be tricky on a mobile device. AraSellsLA.com works around this by keeping things simple and well-spaced. Images and buttons are large and easily distinguishable and the overall streamlined look means that there aren't too many competing visual elements, which makes it easier for a user to focus. Contact info is prominently displayed throughout, contact forms are easy to fill out, and Ara's branding is emphasized without being in your face.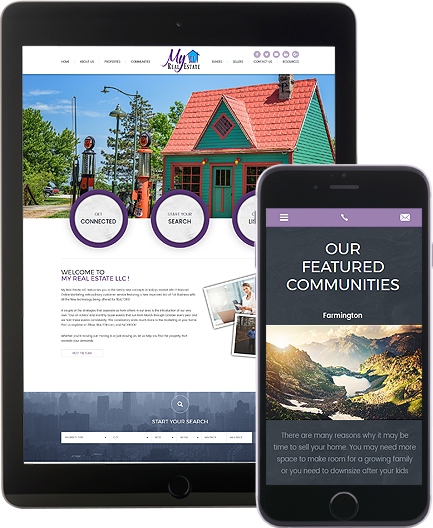 My Real Estate
Farmington, MO
My Real Estate LLC's responsive website view works great for mobile home searchers. There are 3 navigation buttons that are big and round and feature prominently on every page (though they're further down in the inner pages). Note as well the property search tool or contact form at the bottom of each page. These handy features ensure that users can easily do quick searches or get in touch with your team at any point during their browsing.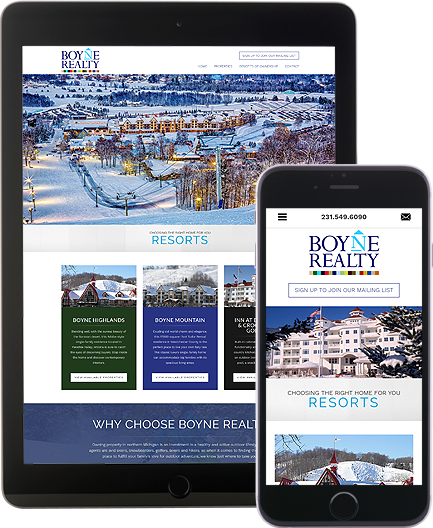 Boyne Realty
Boyne Falls, MI
The mobile site of Northern Michigan real estate firm Boyne Realty underscores the fact that they're not just selling homes; they're selling the Boyne Mountain lifestyle as well. Swipe up on the homepage to immediately access available properties in the area or tap on the sign-up button to join their mailing list. The layout is simple and logical and there's a contact form at the bottom of every page, making it easier for users to get in touch with the firm.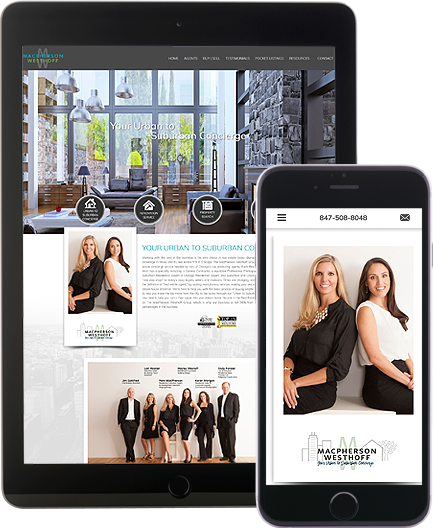 MacPherson Westhoff
Chicago, IL
Chicago's MacPherson Westhoff Group smartly highlights their tagline – "Your Urban to Suburban Concierge" – on their site, whether viewed on desktop or mobile. Their responsive site looks clean and crisp on any device, with a clear, highly legible font and well-lit professionally shot images. The inner pages are easily accessible via the main menu and main buttons and there are plenty of helpful resources, including buyers' and sellers' checklists and links to a mortgage calculator, neighborhood guides, maps, preferred service providers, and school info.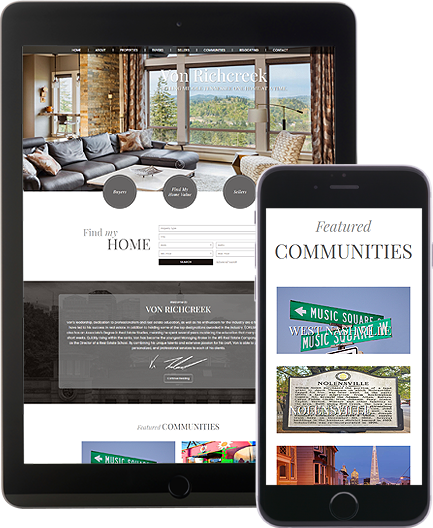 Von Richcreek
Middle Tennessee
Subtle animation adds a dynamic feel to the mobile version of broker Von Richcreek's site. Buttons are large as is the font size used for the copy – no squinting or zooming necessary. Von's featured properties are just a tap away and users can also view currently available homes for sale by community. The gray and white color palette enhances ease of use, making elements easily visible. High-quality images are used throughout, which adds to the site's overall visual appeal and entices users to linger.