Agent Image Now Offers You Better Email Service via Google Apps!
As part of our mission to improve the business services of our clients, we will be providing business email via Gmail. We're inviting all of our existing customers to upgrade to G Suite (formerly Google Apps). As a courtesy to our loyal customers, it's a $199.00 value that we'll perform free of charge. One of our web consultants will walk you through the steps and make sure you're email is up and running.

Why Choose Google?
Google offers the best-in-industry security, trust, 50x more email storage than the industry average, proven cost savings and a 99.9% up-time reliability guarantee. It allows you to focus on what you do best. At the same time, we can rely on Google's engineers to stifle hardware and software attacks to maintain a seamless standard of service you expect.
G Suite Email is more than just email, it's an extremely powerful suite of business tools that will empower your office and enhance the real estate business activities associated with your website. Hundreds of our agents and brokers have already been migrated to Google Apps.
Agent Image Help and Support
We'll continue to support email questions by phone, giving you one-on-one assistance should you need it. Soon, we'll begin offering training sessions on how to use G Suite or Google Apps to enhance your real estate business. If you're an existing Agent Image client and have less than 50 email users, your migration can be done over the phone with us for free.
You still can use your own domain name to send and receive emails. Our trained professional Web Consultants will be happy to help walk you through the process and help move any of your emails. The process is seamless and migration usually takes about 24 hours.
Power and Convenience
Gmail gives you a full 7 GB of storage for your email for each user and up to 50 users! That's 14x the storage and 5x the amount of users we previously offered. Now, you no longer need to store messages on your computer and take up valuable storage space. Everything will be saved virtually.
Innovative features to help you work more efficiently, including email labels, email conversations, and Google-powered search.
Easy Access
Log in to Google Apps from any computer at any location to get email, check your calendar, or collaborate on a document. If you're remote or on your home computer, you can still access Google Apps in your web browser.
Never lose data; even if your computer crashes or is lost or damaged. All your work is hosted and safely backed up on Google's secure servers instead of on your computer.
Better Collaboration and Productivity
Coordinate meetings and company events by sharing calendars that anyone (or just a select few) can view alongside their own agenda.
Share documents, spreadsheets, and presentations that multiple team members can view and edit all at the same time.
Send and receive instant chat messages right in your Gmail window.
Share videos with your team or throughout the company to get your message across in style.

Did you enjoy reading this article?
Sign up for more updates with our Agent Intelligence Newsletter!
We are committed to protecting your privacy.
Real Estate Websites for Agents
Learn which package works best for you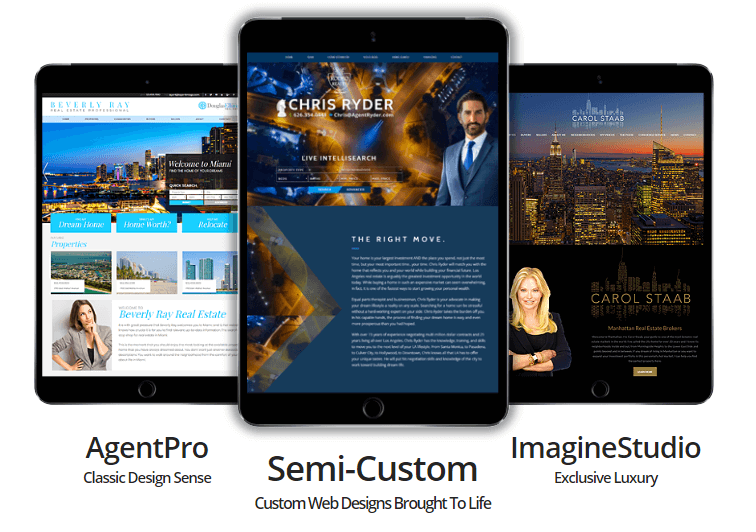 Learn More