6 Key Features Found in Successful Real Estate Websites
If a prospective homebuyer or seller in your market area is looking for statistics in a specific neighborhood that you represent, can they find it easily? Will they have to click through several pages to get there? What about your website design? Is it appealing to visitors or is it driving them away?
Today there are at least 6 key features found in successful real estate websites. These features determine whether or not your real estate website will excel above the rest or fall behind.
Feature #1: Search-Ability
In order to get users to find what they're looking for within a few clicks, you need to provide an easy to use property search functionality. Improving search-ability includes adding a basic IDX search bar on your homepage and options for more advanced search (map search, property type search, etc.)
When users search within your website, they should be able to easily navigate around and find the information that they are looking for. Adding an IDX search bar enables visitors to specify listings based on a preferred number of rooms, square feet, amenities, etc. Once the results come up, each listing should include detailed property and neighborhood information. Make sure there are options for users to save their custom searches if they want to view this information again at a later time. Should a user be interested in knowing more about the listing,, your contact numbers should be prominently displayed on the top portion of your site header or a contact button should be just one click away.
Feature #2: Mobile Capability
Mobile users look negatively upon website designers that do not optimize their websites for mobile devices. Since more users access the Internet via mobile device than via desktop computer nowadays, enabling your website to function properly on smartphones and tablets is critical.
Your mobile site should mirror your main real estate website. If you use high quality images and video on your website, make sure that those images and videos show up on all mobile devices properly too.
Feature #3: Quality Information
When building content for your website, you should always focus on providing quality information and plenty of opportunities for interaction with your visitors. Successful real estate websites master these two key features: education and follow up.
Educate
The best real estate websites educate without lecturing. They are able to keep their visitors engaged with interesting information that is unique, original, and helpful. Most of all, successful real estate agents use their websites to educate their audience on multiple levels, making them the go-to agents in their area:
Community Information – Add up-to-date neighborhood information, photos, videos, area statistics, school rankings, and local attractions to each property page. These types of content helps boost your SEO too!
Financial Resources – Set your agency apart by providing easy-to-use online mortgage calculators, display real-time market information, and post blogs explaining the home buying and selling process.
Local Resources – Include external links to resources for local insurance agents, mortgage companies, appraisers, etc.
Feature #4: Interaction
Follow Up
Remember to always respond within a 24 hour period to queries. Put auto-responders in place to direct inquirers to pertinent information. Nearly 80% of consumers complain about a lack of response as a major reason for refusing to do business with particular companies.
In most cases you only have a week to respond. In real estate you have one day. Homebuyers and sellers have tons of choices these days. Make your services stand out with personal on call response and follow up.
Feature #5: Aesthetic Quality
Many real estate agent websites focus too heavily on appearance while ignoring functionality or vice versa. There is no need to sacrifice one for the other. The solid reputation held by our team at Agent Image for top quality web design is well earned because we develop beautiful looking websites that function beautifully as well.
Feature #6: Functionality
Equally important as the aesthetic quality of your real estate website is its functionality. No mobile capability, broken links, search functionality errors, slow loading pages, and blank pages are all reasons why users will leave your website and continue searching for a more professional real estate agent in your area. Functionality and aesthetic quality go hand in hand.
Website Creation and Innovation
As an industry leader in real estate website building, our record of success stretches back over more than 15 years creating beautiful, functional, and up-to-date real estate websites.
We make sure that our designs are 100% original and function beautifully on all devices. Learn more about how to add these 6 key features of successful real estate websites and more by contacting our team today at 1.800.979.5799 or request a free consultation below!.

Did you enjoy reading this article?
Sign up for more updates with our Agent Intelligence Newsletter!
We are committed to protecting your privacy.
Real Estate Websites for Agents
Learn which package works best for you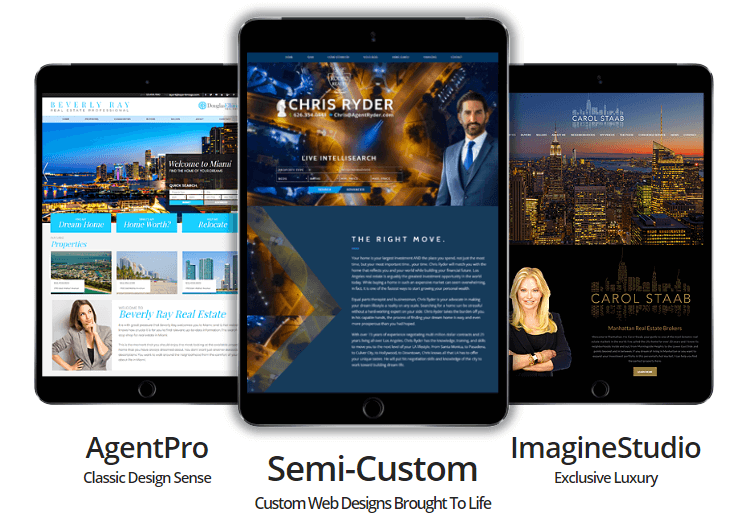 Learn More