10 Best Real Estate Websites for December 2021
And just like that, we're closing the chapter on another year. But before we bid adieu to 2021, let's take a look at the most impressive websites we created in December.
Our team really pulled out all the stops this month to finish the year strong. By using clever design elements, tasteful color palettes, and user-friendly features, we are helping agents elevate their game — and dominate their markets in 2022.
Anastasia Gaido
Galveston, Texas
Anastasia understands that Galveston's biggest draw is its excellent lifestyle. Fittingly, her website opens with a video of her exploring the city and experiencing all the wonders it offers. Not only does this feature demonstrate her mastery of the market, but it also allows site visitors to get to know and warm up to her. Since Anastasia is part of Christie's International Real Estate, we also made sure that our design exudes effortless elegance — something we achieved with a stylish parallax scrolling effect and a sophisticated color palette.
What makes this website stand out: When designing Anastasia's website, we wanted to highlight her excellent local content. A section on the homepage is dedicated to featuring her professionally made video tours of the various communities in Houston.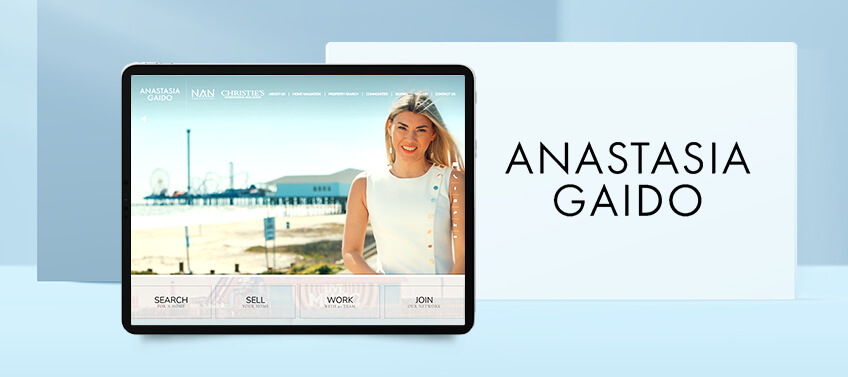 David Kramer
Beverly Hills, California
When it comes to luxury real estate in Los Angeles, few names can top David Kramer. We highlighted this fact by including a section for the record-breaking achievements his team and Hilton & Hyland achieved in 2020. Knowing that the homes David sells speak for themselves, we opted for a simple and sleek design. This is complemented by a blue color palette that lends the site an aristocratic flair.
What makes this website stand out: The new normal has changed the real estate market, so we made sure that David's website is future-proof. As such, each listing comes with a virtual tour that gives prospective buyers a peek into a property.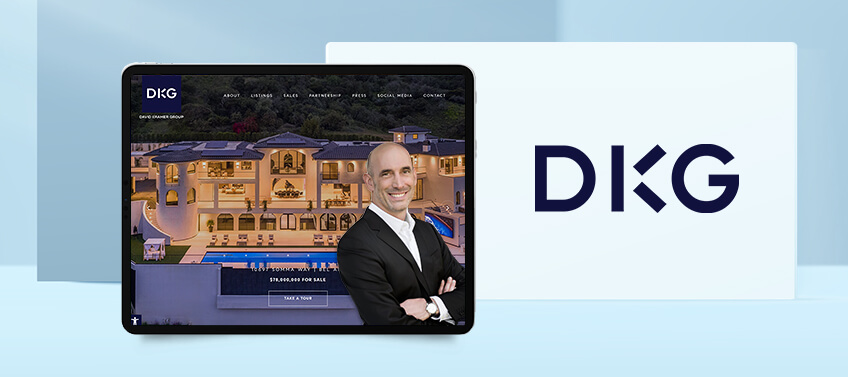 Lynn Marie Oddo
San Diego, California
Lynn Marie Oddo specializes in scenic properties located in San Diego. From the very beginning, our team knew that her website should be a worthy repository for the grand homes and estates she represents. That's why we utilized a visual-centric aesthetic to do justice to her listings. An elegant blue-and-gold palette adds to the sense of sophistication in her property portfolio. A simple layout ensures ease of navigation, with dedicated sections for buyers, sellers, and home valuation.
What makes this website stand out: Lynn Marie understands that different people desire different lifestyles. As such, we included guides to San Diego's best communities, making it easier for buyers to find the neighborhood that ticks all their boxes.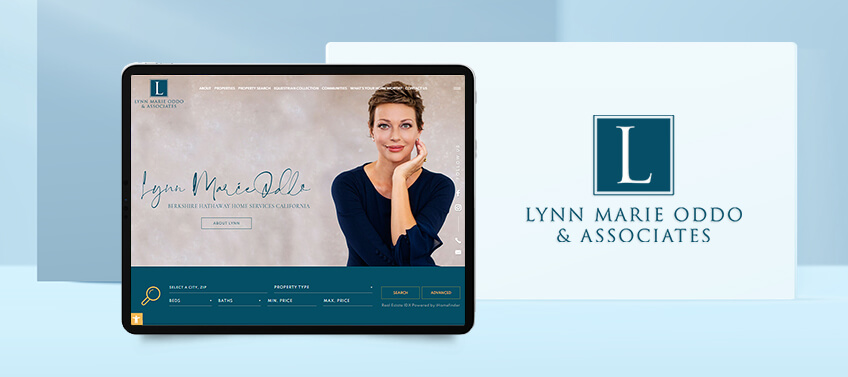 Brista Homes
Sarasota, Florida
Aside from helping agents establish a strong online presence, we help real estate developers elevate their profiles, too. Case in point: Brista Homes, a construction and renovation company based in Sarasota, Florida. As a leading builder of custom luxury homes, they wanted their website to focus on their work and craftsmanship. Hence, we created a portfolio of homes they've successfully built and remodeled. Similarly, a slideshow of featured projects demonstrates the company's attention to detail, impeccable taste, and masterful construction prowess.
What makes this website stand out: Brista Homes isn't just in the business of building and improving homes — it's closely involved in community development, too. To highlight this unique aspect of the company, we built a section that spotlights all of their corporate social responsibility initiatives and partner charities.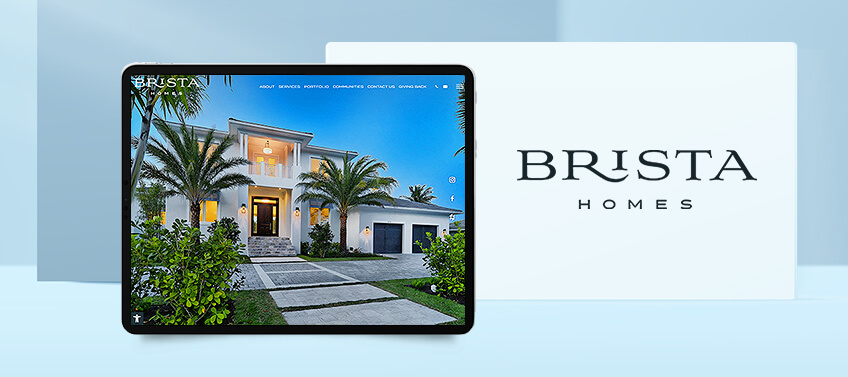 Michele Sullivan
Las Vegas, Nevada
Michele Sullivan loves the Las Vegas lifestyle and helps her clients be part of this world-famous city. As an expert in deluxe real estate, she gives clients access to exclusive properties that no one else can offer. Her prestigious service inspired us to design a monochromatic theme which is simple but elegant. Michele's media coverage and points of proven success are prominently displayed, establishing her authority in the field. On top of being an in-demand real estate agent, Michele is passionate about giving back. She includes a summary of all the charitable causes she is involved with.
What makes this website stand out: Property Trailers offer a one-of-a-kind peek into the lifestyle that awaits through cinematic YouTube videos of beautiful homes.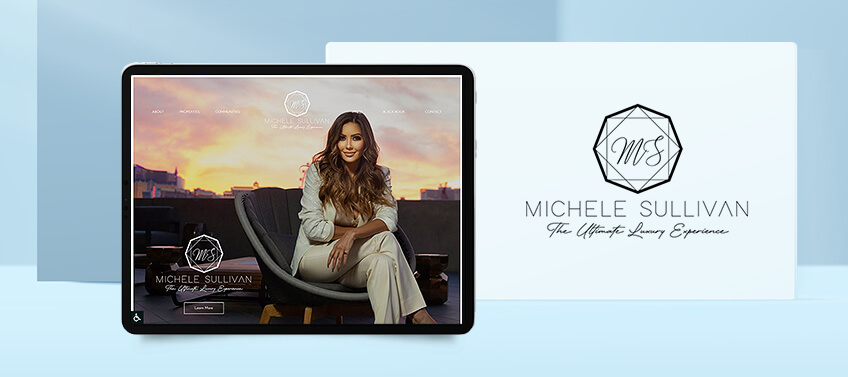 Keyes Real Estate
Los Angeles, California
Brad Keyes is known in the LA real estate market as a master dealmaker. The secret to his success? Offering the most prestigious homes and providing world-class service. While designing his website, we kept his properties at the forefront — from the slideshow at the banner to the postcard-like collage of featured listings. To further bolster his reputation as an elite agent, we also put a spotlight on his team's accomplishments, including career and year-to-date sales. Keeping up with Brad's latest dealings is remarkably easy, too, as we've integrated his reviews and Instagram feed directly onto the site.
What makes this website stand out: An interactive website attracts attention and boosts engagement, too. With this in mind, a custom map of Los Angeles is accessible to users to browse through both available and sold listings.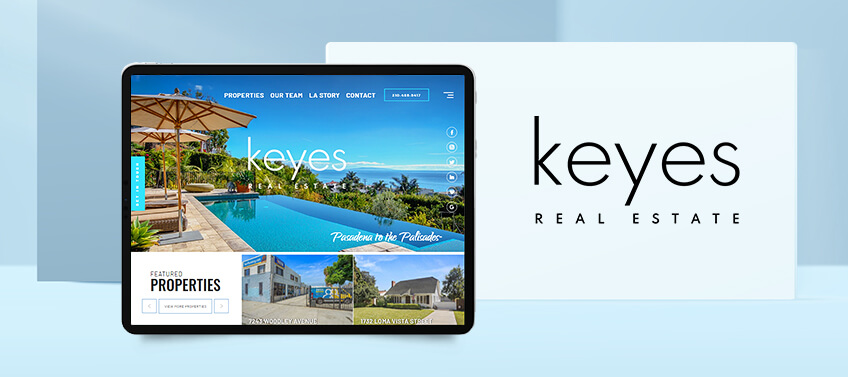 The Jackson Team
Rancho Santa Fe, California
Rancho Santa Fe isn't just Delorine Jackson's expertise – it's her passion. This is immediately apparent on her website, where people can see snapshots of the area's lifestyle, see an array of beautiful luxury homes, and learn more about the locale's history. For this website project, our team utilized editorial design principles that showcase listings and key highlights through large-scale photos. An elegant black-and-white theme complements the exclusivity of the historic neighborhoods. The various content sections of the website are presented in bite-size introductions so visitors can browse through everything their team has to offer.
What makes this website stand out: Through a careful balance of text and images, the overall style of this website plays out like a luxury magazine. The simple yet elegant page layouts that don't overwhelm or overload their website visitors.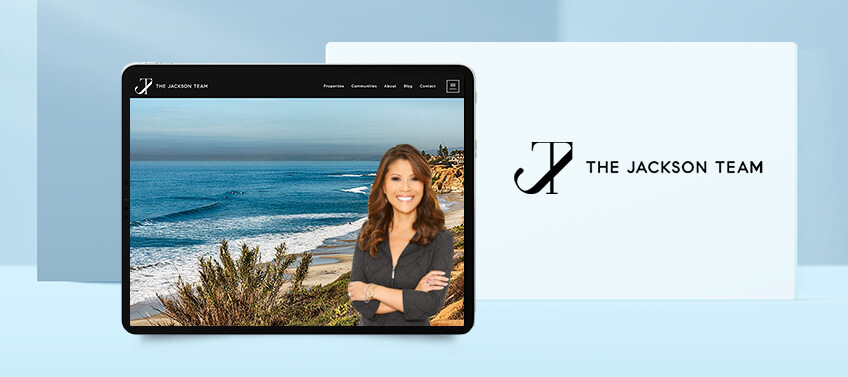 Tierney Real Estate
El Dorado Hills, California
As a brokerage that specializes in distinctive properties, Tierney Real Estate knows what it takes to give their clients a warm welcome. Properties are given ample real estate on the homepage for a strong first impression. Soothing blue tones and natural texture accents adorn the page that make for a cohesive style. To make looking for a dream home easier, there's a custom interactive map that gives homebuyers a good sense of place and access to all the properties available in the area. Property pages are neatly laid out with a large image gallery and complete listing details, including access to immersive virtual video tours.
What makes this website stand out: Tierney Real Estate's renown has led to many media mentions, including a spotlight on Sacramento Real Producers, a trade publication that put Maura Tierney on the front page for her outstanding achievements in 2020.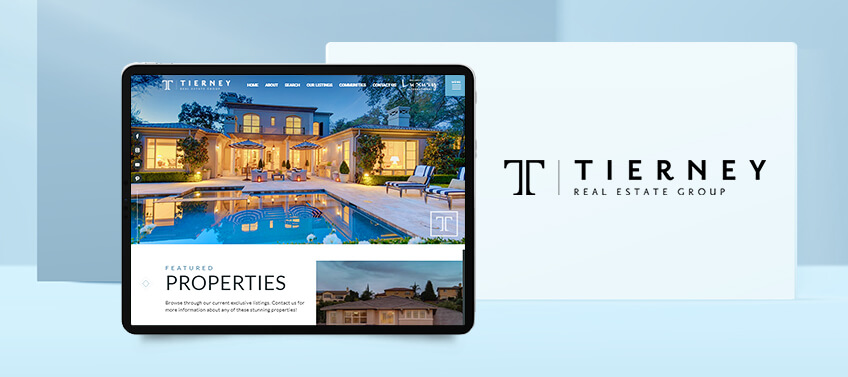 Sunny Brstina
Steamboat Springs, Colorado
When Sunny approached us to revamp her website, the task was simple: to capture the grandeur of ski resort living. Upon loading the website, visitors are greeted by a video collage of people skiing the slopes, riding ski lifts, and enjoying the local downtown area — a sample of the lifestyle that awaits them. Of course, capturing one's attention is only half the equation; making them search for a home is another matter entirely. Luckily, the property search features available on Sunny's website make for such a pleasant and convenient user experience. Her website cleverly maximizes the capabilities of IDX-driven data, allowing users to zero in on very specific criteria for their house-hunting in Steamboat Springs.
What makes this website stand out: Form and function come together seamlessly on Sunny's website. Useful tools like free home valuation, market statistics, and an interactive map are sure to help you make the right real estate decision.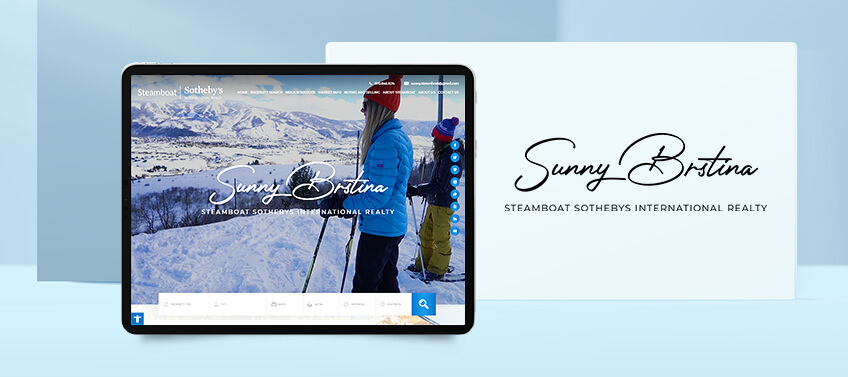 The Archuletta Team
Mission Viejo, California
Our goal for The Archuletta Team's website is simple: create a design that's equally elegant and streamlined. If you browse through the site, you'll see that each section roughly corresponds to one screen, meaning everything you need is just a few scrolls away. Meanwhile, portals for listing, buying, property valuation, and home search are neatly stacked together like blocks for ease of navigation. There's even a so-called Nosy Neighbor Report, which details all the homes that sold in Rancho Mission Viejo in the last few days, along with valuable information like their price, sale-to-list ratio, and days on market.
What makes this website stand out: Rancho Mission Viejo is one of the most in-demand developments in the area. To help buyers learn more about the locale, we created an interactive map showing both active and planned phases of the development. Clicking on each section reveals vital information about each phase, too.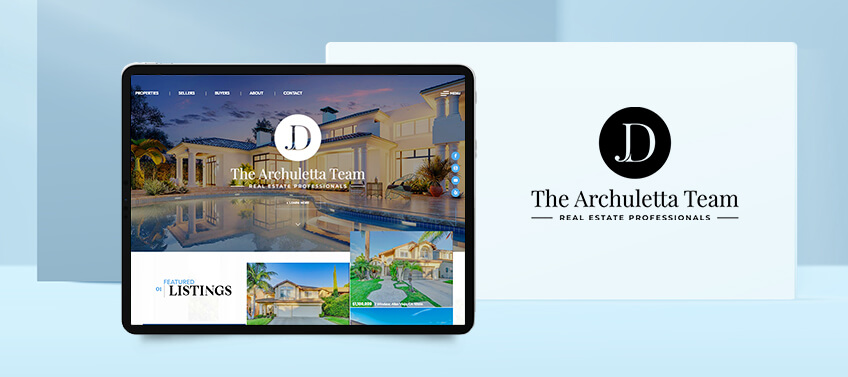 Highlights of December 2021's best websites
We can't be prouder of this month's selection of top-notch websites. To wit, here are their standout features.
Anastasia Gaido — A masterful display of local expertise through professionally produced community videos educating site visitors about the area.

David Kramer — A virtual tour makes it easy for buyers to imagine themselves living in the luxurious properties David represents.

Lynn Marie Oddo — Would-be clients can get in-depth information about San Diego's various neighborhoods through Lynn Marie's community guides.

Brista Homes — To demonstrate Brista Homes's dedication to community service, we added a section that highlights their CSR efforts.

Michele Sullivan — Michele understands the power of video, imagery and social media in underscoring the elegant lifestyle her clients aspire for.

Keyes Real Estate — An interactive map makes Keyes Real Estate's website a very engaging tool for homebuyers.

The Jackson Team — A classic color palette and select use of copy allows for an elegant editorial style resembling an online luxury magazine.

Tierney Real Estate — Impressive property displays and press highlights accompanied by an approachable and welcoming design aesthetic.

Sunny Brstina — Sunny is all about providing excellent service and resources for her clients, which is why her website offers useful tools for buyers and sellers alike.

The Archuletta Team — Would-be buyers can learn more about Rancho Mission Viejo, an in-demand development, through an interactive map.
As the year draws to a close, it's worth asking: is it time to redo my website? After all, digital technology has made change and innovation move at a lightning pace.
To give yourself a leg up against the competition, allow Agent Image to be your website redesign partner. With our impressive portfolio of A-list clients, you can rest assured that your revamped website will not only impress visitors but will also persuade them to call you.
We'd love to tell you more about our design packages. Call 800.979.5799 to get a FREE consultation today!
Did you enjoy reading this article?
Sign up for more updates with our Agent Intelligence Newsletter!
We are committed to protecting your privacy.
Real Estate Websites for Agents
Learn which package works best for you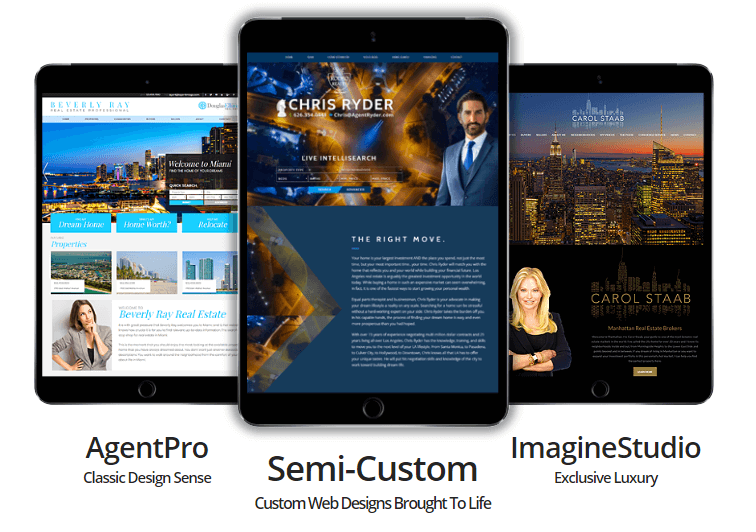 Learn More